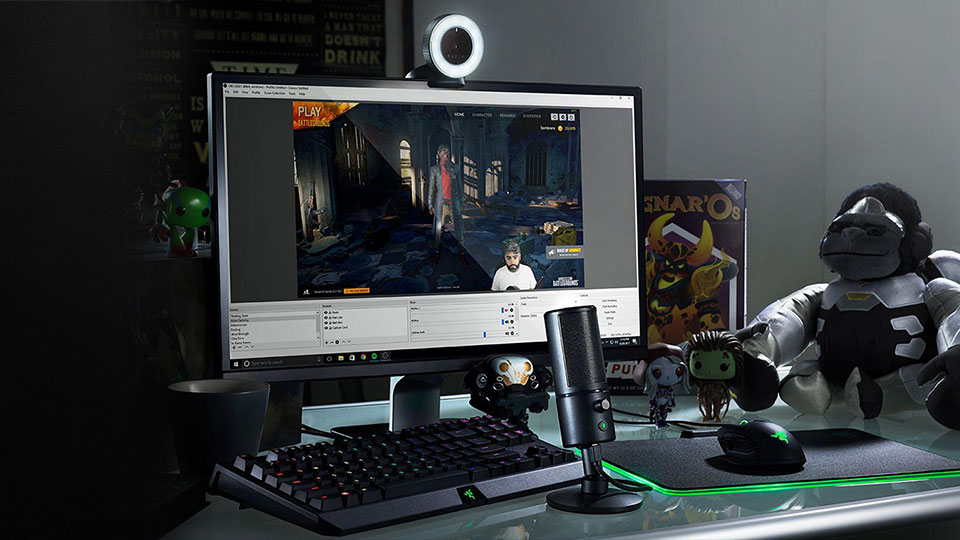 Streaming live videos became very popular in recent years. We can see that many people are making interesting videos about various topics like video games, lifestyle, fishing, hiking, biking, and many other activities. There are two most popular platforms for streaming videos, YouTube and Twitch. Also, if you are good enough, and there are many followers and people who are sharing your videos on social media, you could make a great income and turn your vlogging into a business.
Some people managed to become famous by making interesting content and sharing it over YouTube. The best example is PewDiePie, who has over 100 million followers on YouTube. Furthermore, the most important thing for making quality videos besides the interesting content is a proper web camera.
With the fast development of technology, most of today's cameras have a high quality, and you can find many of them for a decent price. However, your choice should be linked to your activities, since each camera has some unique features and qualities. Here are some of the best web cameras for YouTube in 2023.
1. Logitech C922 Pro
This camera is perfect for people who prefer creating video content while they are sitting in front of their PC. In that matter, people who are streaming video games, making tutorials, or any other content while they are sitting in one place, should choose Logitech C922 Pro. The quality of the video is 720p at 60fps, which is enough to make a crystal clear videos. Also, it has a decent microphone, which means that you won't have to bother with audio editors.
2. GoPro Hero 8 Black
If you are looking for a camera that is stable enough to use for making videos outside, and resistant to water and dust, you should check out GoPro Hero 8 Black. Many people are streaming their adventures in the wild, such as bikers, mountain climbers, hikers, paragliders, and others. Since it is waterproof, you can also create amazing videos while you are diving. The size of the camera is 12MP, which can create videos in 4K resolution. Also, you can connect mic on it with a 3.5mm audio jack, and there is an additional HDMI port for connection with the PC.
3. Logitech Brio
The main feature of this camera is an angle of 90 degrees, which is perfect for streaming some events with more people like meetings. There are three options for angles, 65, 78, and 90 degrees. The angle of 65 degrees is perfect for streaming when you are alone in front of the monitor. Also, it has a 4K resolution, two additional microphones, a USB connection, and facial recognition. Moreover, you can easily attach it to the monitor since it has a clip. Furthermore, if you are interested in some more adult content, there is a website called bestadultcamsites.com, where you can find many attractive girls and watch them in live videos, while most of them are using cameras like this as well.
4. Microsoft LifeCam Cinema
If you are new in the world of streaming, and you are not ready to invest a higher amount of money to buy a camera, you should check Microsoft LifeCam Cinema, which represents a decent choice for beginners, and has a price of only around $100. Despite its lower price, this camera can create great videos in 720p resolution. It can capture videos in a field of 73 degrees and has an additional True Color Technology for better contrast. There is also a clip for easier installation on the monitor, and some features like tilt, 4x digital zoom, and digital pan.
5. MEVO Start
If you are looking for a small camera with good quality that is perfect for streaming video games and other content when you are in front of your PC, MEVO is an excellent choice, with a resolution of 1080 pixels and 83 degrees angle. Additionally, the three microphones installed will ensure that the sound will be good as well. When it comes to connection, you can use Bluetooth and LTE for streams. Besides YouTube, this camera is perfect for Twitch, Facebook Live, Twitter, and other social media.
6. Logitech StreamCam Plus
One of the best features this camera has is the ability to create vertical videos in HD quality. Logitech is a well-known brand when it comes to various devices. In that matter, if you are looking for a proper webcam for streaming your content, StreamCamPlus is a great choice. It can create videos in 1080p at 60fps and the angle of 78 degrees. There are also other abilities like contrast editor, two mics, USB connection, stabilization, and more.
7. Unzano Pro Stream
Thanks to the most recent encoding compression technology, the H.264, this camera is capable of making excellent content in HD quality. Also, it is important to know that you won't need any additional editors for your videos since this web camera can optimize images and make them look more consistent. With face recognition, you will always stay in focus during the streams. Some of the best advantages of Unzano are autofocus, HDR quality, automatic effects, and high-quality encoding. This camera is perfect for beginners and amateurs since its price is only around $30.
8. Razer Kiyo
Besides streaming video games and entertainment content, we can see a lot of vloggers that are creating content related to the beauty industry. This camera is perfect for people who are filming themselves while doing makeup since it has an adjustable light around the objective. Also, it has a quality of 1080p at 30fps. The main benefits are autofocusing, compatibility, and proper quality.
9. Dericam Full HD
There is a great expansion of people who started streaming all sorts of content on YouTube. Since there is a great competition in that market for popularity, maybe you should consider getting some more affordable webcam instead of paying a few hundred on some with higher quality. The Dericam is one of the best webcams that you could get for less than $25 but still has enough quality to create decent content. The main features are installed mic, HD resolution, noise cancellation, and lens made of glass.