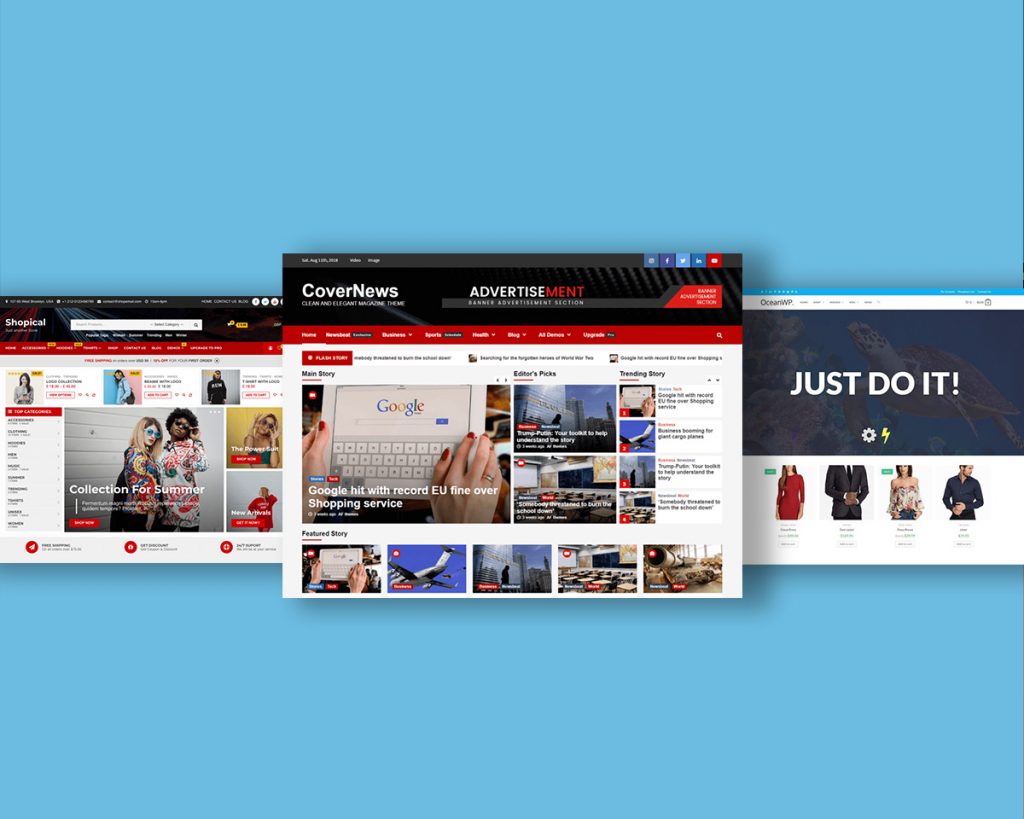 Starting a website of any kind can be a tough assignment especially if you have never done anything similar before. Whatever your topic and content are going to be like there are multiple sides to the whole ordeal that have to be fulfilled if you want to attract an audience and be successful that is.
When it comes to the news websites, things become even more complicated because you will practically find yourself in an industry saturated with giant news conglomerates that have incredible funding and long traditions. To make a name for yourself on the news websites scene in 2023, your best chance is to use WordPress with an appropriate theme.
WordPress themes are a lifesaver for numerous people and organizations who needed a quality website to help their business or service. The amount of different themes available is hard to grasp, but not all of them will equally help your case. Therefore, in this article, we decided to share with you the best WordPress themes for your news website this year.
In case you want to take things up a notch and have a website that is easily going to set you aside from the competition, head on over to digitechwebdesignaustin.com and check out their services. They are a specialized marketing and design agency that helps brands break into online markets.
1. Newsbeat
We start things off with a clean theme that reminds us of newspapers. Newsbeat offers the uses large photos, long paragraph sections, and a lot of easy to see information space. If you always wanted a WordPress theme that is going to make your website look like a piece of newspaper, there is no better choice than Newsbeat.
Furthermore, there are nine premade demo websites that you can use as your own, or just make them a starting point which you will later change with your own designs. Layouts the theme has are planet, and they go from classic traditional layouts to modern ideas that will make your website look more like a contemporary blog. What they all have in common are large images and beautiful typography options, all with the single purpose to make the whole website appealing to the readers.
2. NewsTimes
If you however do not want your news website to resemble newspapers and be modern and contemporary, you will probably like what this WordPress theme has to offer. It sports a flat design that more and more websites use, making it one of the most common layouts available. And it is popular for news websites for a good reason.
First of all, it looks stylish despite having multiple stories, links, photos, and menus on the front page interface. There are individual article pages, parallax scrolling, and sidebar options for your every need. Moreover, the theme is equipped with widgets and drag and drop features. All in all, the theme has everything a news website needs without making things overly complicated.
3. ZoxPress
For a different kind of news, there are vastly different WordPress themes you can choose from. If you specialize in entertainment news like movies, music, sports, or tech-related stuff, you need a different approach than you would for more serious news like economy or politics. ZoxPress is among the best options for the former kind, thanks to its flexible setup meant for a more relaxing and carefree take on the news.
According to flatlogic.com There are more than a dozen layouts available for you to express your artistic side and create the best possible news website. All of the designs are both modern and clean, with small but important touches that distinguish them from one another. Therefore, you can mix them until you find the best solution. Infinite scrolling and a dark mode are two fan-favorite features that this theme brings to the table as well.
4. Newspaper
Newspaper is by far one of the most popular and widespread WordPress themes for news websites. It is specifically made for news sites, meaning you cannot go wrong no matter the type of news your company plans to cover. More than 85,000 customers have had pleasurable experiences with this theme, and you can be next.
The theme offers multiple professional-grade options, it is well optimized for mobiles and tablets, it is fast, and the interface supports functionality and performance above all else. Best of all, even if you upload many high-resolution images, the theme wills till work seamlessly and keep loading times within reason. Most users and readers praise the ease of navigation and the pleasurable reading sensation. In case you do not wish to start completely from scratch, there are more than 50 premade demos and layouts, as well as numerous widgets for social media, weather, stock exchange market feeds, and more.
5. The Issue
In case you love blogs and vlogs and want your website to lean more towards that kind of design and layout, The Issue will solve your problems and give you just that. The flexible and easy to use theme looks very pleasing and calming and comes with tons of templates, demos, and features.
Its gallery displays, post formats, and review options will make the readers feel like they are on some kind of social media platform or a blog, instead of a newspaper news website. You can change how your content appears in a number of interesting ways and integrate important info from weather forecasts and the most popular social media services. From the first stages of design, The Issue was meant to be attractive, rich with appealing features, and full of details. Safe to say the creators achieved just that!
Takeaways
Among the five different themes, you can create very different news websites in 2023. Basically, it all comes down to what kind of news you mean to cover, what your target audience is going to be, and how you want to present the news to your readers. Classic or modern, entertaining and relaxing, or serious and informative, you will find a solution for whatever your perceived WordPress news website looks and feels like. All that is left for you to pick one and let your imagination run free!