10 Best Paint and Drawing Apps for Android Devices in 2023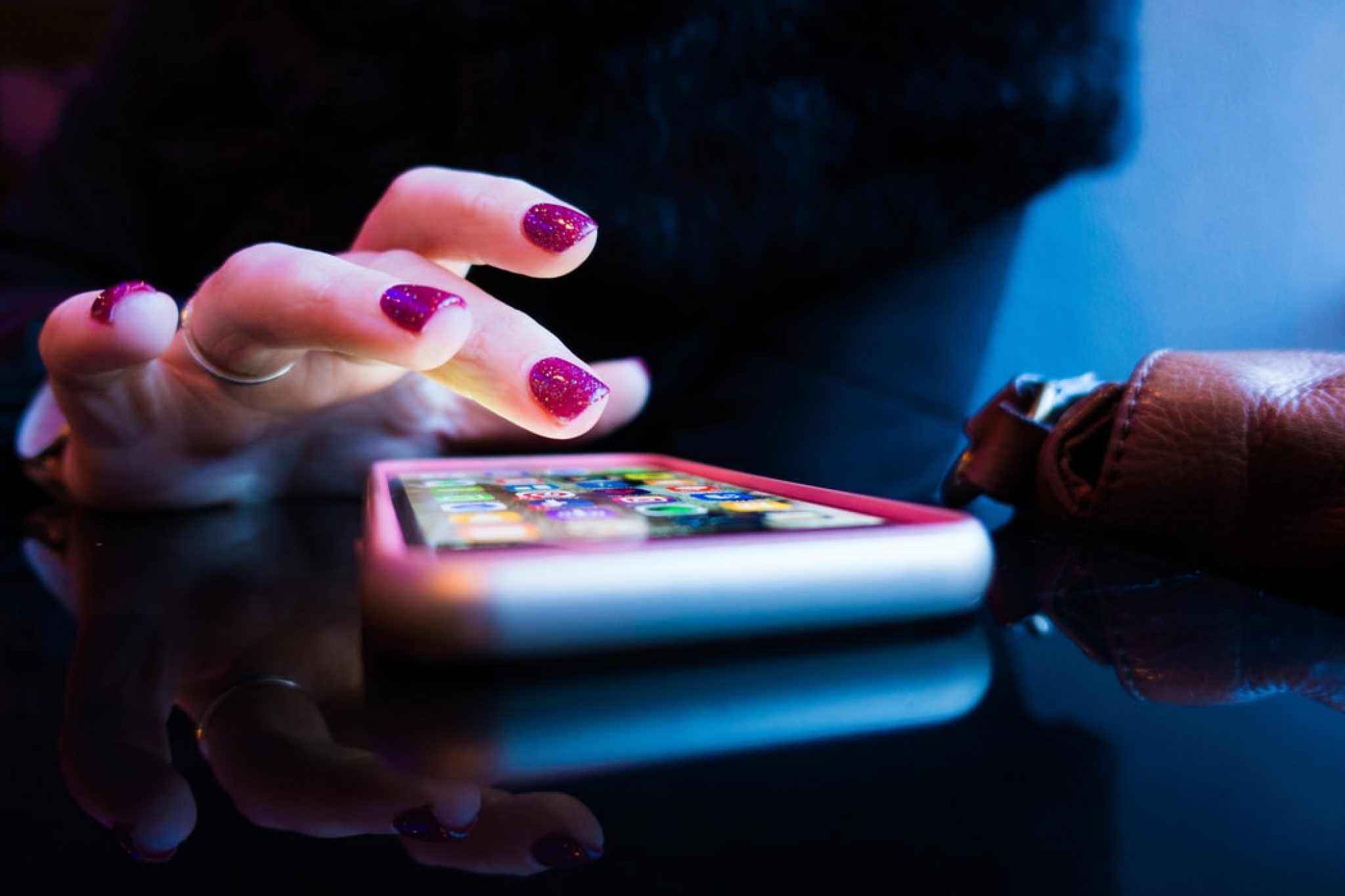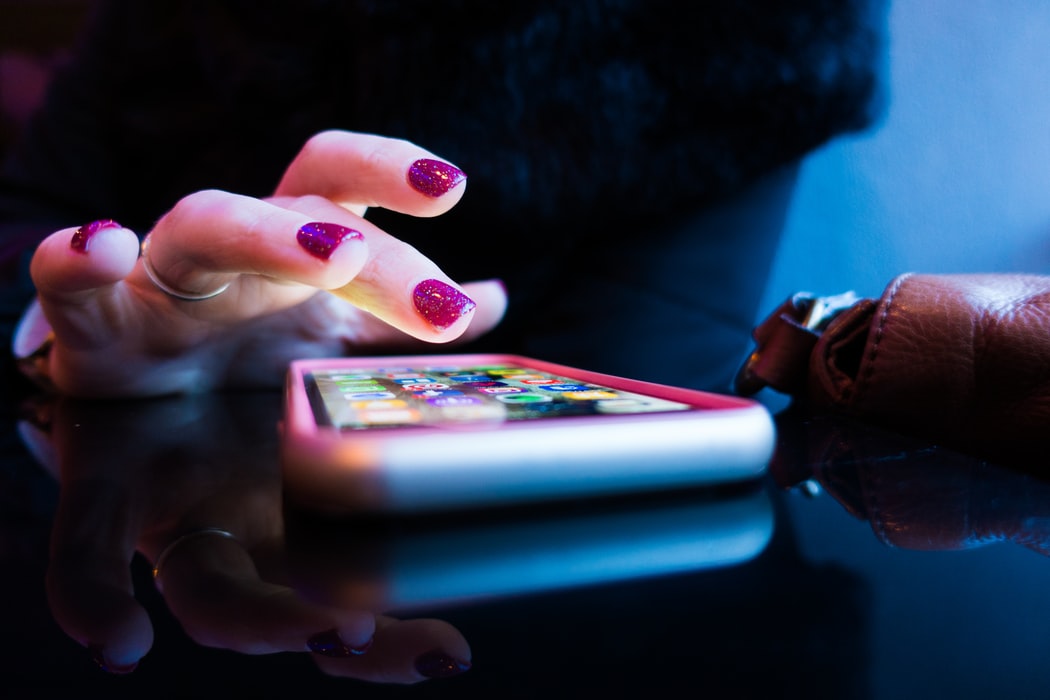 Painting and drawing is one such thing that is close to many people's heart. Our preferences have changed from being conventional to be adaptive as we kept moving with the time. They have been the only pastimes and hobbies for many people though they are not in the trend very lately. Using a paintbrush and pencil on a canvas feels like another world. If you have an artist within you craving for drawing and painting, you can use your skills in making sketches on a digital canvas on your Android device. A painting and drawing app makes it possible for an artist to use paints and sketches on the go at their leisure. This digital way of using a paintbrush and pencil is quite convenient and does not require carrying all the stuff everywhere you go.
The Google Play Store offers a lot of apps that make it somehow a little bit tiresome to pick the best app for painting and drawing. We have done the job for you. These apps are suitable for digital artists of all ages. It doesn't matter if you're a professional artist or a kid who has just stepped into learning drawing and painting. All the apps listed in this article are free to download. While some of these apps may require in-app purchases to use additional features, some of them work great though they feed some ads while you use them.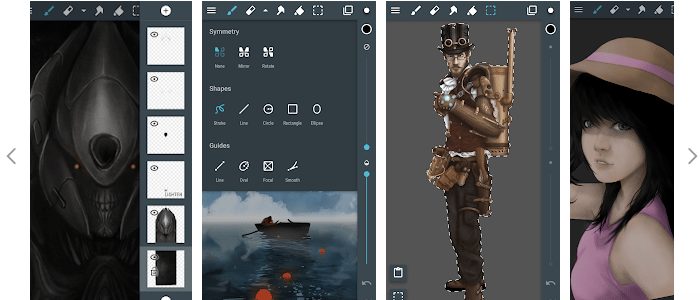 ArtFlow suitably meets the need of a regular sketchpad as it is a complete packed universal studio within itself. Its 100+ paintbrushes, smudge, and eraser tool will unlock the artist in you. The app's interface is intuitive, inspired from Google's Material Design, and employs a GPU accelerated fluid paint engine. It offers Stylus pressure, and NVIDIA Direct Stylus support to give the canvas-like experience. Other features include color adjustments, unlimited undo and redo options, 50+ canvases with high resolution, and distinct slow and opacity control.
You can export files in JPG, PNG, and PSD formats. The free version allows you to use necessary functions, and, you can always make in-app purchases to gain access to premium and advanced features of the app.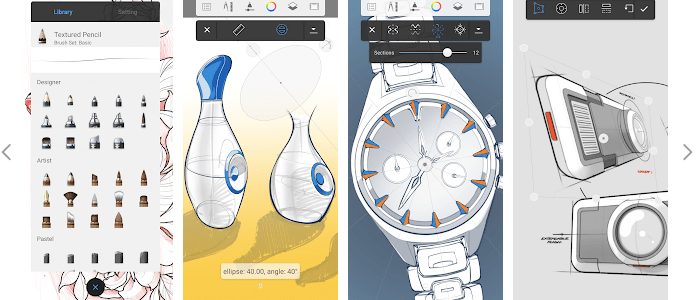 Sketchbook is an official product from photo-editing giant Autodesk. It lets you sketch and paint in a go. You can use from over 10 preset brushes and a full-screen workspace. You can zoom up to 2500%, use up to 13 layers, and 16 blending modes. It also supports multiple languages which means it can be used anywhere in this world.
Though this app is free and feature-rich, you will need an upgrade to pro version to use additional tools. Premium tools include 100+ brushes, pencils, markers, layers, gradient filling tools, and advanced selection tools. You can upgrade to Sketchbook Pro version through an in-app purchase. The time-lapse screen recording feature allows you to record your work in progress. This app is indeed a great tool.
Read More: Best Lock Screen Apps for Android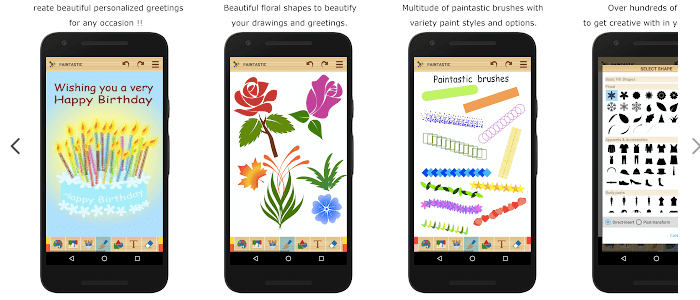 If you're looking for an app that is free and boasts best painting tools, then Paintastic is all you need. This simple and feature enriched app lets you create beautiful drawings, paintings, logos, designs and greeting cards. Using this app does not require you to be an expert in graphic designing or painting. You can start creating artistry pieces as soon as you download and install this app on your Android smartphone. Its top features include multiple paintbrushes, predefined shapes, gradient fills, image effects, filters, and advanced selection tools. You can also add text and use existing photos for unleashing your creativity. The app also allows you to share your creations with your friends and family on social media through the share option.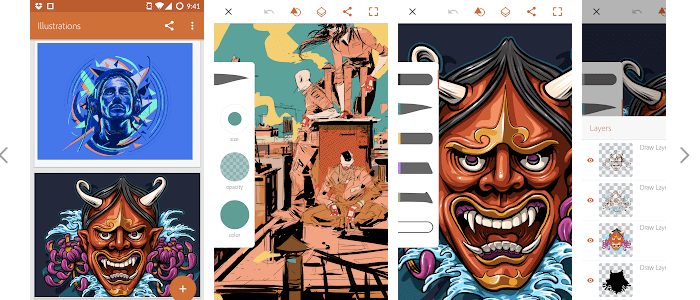 Adobe Illustrator Draw is an award-winning application, and an Editor's choice in the Google Play Store for designing, editing, and creation of Vector artwork. If you're an artist, illustrator, or a designer, you can draw sketches with five different sketch pen tips of whose opacity, size and color are adjustable. You can use multiple images, drawing layers, and can zoom up to 64 times for retouching areas on the picture fine details plus you can rename, merge, duplicate and adjust the drawing layers. This app also supports Adobe Stock and CreativeSync which is a USP for its preference in the market. You can collaborate with the work done in Adobe Illustrator Draw with programs such as Photoshop CC, Illustrator CC, Capture CC, and Photoshop CC.
Read More: Virtual Girlfriend Apps for Android Devices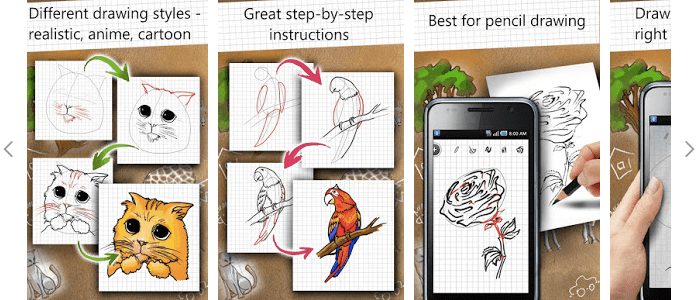 How to Draw acts like a personal art teacher and teaches you drawing and painting in a full swing. Download this app and start sketching. It's just that simple. The app features a lot of cartoon characters, planes, flowers, dragons, and more to keep your content. While you use the app, it educates you stepwise and helps you get the best results in the art. How To Draw is a great app for kids and amateur who wants to learn drawing in steps. Visit easydrawingguides.com for more drawing techniques you should try.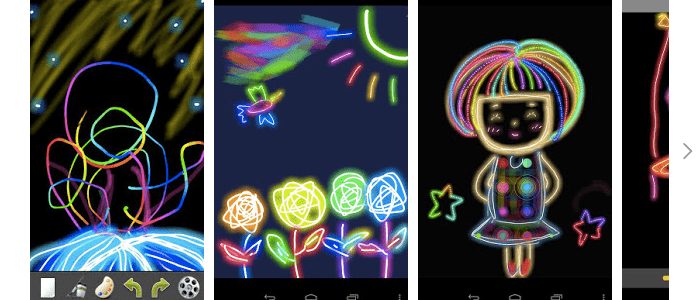 If you're tired of finding coloring and painting apps for your kids, Kids Doodle can fill that gap. This app is an excellent choice to keep your kid entertained with creativity and art. It is not just easy to use, it is also very organized and polished with features aimed at entertaining kids. Kids can draw and paint sketches on the canvas using various magic paintbrushes featuring effects such as glow, ribbon, neon, crayon, and rainbow. The effects and the range of colors this app offers are appealing to kids. What more this app offers is a built-in app gallery and the movie playback of all the artwork your kid makes.
Read More: Free Music Downloader Apps for Android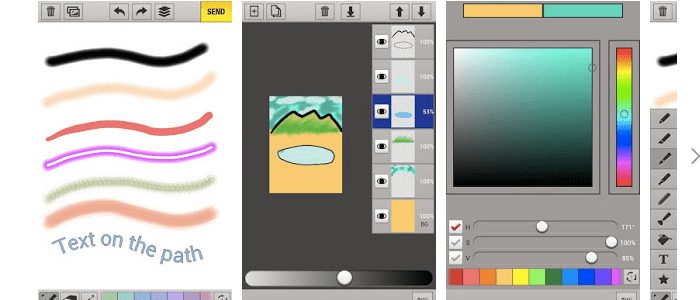 It is a professional paint application with a simple UI. Sketch Master is ideal to use for any Android user and offers a lot of useful sketching tools. A user can create sketches, paintings, and insert texts on a photograph. You can import images from your photo or camera gallery and start editing them with drawing layers and paintbrushes. Other features include two fingers panning, zooming up to 3000%, reordering, duplicity, and merging drawing layers, toggling visibility, and adjusting the opacity of drawing layers, and swatch colors with Sketch Master. You can also write notes in your handwriting and produce artistry pieces on the go.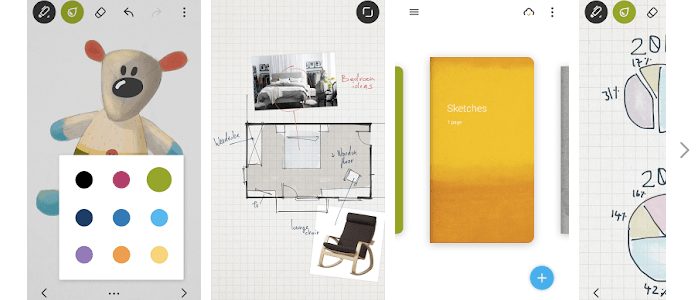 Wacom Bamboo Paper gives you the real feel of doing sketches and painting on your Android screen. You can make drawings using your fingers and store them in the notebook offered by this app. You may feel the lack of some features that you could have got in other drawing apps, but all the basic tools and sketch pens are enough for you to keep up with your creativity. Great for people of all ages, this app does the job perfectly.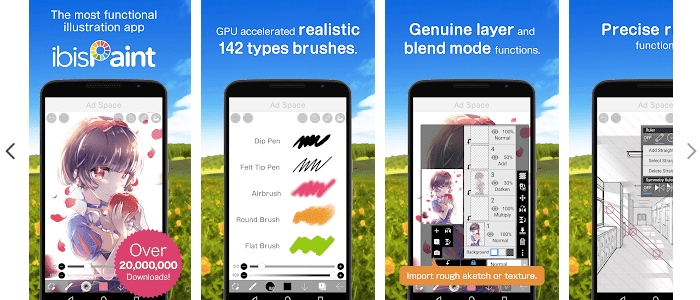 IBIS Paint X has over 9 million downloads. This spectates its popularity among a wide spectrum of artists. This art and design app is inspired by the idea of social drawing and uses GPU accelerated paintbrushes and drawing layers. Its 142 paintbrushes and tools make sure that you don't leave a single detail in giving the final touch to a sketch.
IBIS Paint X is a free app and hosts a YouTube channel as well to let artists using their app showcase their artistry. If you also want to showcase your work on YouTube, you can do so with the help built-in screen recorder. You also get to use a Frame Divider, Ruler, Color Palette, and advanced area selection tool within the app.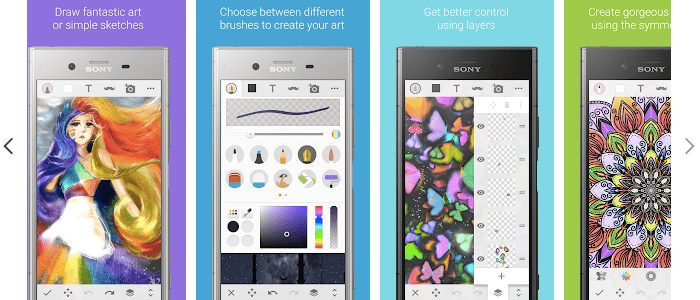 Sketch – Draw and Paint – This app is offered from Sony and is aimed at sharing and collaboration of art work. It is a popular app among people of different ages and has a Sketch community dedicated to its purpose. You can find artwork with the help of hashtags within the community to get inspiration on different styles of art work from other artists. You can also engage with other artists with the help of Sketch community.
Powered with advanced tools, it lets you use fun paintbrushes and tools, multiple drawing layers, zoom and pan option, and free stickers. This is a great app for a kid, an amateur or an expert artist.
Take Away: Either one or two of these apps are sure going to be your favorite irrespective of the expertise you have excelled in artistry and painting. We have tried best while considering these painting and drawing apps to help you make the right pick while you sketches and paints on your Android smartphone. We will be happy to know which of these app pleases you the most. We welcome suggestions and feedback from our avid readers.
Source: https://www.paintingkits.net/