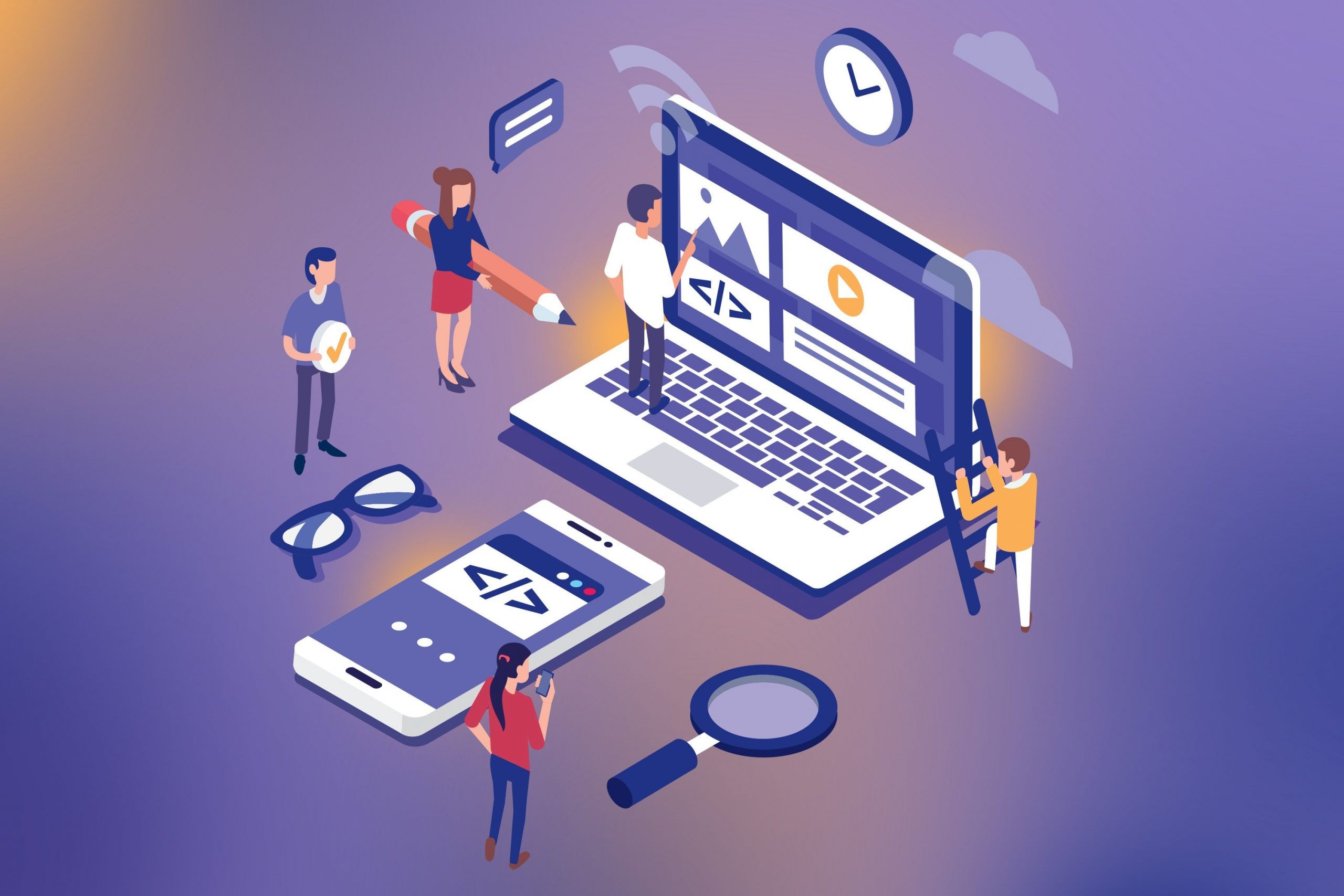 Every day the marketplace encounters newly established businesses, and each seeks to highlight its presence, especially within the web scope. Online resources appear to be of the utmost importance in the context of our modern world. By employing digital attributes, the business can gain high recognition and expand its influence. There are plenty of online platforms to utilize. Still, the website remains the most powerful one.
Launching and designing a website seems to be a highly challenging process. Web design isn't about just putting the information on the platform, diluting it with few images and design elements. It's more of a valuable experience the user may overcome when interacting with a website. That's why web design goes far more beyond aesthetic. To make it work, you need to focus on multiple things simultaneously and consider making them flow into a consistent unity, not into a strange amalgam. Except for the essential elements included in the web design package, such as a custom design, logo, layout forms, there also search engine optimization, website hosting, and the branding policy behind it. You can read more about corporate website design and development here.
In such a multifaceted set of segments, it's easy to get lost. Despite being a highly complicated process, web design still has much assistance to suggest. Starting from design forms to multiple software and tools that facilitate the process and help entrepreneurs not get off the intended path. Web design tools are plenty, and they really can be helpful. However, without knowing some of the web design pillars, it's impossible to master whatever the super software productively.
Table of contents:
What are the cores of web design?
Top 5 web design tools
Sketch
Figma
InVision
4. Adobe XD
Affinity Designer
Takeaways
What are the cores of web design?
Consistency in everything is a must for an efficient web design. Whether you employ numerous design elements or adhere mostly to a minimalist approach, you should nail down each part of the design to be appropriate. The fonts, colors, shapes, and layouts must stick to the one style and make up a coherent entity. It ensures the consistent experience the user will get when interacting with the site. Let's delve deeper.
Fundamentally, the website's appearance and content should go hand-in-hand and communicate the same idea. It's paramount to have the text and design work together and complement each other. When it comes to typography, making sure that all fonts are readable is a must. Typography is crucial for the user experience. If it's incomprehensible, the information presented might be hard to get. At the same time, it's better not to keep to the most common fonts like Times New Roman or Verdana. Such fonts are highly familiar to the user's eye, and there will be no chance to seize the attention.
Coherent color combinations attract users, while poor ones can lead to distraction and inconsistency. In order to avoid visual clutter, web designers usually choose 3 primary colors and implement them within various design segments. The primary color goes used for call-to-action buttons. Neutral colors can fill the general UI background and borders. The use of a proper color palette may contribute to better visual perception.
Showing is better than telling. Excellent designs can communicate a lot in just a few seconds with the help of thoroughly chosen visuals. Using high-quality images enhances the quality of the content, engages the audience, and strengthens the message. Besides, graphic elements in web design can bound both textual and visual content, helping with the site's overall appearance. But do not exceed the number of details. The overloaded websites don't look attractive, if not ugly. It takes too much time to load all the elements, but we know that no one enjoys waiting. Putting too many issues on the page may result in a bad user experience and constant distraction from the main point. Being simple doesn't mean being plain. A clean and fresh web design is rather appealing and contributes to better usability and navigation.
Clear navigation is what helps users to accomplish their tasks effortlessly, avoiding the constant flow of information. Thus, the appropriate use of whitespace is crucial in creating visually pleasing and easy to navigate platforms. Apart from this, a clear website's structure plays a significant role in search engine optimization. If users are getting lost while attempting to navigate through the site, search engine crawlers are likely to do it as well. Poor navigation can lead to a low site ranking. Thus, structuring all web design elements is of the utmost importance.
Ultimately, each segment should maintain the overall consistency of the project and imply a definite meaning. Behind each project, there should be a purpose. It sets the goals and drives the workflow to the desired results. The main aim of web design is communication. The website should be able to communicate the content to the users directly, urging them to plunge into the essence.
Before launching the website, one needs to choose the web design approach to implement. Given the fact that mobile access rates are growing, web design should be mobile-friendly. It allows the website to go compatible with every device regardless of the screen size. That will result in better website's usability and higher SEO rankings as well.
All the points mentioned above are essential for effective web design, and skipping even a few of them can damage the performance notably. The main advantage of the web design software is that it keeps to the web design cores, helping designers and entrepreneurs to maintain the idea till the final result. Still, choosing the best website builder for your needs presupposes knowing the website's goals. That ensures that the web design tool will be suited for fulfilling them. There isn't the best one-size-fits-all solution, as the goals may be extremely specific. However, here are some of the software that can be customized perfectly for various web design styles.
Top 5 web design tools:
1. Sketch
Launched in 2010, Sketch has been a long-time favorite tool for all designers. It has a clean and polished interface, multiple-face layout, simple prototyping, and various extensions. Sketch encounters numerous plugins that extend the design functionality and broaden its possibilities, increasing the overall quality of the final product. The tool allows designers to create multiple artboards with custom grids, layouts, and scaling constraints. Sketch Artboards are transparent and easy to use, and each of them represents a separate page. Sketch employs sets of elementary design tools, which serve as building blocks, which is being convenient when working with complex design projects.
In Sketch, you can share your design files with anyone. But first, make sure that you have uploaded them into Sketch's cloud server, as there is no automatic uploading. This web design tool is fully Mac OS based, which means that Windows users don't have access to it. And if you work in a team, it can be a substantial drawback.
As for the price, Sketch suggests two pricing schemes. The first one goes for individuals. You can make a single $99 payment for a year-long period and get a personal cloud workspace, access to Mac app updates. The second costs $9 monthly and provides excellent collaborative possibilities for the whole team.
2. Figma
Figma has a smooth outlook, refreshing color scheme, and an easy-to-navigate interface. Apart from the pleasing visual, Figma has a perfectly functional filling. Firstly, its browser-based nature offers great possibilities for excellent real-time collaboration. Figma allows designers to work on a single project collectively, communicating with each other. There is no need to download the designs, as it suggests the cloud where all the projects go automatically downloaded. Secondly, Figma's multifaceted Frames allow designers to arrange frames within one another, create separate molds for headers, footers, tabs, lists, and more. It helps to avoid inconsistencies in the design process.
Thirdly, Figma possesses an excellent set of advanced shape tools. All the shapes can be easily altered, unlike in Sketch, which requires a specific plugin to perform that. Also, Figma supports the network vector option that allows designers to connect several lines at a single point instead of creating separate paths. With its numerous functional means, Figma is highly convenient to use.
App pricing goes into 3 plans. The first one is free but allows only 2 editors and 3 projects. The second costs $12 per month if billed annually or $15 if billed monthly. It provides an unlimited amount of projects, version history, and shareable team libraries for professionals. Ultimately, there is a pricing plan for an entire organization for $45 per month. It provides a wide range of opportunities and options, including private plugins, administration, and design system analytics.
3. InVision
With the help of InVision Studio's flexible layers and an infinite canvas, it's possible to create advanced, vector-based screen designs and clickable prototypes. This tool has a full set of functions that can improve the workflow and lessen the time needed to create excellent designs. The app includes InVision Cloud, where you can connect, share, or test the project in real-time. InVision has a powerful design system manager and library where you can store the design components and reuse them, which is highly convenient. InVision Studio is compatible with both Mac and Windows OS.
The app allows a free pricing plan for both individuals and teams with 3 users only. But for $7.75 per month, the app functionality becomes available for an unlimited number of cross-collaborative team members.
4. Adobe XD
Adobe XD offers lots of useful functions. This vector design tool allows designers to work in all kinds of artboards, creating impeccable designs. It has a repeat grid feature that helps to attain consistency in every project. The same as Figma and InVision Studio, it allows designers to work in real-time collaboration, exchanging their work and altering the files right away if needed. Despite updating frequently, it still doesn't support the integration with other design tools.
The free starter plan for Adobe XD includes XD for Mac and Windows 10, mobile apps for iOS and Android, and services to empower users to design, prototype, and share user experiences with colleagues. Another pricing plan starts at $9.99 per month, allowing unlimited functionality for its clients.
5. Affinity Designer
Affinity Designer is a vector graphic editor, which is compatible with Mac and Windows OS. The app has a clear customizable interface and great functionality options: excellent 2D shape-drawing functions, a broad array of brushes, and perfect text style management. Affinity Designer provides non-destructive operations across unlimited layers. It possesses an advanced grid system and is suited perfectly for creating logos and designing big printing projects. Affinity Designer pricing starts at $49.99, and it doesn't have a free version, which does not allow testing it out.
Takeaways
Choosing the best web design tool from those above seems hard. All cover the basics of web design work features and have excellent functionality. They provide countless opportunities for prototyping, easy and quick operation with vector graphics, editing, etc., for affordable pricing schemes. The choice of the tool is up to your specific aim and the goals your website design pursues. Without stating the purpose clearly, it's almost impossible to build excellent projects, even if using superb software. Thus, make the purpose vivid and strengthen it, making web design principles and tools go hand-in-hand, ensuring fantastic results!