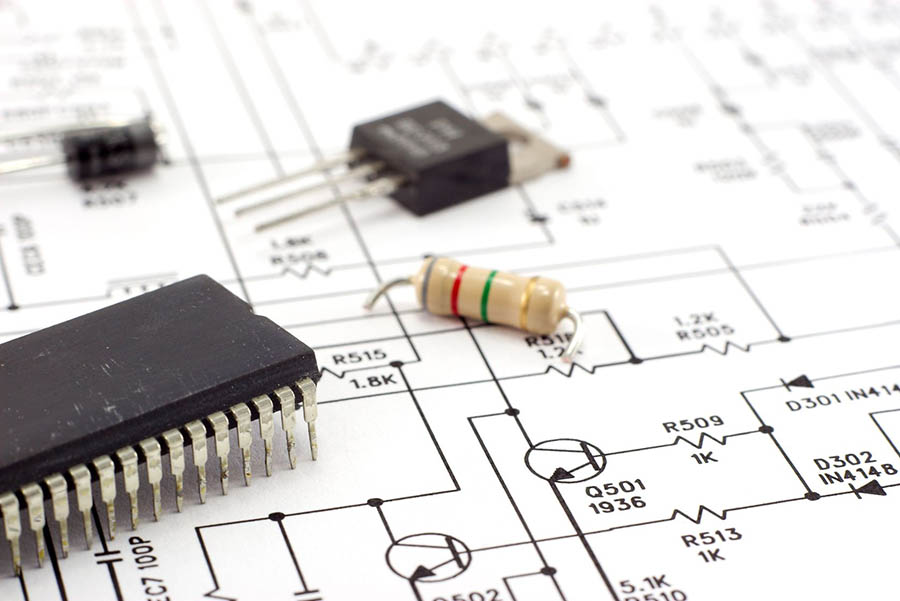 In an electrical circuit system, a circuit diagram is a graphical representation of different electrical circuit symbols. In most cases, a circuit diagram depicts the relative positions of all the electrical elements, like the diode, inductor, OR gate, NOR gate, XOR gate, AC/DC voltage source, etc. By illustrating all the relative positions of electrical components, an engineer or a student can design the actual circuit board or construct a PCB layout that would be helpful when the electrical engineer initiates the maintenance of electronic equipment.
In this detailed guide to learning how to draw a circuit diagram easier, we will depict the frequently used circuit symbols and how a student can make a circuit diagram using an all-in-one free tool.
Frequently Used Circuits Symbols
In order to learn about circuit diagrams and their components in detail, a student or a professional should know basic schematic circuit symbols that are frequently used in electronics. With EdrawMax, you do not have to memorize all the circuit symbols, as all the important electrical elements are readily available in this circuit diagram software. That being said, it's always considered good practice to learn the importance of a few frequently used circuit symbols.
Following is a brief introduction to circuit symbols that you can use while working on high-level documentation pertaining to the information related to the building's electrical-related insight and instructions.


Battery: In a circuit diagram, a battery is shown with a large and a small line. For instance, two big and two small lines illustrate a two-cell battery of 3V.
Capacitors: A capacitor is depicted with two parallel lines or one straight line and one curved line, depending on whether the capacitor is polarized.
Resistor: A resistor circuit diagram symbol is drawn as a zigzag line.
Diode: Diode has an extensive list of symbols, like LED, Diode, Zener, Schottky, and more.
Integrated Circuit: In the circuit diagram, an integrated circuit (IC) is illustrated as a rectangular box with different pins.
At EdrawMax, you can find these and over 26,000 other symbols that would fulfill all of your diagramming needs.
What is EdrawMax?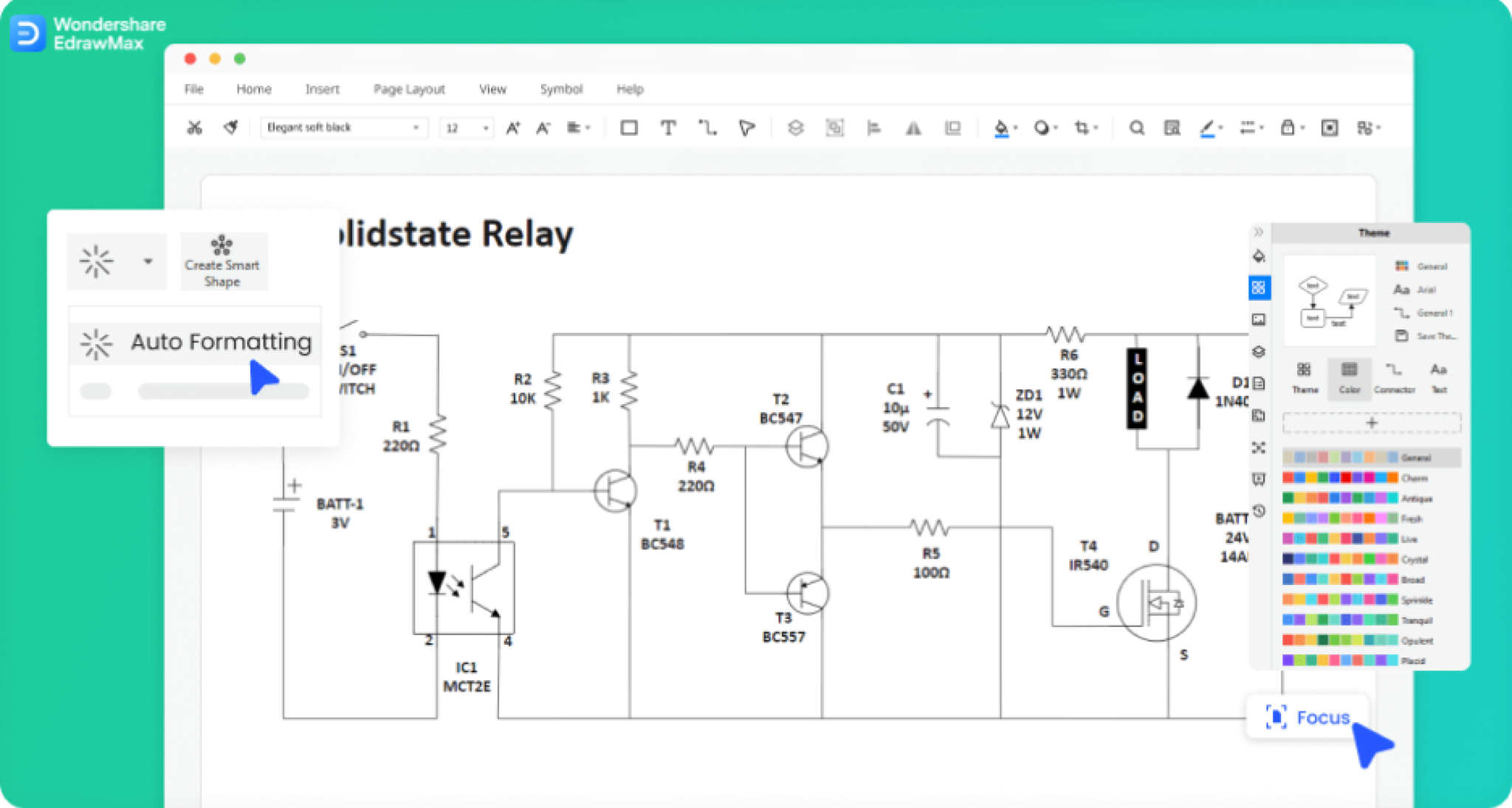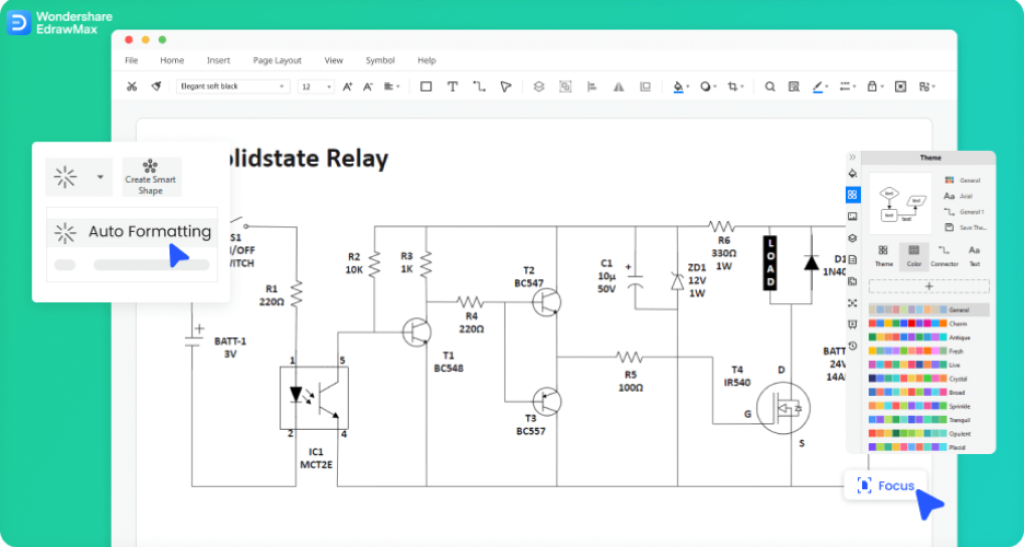 EdrawMax is a powerful all-in-one diagramming tool that offers 280+ diagrams to registered users. By using this 2D software, businesses can work on various diagrams like workflows, building plans, flowcharts, science illustrations, business diagrams, circuit diagrams, and more. With the best-in-class user interface and drag-and-drop options, a user can effortlessly create a wide range of diagrams. At the same time, the free diagramming tool allows the users to work on diagrams either from scratch or using pre-built templates.
In this circuit diagram software, one can make basic to complex circuit diagrams ranging from basic circuit diagrams, circuits and logic diagrams, industrial control systems, electrical engineering diagrams, and more.
In addition, EdrawMax offers a wide range of features, like:
Personalized symbol library
1300+ pre-built templates
Import/Export in Visio format
Highly intuitive workspace
26,000+ pre-built symbols
Online collaboration
Free plans; and more
One can learn about the accessibility of this diagramming tool by creating a circuit diagram with it.
How to Make a Circuit Diagram Effortlessly?
Gone are the days when you had to use complicated or expensive tools to make circuit diagrams. With the help of EdrawMax, you can make a circuit diagram effortlessly or even without having any prior diagramming experience. Following are the steps that you need to follow in order to make a circuit diagram using EdrawMax:
Launch & Login: If this is your first time accessing EdrawMax, you need to register using an email address. Following this, you can launch the tool in your system. If you are trying to access the remotely stored files, you can also check out EdrawMax Online.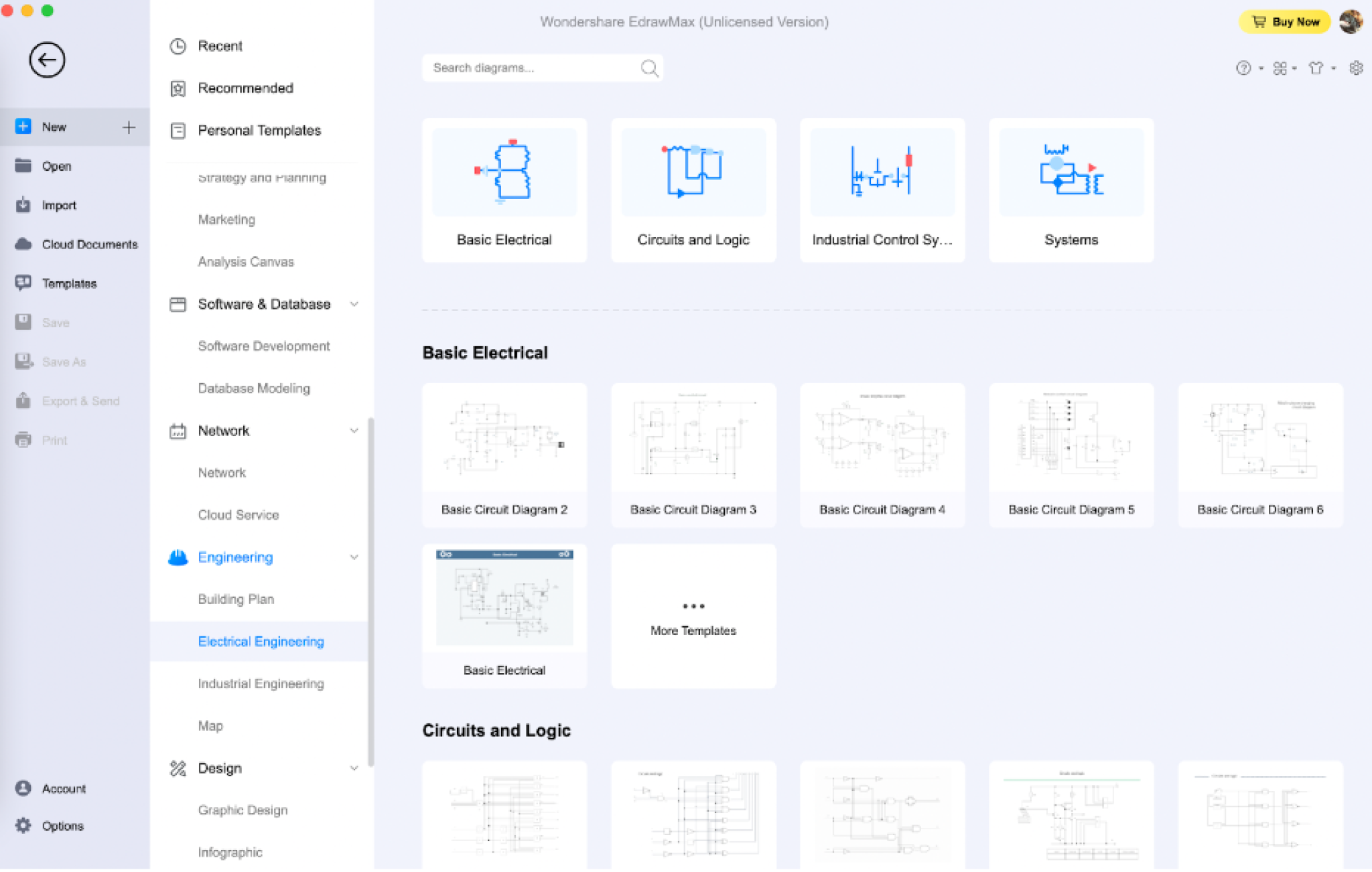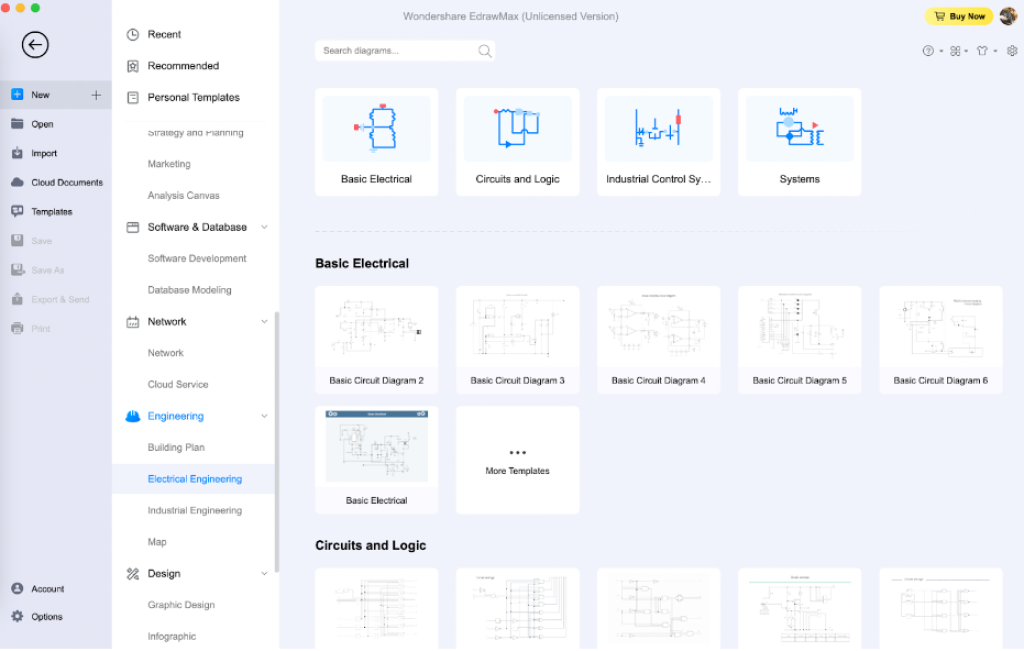 Template Access: Once in the diagramming setup, go to the 'Electrical Engineering' diagram type that you can find under the 'Engineering' diagram section. From here, you can access some of the pre-built templates to get you started with the process of making circuit diagrams. In addition, you can head to the 'Templates' section on the left and look for 'Circuit Diagrams' to access the user-generated circuit diagram templates that you can customize to the fullest.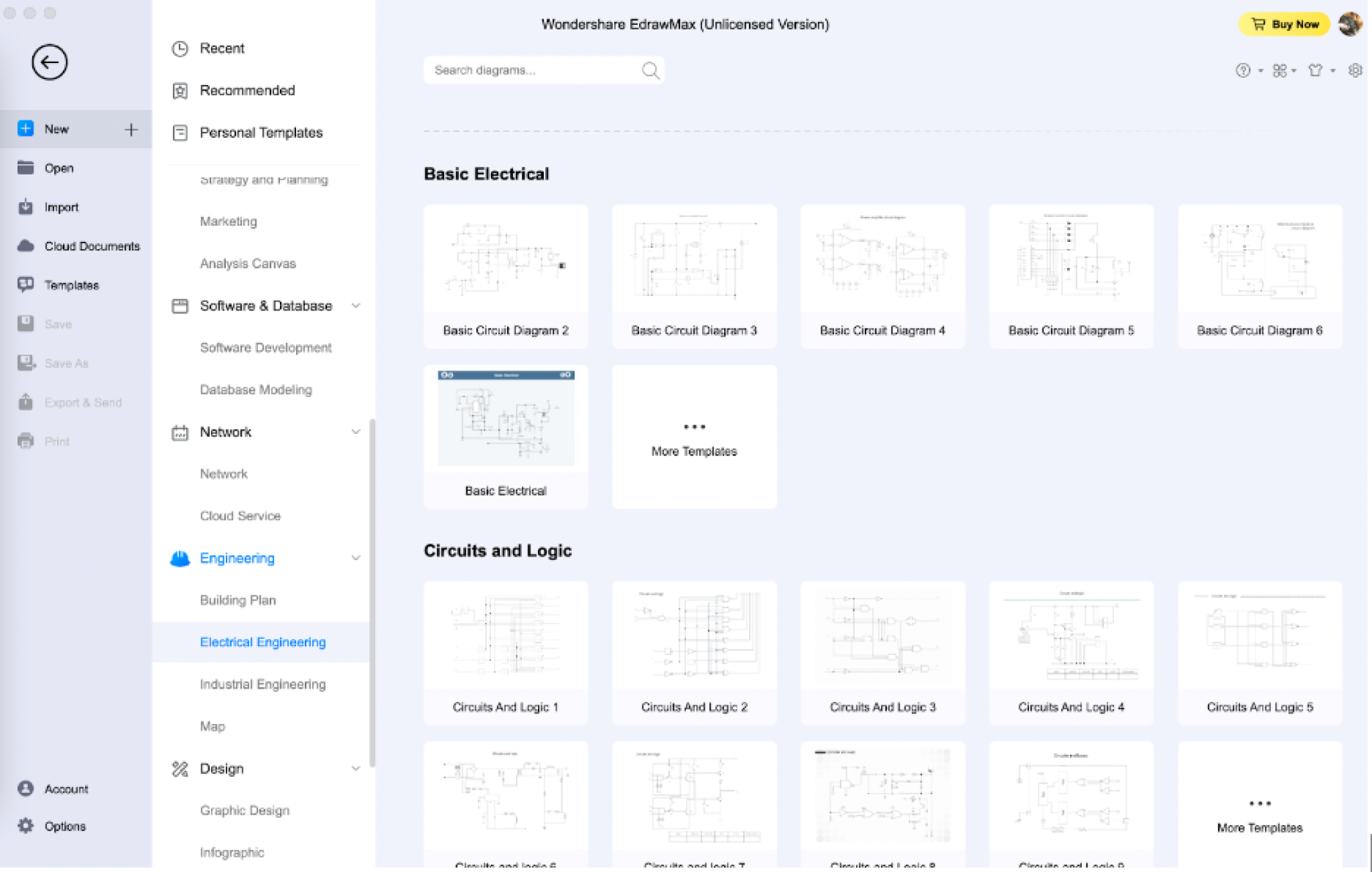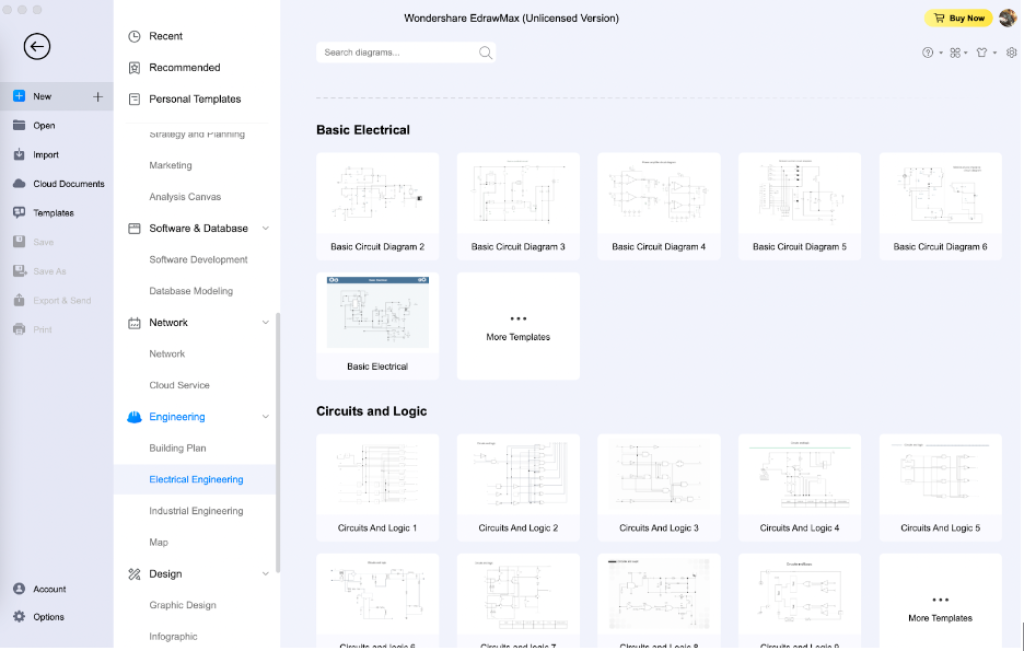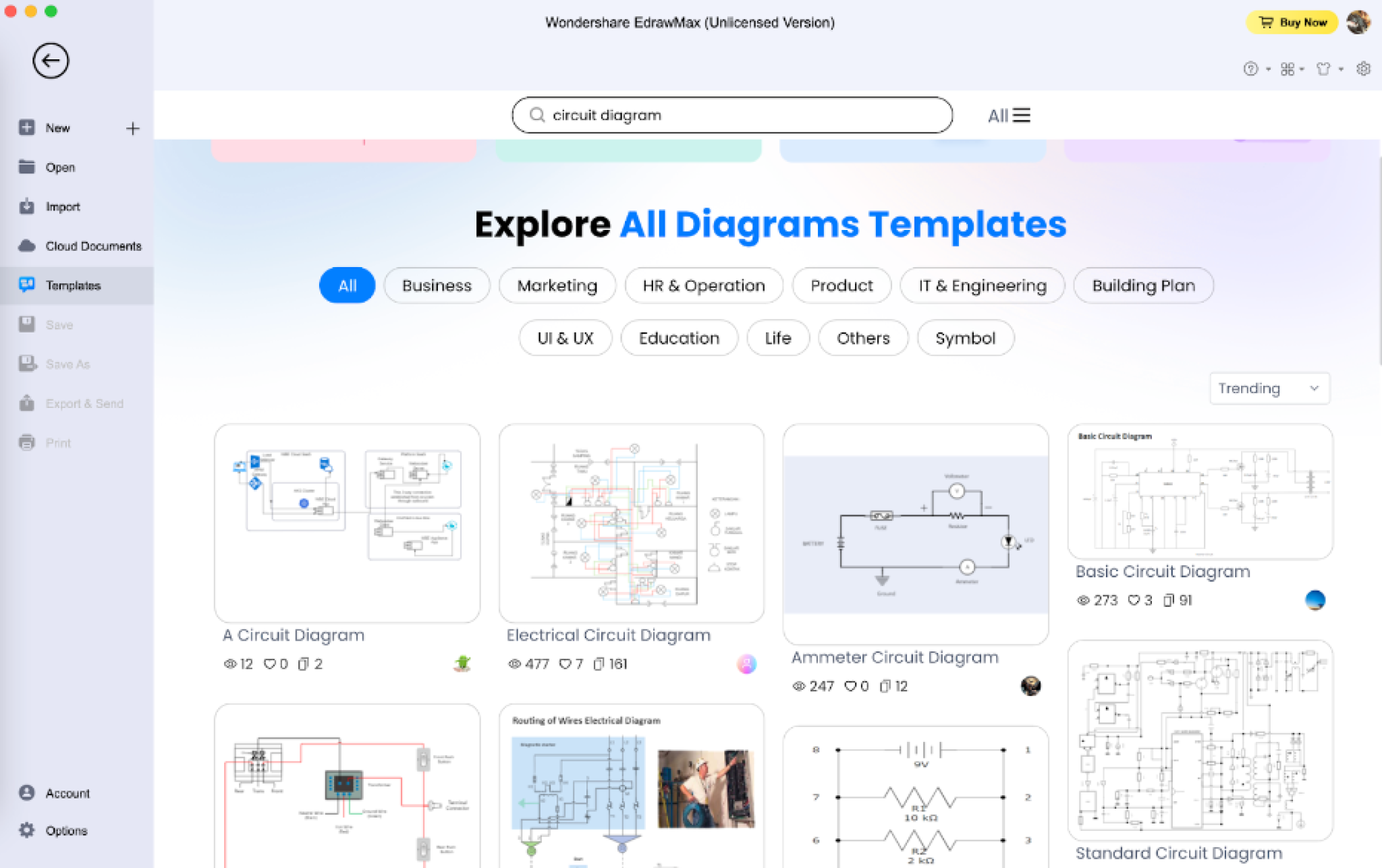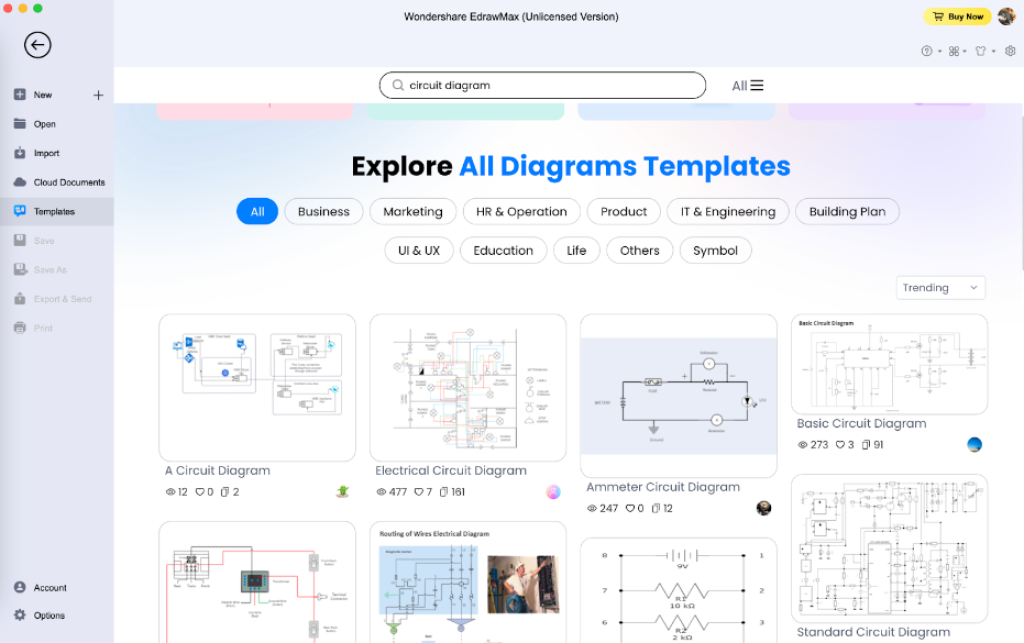 Make From Scratch: If you have a basic understanding of the circuit diagram and its elements, you can click on the '+' sign to start with the 'Blank Drawing.' In the EdrawMax setup, you will find pre-launched circuit diagram symbols on the left and the unlimited canvas board in the middle. You can start placing the circuit elements as per your requirements.
Export & Share: Once you have added all the required circuit diagram components in the circuit diagram, you can export the file in multiple formats or can also share the design with anyone in the world using the online-sharing option. With EdrawMax, you can share the circuit diagram on social media platforms like Facebook, Line, Pinterest, and more.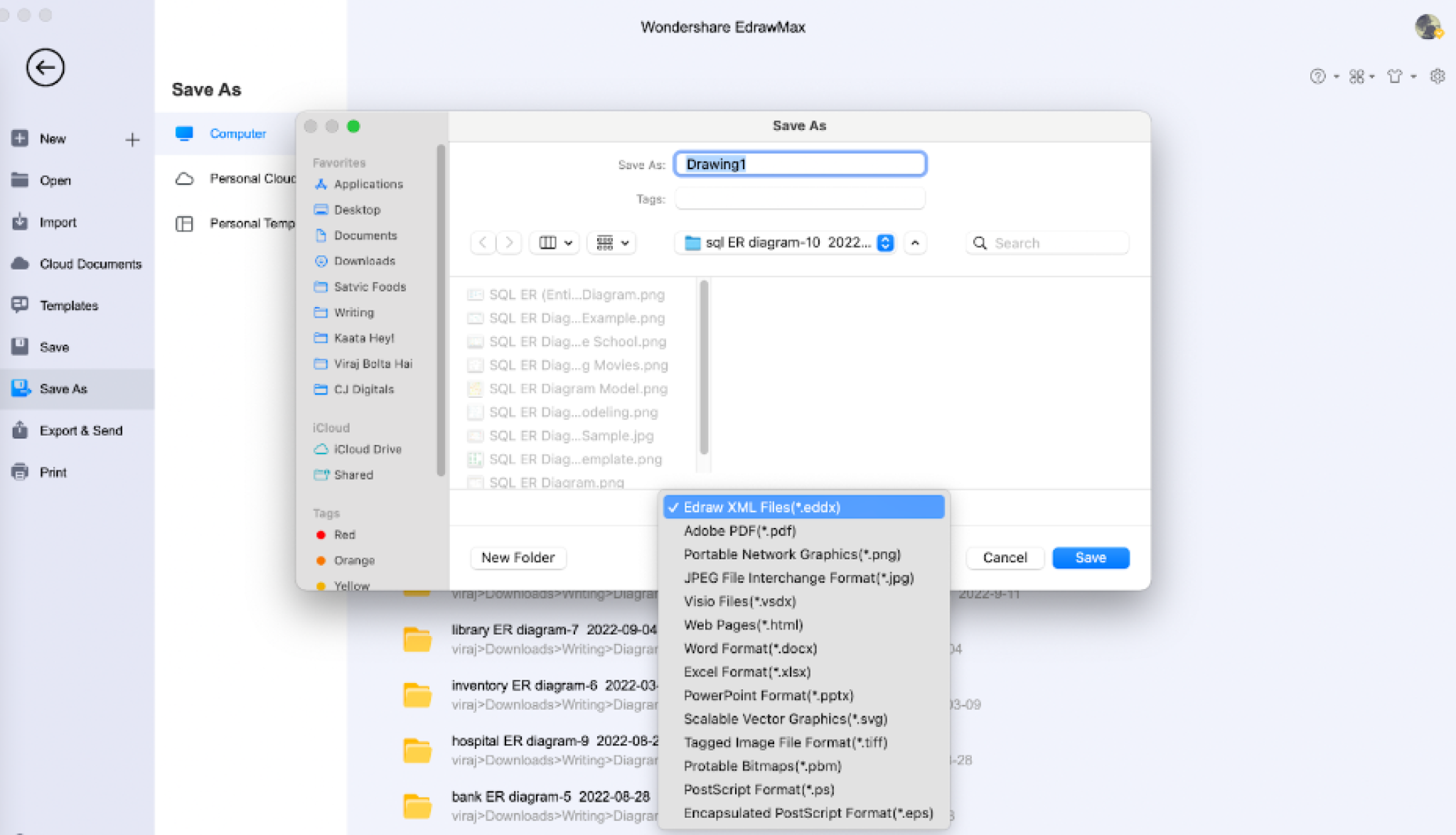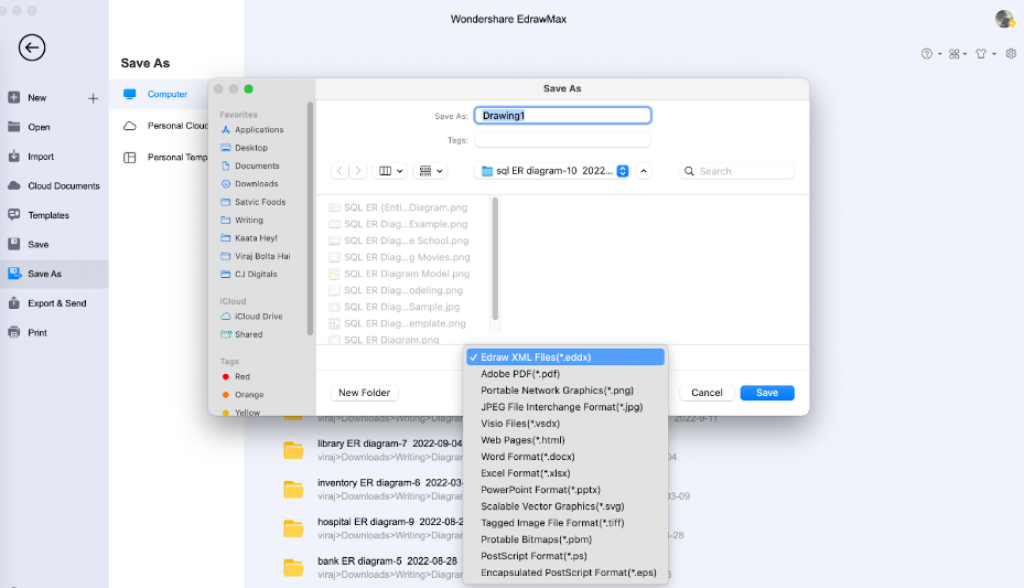 Free Circuit Diagram Software
As you saw here, when it comes to creating a circuit diagram effortlessly, EdrawMax is the best free circuit diagram software in the market. The tool offers a wide range of important features that make it the best choice for making circuit diagrams.
Built-in templates: EdrawMax has a built-in template library that helps you get started with any simple or complicated circuit diagrams. The tool also has a template community that lets you access all the user-generated circuit diagrams. As a registered user, you can keep your circuit diagrams private or make them public to inspire others.
Industry-standard symbols: This free circuit diagram software comes with 26,000+ symbols that include industry-standard circuit symbols, like basic electrical symbols, qualifying symbols, semiconductor devices, switches & relays, transmission paths, and more. This tool is designed by professionals with decades of experience in product design, ensuring that all the symbols are factually and technically correct in the highest order.
Connectivity Tools: This free circuit diagram software comes with automatic formatting. With the vector canvas, you can easily arrange, rotate, resize, reshape, and modify any circuit symbol.
Export as you wish: You can export your circuit diagram to a wide range of formats, like JPG, PNG, BMP, GIF, Tiff, PDF, PS Format, EPS, Office, HTML, Visio, SVG, and more.
Final Thoughts
Creating a circuit diagram requires expertise, patience, and understanding of the basic to expert circuit components. As you saw in this illustrated guide, to draw a circuit diagram easier, there are several important circuit components that you can use while working on complex circuit diagrams.
When making complex circuit diagrams, you can go ahead with EdrawMax. This free circuit diagram software comes with tons of features that not only make the circuit diagram making the process easier but ensure that your diagram is technically correct from all fronts. With this circuit diagram software, you can go ahead and use pre-built diagram symbols, cliparts, symbols, and more.