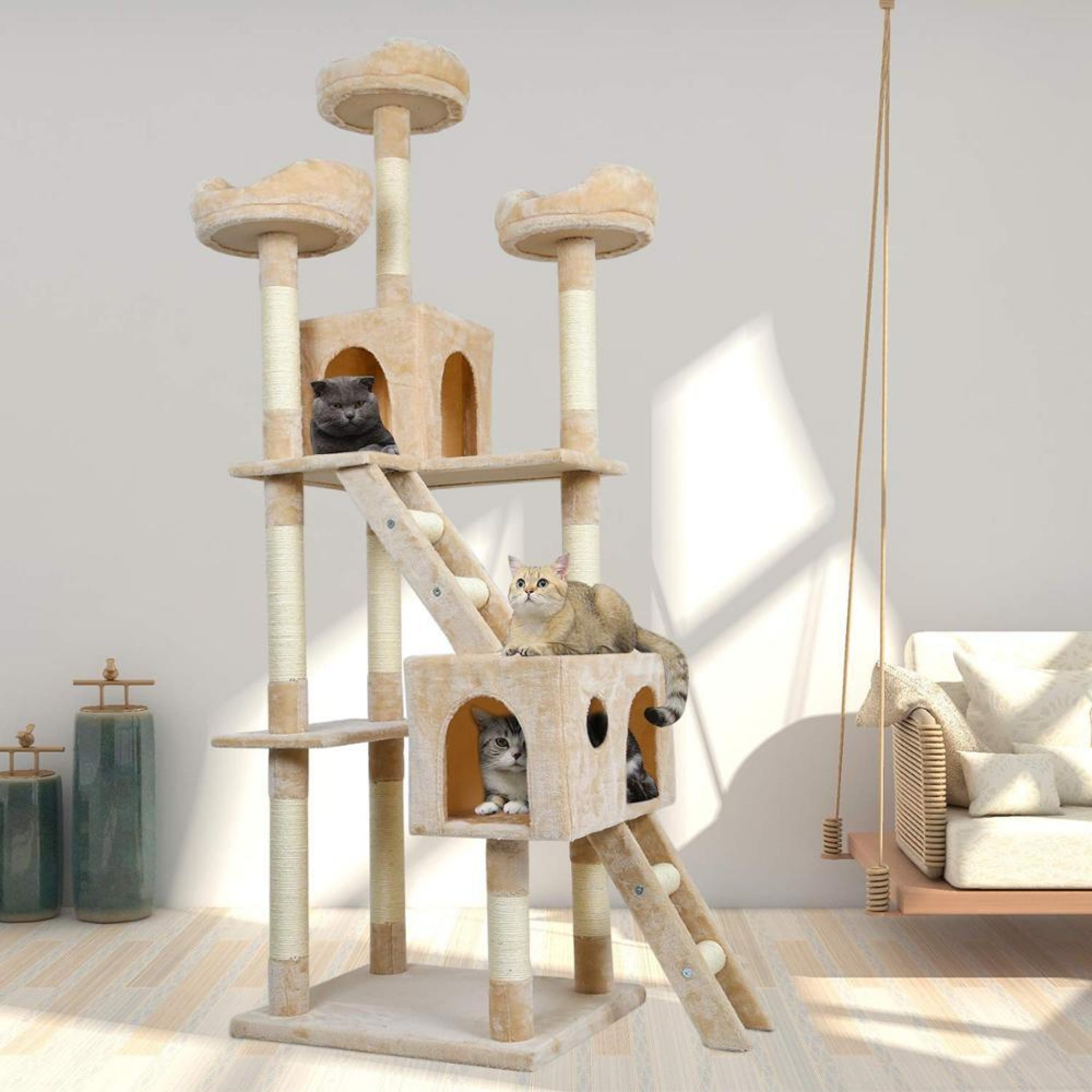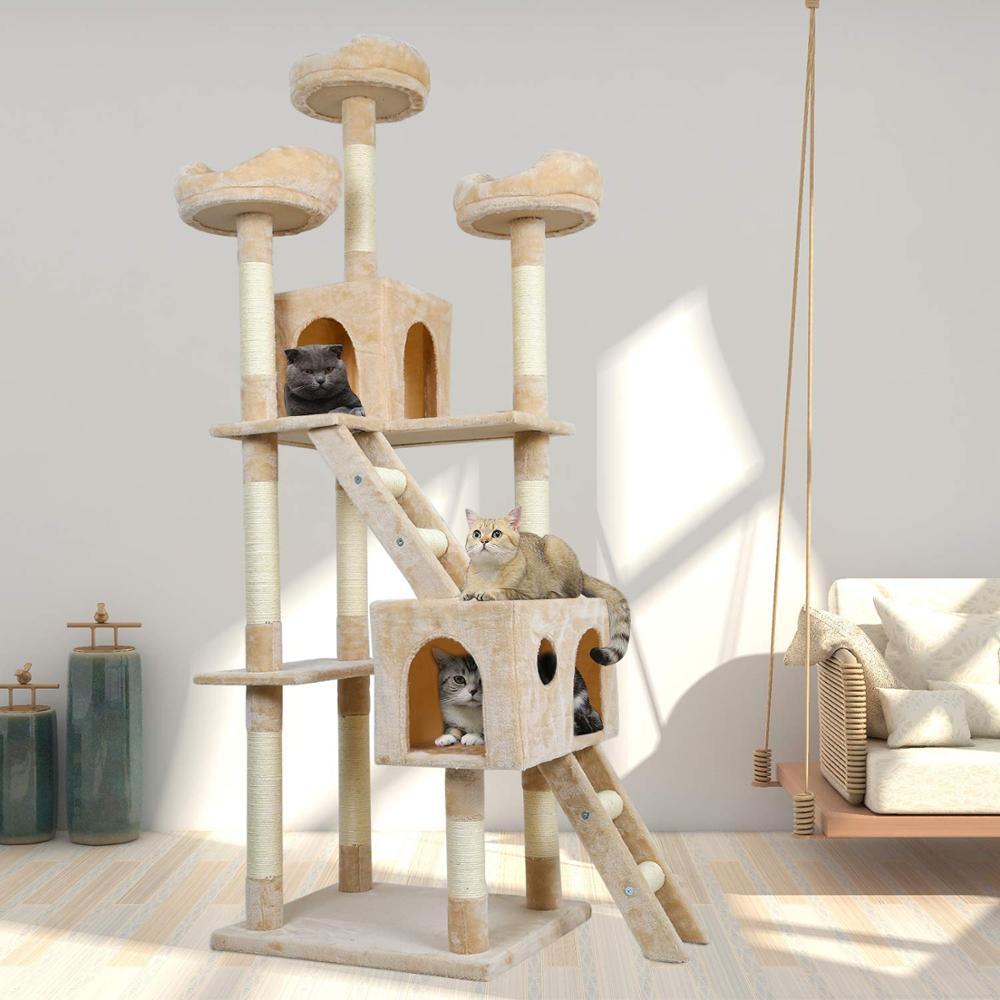 You can call me a cat lover or a crazy cat lady, but I worship those furry little creatures. Their will and need to indulge themselves no matter what can make you realize how beautiful life is. Among other things, they enjoy multifunctional gadgets that make the lives of both a cat and its owner more comfortable, satisfying, and time-saving. Cat harness allows your pet to securely bask in the sun while the breeze courses through their fur
Those beautiful creatures enjoy scratching and conquering heights, so you can help your kitty by finding the top 6 best cat scratching posts and cat trees to buy in 2023. Any of these fantastic products will help it with its claws cleaning and climbing instincts.
1. Basic Activity Tree
This simple version will make your kitty satisfied. Four scratching pillars made of jute will be perfect for your cats' claws. The product comes in two (medium and large) dimensions, so it fits cats of different sizes.
Two platforms provide enough space for resting, and the bed on the top is an ideal place for sleeping. Thanks to the rim, your furry friend will stay safe while having sweet dreams.
Pros
Since this model is only 31.5 inches (80 cm) high, you can put it in the corner of your living space
The square base makes the product firm and stable, so your kitty won't roll it over or lose the balance easily
With the necessary tools and manual, this model is easy to assemble
It is a budget-friendly tree
Cons
This tree is not highly creative, and it can become dull for your loving kitty after a while
2. Armarkat Cat Tree Model A5201
It is an exclusive, practical, and lovely scratching model that will fit your decor perfectly. Its beige color and materials suit every furniture style. Your pet will love resting on the three platforms and a comfy bed or using practical and long-lasting scratching poles to sharpen its claws.
Pros
This model has perfect dimensions and weighs only 20 pounds (9 kg)
The cozy fabrics faux fur wraps a base made of pressed wood, which makes this model highly comfortable
A toy ball hanging from the top platform will keep your cat active and entertained
Cons
The product comes only in beige color, which is not an ideal solution if you prefer darker colors
3. Paws and Pals
The elegance, comfort, and practicality hide behind this 3 in 1 model. Instead of adopting your favorite piece of furniture or your blanket for its kneading and scratching, your pet can find this scratching post handy and cozy. It features 20 inches (51 cm) high platform you can quickly hide under the desk or table when you need more space..
Pros
It is made of two poles wrapped with a sisal rope that is excellent for the cat's claws
The square base is firm, so it is hard to roll it over while your furry friend sleeps and plays
Since there are only four screws you need to put in place according to the manual, the set is easy to assembly
It is a budget-friendly product
Cons
This tree scratch is too small for more than one cat
4. Tall Multi-Level Tree Scratcher Condo
Believe it or not, you can find such a comfortable and luxurious climbing playground and sleeping area for your dearest kitty. After installing this 'castle,' your cat will jump and climb over it, so you won't need to worry that it will put on weight or become bored.
It is a big, 72 inches (1.8 m) high product that features many platforms, hammocks, nests, and scratching poles. This model will represent real fun for your furry friend.
Pros
The used materials are of supreme quality
The tree comes in three colors, beige, blue, and brown, so you will easily fit it in your home decor
All parts with the detailed manual are included in the set, and it will take about 30 minutes to assembly the tree
Cons
Unfortunately, this product is not for small living space, unless you want to share it with your pet
5. Round Tree with Platform
In case you have a cat of average or smaller size, this platform will be an ideal option for your home. A round stable base with three poles for scratching and four round platforms for climbing is particularly perfect for lively cats.
Pros
It is an exciting and attractive option for cats
Jute scratching posts are highly beneficial for the cat's claws cleaning
This product fits in almost every home style as it is of natural color and simple design
Cons
It is not a tree of choice if you have a large cat
6. Pet Fusion Tree and Scratching
Even though this tree is a mixture of various natural materials, it is not over-furnished. Unlike most similar products available on the market, it does not look fluffy and bulky. Your cat will feel free to climb, do acrobatics, and scratch as much as it wants. Believe it or not, all pets are crazy about this product, whether they are old, kittens, lazy, dynamic, or large.
Pros
The beige color with espresso-brown details is simple and stylish
All materials are chosen according to standards
It will take about half an hour to assemble it
You will find self-screwing zinc anchors in the set, which will make the construction safer
Cons
It is not an excellent choice for you if you prefer a fluffy and cozy décor
Conclusion
Whichever model you choose, you won't make a mistake. Rest assured that you will enrich your lovable cat's life and make it healthier and more enjoyable. You can visit cat caveco for more details.
However, you should admit that Multi-Level Tree Scratcher Condo is something special. If you have enough space for this tree, you should buy it. Your kitty will enjoy all platforms, hammocks, nests, and scratching poles this fantastic product offers.