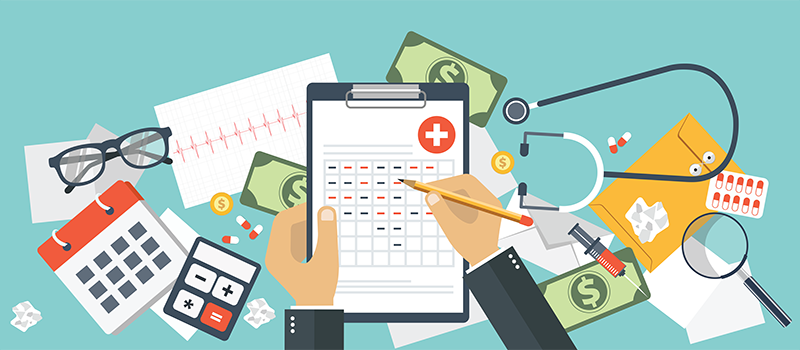 Health insurance is an insurance policy that pays for medical expenses. It can be purchased simultaneously as a car, home, and life insurance. Employers pay for most health insurance policies, but increasingly they are being paid for by the employee.
Health insurance covers a wide range of services, from regular doctor's visits to emergency room visits and hospital stays. Healthcare costs have risen significantly over the past two decades, and many people have difficulty paying their medical bills. Health insurance helps protect individuals from high medical costs and may make it easier to afford necessary medical treatment or prescription drugs. In addition, some types of health insurance may pay for long-term care or disability costs not covered by other policies or public programs such as Medicare or Medicaid (Medicaid).
Health insurance by UShealth advisors protects you against financial loss if you experience a medical emergency or illness. Health plans can be categorized into five different types:
Hospitalization Insurance
This type of insurance provides coverage for hospital stays and other services received in a hospital setting, such as surgery or diagnostic tests. Hospitalization coverage is often used when people need a longer stay to recover from an injury or illness.
Physician Services
Physician service insurance covers visits to doctors and other health care professionals, such as physical therapists, chiropractors, and eye doctors. Physicians may also provide some services at their office, such as stitches for cuts or injections for allergies.
Dental Coverage
Dental insurance is designed to help pay for preventive dental care and treatment of dental problems. Preventive dental care includes regular check-ups and x-rays to catch problems early on before they become more costly to treat later on down the road. Treatment plans may include fillings and crowns for damaged teeth and orthodontics treatments if needed by your dentist. Dental coverage may also include other services such as dentures or root canals.
Maternity and Childbirth
Health insurance plans may include coverage for prenatal care, delivery, and postnatal care for expectant mothers. This can include visits to obstetricians, ultrasounds, and childbirth expenses. Some plans may have certain deductibles, co-pays, or limits on the number of prenatal visits or ultrasound scans covered. It's always advisable to carefully review the terms and conditions of your health insurance plan to understand the extent of maternity and childbirth coverage provided.
Specialist Care
Insurance plans often cover visits to medical specialists, such as dermatologists, cardiologists, or orthopedic surgeons, depending on the plan's network and referral requirements. It's necessary to check the health insurance plan's network, referral requirements, and coverage details to understand the specific coverage for specialist care. This information can typically be found in the insurance policy documents or by contacting the insurance provider directly.
Outpatient Services
Health insurance coverage may extend to various outpatient services, including diagnostic tests (e.g., X-rays, blood tests), outpatient surgeries, therapies (e.g., physical therapy), and mental health services. Check your health insurance plan's coverage details, including any specific requirements or limitations for outpatient services. Different plans may have different levels of coverage, cost-sharing responsibilities (such as co-pays or deductibles), and network considerations for accessing outpatient services.
Rehabilitation Services
Health insurance coverage may include rehabilitation services, such as physical therapy, occupational therapy, and speech therapy, for individuals recovering from injuries, surgeries, or other medical conditions. You need to review the terms and conditions of your health insurance plan to understand the specific coverage for rehabilitation services. This can include checking whether preauthorization is required, verifying in-network providers, and understanding cost-sharing responsibilities such as co-pays or deductibles.
There are several types of health insurance available to individuals and groups. Here are some common types:
Employer-Sponsored Health Insurance
Many people receive health insurance coverage through their employers. These plans are typically negotiated by the employer and offered to eligible employees and, in some cases, their dependents. Employer-sponsored plans can vary in terms of coverage levels and cost-sharing arrangements.
Individual Health Insurance
Individual health insurance plans are purchased directly by individuals and families from insurance companies or through government-run health insurance marketplaces. These plans provide coverage for individuals and their dependents who are not eligible for employer-sponsored insurance or government programs.
Government Programs: Medicare is the federal health insurance plan primarily for people aged 65 and older, some young people living with disability, and those suffering from end-stage renal illness. It has several parts, including hospital insurance (Part A), medical insurance (Part B), Part C (Medicare Advantage plans), and Part D (prescription drug coverage).
Medicaid: Medicaid is a joint federal and state program that provides health insurance coverage to low-income individuals and families. Eligibility and coverage can vary by state, but Medicaid typically covers a broad range of healthcare services.
Children's Health Insurance Program (CHIP): CHIP is a government program that provides health insurance to eligible children and teenagers from low-income families who are illegible for Medicaid. CHIP is managed by states and funded jointly by the federal government and states.
Military Health Insurance: The U.S. Department of Defense provides health insurance for active-duty military personnel, veterans, and their eligible dependents through programs such as TRICARE and the Veterans Health Administration (VHA).
Health Maintenance Organization (HMO):
These plans compel individuals to select a primary care physician (PCP) who coordinates their care. In-network services and referrals from the PCP are usually required for specialist visits or certain procedures. HMOs tend to have lower out-of-pocket costs but may have more restricted provider networks.
Preferred Provider Organization (PPO)
PPO plans offer greater flexibility in choosing healthcare providers. They have a network of preferred providers, but individuals can typically seek care outside the network, albeit at higher out-of-pocket costs. With PPOs, referrals must not necessarily see specialists.
Exclusive Provider Organization (EPO)
EPO plans combine elements of HMO and PPO plans. Like an HMO, they typically do not provide coverage for out-of-network care, except in emergencies. But, EPOs does not need people to choose a PCP or get referrals for professional visits.
Point of Service (POS)
POS plans to blend HMO and PPO features. They require individuals to choose a PCP and obtain referrals for specialist visits. However, like a PPO, individuals can seek care outside the network at higher out-of-pocket costs.
Catastrophic Health Insurance
Catastrophic plans are designed to cover major medical expenses and are generally available to persons under 30 years or those who eligible for a hardship exclusion. They feature low monthly premiums and high deductibles and typically cover essential health benefits after the deductible is met.
Conclusion
Finally, it's crucial to carefully review and compare different plans to find the one that best suits your needs in terms of coverage, cost, and network of providers.