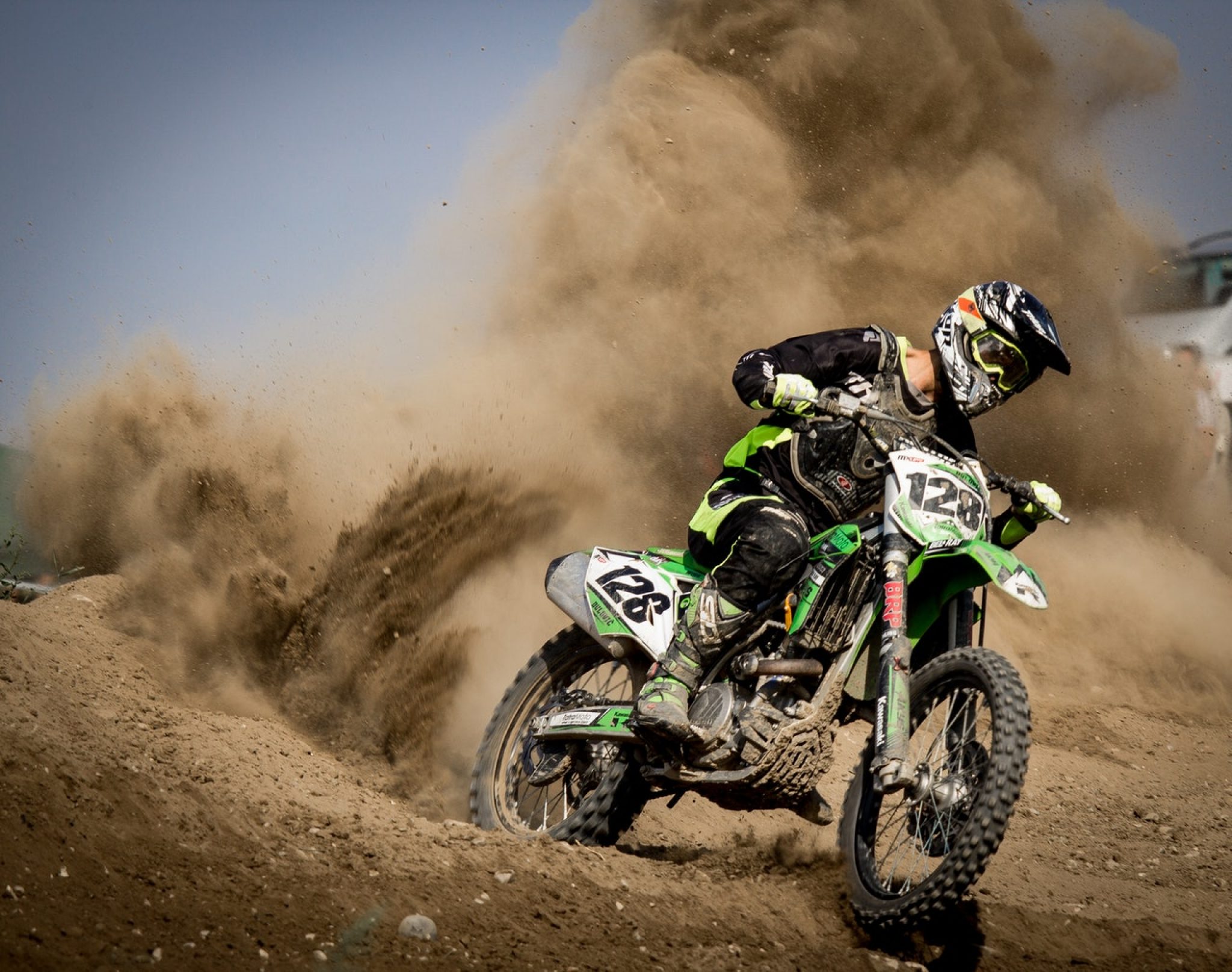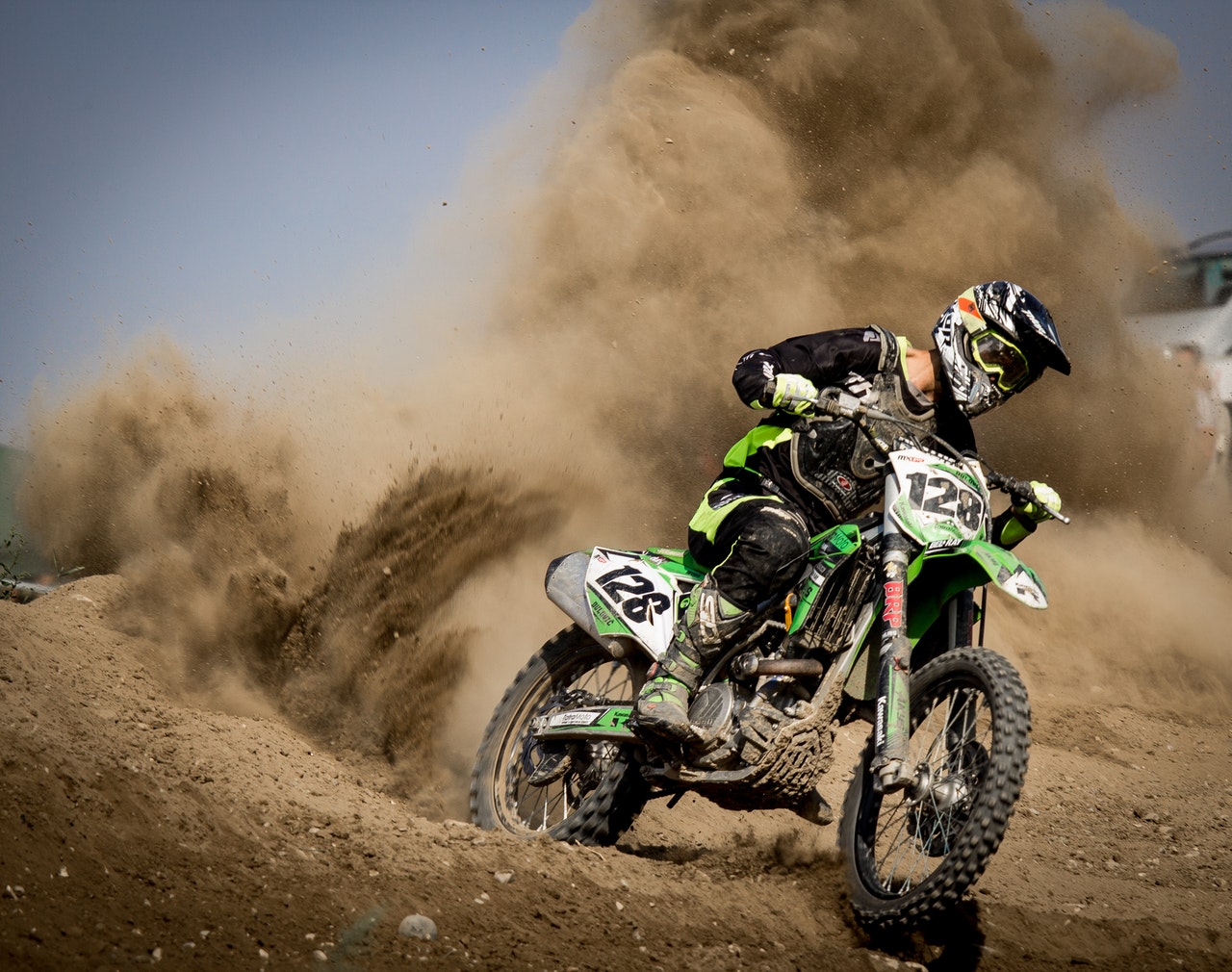 Watching Motocross riders live or on screens passes a shockwave of awe to everyone in the audience. The flashing speed, steep air launches, mad stunts, pure carefree throttle, and the pulsing competition, there's a lot that comes with this Extreme Sports Package.
However, if you are exploring the idea of hitting the tracks yourself, you must be well aware of a dirt bike rider's intimate relationship with the ground.
Crashing is very common while riding tough terrains. Motocross has one of the highest crash rates in the category of extreme sports, then just why does anyone, or why are you even, still thinking about getting on these dooming wheels of adrenaline?
Because it's an ADDICTION.
Once the motocross fever gets to you, and you feel the thrill of battling rough terrains at eye-widening speeds, the rest is just a minor inconvenience. Motocross becomes a way of life.
You may already feel the motocross bug growing in you but how and where should you start your journey? We're here to help you navigate the rough terrain of starting motocross riding. Here's what you need to do.
1. Get a Feel for Unpredictable Tracks
Dirt biking demands expertise in the language of dirt. The best way to learn it is to get a bicycle and peddle onto some rocky trails or a mountainous area. Dodging rocks, stems, dirt piles, maneuvering small pits, logs, tricky corners, everything is a real track simulation. It's a crash course, though we hope not literally, in teaching you the ways around the off roads.
What riding a bicycle in a rocky terrain does, in essence, is to prepare your reactions to the unpredictable surprises of the road. You may even start to gain confidence in your balancing abilities and try to get some air time through opportunistic elevations along the way. Overall, it helps build confidence and dirt rider instinct.
2. Buying the Right Dirtbike
The dirtbike market has a huge range of options. You can choose from four-stroke engines, two-stroke engines, or electric-powered engines. Four-stroke engines from KTM, Kawasaki, or Yamaha provides excellent power and control, whereas two-stroke engines are lighter and easier to maintain. On the other hand, the newer electric engines and bikes are promising and environmentally friendly.
While buying a dirt bike answer the following questions:
What's my riding level? Beginners should go for a smaller, four-stroke bike while experienced riders should go with the two-stroke or electric bike.
What's my height? Find a bike that suits your size. Beginners are recommended to get a bike that's short enough to allow them to put both their feet on the ground.
What's my age? Age is a good indicator of the power your bike should allow.  Teenagers are better off selecting an 85cc-250cc bike while adults should get 250cc-500cc bikes.
What's my budget? No surprise. Motocross requires big dollars. Bikes generally cost thousands of dollars. Good quality, brand new dirt bikes start from $7999. If you don't want to spend that much, you can get a second-hand bike that will cost you $3999 on average.
3. Start Looking at the Part
Along with the mental image fulfillment of looking like a pro rider, looking at the right part means equipping yourself with the right safety MX gear. Though the purchase of Motocross gear ranks lower than buying a good bike and figuring out bike transportation costs, some essential biking gear cannot be overlooked. Helmet, gloves, boots, and some form of body armor is necessary to be included in your kit before you hit the tracks.
During competitions, you will be pelted with small stones being kicked up from under the rear wheel of the biker in front, body armor is therefore essential along with gloves and the boots for saving your hands and ankles. Having a reliable store such as MX store for all your MX equipment can cut all your worries in half.
4. Locate All Nearby Tracks
Tracks can be easy or hard to locate based on where you live. Because of the noise produced on motocross tracks, having them near every city or turning your backyard into a track isn't easy.
Do a quick search about some well-established circuits near you. These well thought out tracks will prepare you for the real deal. Some will even have layouts with differing levels of difficulty, as well as tracks for juniors.
5. Get Help From a Pro
If you can manage to enroll in a motocross training school, you can drastically catalyze your skill growth. Many professional riders turn coaches after their motocross careers pass on their knowledge to the next generation.
Many training facilities will offer you the chance to ride on different dirt bikes to find the best fit for you. They will even have tracks with different terrains available for riding, or they may have information about all such locations.
Knowing the fundamentals through professional institutes certainly helps. Although they aren't the only way, if you apply your passion and dedicate yourself as many pro riders have done before, a professional motocross training school will not be a necessity for you.
6. Practice. Practice. Practice.
This is a no brainer. But it has to be added to the list because of the value it holds. A professional racer could complete 19 Grands Prix and an eight-round national series in 1 season. They can pull this off because of the insane hours they put into perfecting their skill at the track.
7. Step into the Spirit of Competition
There must be local competitions near you that are a perfect platform to experiment with your newly trained skills. Riding by yourself and riding with fellow riders is very different. Along with the focus required to stay on course, choosing optimized turns, and quickly reacting to the changing conditions of the track, you will now also need to monitor, match, and overtake your competitors.
Competitions require an entry fee for competing but it's worth the price since the regional race organizers offer you competition-worthy racers with fast wheels and a safe, supervised racing environment.
Conclusion
Here's a quick recap to all you need to get started:
Get a Feel for Unpredictable Tracks
Buy the Right Dirt Bike
Start Looking at the Part
Locate All Nearby Tracks
Get Help From a Pro
Practice. Practice. Practice.
Step into the Spirit of Competition
If you pay attention to each step mentioned above and rely on mx stores to provide you with only the best quality, your motocross journey will start at the right gear and it will help you throttle full speed into becoming a pro.