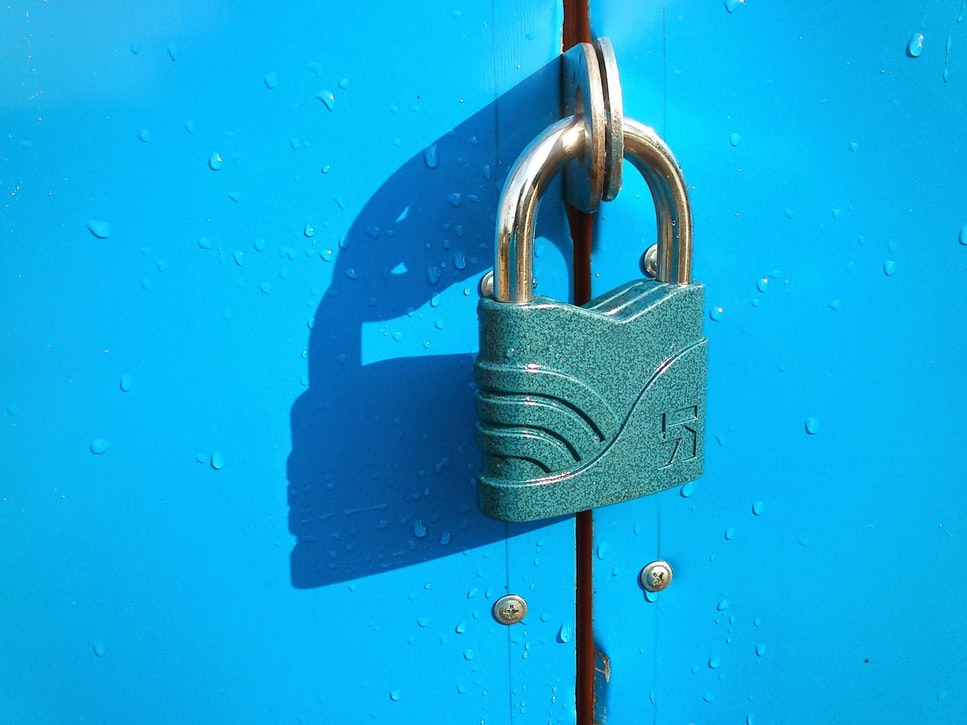 Is a Password Manager necessary for me?
Of course, it is. It's as simple as it sounds. It stores and manages multiple passwords of a single user across multiple platforms. If you use a password manager software, you can use hard-to-crack passwords to your different accounts all over the internet. Undoubtedly a person can create secure passwords, but it is equally difficult to keep such passwords remembered. A smart password manager can prove gold to those who spend most of their time on the internet while socializing, shopping, and banking.
There is nothing more comforting than having a smart password manager when you are a social media freak and have many user-accounts for different things on the internet.  In this article, we will be sharing the secret to keeping all your login passwords safe and breach-proof. Using these smart applications for storing your credentials of Facebook, Gmail, iCloud, and bank logins etc., you can keep yourself from the worry of remembering difficult passwords.
With the use of a password manager or a password keeper (as some call it), you can store your login credentials under encryption. It is a lease of life for people having multiple social media accounts, online bank accounts, and internet places such as cloud storage service, email service or e-commerce. People who keep forgetting their login details while they visit a website and always end up making a new account can also consider their hunt finished. Since there exist more than one type of password managers, we are sharing some of the best password manager software for you which are free to use.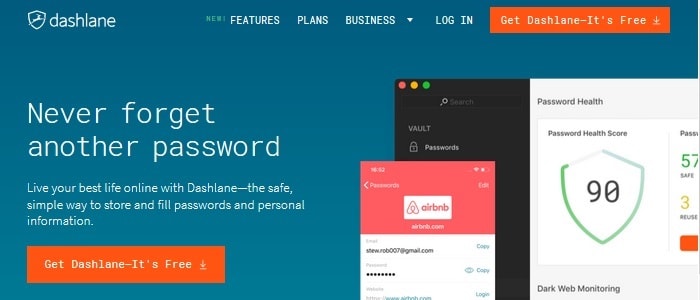 Dashlane looks very interactive and is an ideal solution for people who need a smart password manager for their multiple online accounts. It uses AES-256 encryption and store credentials on a local file within the system. Like every other password keeper, Dashlane supports automatic login, auto-form filling, importing and exporting of credentials, and a two-factor based authentication. It also features a digital wallet for your Credit and Debit cards.
With a free version of Dashlane, you can store as many passwords as you wish. However, you can choose a premium account to use as many devices for the password management. The premium umbrella also supports cloud backup and cross-device synchronization.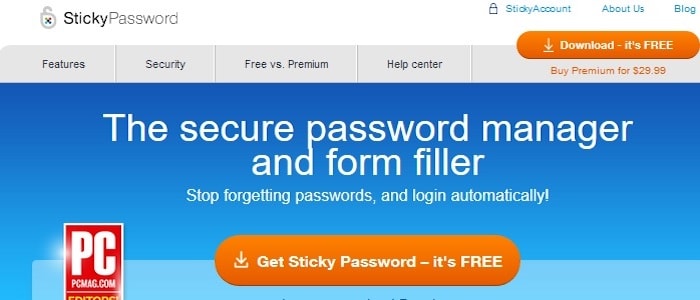 Ranked among the best password managers from around the world, Sticky Password is where you can relax. It is a kind of manager that works with major web browsers and Windows, Mac, iOS, and Android. Other than common features including 2FA, auto form filling, and password management, Sticky Password offers biometrics support too.
Other than its free features, paid version of Sticky Password offers priority support, cross-device syncing, cloud backup, digital wallet etc. PC Mag has also applauded its premium feature with which you can choose optional syncing over Wi-Fi. You can go ahead without any confusion as it uses worlds' best encryption system to do its job.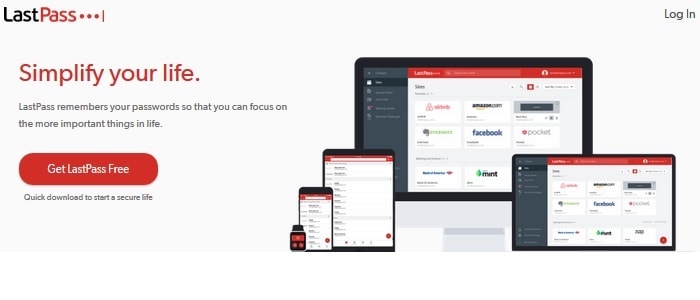 Everybody knows about LastPass as it is one of the most selling free applications out there in the market. If you're using a Windows 10 operating system on your computer, LastPass can be your last place to check-in for storing all your important passwords and login credentials. FYI, this is a cross-platform application which stores everything on its cloud server. It features multi-factor authentication including 2-factor authentication which is a very popular feature among many websites. Filling form and automatic capturing of the password are some other features that make it one of the best password managers. Other than Windows 10 PC, the Last Pass also works with the web-extension for browsers such as Chrome, Edge, Firefox or Safari. LastPass supports direct import of login details and passwords from the browser to its cloud server. You will be surprised to know that decade-long free services are what behind its success and popularity among its users.
Read More: Best iOS Emulators for Windows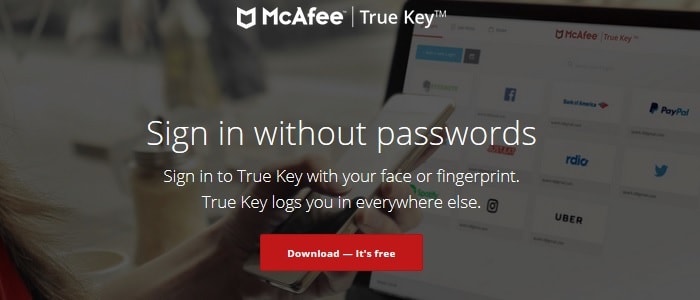 TrueKey is one such password management software which I like the most of all listed here. It works with Windows, Mac, Android, and iOS including major web browsers such as Chrome, Firefox and Edge. It looks very simple and futuristic as it features biometric-based authentications including facial recognition, fingerprints, 2FA, and Windows Hello. These are some of the amazing features which I would prefer to have while using a password manager. There is nothing safer than having a multi-factor authentication based login which is damn hard for anyone to breach. Remember only the master key. That is all.
You should not forget that premium like features doesn't come for free. It certainly means that you will have to lose a little from your pockets for enjoying these premium features as the free version allows only 15 passwords to be stored. You also get to use a digital wallet and an inbuilt password generator with a free version of TrueKey.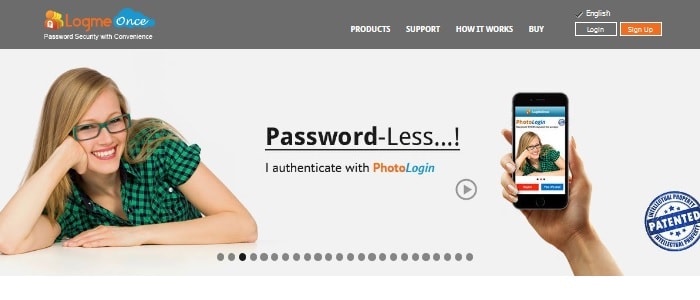 LogMeOnce delivers more than any other password manager does. Possessing common features such as 2FA, cross-device synchronization, digital wallet, biometrics authentication, and secure password sharing, it does all the jobs as a smart password manager would perform. It itself suggests strong passwords based on its inbuilt password strength report in case it detects a weakly configured password.
However, the free version of most software comes with limited features. This app allows you to add a beneficiary to whom the control will be transferred in case the user is unable to use services in the event of any happening.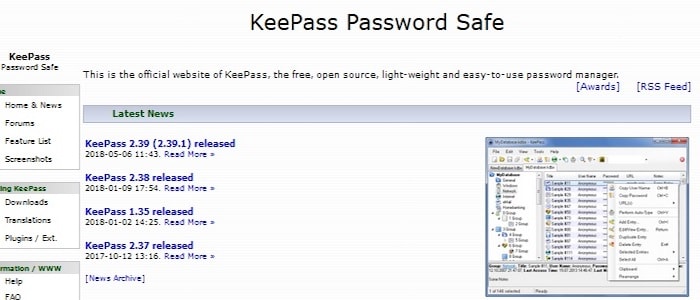 KeePass is a renowned password manager used by Windows users. Developed in 2004, it is a free and open source software which you can use on a Linux or Macintosh computer too for serving the purpose. It saves the user's credentials on the computer in an encrypted file. Two-factor authentication and form-autofill are some of the common features it provides.
What more you can do using KeePass is generate passwords using the inbuilt tool for the same. It allows you to make import and export of credentials in CSV, XML, HTML, etc. file formats. KeePass deserves to be on this list of best password manager software as it is completely free to use and simple to use.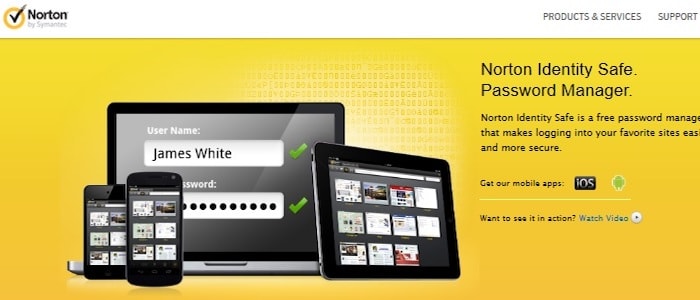 A basic but very reliable password manager, Symantec Norton Identity Safe is a good option. There is the only free version of this software which means you don't have to shell money out of your pocket. As Symantec attached to the name of the password manager, it houses all the capabilities to store all your passwords and login credentials to serve one-click logins. Other than storing passwords, Symantec Norton Identity Safe also filters malicious pages while browsing using SafeWeb. It may seem less interesting to you because it has an external password generator, only .csv file imports, and lesser updates. If you don't want to hustle in between features and want a simple password manager tool, you may check up on this software.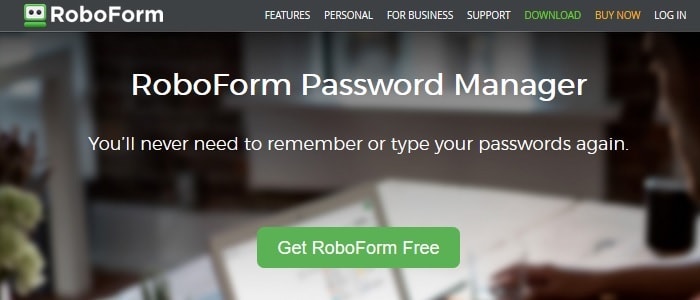 Introduced in 1999, RoboForm features a nice and clean user interface which is why it is a preferred password management tool. It supports working with Mac, Windows, iOS and Android devices. Its free version does as good as a premium password manager would do. You can enjoy features including two-factor authentication, auto form filling, single-click logins, and password strengths calculator etc. for storing unlimited passwords. The premium version of RoboForm offers features such as cloud-sync and secure-password sharing. In a nutshell, it is good to go option if you're content with free services.
Closing: We have listed some of the best password management tools available for free to use. We will be happy to hear feedback and suggestions from our avid readers. If we have missed out on anything, you can feel free to drop your thoughts in the comment section.