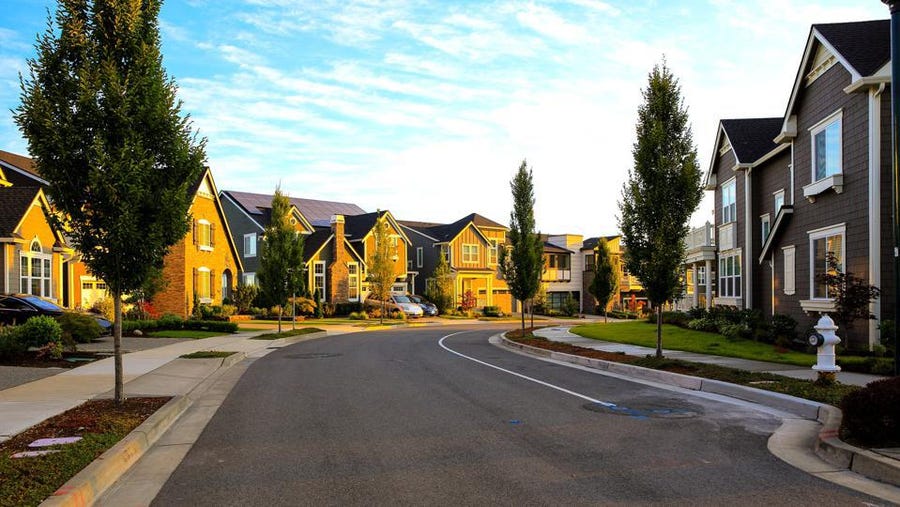 Are you ready to take the plunge and own your very own home? Taking the plunge is exciting but it can also be a little daunting. Never fear – here are a few tips to help you find the perfect neighborhood when buying a home. From local amenities to geographic location, let's explore how to choose the right neighborhood for you!
Benefits of Hiring a Real Estate Agent
When you buy a home, there are several things to consider; your budget, location, and the type of property – it can be difficult to balance all these factors while looking for the perfect neighborhood. One of the most helpful and effective strategies in finding the ideal home is hiring a real estate agent.
Experienced real estate agents are rarely surprised by any developments or roadblocks that may arise during the purchasing process. They will be well-informed about current market trends and existing properties available in your desired neighborhood – so they can guide you accordingly while searching for your future home.
Agents are adept negotiators, especially regarding distressed homes, bank foreclosures, or REO (real estate owned) properties – thus allowing you to acquire the best deal possible without any frustrations.
By delegating some of the time-consuming duties involved in buying a new home to an experienced realtor, you'll be able to concentrate more on other responsibilities such as coordinating movers or purchasing necessary furniture and repairs. With an agent by your side throughout the process, it becomes easier for you to focus on other tasks as required throughout this transition period.
Ultimately, investing in a reliable real estate agent from day one will ensure that all important papers works & documents pertaining to mortgage applications & financial assessments will be properly taken care of quickly and efficiently – leaving you with peace of mind as you enter into homeownership!
Researching the Local Real Estate Market
When buying a home, it is important to research the local real estate market to ensure it is the right neighborhood for you and your family. You can start by researching the available properties online or by consulting with a real estate agent or broker.
Once you've narrowed down your search to one or two areas, take time to explore each area in person. Consider factors such as proximity to amenities, schools, and public transit if they are important to you, and spending some time walking through residential neighborhoods can give you a good indication of what daily life in this area might be like.
Due diligence on the local housing market can help ensure that you choose an area that offers quality housing at an affordable price. Researching property values in the vicinity will provide valuable insight into whether the price of homes in your desired area is increasing or decreasing and what controls these changes may have on future pricing decisions. Additionally, investigating crime rates and any changes that may have been made over recent years can give added peace of mind when relocating or making a home purchase in a new neighborhood.
Considering the Local Amenities and Facilities
The biggest draw of many neighborhood locations is their shops, restaurants, cafes, and pubs. When evaluating a potential neighborhood, take into account its proximity to your desired areas of entertainment and convenience. Many neighborhoods will also offer cinema and theatre venues in addition to major attractions like museums or art galleries. It is also beneficial to look into any farmer's markets or outdoor activities available too!
Another aspect of local amenities and facilities that should be looked at is the availability of public transport within the vicinity. Consider how easy it would be for you to reach work or reach family if required. Evaluate how frequently buses or trains run in your prospective neighborhood and make sure there are enough stops within walking distance for easy access all year round.
Finally, check out local parks and open spaces as these can be great places for gathering with friends on sunny days! Take some time to explore the path routes around walking or cycling tracks – as these can provide great methods for keeping fit as well as being environmentally friendly too!
Evaluating the Crime Rate and Safety of the Area
To determine whether the area has high or low crime rates, you should consult resources such as police reports, homicide statistics, and local news reports to assess the current context. Additionally, it is beneficial to attend neighborhood watch meetings to understand what issues locals are facing.
It is also useful to assess nearby resources that contribute to overall safety like security systems installed in homes, adequate lighting along neighborhood streets, and input from neighbors who have lived in the community for a long period of time. Furthermore, examine existing regulations related to those who live close by such as restrictions on residential occupancy levels or smoking regulations that may create an unpleasant atmosphere. Evaluating these factors along with other indicators like current housing prices and availability of local amenities can help you make an informed decision when looking for your ideal neighborhood.
Examining the Quality of Schools in the Area
When you are looking to purchase a house, it is important to examine the quality of the area's schools. By assessing the quality of education provided in a local neighborhood, you have the added advantage of being able to ensure your children are going to receive an appropriate level of academic assistance and extra-curricular activities.
To start, research existing academic performances for the area's elementary, middle, and high schools. Public school performance data is generally available online through state or local boards of education. Additionally, you can review individual school websites for information on curriculum, extracurricular activities, disciplinary issues, and skilled faculty members.
Understanding the Local Economy
Understanding the local economy is essential for buying a home in an ideal neighborhood. Look at the average housing costs in the area and research any local economic trends that might influence house value over time. It's also important to find out about local job opportunities and commute times – if you're looking to relocate, make sure you have a job lined up first! Knowing more about the local economy can give you valuable insight into how much house is truly in your budget and if this really is a suitable neighborhood for your life.
The Bottom Line
Finally, consider how close your workplace is to each neighborhood and how long your commute would be from each area – it might make more sense for financial reasons or lifestyle reasons. Use this time to get a better understanding of the neighborhoods that could become home for you.