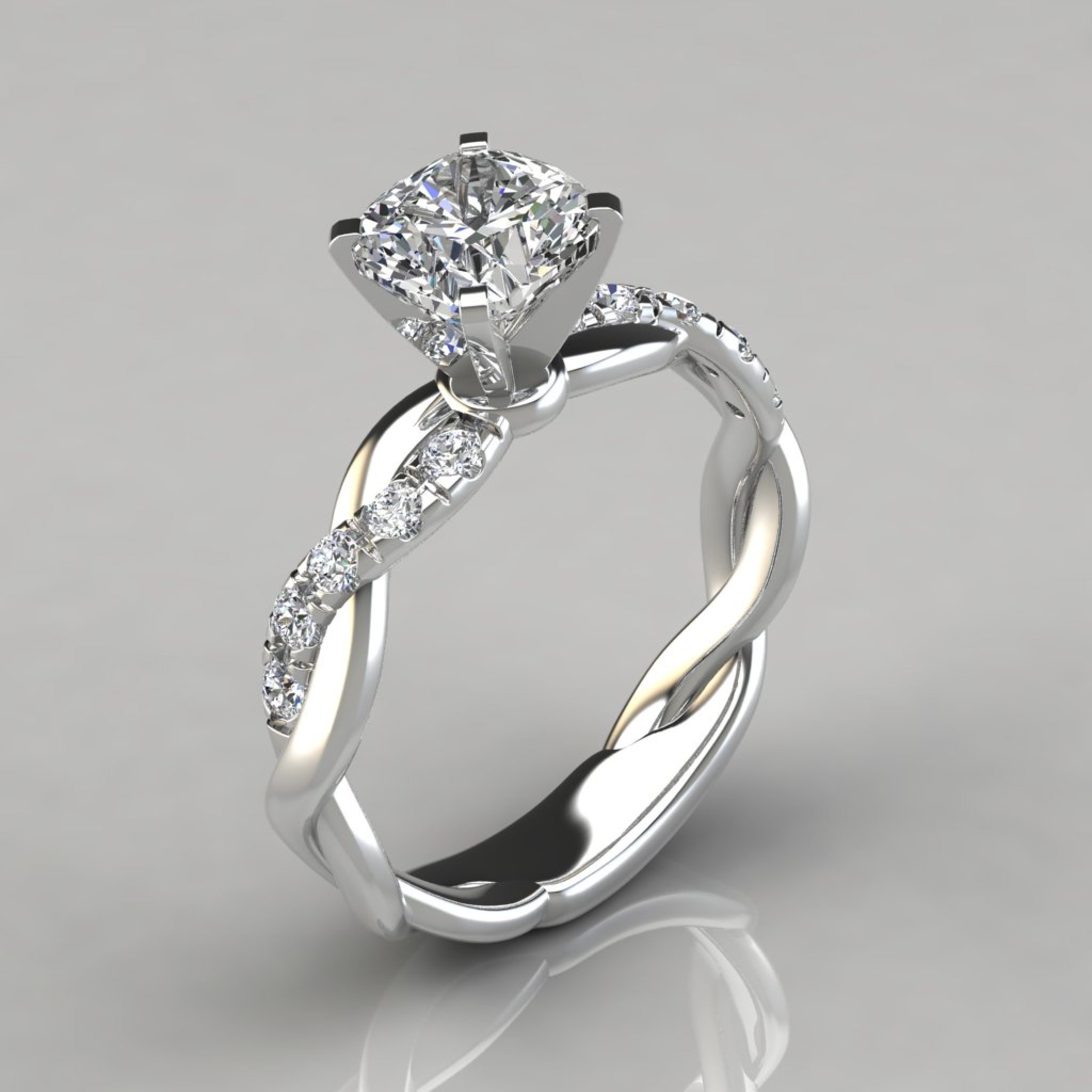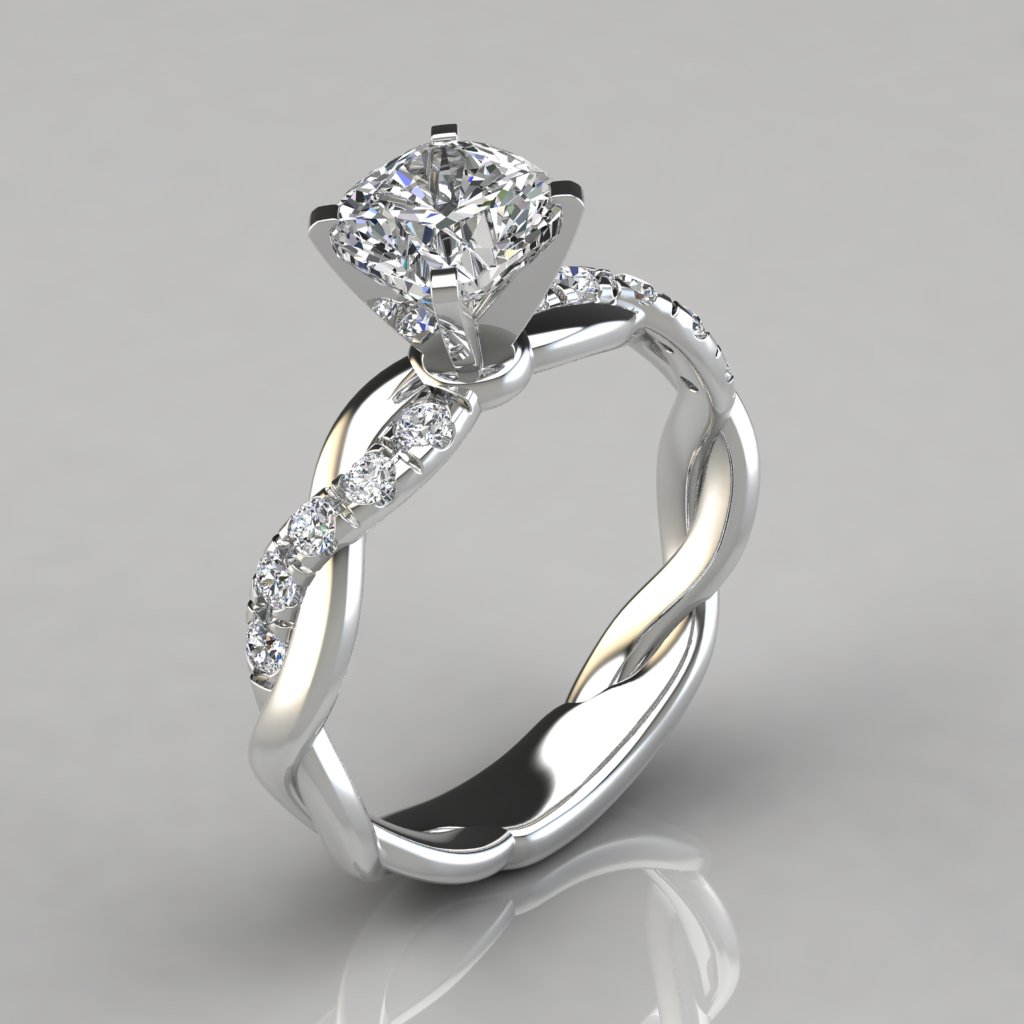 When you think about it, the perfect engagement ring looks different to every person. Some brides-to-be might prefer something minimalistic like a simple band with a small stone, while others might prefer something that features several diamonds and a gold band. However, generally speaking, it all comes to preference, and more importantly your budget.
Now, if you are on a tight budget, one that is approximately 1000 dollars, but you really want to ask your partner to marry you, fear not – there is a wide range of options that you can choose from that cost less than $1000 dollars, but still look like you spent thousands of dollars on it. So, without further ado, let's take a closer look at what options you have:
1. For a Vintage Feel – 'Tory Solitaire'
Price: $560.00
You might be looking for something that is a little bit vintage, and if so, this band is perfect for you. The Tory Solitaire edition is one of the best options if your partner loves antique jewelry and designs. It features amazing, delicate filigree details on the shank, and in the middle, it holds a lovely, cushion-cut stone that you can choose. This means that you can completely customize the band to your desire and to your partner's preferences.
2. For a Modern Feel – 'Peaches'
Price: $754.00
If you are looking for something a bit more modern and something that will make you soon-to-be-spouse stand out from the crowd, this one might be your best bet. It comes with a pave set halo specifically designed from recycled natural diamonds that are carefully connected to a simple, silver band. If you opt for this design, you should know that you could opt for choosing a stone that is oval, emerald, or round.
3. For The Minimalistic Feel – 'Petite Gold'
Price: $660.00
When looking for something minimalistic, gold, and with a few tiny diamonds, you might want to opt for this lovely petite diamond band feature on caratdiamanter.dk. Not only will your fiancee be able to easily combine it with her everyday outfits, but, it will possibly draw a lot of attention to her, especially since the design of the piece is not commonly seen. So, when looking for something a bit different for that special someone, opt for this ring from the 'Petite' collection.
4. For a Unique Feel – 'Paris Stackable'
Price: $998.00
For something completely unique and different from all the other pieces on this list, you should opt for the Paris Stackable band. It can hold either a round, oval, or cushion stone, and the band holding the gems comes with a delicate and completely feminine design. Since it has a flat side, your partner will be able to mix it and match it with other bands, which means that she will be able to wear it with her wedding ring as well!
5. For a Feminine Feel – 'Petite Diamond'
Price: $597.00
Yet another edition from the aforementioned 'Petite Collection', this one comes with a really elegant and feminine feel. It features a simple, 18-carat white gold band and there are 7 diamonds in the center, forming a shape of a flower. The diamonds featured on this ring total 0.05 carats, and although it might seem like a small number of carats, the diamonds are literally indistinguishable from the ones that have a higher value.
6. For a Traditional Feel – 'Quimby Two-Tone'
Price: $905.00
For a traditional look and feel, you might want to opt for this particular model. It features a round center stone, however, it is placed in an ornate flower prong head, with a bad that is elevated with small diamonds. It is a perfect combination of delicacy, tradition, and elegance, which is why you might want to consider this one for your partner, especially if she loves traditional things and jewelry pieces.
Things to Consider When Opting For a Ring
Before we conclude this article, there are a few things worth mentioning, especially since it will make it easier for you to choose an engagement ring for that special someone. Of course, if you already know what your partner loves and prefers, you can simply skip this entire section, but if not, the things you'll need to consider include:
First Things First: Consider Her Style – the very first thing that you'll need to consider is her style. Hence, think about what type of jewelry she most commonly wears, which means that you need to think about the metal she prefers, the gems she likes, as well as the size of the ring.
Take a Look in Her Jewelry Box – if you did not pay attention to the jewelry your partner wears, you can always take a look in her jewelry box. By doing so, you'll be able to determine exactly what she likes, as well as what you should definitely avoid. Additionally, you can also learn what jewelry she has, so you can choose something that she can combine with the rest of her jewelry.
The Size Matters – it would be really devastating if you purchased a ring that is either too small or too large, hence, you'll need to determine what ring size she wears. The easier way to do this? Take one ring from her jewelry box and take it to a jeweler. Once there, they'll be able to tell you exactly what her size is.
If Nothing Works, Ask Her Friends And Family For Advice – if you have hit a brick wall, you can always ask her family members or friends for some help. They might be able to tell you exactly what she'll love, hence, you won't need to spend a lot of time searching. However, ensure that they'll keep it a secret.
Conclusion
As you can see, there is a wide range of engagement rings that you can choose from. But, before you actually opt for a ring, keep in mind that you'll need to consider your partner's style, preference, as well as whether or not they will like it – which is something that you can conclude by looking in her jewelry box.
So, now that you know what you can choose, you might not want to lose any more time. Instead, you should definitely start browsing both brick-and-mortar and online businesses in order to determine and purchase the perfect engagement ring, for less than 1000 dollars.