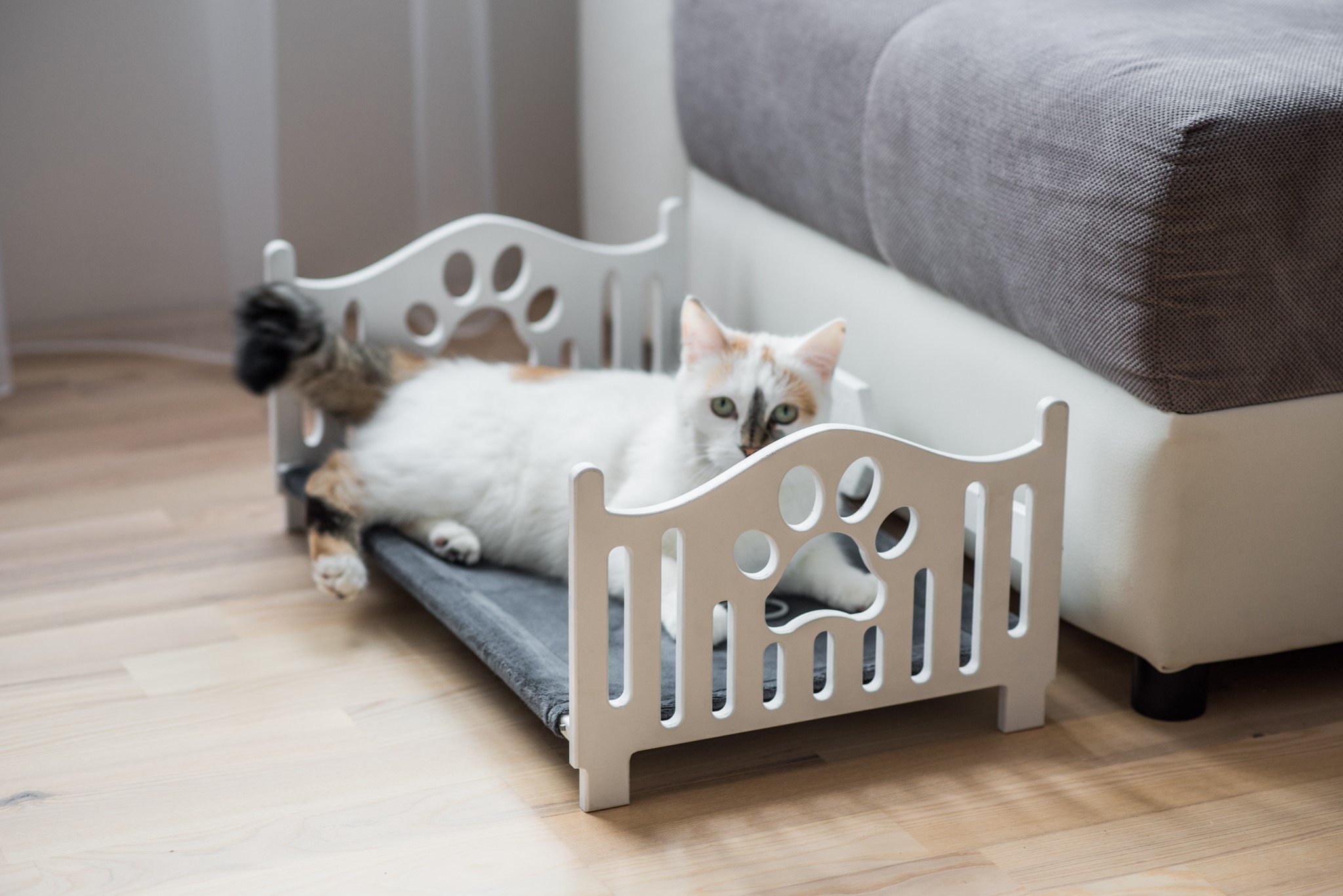 Cats spend most of the day sleeping, so a comfortable bed is something you should pay special attention to. How to choose the right bed for your cat? We will give you some tips.
Having A Cat As A Pet
It is not enough to say: I want to have a cat, they are such wonderful pets. Having a cat as a pet also means responsibility. Having a cat as a pet is relatively simple – but assuming that you provide them with everything that will enable them a healthy and happy life. Basically, cats are grateful pets – and pretty easy to maintain. However, you need to provide them with some things before you bring them into your home. Cats are territorial animals. However, since many of them do not go outside and spend their lives indoors – your home is their oasis. That is why safety is important to them, but also comfort.
A Cat Must Have Its Own Space
When you bring a cat into the home, start with a small space. Provide your cat with space that is small enough – not to be too big. You can start with a smaller room in your home. Of course, this is not a must – but it should be a room that is not that other members of the household do not use so frequently. If the cat you brought is shy or timid – too much interaction with people will increase the feeling of anxiety. That can make it difficult for your cat to adapt to the new space. Of course, the cat should not be locked in this space all day. Let the cat go out on her own – and explore other parts of the home. Its space also includes the room in which the food and water will be placed – as well as her bed and the toilet. In essence, each cat will soon choose a space that cat will adopt as her own – and which will be their favorite place to rest, sleep or hide when they are scared or stressed.
Where Should Cats Sleep?
Cats spend most of the day sleeping – so a comfortable bed is something you should pay special attention to. Cats like to sleep on something soft and in warm places. Of course, many cats will choose to sleep in their owner's bed, on an armchair – or a couch in the living room. Cats like it so much because they are surrounded by the scent of their family. This is the easiest option – because all you need is to get them comfortable pillows or rugs on which to rest. Do not wash your cat's bed often, so as not to remove familiar smells. Choose fabrics that are easy to wash and dry, as well as those from which you can easily vacuum – or pick up your hair with a roller. Many cats will also sleep on the radiator – so if possible, set the one they choose to a medium temperature, and put a comfortable mat or blanket over it.
Tips For Choosing The Right Bed For Your Cat
If you buy a bed, you care more about where you put it – than what it looks like. The cats don't care about how it looks – but it is essential for them not to be on the floor. It is because they don't feel overly relaxed when being on the floor. Therefore, make sure that it is always raised, near a radiator, near a window or door. Make sure it is a place where the sun's rays and daylight come from. One more good option for your pets is cat window perch. If you are interested, read more on mainecoonhawaii.com.
However, maybe you'll choose to buy your cat a little bed. As you already know – the offer is wide, so how to choose the right one for your cat? Here are 5 tips.
1. Size
Of course, this is the first and basic factor. Cats should be provided with enough space for a comfortable sleep. When you take into account the fact that cats (especially older ones), spend 14-20 hours sleeping – then it is clear that the crib you bought should be large enough for the cat to relax. This, on the other hand, does not mean that they need to get too big beds or pillows. It is enough for them to have space to lie down – and to stretch and change position here and there sometimes. However, according to PetOnBed – it is convenient for the crib to be soft, warm, and made of natural materials.
2. Material And Washability
When choosing a cat bed, it should be made of natural materials. Namely, cats are prone to various allergies – so natural materials are definitely recommended. On the other hand, it is important to be able to wash such a crib – even in a washing machine. Cats are cleaning their fur, they shed – and very often hair accumulates on the crib. Not to mention the possibility of infestation by fleas, ticks, etc. Therefore, it is very important to periodically wash your pet's bed. However, you don't have to do this too often. That will remove the smells that cats are familiar with. However, occasional washing is recommended – so take a good look at the label before you buy it.
3. Style And Design
To be honest, this plays a much bigger role to the owner. Cats don't care too much whether their crib will be in a certain color or with a print. This is more significant to owners who want only the best for their pets – and sometimes they combine it with their own style. What may be important to your cat, is choosing a crib that can be opened, that is, like a pillow – or one that is closed and has a hole in the middle through which the cat enters and exits (like a cave). Take a good look and get to know your cat's habits. If you notice that your cat prefers to crawl in some less accessible places – then opt for an enclosed crib with a hole. This will definitely please your pet more.
4. Consider A Heated Bed
Cats just love to get warm, especially during long cold winter days and nights. Then, they look to sleep somewhere by the fireplace or by the stove. If you don't want your pet to miss anything – you may choose from a selection of pet beds that already contain an installed heating unit. This is additionally recommended if your beloved pet is already a senior.
5. Price
Of course, this is also a very important factor. Today, in the pet industry, you have a variety of models of pet beds – but also other pet equipment. Let's be honest – it's not always so affordable. Especially if you are an owner who is into famous brands – or want more exclusive equipment for your pets. However, make sure that price and quality always get along. So, what you paid for – must follow its price with quality.