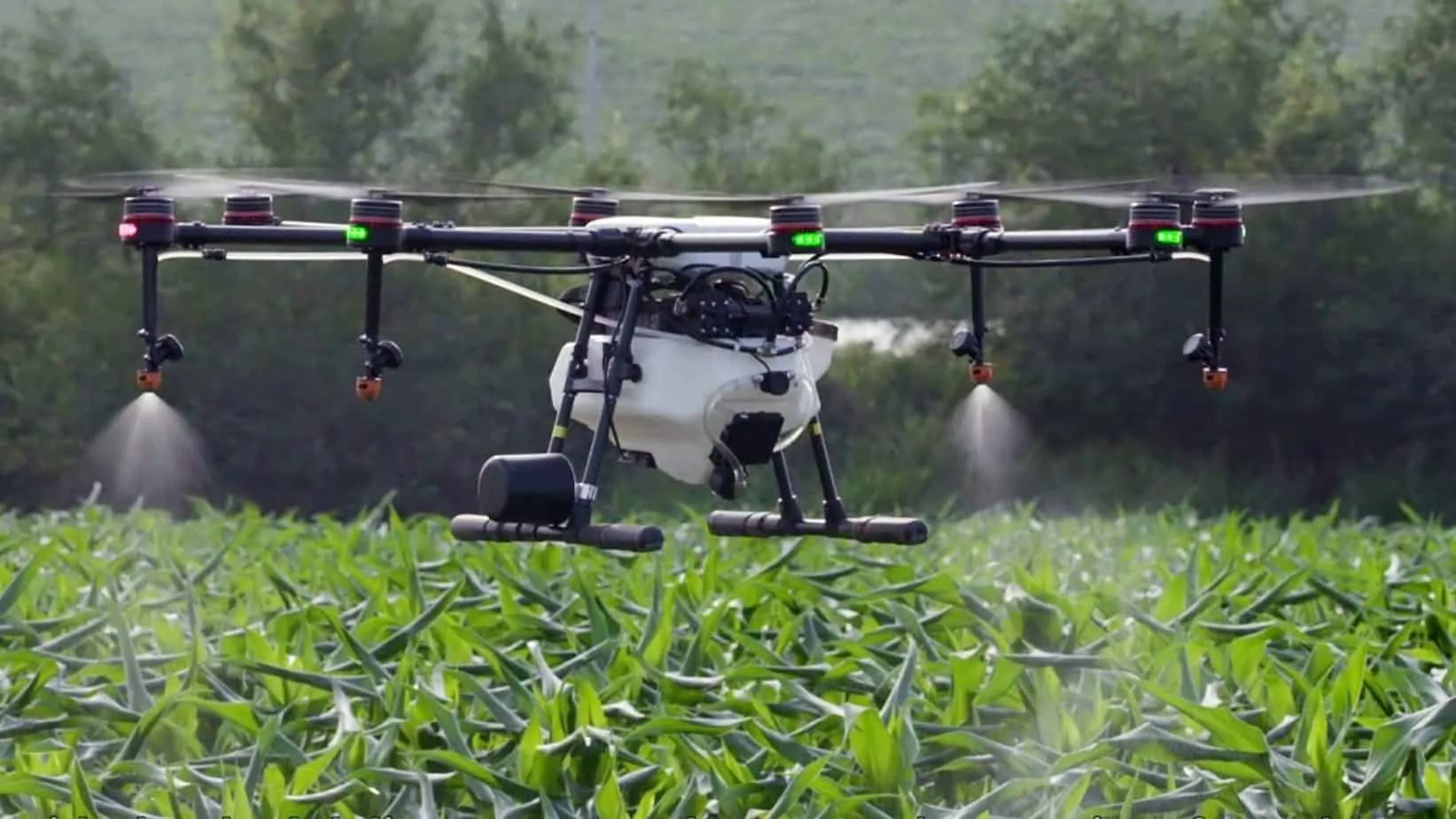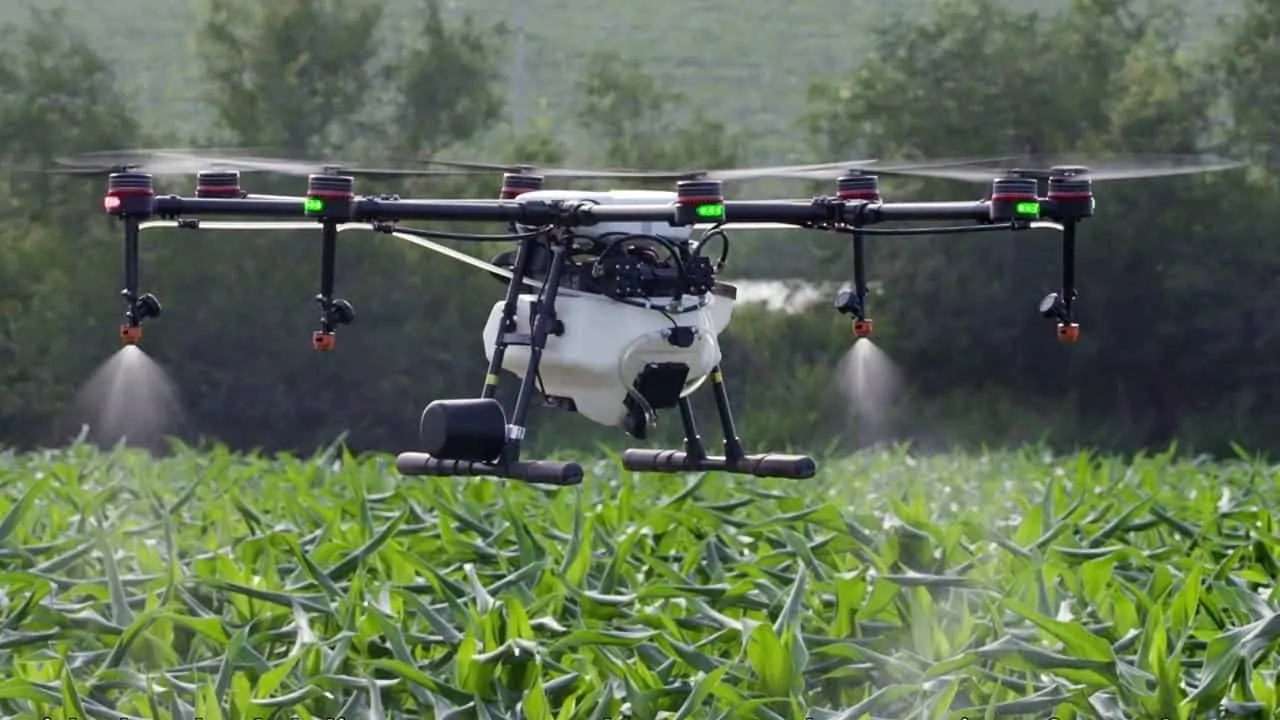 The application of smart farming has been on the rise in recent years. Do you know anything about agriculture drones? Also known as precision farming, this technology-oriented agricultural practice has been well-received in most of the world's countries. Smart farming facilitates the efficient increase of agricultural yields in an affordable way, in a short period, and with minimal human labor required. Smart farmers do not have to use traditional farming instruments because, with the help of technology, they will be able to determine the health of their farm.
Based on the Food and Agricultural Organization's definition, smart farming is an agricultural technique that also helps in increasing the effectiveness of fertilizers and pesticides. According to the online agribusiness portal, FarEasternAgriculture.com, in the year 2025, smart farmers worldwide will employ an estimated 40 million smart farming devices. Furthermore, the Asia-Pacific region is anticipated to be the smart farming market leader for the years starting from 2018 to 2025.
Smart farming is made possible by computer and Internet-based techniques. Among these sophisticated farming methods is the employment of agricultural unmanned aerial vehicles (UAVs) or agriculture drones. These professional drone cameras are advanced devices that facilitate smart agriculturists to make intelligent decisions for their farms. Agricultural drones are now widely applied by various firms globally for being the best drone for commercial use.
3 Advantages of Using UAVs in Smart Farms Today
Applying agricultural UAV technology in farming presents tremendous advantages. Among them are the following:
1. Agricultural drones are handy devices that deliver results quickly.
UAVs make ideal pieces of agricultural equipment because they are capable of adapting to a wide array of precision farming strategies. With precision farming being a data-based kind of agricultural practice, farmers get to cultivate their farmland more carefully and in real-time. The data that agriculture drones yield helps monitor the health of the plants, the soil, and the crops. Plus, these gadgets can assist in looking after the irrigation systems for proper water use, and in seeding hectares of agricultural land in a short time.
SeeTree, a startup based in Tel Aviv, Israel, employs artificial intelligence (AI) and UAVs to bring precision agriculture to orchards. The company mainly combines the ground sensors and human testers with multi-dimensional sensor data from drones. These technologies gauge metrics, like light levels, soil acidity, and other tree growing-related factors. Thus, farmers can calculate how important it might be to replace particular trees.
2. Agriculture UAVs improve the quality of crops and enhance yields.
Through agricultural UAVs, smart farmers can apply pesticides and fertilizers more precisely. These UAVs spare the surrounding areas of the farmland from surplus chemicals, too. Hence, they help farmers save more of their essential resources like their energy, money, and time. A Japanese company, Sowa Kajuen, uses drones and AI in managing their tangerine and mandarin orange farms. The UAVs gather crop surveys and sprinkle insecticides. These best drone with 4K cameras assist the firm in processing 2,000 tons of oranges annually into exported products like the Mikan orange juice, mandarin-orange jam, orange-based cosmetic products, and orange jelly.
3. Drones aid farmers in their crop management-related decision-making processes.
Sony, the world's largest home electronics manufacturer, has introduced the "Quick Stitching" joint initiative in 2019 together with Syngenta, a Basel, Switzerland-based agrochemical firm. Through this project, smart farmers will be able to gather photos of their farmland using the best UAV with high-resolution cameras installed in the agriculture drones. Then, they will be able to put these images together, allowing them to come up with timely and relevant decisions regarding their agricultural land. This program also makes it possible for farmers to make key, on-the-spot solutions in as fast as 10 minutes while they are at the corner of their farms. Through these beneficial impacts that agricultural UAVs delivery, models of these technologies are also increasing lately.
10 Agricultural UAVs Available in the Market Today
People worldwide still possess a strong perspective on farming as a dirty and back-breaking job. Nevertheless, agricultural drones dispel these longstanding notions of the people. There are plenty of types of drones used for agribusinesses, and these pieces of new technology alter the unfavorable views about farming as an occupation. Plus, they entice today's youth to take the job.
Here are some of the agriculture UAVs sold in the market today, facilitating the gradual mechanization of smart agriculture worldwide: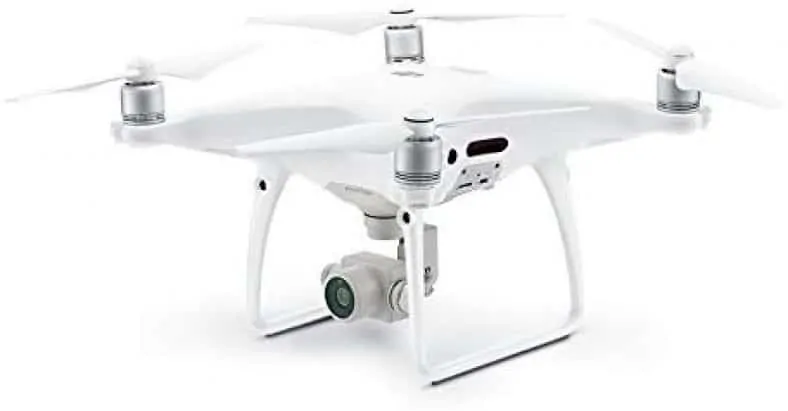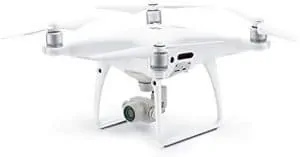 Image Source: DJI.com
The DJI Phantom 4 Professional with Quadcopter features an onboard camera that employs a one-inch, 20 Megapixel complementary metal-oxide-semiconductor (CMOS) sensor.
This benefit makes this product capable of capturing 4K or 60 frames per second (fps) videos and burst mode stills at 14 fps.
The remote controller of this agricultural UAV has a built-in screen, the Phantom 4 Pro controller, integrating an upgraded Lightbridge High-Definition video transmission system that adds 5.8 GigaHertz transmission support.
The DJI Phantom 4 Professional with Quadcopter is lightweight, thanks to the adoption of the magnesium alloy and the titanium alloy.
Some buyers complained about its application not working correctly, though this issue is minor and few in numbers.
Customers will appreciate this agricultural UAV's Flight Autonomy system that adds dual rear vision sensors and infrared sensing systems.
Hence, this agricultural UAV has a total of four directions of obstacle avoidance and five directions of obstacle sensing.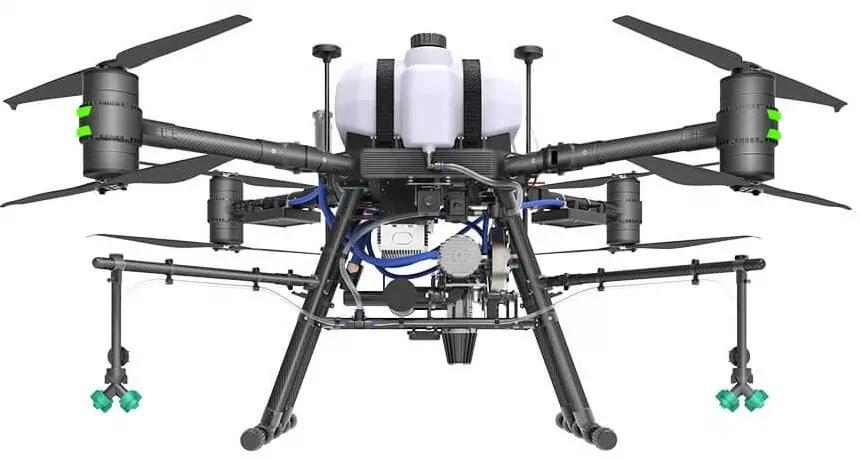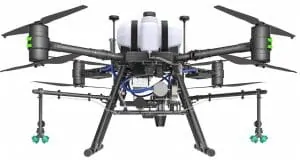 Image Source: Fado168.com
The Bigly Brother Gas-Electric Hybrid System Farming Drone features a specialized and customized remote controller with a high-brightness screen.
Moreover, it has a high-definition, real-time, digital image transmission measuring 5.8 Gigabytes.
Buyers have rated this agricultural UAV highly because of its being an efficient spraying system.
Furthermore, this smart farming device with a foldable body has among the longest and the best drone flight time.
It can deliver up to 30 minutes, and it is capable of reaching a distance of up to two kilometers.
Interested buyers will relish the safety, accuracy, and environment-friendliness of this product, as well as its intelligent route planning operation.
However, they should expect to feel surprised by this equipment because it does not feature that cheap drone price they might be anticipating. This product is, indeed, a high-priced drone.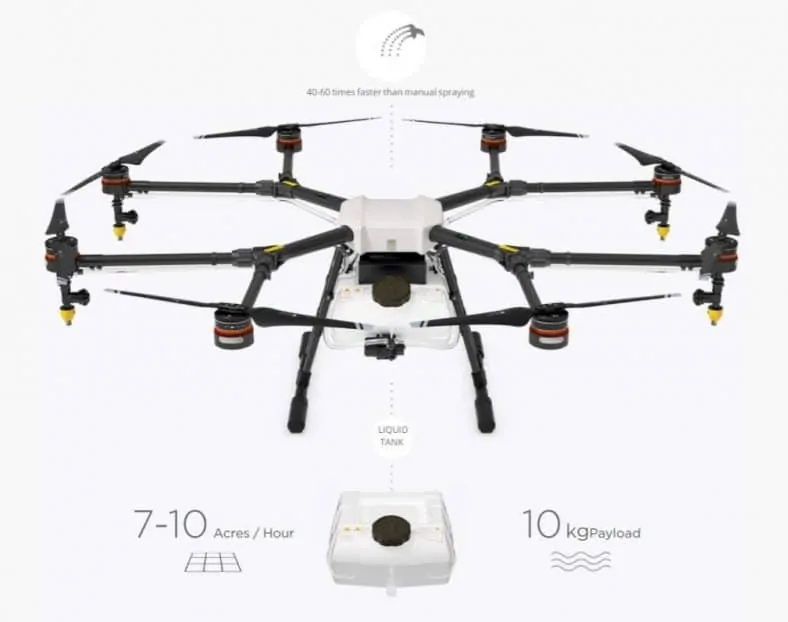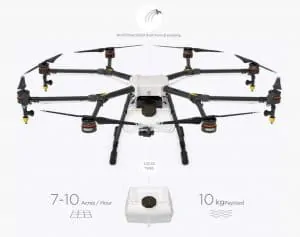 Image Source: DJI.com
Smart farmers will feel delighted when they use the DJI Agras MG-1 Agriculture Spraying Drone.
This product has a liquid payload capacity of up to 10 kilograms, constituting herbicides, pesticides, and fertilizers.
This agricultural drone also has a speed and power range from 40 to 60 times faster than manual spraying operations.
The DJI Agras MG-1 Agriculture Spraying Drone can cover 7 to 10 acres per hour of operation, with a cover area of 4,000 to 6,000 square meters.
Its foldable design enables for simple transportation and stow-and-go, too.
Buyers of this agricultural drone will also appreciate it as a piece of advanced smart farming equipment considered as one of the best platforms for precision variable rate application of herbicides, fertilizers, and liquid pesticides.
This crop sprayer, indeed, offers a new level of effectualness and manageability to the agricultural industry.
Furthermore, the DJI Agras MG-1 Agriculture Spraying Drone's eight-rotor design makes sure that dilemmas with a single rotor will not compromise the stability of the UAV.
Plus, this feature provides the drone with the power to move quickly through the skies. This agricultural UAV comes completely equipped with all the necessary accessories for flight.
It is ready to fly out of the box. Seasoned product professionals have pre-tested it as well.
In terms of its cost, buyers of the DJI Agras MG-1 Agriculture Spraying Drone should have a ready budget because this product is not among the super cheap drones sold today.
Furthermore, they should have already researched its price point before deciding to purchase it because this product is a high-priced drone.
In this manner, they can enjoy using it in their smart farms in spite of its pricey nature.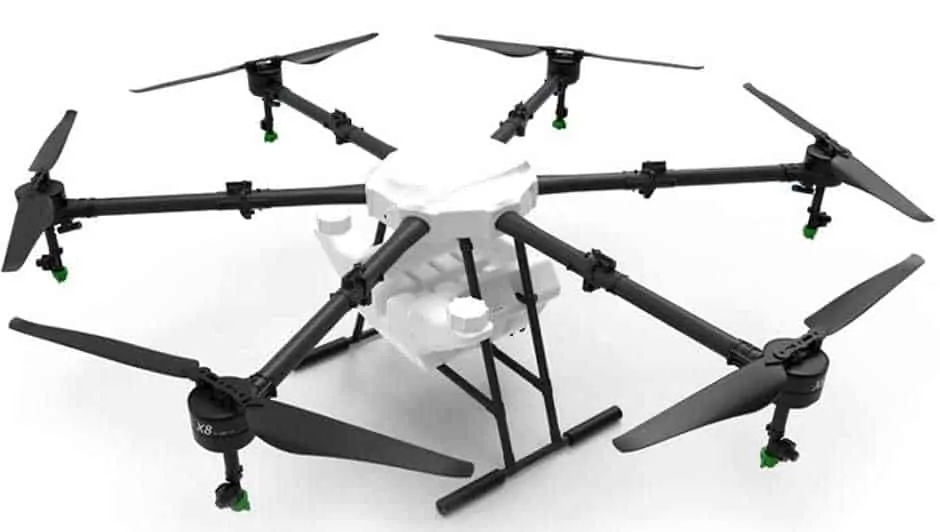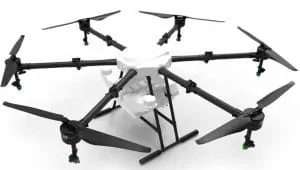 Image Source: Leisure.Americanmarts.com
The Yangman Commercial drone features a modular connection design.
It is waterproof and has a simple operation that buyers can learn effortlessly.
This agricultural UAV has a reliable precision and intelligent operation as well.
It is ideal as a pesticide sprayer. Moreover, the Yangman Commercial Drone has a full load battery life of 16 minutes.
Its adjustable spraying time lasts from 7 to 14 minutes, while the spray flow is from a settable 0.8 to 2 liters minimum.
This agricultural UAV also has a medicine cabinet that has a filtration system and liquid automatic stir, as well as an anti-oscillation feature.
It is among the best foldable drone, and it is easy to clean. The Yangman Commercial Drone is easy to transport.
Furthermore, it is collapsible together with its propeller, without the need to disassemble.
Buyers will appreciate its industrial-grade motor, high efficiency, and the creative motor protection feature. However, they should expect a high price point for this product.
Buyers will appreciate their purchase if they have researched its cost before shopping because this product does not possess what they expect as the average drone price.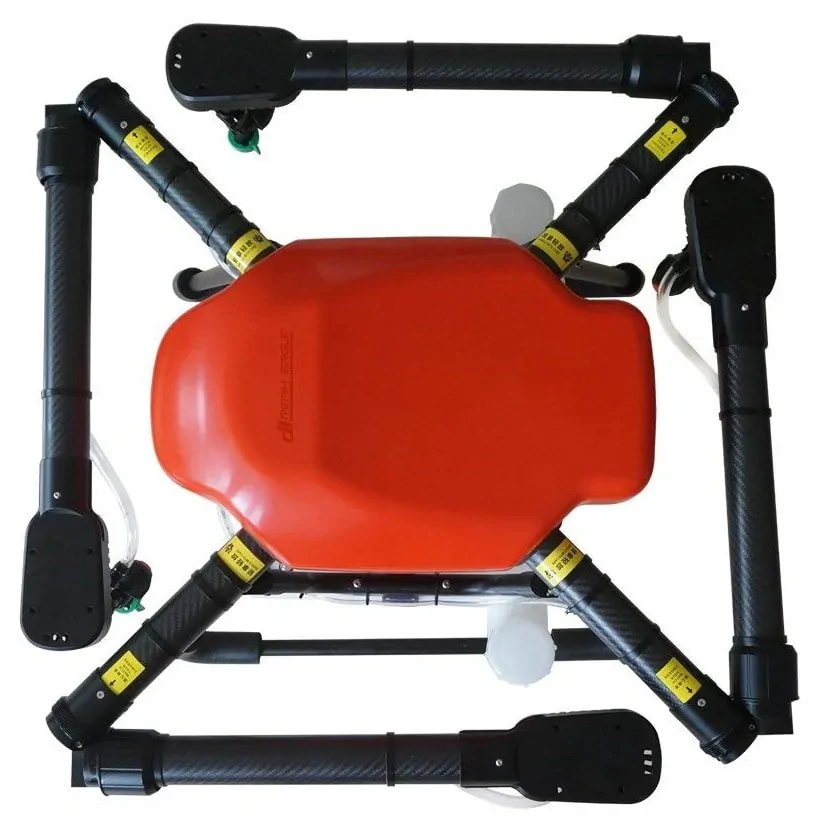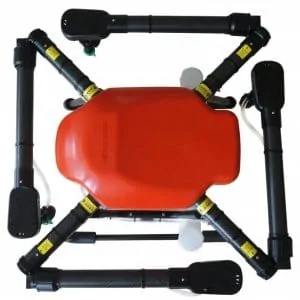 Image Source: Kit.com
The Dreameagle X4-10 Agricultural Spraying Drone is a pesticide-spraying UAV that features high-technology attributes.
It has a 10-kilogram standard payload.
Buyers will appreciate its stabilizing algorithm and intelligent landing, take-off, and resuming system.
Moreover, the Dreameagle X4-10 Agricultural Spraying Drone performs 40 to 60 times faster than manually spraying pesticides and fertilizers.
Smart farmers will feel happy with its ultra-fast efficiency of 40 to 60 acres per hour, as well as its flight time of up to 15 minutes.
The smart battery management system of this UAV also facilitates charging management and discharging to lengthen its longevity.
But in spite of its appealing nature, buyers may find minimal information on the Internet about this agricultural drone at this point.
Plus, agriculturists may find very few of the best drone under $1,000 for agricultural purposes.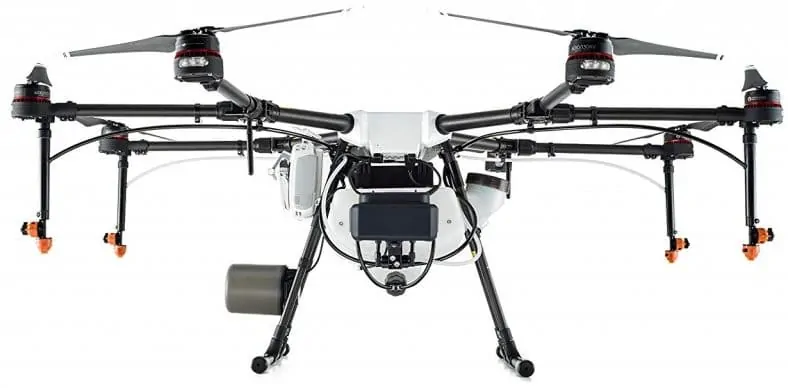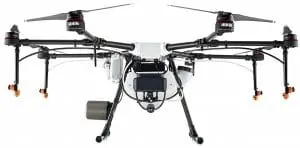 Image Source: DJI.com
The DJI Agras MG-1P Precision Spraying Custom Drone is a 29-pound agriculture drone that features eight rotors.
The maker of this octocopter designed it for precision variable rate application of liquid pesticides, herbicides, and fertilizers.
Hence, it brings new levels of efficiency and manageability to agriculture.
Furthermore, this product employs advanced propulsion and control algorithms, making flight safety guaranteed, even if one arm or motor malfunctions during flight.
The DJI Agras MG-1P Precision Spraying Custom Drone features a multi-aircraft control mode, with doubled efficiency and control range of 3 kilometers.
This product also includes a first-person view or FPV camera safety with vision.
Buyers will enjoy being worry-free because this agricultural UAV is dependable and possesses a stable flight performance.
It also constitutes an upgraded, high-precision radar and comprehensive safety features.
This product's downside includes buyers finding it challenging to find reviews regarding this agricultural UAV at this time.
Furthermore, retailers sell this product at a high price point and not as among the affordable drones, so buyers should get ready with a budget.


Image Source: HSE.UAV.com 
The TTA-America M6E Ready-to-Fly Kit Crop Spraying Drone weighs 19.8 pounds and has a capacity of 10 liters.
It includes four flight batteries, All-in-One Smart Battery Charger, a live-streaming video camera, and a fully-automatic spray system.
This crop-spraying drone is safe and reliable. It is not heavy at all.
The TTA-America M6E Ready-to-Fly Kit Crop Spraying Drone's Global Positioning System (GPS) Ground Station software makes it among the best drones with camera and GPS as well.
This agricultural UAV comprises a terrain sensor, a field-tough build, and it is completely water-resistant. Buyers will find it easy to rinse it and to get rid of contaminants.
With a remote controller, a ground station software, and extra nozzles, smart farmers will find the TTA-America M6E Ready-to-Fly Kit Crop Spraying Drone as the best drone to buy.
It is quite efficient and enables them to take their agriculture business to the next level.
Nonetheless, the information posted online about this agricultural drone, like its cost and customer reviews, is limited at this time.
Thus, when availing a new drone, interested customers may need to contact the manufacturer to learn more about this product.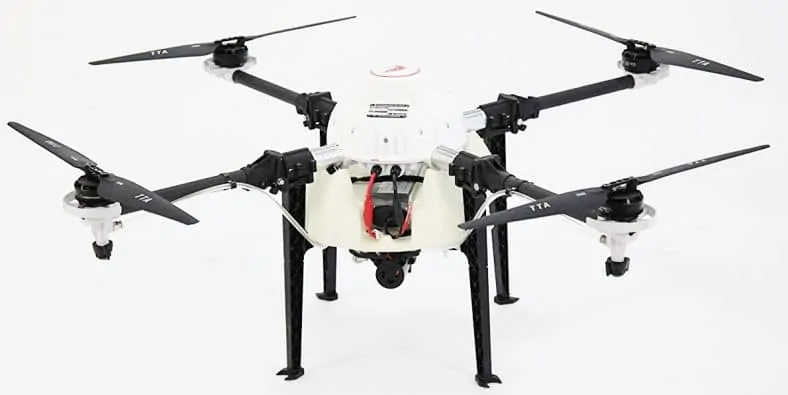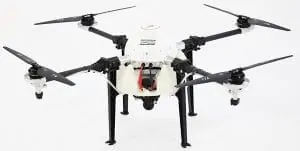 Image Source: Hse.Uav.com 
The TTA-AMERICA M4E Crop Spraying Drone is a multi-functional agricultural UAV.
Smart farmers can employ it for crop-dusting and other spraying applications, like spraying invasive aquatic species, mosquito or vector control, spraying roofs, deicing, and more.
Furthermore, the TTA-AMERICA M4E Crop Spraying Drone allows a farmer to program it.
Hence, whenever its spray tank is empty, this agricultural UAV will automatically fly home and land on the ground. Then, once the smart farmer has refilled the tank, he can flip a switch.
After that, this product will fly back to the precise location it left off, activate the spray pump automatically, and resume the flight agenda.
Buyers can also use this agricultural drone for smaller, hard-to-reach areas. They can expect to find all of the state-of-the-art technology in it.
Among them are GPS Ground Station software, A-B simple flight planning, automatic pump, flow control, long-range remote control with spoken alerts, and emergency return to home.
But buyers who will buy drone online may find it a challenge to look for the available price point and customer reviews for this product.
Therefore, they will have to contact its manufacturer to learn more about it.
9) SenseFly Ebee SQ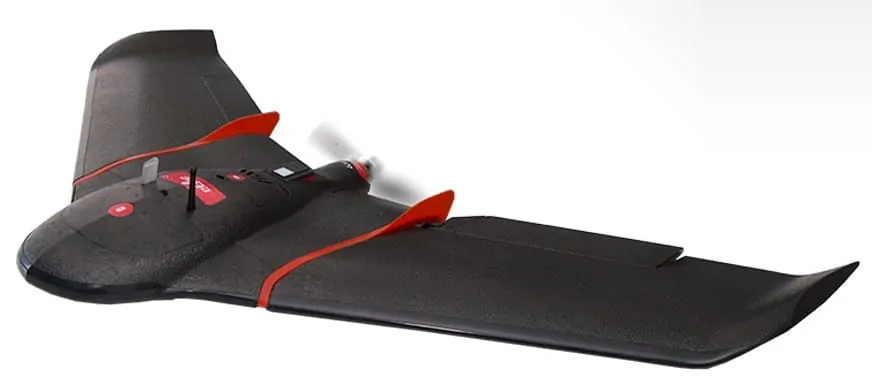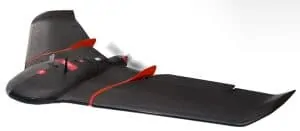 Image Source: Dronethusiast.com
Smart farmers can employ the SenseFly eBee SQ as a precision agricultural drone, which its manufacturer designed to monitor crops from planting time to harvest time.
This farming UAV comes with analytic software, so agricultural workers can sit back and watch the data that comes in.
Then, they can make sensible decisions according to the incoming latest information.
Moreover, the SenseFly Ebee SQ can perform health checks of crops while in an elevated position using thermal imaging and infra-red cameras.
It scouts out locations that require more attention, and it generally keeps the smart farmers updated with how their crops are progressing.
This agriculture drone also offers a "drone to tractor" workflow.
This advantage makes this product the best drone for the price, allowing the farmers to employ the Pix4dmapper Ag mapping software to make Normalized Difference Vegetation Index (NDVI) maps of their plants.
In this manner, they can use these details to identify problematic areas and obtain solutions all in the same day.
At this time, however, buyers will find it challenging to look for the downsides of using the SenseFly Ebee SQ in smart farms because there is limited information regarding this matter.
10) PrecisionHawk Lancaster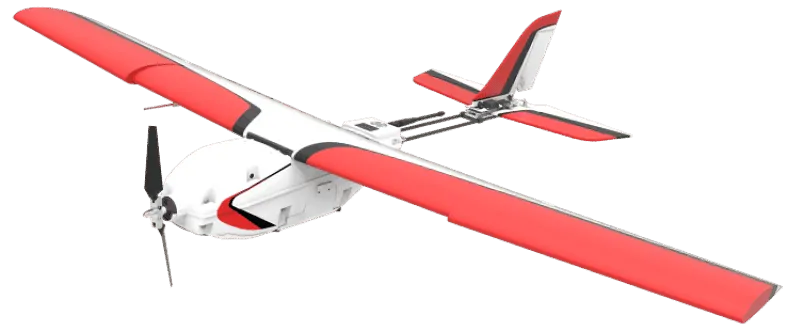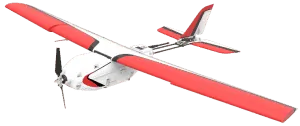 Image Source: Dronethusiast.com
The Precision Hawk Lancaster is a piece of multi-purpose equipment with a proprietary AI responsive to real-time diagnostics and altering weather conditions.
Smart farmers can fit it with a range of imaging functions, depending on what they need.
This agricultural UAV has a 720 MegaHertz dual-core Linux CPU, and interfaces through analog, WiFi, USB, IIC, Digital, and Ethernet.
Moreover, this 5.3-pound product with a five-foot wingspan is an adaptable precision solution.
It offers temperature and weather profiles, topography mapping, as well as fast drainage estimations and disease detection.
The Precision Hawk Lancaster features Temperature, Humidity, Pressure, and incident light sensors. Buyers can collect data resolutions up to 1 centimeter per pixel.
They will appreciate the simplicity of this agriculture drone when setting up its flight and when it relays the data they need.
The software in this product performs all the work, too. Smart farmers merely have to choose a ground resolution and altitude, and the craft does the rest.
Buyers will have to wait for customer reviews to be released online to learn more about the downsides of availing this UAV though.
Conclusion
Smart farmers today certainly have plenty of choices when it comes to the best agricultural UAV. These smart farming devices may be of high price points at this moment. Buyers may need to prepare themselves to encounter astonishing drone price ranges when they decide to purchase brand new ones and not buy used drones. Low-price drones for agricultural purposes are, indeed, rare to find these days. Searching for a cheap drone with camera may be challenging.
Nevertheless, as these UAVs becoming increasingly used in the agriculture industry today, buyers may later feel relieved. It is because they can anticipate the drone prices to drop, transforming these technologies into the best, low-priced drones. Furthermore, they will be able to find more cheap drones for sale, used drones for sale, and above all, the best drone for the price in online marketplaces.
Thus, these eventual best budget drones will highly likely make the smart farmers' ultimate objective of lowering farming costs and increasing yields within their reach for the long haul.