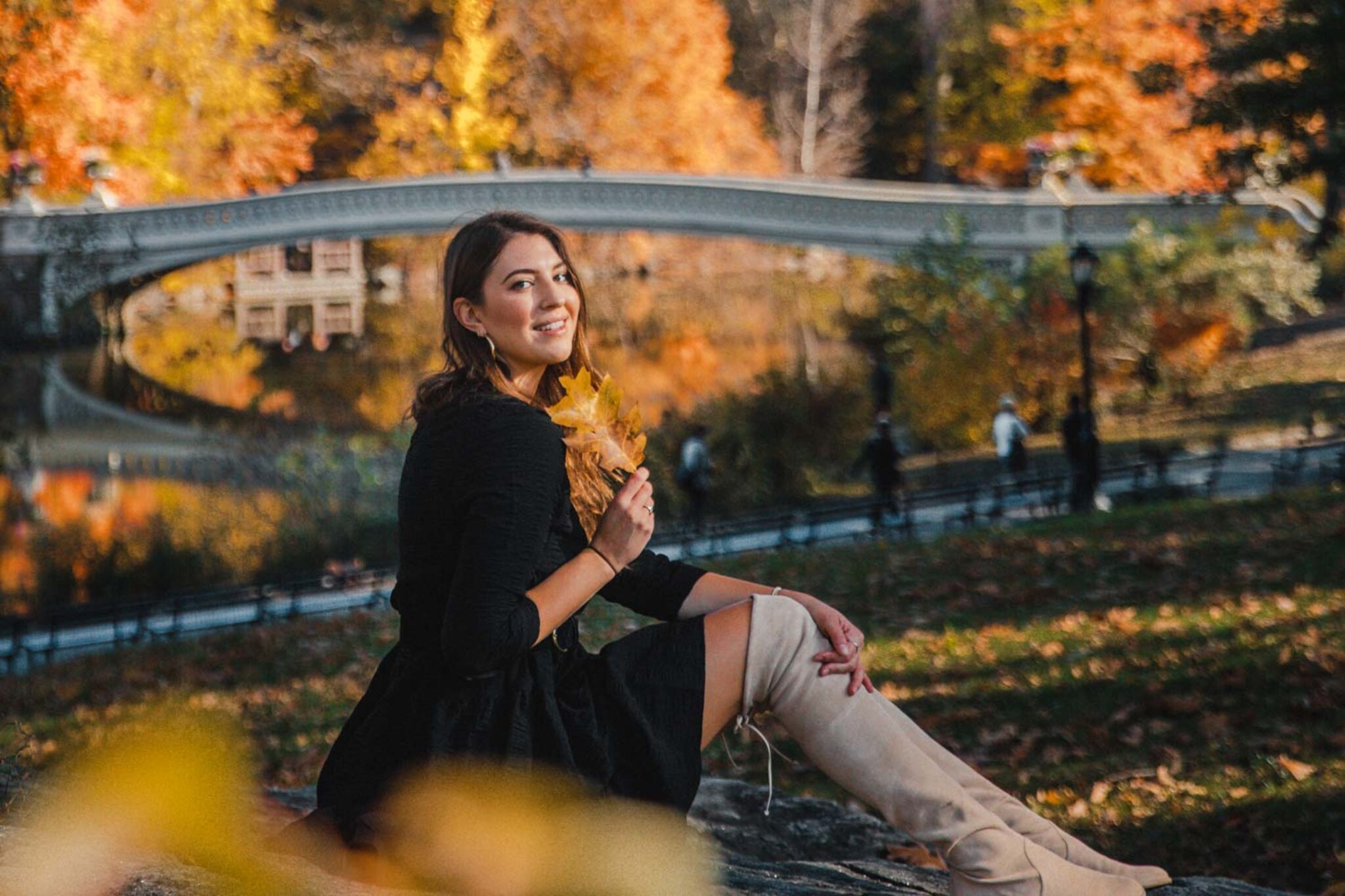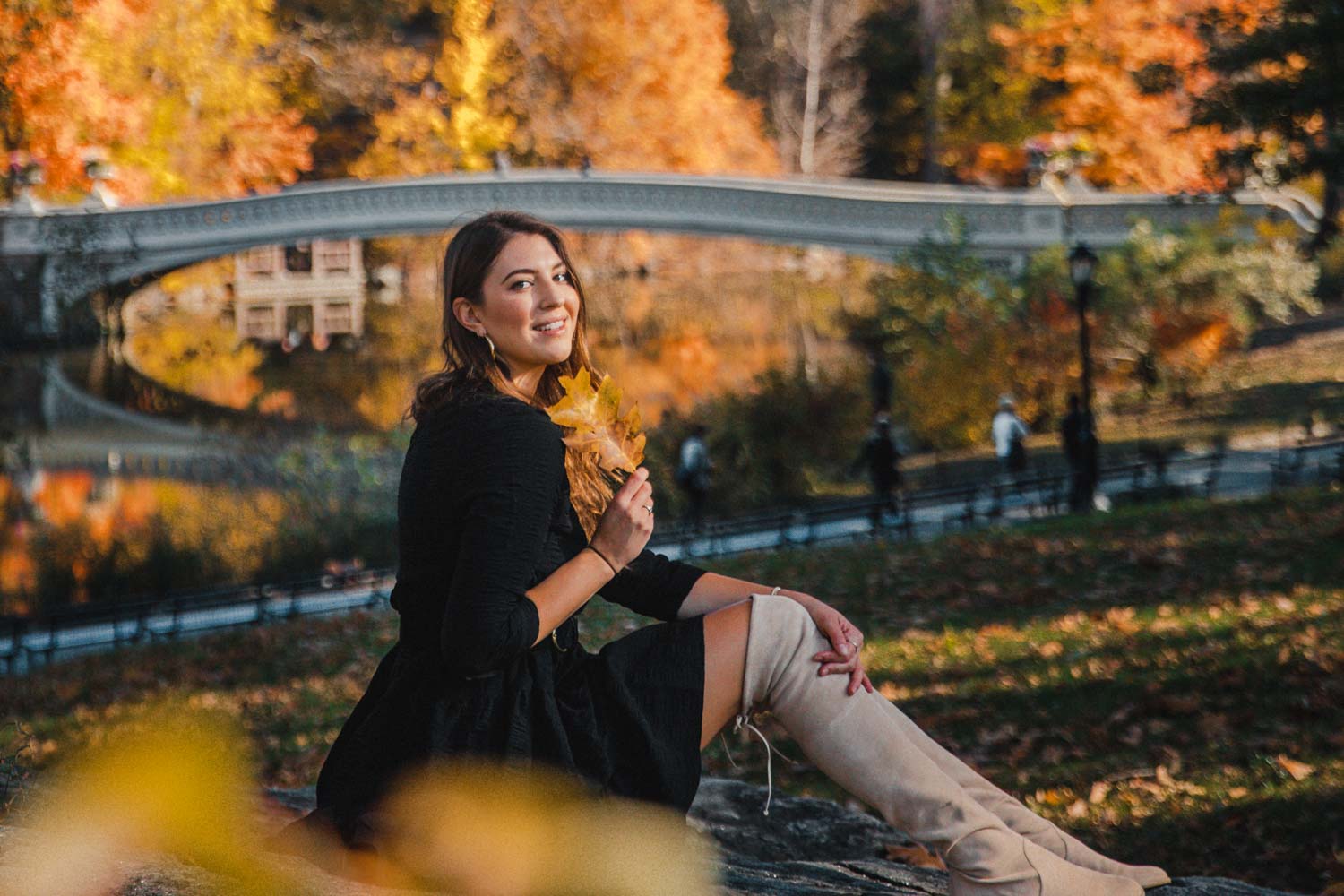 Fall is a great time to wear all your neutral colors, and if you're planning a photoshoot with family and loved ones before Christmas season sets in, you're in for a treat. When you think of autumn clothes, cardigans, sweaters, coats, jackets, and boots come to mind.
They never go off the fall fashion trends because they are essentials, and with the right styling tips, you can fully glam up your outfits for fall photo sessions to perfection.
Below, we highlighted ten of the most convenient clothes you can wear for your photo session in fall. Whether you love a cute dress that embraces your femininity or some loose pants for an edgy vibe, you are sure to find an outfit (or more) that works pretty fine for your photos.
A Cropped Leather Jacket
Your layering game can be so amazing when you opt for a leather jacket in the cropped style. Wear the jacket over a bralette or tank top and pair it with a denim midi skirt or fitted denim pants. For your footwear, you can either opt for lace-up sneakers or ankle boots.
Long Sleeve Flower Dress
Florals may be a summertime favorite but undeniably, they are equally functional outfits for autumn photo session. Instead of the bright yellow and pink floral gowns you wear in summer, you can switch to blues and greens, so that your dress blends easily with the weather's elements.
A fedora or wide-brimmed hat adds some extra oomph to your look and for even more complements, opt for some dark sunnies.
A Black & White Bandage Dress
If what you want is an outfit for autumn photo session that tunes into a minimalistic aesthetic but looks effortlessly elegant, then this bandage dress should make it to your list. This basic color palette is a great place to start if you're planning on taking lots of photos in different outfits.
To complete your autumn attire, a few diamond accessories can put the look together.
Knit Hooded Sweater Dress
To get cozy with your entire family or create a laid-back photo with your significant other, a knit sweater dress may be all you need. The simplicity of the dress allows you to make the most of your fall photoshoot while staying warm from all the chill. If you're considering hanging the photos on your walls, then grey would be a great pick as it easily blends with most colors and shelves.
Double-Breasted Fuzzy Cardigan
If you've got a thing for a crist look, then this all-white outfit for autumn photo session will be perfect for you. Since fall focuses on cooler and cohesive outfits, this fuzzy cardigan provides the comfort you need to make your photos look natural and effortless.
You can pair the cardigan with white structured pants or a black mini leather skirt, then step into loafers or any other closed-toe footwear to complete the look.
Single-Breasted Trench Coat
Your outfits for the fall photo session should be an excuse to ditch all your boring layers and say hello to modern new looks. This ivory trench coat can go from dressy to casual or casual to dressy depending on how you choose to style it.
Long Sleeve Cut Out Top
Cut-out and long-sleeve details in pretty corset tops are perfect ways to add an extra layer of warmth to your outfit without losing out on style. This top is breathable, stretchy, and cute, making it convenient to wear for your photoshoots in the fall. Jeans and midi satin skirts are the best pairs for this blouse design.
High Waist Vegan Leather Skirt
You can choose to wear the skirt with a stylish cropped cardigan, a heavy knit sweater, or a soft merino wool pullover. If you want more dressy top styles, opt for a denim or leather jacket or a long-sleeve shirt. For your footwear, ankle boots and dress shoes work pretty well.
One Shoulder Bandage Dress
Looking for outfits for fall photo session that reflects your elegance and femininity? This one-shoulder geometric dress looks pretty good to wear for a formal photoshoot. The thigh slit drizzled in some alluring notes without taking away the dress' formality and the one-shoulder design allows you to show off a hint of skin that isn't "too much".
Sequin Dress
Last but best on our list is this backless sequin dress. It is ideal for when you want to spice up your photoshoot and make an escape from the regular fall styles. Bold accessories would look glam on the dress but if you want something more subtle, you can try out some dainty earrings and a thin necklace.
Conclusion
Your outfits for the autumn photo session should be comfortable, stylish, and fun to wear, and should reflect your family best. You don't want to go on a photoshoot with an uncomfortable cloth that keeps you second-guessing every second.
If you're not sure where to get quality outfits for fall photo session, we recommend you look up SunsetFashionLA. They are an online fashion boutique for women with an amazing collection of fall outfits that will sate your fashion appetite.