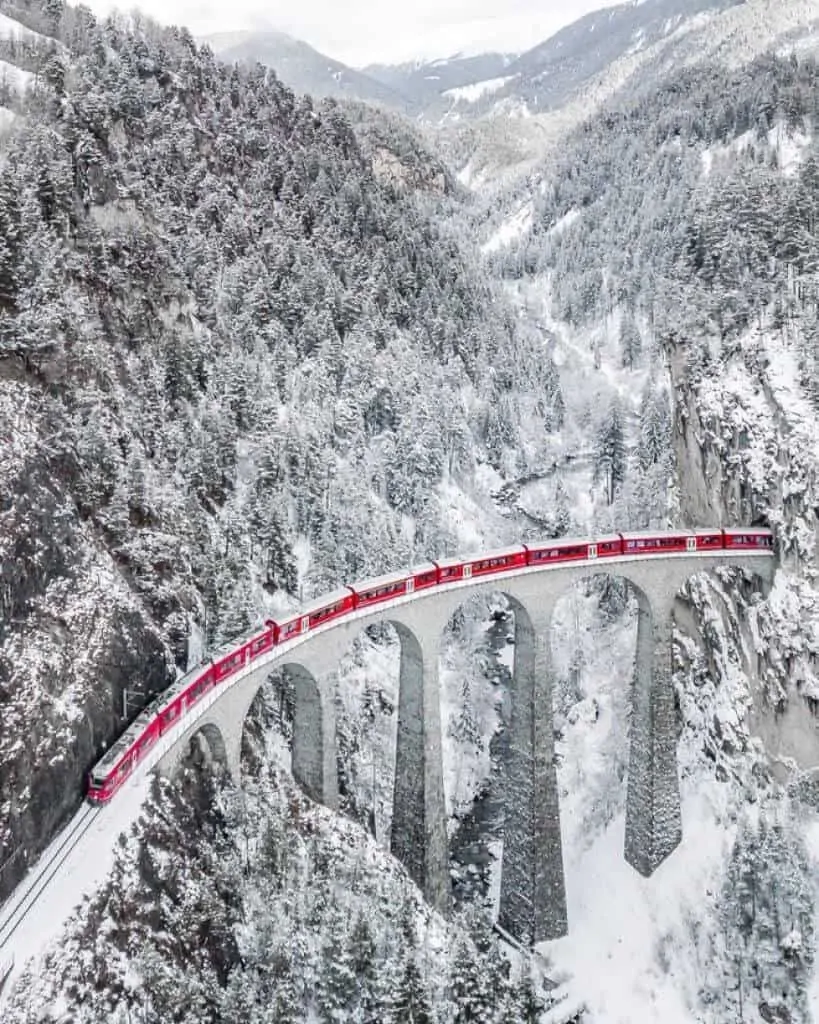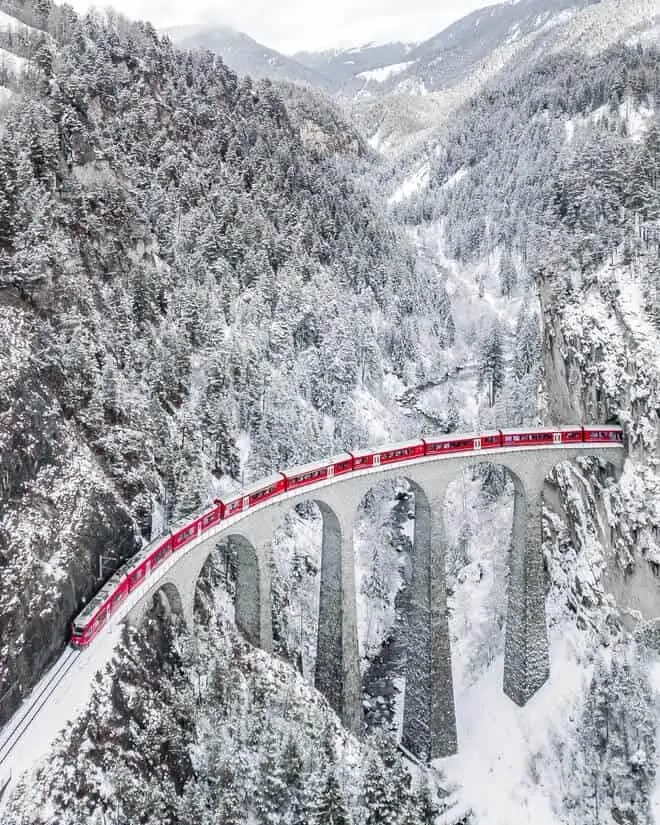 Aerial photography is a thrilling contemporary aspect of the art and practice of taking and processing pictures.
Also known as drone photography, professionals and enthusiasts alike have found it enjoyable to engage in this activity using unmanned aerial vehicles (UAVs) with cameras. They capture mesmerizing photographs of various subjects like landforms, unique patterns, extensive shorelines, unbroken shadows, and aerial panorama, among plenty of others.
The pursuit of aerial photography started mostly among the military. The first modern-style UAVs began to appear in the 1980s when Israeli engineers created drones with video cameras, capable of monitoring persons of interest. Then, in the United States, its armed forces soon used the same kind of technology.
The Pioneer drone is a remote-controlled device that popularly captured images of Iraqi soldiers capitulating during the Gulf War in the early 1990s. The US military also employed the Predator and RQ-Raven during several military operations. These pieces of monitoring equipment assisted in looking at possible hazards and the everyday activities of potential targets, ensuring the safety of the soldiers. Decades following these events involving the US military using the first-ever drone technology, things have shifted.
Dedicated drone photography hobbyists became commonplace to this date, using the full-size aircraft to enjoy capturing various images. Plus, they also participate in international contests and share stunning photographs with aesthetic eyes worldwide. But what has made aerial photography drones popular all these years? There are several grounds why the hunt for the best drone for photography remains today.
3 Reasons Why Drone Photography Gadgets Have Remained Popular
Seasoned and neophyte drone photographers may affirm that aerial photography using drones has gained a massive following. The number and quality of drone images can be seen here and there, especially on the Internet. Here are the three main reasons why:
1. The innate human curiosity and desire to see the comprehensive view from above is interminable.
Back in the day, capturing gorgeous images and videos depicting the world from way up above were challenging using conventional photography techniques like the point-and-shoot camera. Nevertheless, in today's world, new drones have emerged, featuring high-end advantages and sophisticated accompanying accessories. These technologies have gained fame as gadgets satisfying the people's natural aspiration to see the world from above.
2. There have been myriads of online communities discussing the enticing world of drone photography. 
During the onset of the new millennium, a do-it-yourself drone-builder culture began to materialize out of the established remote-controlled aircraft community. DIY Drones is among the myriads of online forums that attracted aerial photography hobbyists. These interested parties shared pieces of advice and relevant information with one another. As these drone enthusiasts discuss the best drone for aerial photography, they have helped spread the word about the whole new and exciting world of drone photography.
3. Drones for photography have gotten more affordable and accessible.
By rule, any given technology tends to become cheaper and more available over time. Hobbyists and professionals' use of store-bought, high-resolution professional drone cameras that mainstream drone makers like DJI and Parrot manufacture have surged. What followed was that the prices of these pieces of equipment had plummeted quickly in recent years. Drone with camera deals abound, facilitating drone photography enthusiasts to discover plenty of selections when it comes to the best drone for photography. Most of these new drones are state-of-the-art, affordable drones with camera, featuring high-quality cameras that capture more enhanced videos and images.
Other factors that have led to an explosion in drone photography are the massive number of websites offering easy drone-flying and photography tutorials. Plus, the rise of photo-sharing social media websites like Instagram has permitted the dissemination of eye-catching images internationally. They include vivid, attractive, and full-color pictures of real estate properties, urban locales, and lush forests, delighting today's digitally-savvy netizens. All of these have made drone photography a magnetic, commonplace activity. Today's aerial photography aficionados usually take their time before deciding to buy drones. When they buy drone online, they get to navigate plenty of websites that offer discount drones, used drones for sale, cheap drones for sale, and so much more. 
10 Examples of Popular Drone Cameras Today
UAV cameras sold online have continued to attract new hobbyists. When thinking about whats a good drone to buy, the following are some of the highly-rated aerial photography drones available in the market today: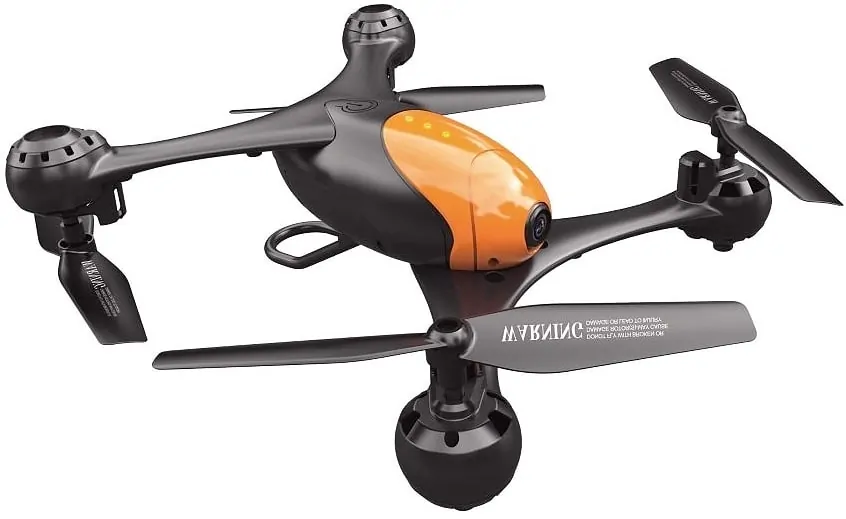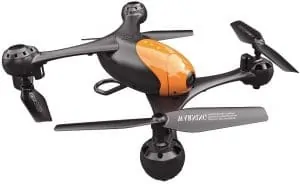 Image Source: Aeroflydrones.com
With the ScharkSpark SS41 Drone, it is certainly possible to buy a highly customer-rated drone at a bargain price.
This best budget drone features two cameras.
The 1080-pixel high-definition (HD) front camera and the 720-pixel bottom camera facilitate the enjoyment of multiple perspectives.
Furthermore, buyers can freely switch the real-time viewing modes to get more fantastic drone photography moments.
With high-precision orientation sensors, they will appreciate the steady hovering and flight of this cheap drone with a good camera.
New drone photography enthusiasts will also like the ScharkSpark SS41 Drone because it features simple gesture controls, permitting automatic capturing of videos and pictures.
Few complaining customers voiced out their issues about this drone camera, and they merely require taking the time to read about how to operate it correctly.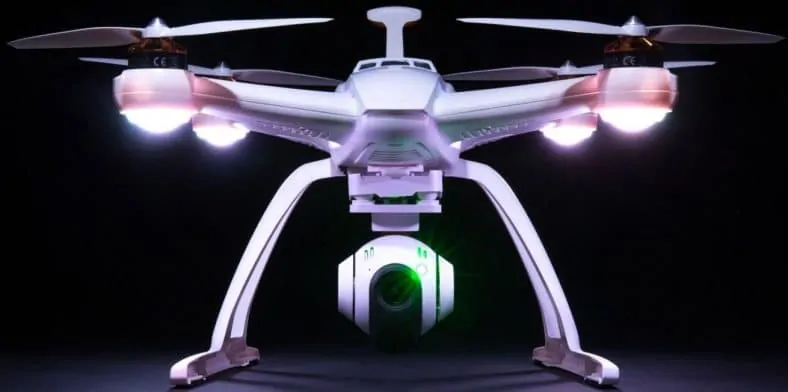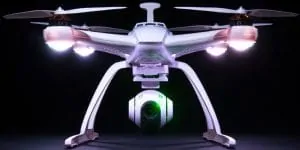 Image Source: Horizonhobby.com
 Buyers will love the Blade Chroma Flight-Ready Drone.
With its Stabilized CGO3 4K camera, they can take stunning aerial shots in spectacular 4K definition steadily.
Moreover, as one of the best drone with 4K camera, this offering is also among the best drones for beginners because it is easy to fly.
It is, indeed, among the best drone to learn on. The control and battery issues some buyers encountered may be inconveniencing, but these complaints are few.
With 30-minute flight time, the Blade Chroma Flight-Ready Drone is impressive, considering it has a no-distortion camera lens that eliminates the undesirable fish-eye effect.
Buyers will also discover that everything they need is already in the box of this drone camera.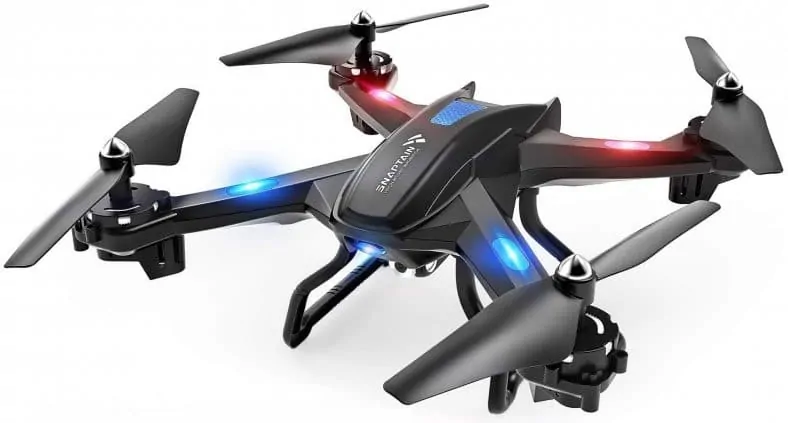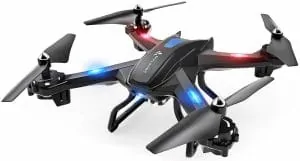 Image Source: Dronefreeapps.com
This best-selling drone camera is both budget-friendly and technologically impressive.
Buyers will love it for being a cheap drone with camera and simple to use.
This device captures images that can go to the social media website of the user right away.
Some buyers felt displeased with the control issues, but these negative feedbacks did not succeed in outnumbering the positive ones.
Overall, drone photography enthusiasts appreciated availing this cheap quadcopter.
It is because, with merely a press of one button, this best cheap drone can take off, land, and return to the users' command.
The headless mode, smart voice control, and the fantastic 360-degree Flips and Rolls add more convenience, especially for inexperienced drone photographers.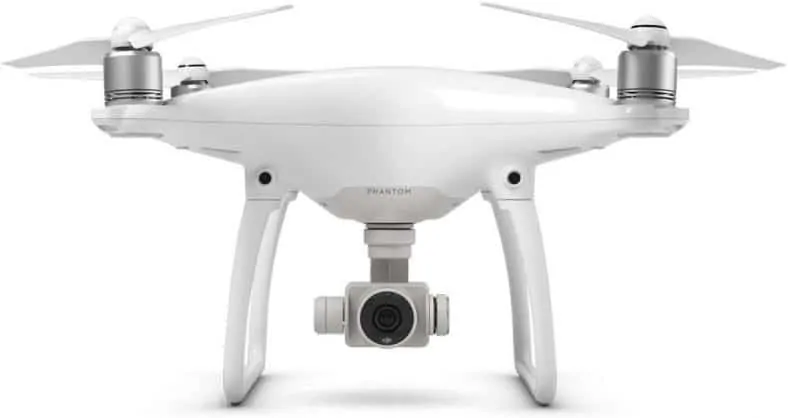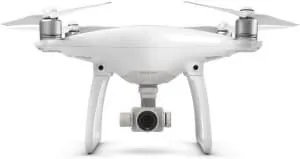 Image Source: Mydronelab.com
This 8.8-pound drone camera wows buyers for being jam-packed with state-of-the-art features.
With a flight time of 28 minutes, this incredible product's Ultra High Definition 4K camera offers a 4K resolution at 30 frames per second (fps).
The reported poor customer service that some buyers groaned about did not win against DJI Phantom 4's impressive advantages that other UAV camera models do not possess.
Moreover, some buyers may not like the nature of this product being a high-priced drone.
However, the DJI Phantom 4 boasts superior technological advantages, making it among the best, reasonably priced drones in the market today.
These features which are sufficient to impress aerial photography hobbyists are the Intelligent Flight Modes, Precision Hovering, Auto Land, and Auto Takeoff.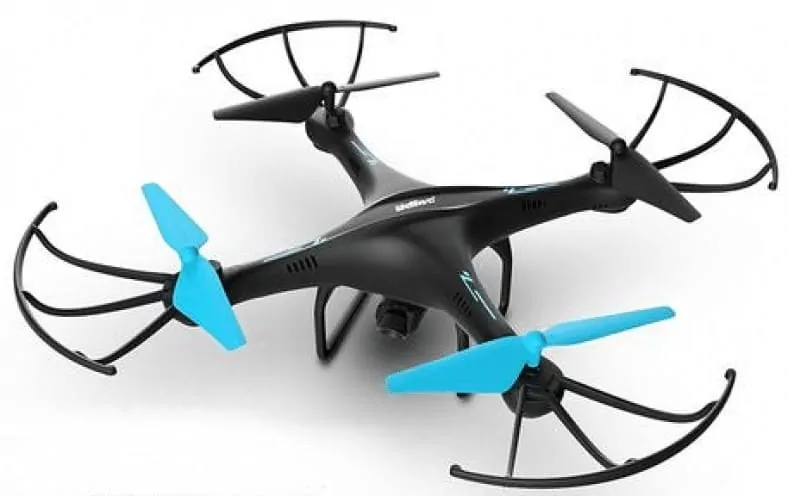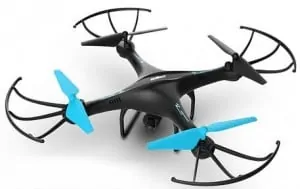 Image Source: Emissarydrones.com
The Force 1 U45W Blue Jay Quadcopter has a remarkable camera that allows users to get a First Person View (FPV).
Aside from offering the advantage of shooting fantastic video footage and still images, buyers will appreciate this drone videography gadget's 720-pixel, HD-quality camera, and its virtual reality (VR) headset compatibility.
Though this drone camera does not have a "Return to Home" function, it is overall a must-have, especially for beginners because it is easy to set up.
It is an excellent device for drone-flying lessons, too. Plus, the drone price is easy on the budget.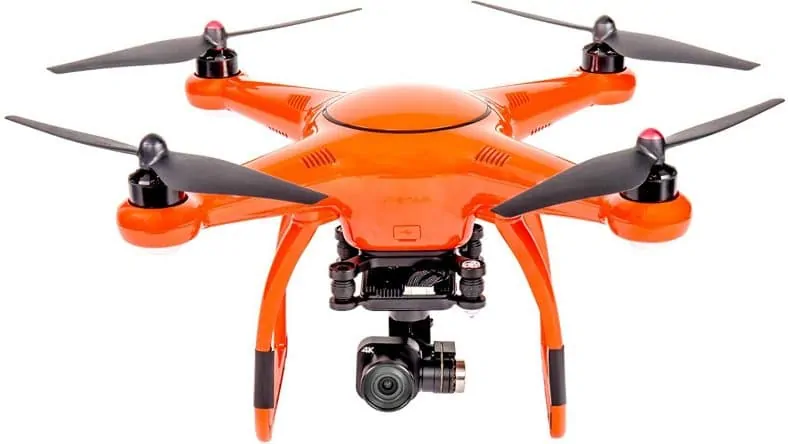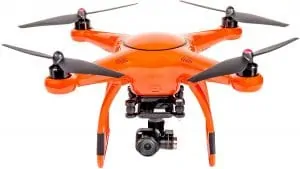 Image Source: Indiamart.com
The VOOCO Orange X-Star Premium Drone is for aerial photography enthusiasts who appreciate devices filled with superior technology.
With a 4K Ultra-HD video camera and a quick-release, three-axis gimbal stabilizer, this product is among the best drone to buy.
It also features dual GPS and GLONASS outdoor navigation, Starpoint Positioning System, and SecureFly magnetic interference protection.
Battery issues were among the complaints about this product, but these were quite a few.
Buyers relish their aerial photography sessions with this gadget's offering of HD Live View of up to 1.2 miles away.
The autonomous flight modes and the striking orange color are among the other plus factors of this best 4K drone camera.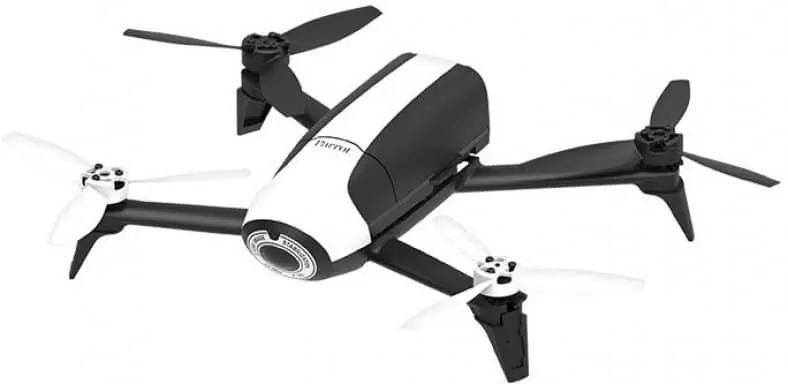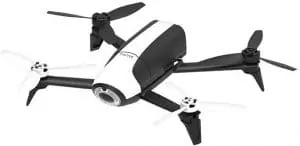 Image Source: Parrot.com
Drone photography aficionados will love the powerful motors of the Parrot Bebop 2 Drone that enable it to fly in higher altitudes.
Furthermore, its enhanced 14-megapixel fish-eye lens allows the capture of 1,080-pixel breathtaking photographs.
Although customer support problems made some buyers dissatisfied, overall, the Parrot Bebop 2 Drone received praises.
This Parrot Drone's price is worth it because even in dark locations, aerial photography enthusiasts will enjoy using it, thanks to its great rear flash LED that facilitates optimized visibility.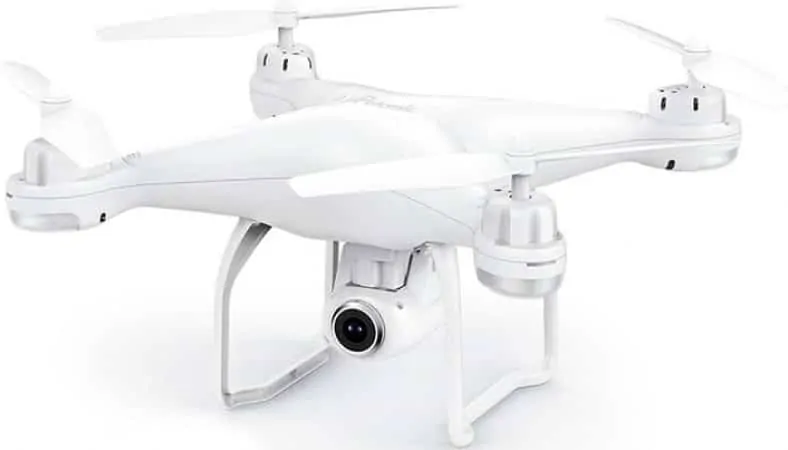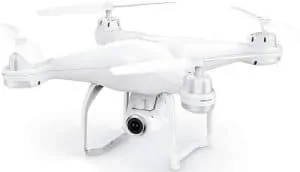 Image Source: Mydeardrone.com
Taking clear and stunning photographs and more stable videos is enjoyable and achievable with the PotensicT25 GPS Drone.
It features a 1,080-pixel HD camera with a 120-degree Field of View (FOV) and a 75-degree adjustable and wide angle.
Pleased customers appreciate the dual GPS+9 Axis Gyro Space benefit that allows this gadget to stand still in the wind.
Plus, it comes back automatically when it is lost, had its signal weakened, and has low power.
Software and application issues were some of the concerns of buyers.
However, these are trivial, compared to the positive comments that this product garnered, including commendations for having a cheap drone price.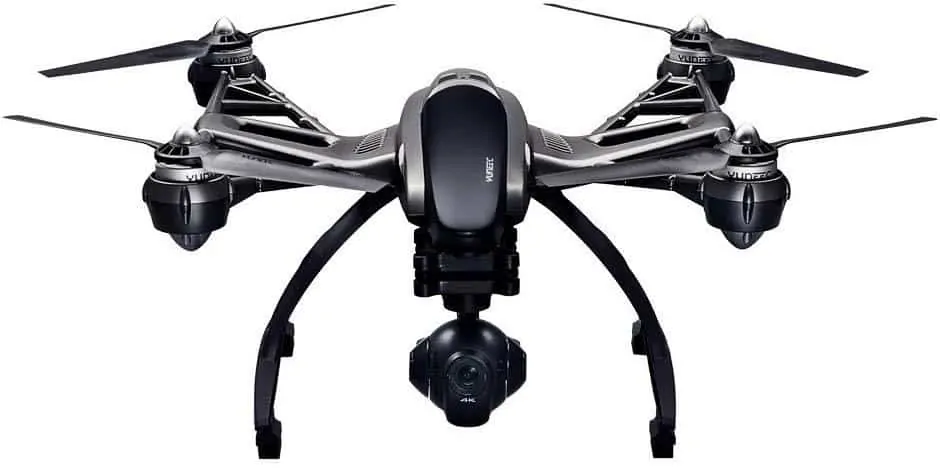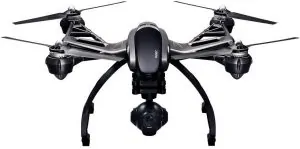 Image Source: Us.yuneec.com
The Yuneec Q500 4K Typhoon Quadcopter Drone is perfect for drone photography enthusiasts who want a superior device.
This aerial photography drone consists of features that further develop the capability to take excellent videos and images.
Among them are Follow Me, Return to Home, and Watch Me benefits. Plus, the No-Distortion lens guarantees optimal shots.
Furthermore, this drone for aerial photography offers up to 4K resolution at 30 fps for Ultra-HD. Thanks to its 4K CGO3 camera that provides photographs of 12 Megapixels.
Buyers encountered customer service problems and possible shipping impacts, but these issues were few.
With a 20-minute flight time, this 2.5-pound quadcopter UAV camera with steady-grip advantage does not disappoint, overall, making it among the best drone for the price sold in the market today.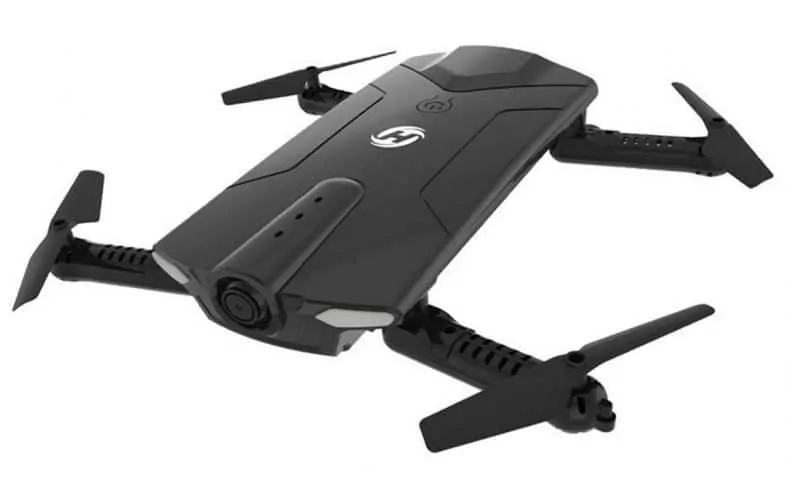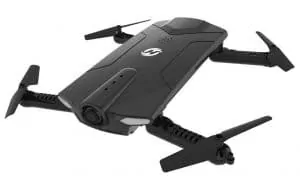 Image Source: Itncart.com
The Holy Stone HS160 Shadow FPV RC Drone is among the high-technology packed devices in the market today.
As one of the best cheap drones to buy today, it features WiFi FPV Real-Time Transmission, allowing drone photographers to watch a live video and capture breathtaking pictures in their smartphones.
Some customers complained about factory defects, but they were isolated in number.
But this UAV camera's Gravity Sensor Mode, 3D VR Mode, and 720-pixel HD camera outshine the negative feedback.
Plus, they add more thrill to aerial photography sessions of drone photography aficionados.
Thanks to this foldable and flexible drone's four-speed modes from low to high, this cheap drone with HD camera is suitable for beginners, intermediate-level photographers, and advanced ones.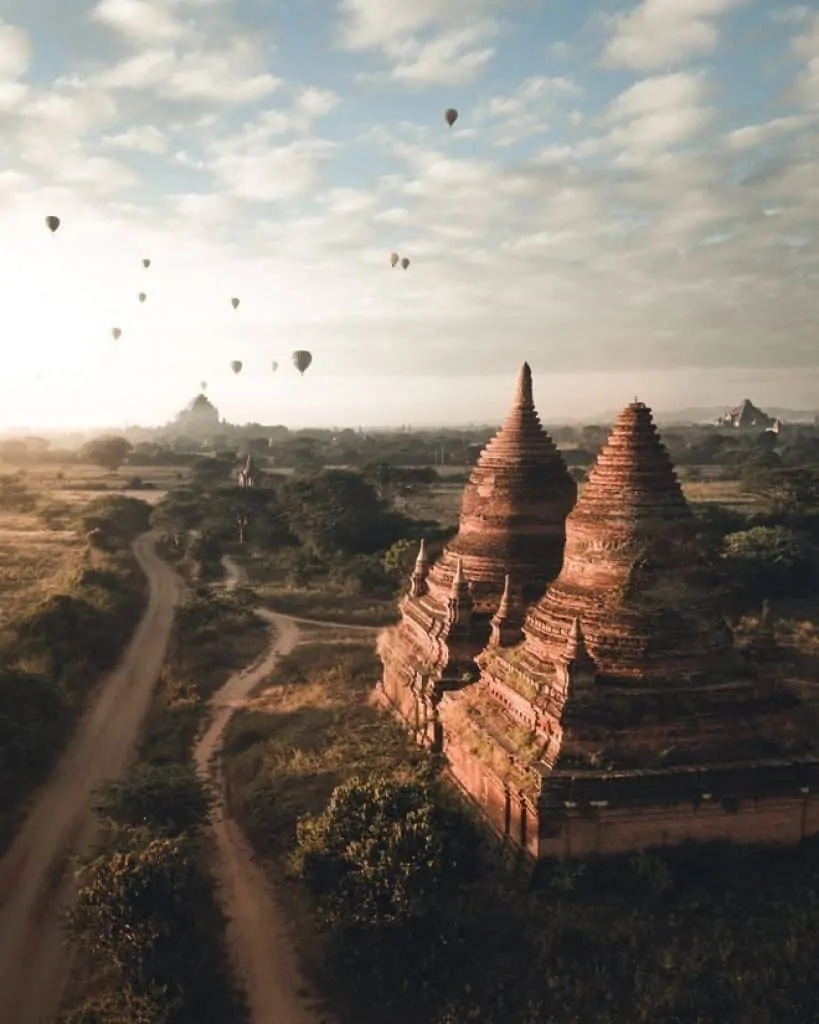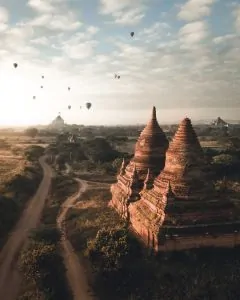 Sunrise in Bagan, Myanmar [Image Source: Pocket-lint.com]
Drones for photography, indeed, come with assorted designs and features.
Furthermore, drone price ranges vary.
Nonetheless, modern photography enthusiasts relish this wide array of choices they got, especially the increasing availability of cheap quality drones.
These products answer their query of why buy a drone for picture-taking today.
As aerial photography drones continue to revolutionize the way the beauty of the planet is captured, more and more hobbyists will highly likely get into this rewarding and fascinating activity.