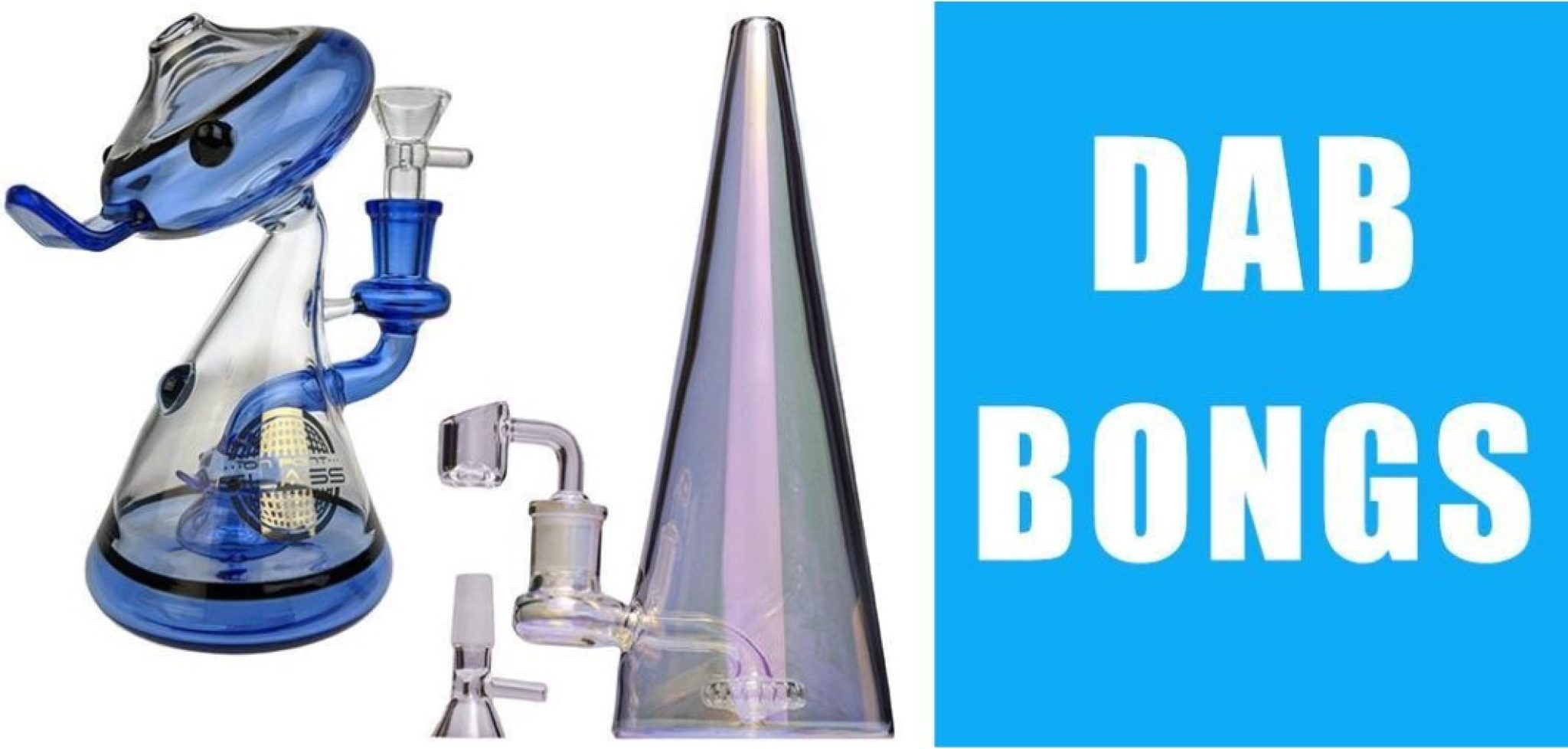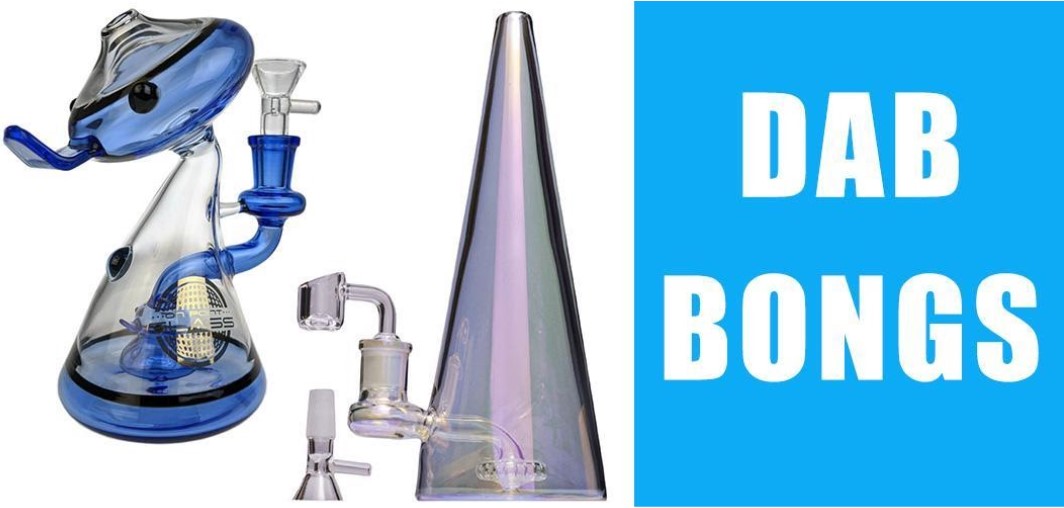 Dab Bongs offer a water pipe that has multiple uses. These types of Dab Bongs, like the ones mentioned below, come equipped with both bowls and bangers! This allows for the option to smoke cannabis through a bowl attachment or to switch to the banger adapter to dab. Honestly, with bongs as useful as this, users are given the option to smoke how they like, what they like, and to their consistency and frequency.
What Exactly is a Dab Bong?
A dab bong is a specialized water pipe that works for smoking weed or taking dabs of THC. These dab bongs resemble conventional water bongs (Check them out here) for dry herb smoking but come with a banger or 'dab nail'. These dabbing nails can be made from a variety of materials including ceramic, or quartz, all of which can be heated to extreme temperatures.
Dab nails are where the concentrated THC or CBD will be placed and torched with high heat to create a highly potent vapor. It is inhaled through the mouthpiece of the dab rig, operating in essentially the same way as a bong.  Regular dab rigs can only be used for dabbing concentrates, check some out for sale online.
The concentrates used for smoking dabs are varied in their consistency and the method of extraction. Each type offers their own advantage when using and provides smokers with different highs. Concentrates generally have a THC potency over 80%, causing them to manifest some of the strongest highs. Listed below are the different types of concentrates to help sort through what may be best for your personal use and dab rig!
Budder Wax is a very common concentrate, also known as Badder or Batter. It is one of the most commonly used as it is easy to smoke for almost any dabber. It comes formed in a butter-like consistency.
Crumble wax, also known as honeycomb wax, is more like brown sugar in uniformity. This type of wax is very versatile because it can be dabbed but also broken into crumbled bits and put on top of bowls or sprinkled through blunts and joints. It is known to be quite tasty and gives users a potent high!
Shatter is a hard and translucent wax that is a honey brown color. It is easier to break into pieces than other concentrates and gives a strong high.
Live Resin is different from other dabbing concentrates because it is made from a method involving being flash frozen. It comes from freshly harvested marijuana plants. Deemed as a full-spectrum concentrate because it retains most of the plant compounds.
Bubble Hash is so named for the fact that it bubbles when smoked. This dab-able concentrate is made from ice water with the highest quality often referred to as Full Melt Bubble Hash.
Why Is Dabbing So Popular?
Dabbing is one of the newest ways to enjoy everyone's favorite recreational and medicinal products. The concentrates used for dabbing provide a different and more powerful way to get all the desired effects.
This method of taking up gives more experienced smokers the option to get high while consuming less product to match their tolerance level. It has increased in popularity with new smokers as well! People of all levels of smoking are able to get as relaxed as possible without having to smoke an absolute ton.
There are even arguments towards the health and efficacy of dabbing. Using concentrates offers a product that has taken out the middleman providing intense THC terpenes and cannabinoid highs.
Dab rigs bring the ability to inhale pure cannabis smoke without having to breathe in butane or match smoke while lighting. It is also arguably healthier than using any other plant substances to smoke like tobacco wraps or papers.
These Amazing Dab Bongs Offer The Best of Both Worlds
Let's start with getting absolutely BANANAS! This Banana Bong Rig has a 4mm Banger and 14mm bowl piece to switch from. It stands at a glorious 9 inches tall with a firm sturdy circular base. Bananas aside, this bong rig is perfect for adding fun and happiness to every smoke sesh.
Speaking of fruit, Pineapples are often the perfect touch to bringing those summer vibes no matter what time of year it is! The crystal clear Pineapple Bong Rig is intricately detailed. It becomes more than just a bong rig and turns into a quality statement piece able to be placed out as a classy decoration.
It features a bent neck with a wide flared mouthpiece, giving the space for the hardest of pulls. This bong measures 8.5 inches tall with a flat, circular base offering utmost stability. It comes with interchangeable smoking pieces, a 14mm bowl, and a 4mm banger. Get this touch of joy for any collection today!
Quack, quack, the pass will be the new saying when ripping from the ever-cute and industrious Quack Bong Rig. This perfect little ducky will be the new talk of the smoking town for a long time to come. This dab bong is created by On Point Glass and measures 6 inches tall. It comes with a 14 mm bowl with a funnel slider and a 4 mm banger. Time to get little quackers!
Feeling excited for the upcoming Super Bowl or just love sports? Try the Football Bong Rig with Banger as it comes with a 14 mm bowl attachment and 4 mm banger attachment. It is quirky and fun and will be scoring goals with everyone around. Touchdown with the 8 inches tall, fixed-down stem uniquely designed water pipe that will have every hit cheering from the grandstands.
Another excellent option is the Clear Cone Water Pipe created by On Point Glass. It is a little taller than some coming in at 9 inches with a nice wide base for stability. The 14mm bowl has a funnel slider and it also comes with a 4 mm banger attachment. The clear bong with light purple hues is absolutely sleek and chic with a percolator fixed inside. The cone shape gives smooth and powerful hits!
When looking for various marijuana bongs, dabbing rigs, and accessories, World of Bongs is going to have everything one might need. They are able to fill every stoner's need and often have amazing sales and deals on products made of high-quality materials. Getting bongs with class, style or personality is easy when shopping with a company that cares about its customers and its products!