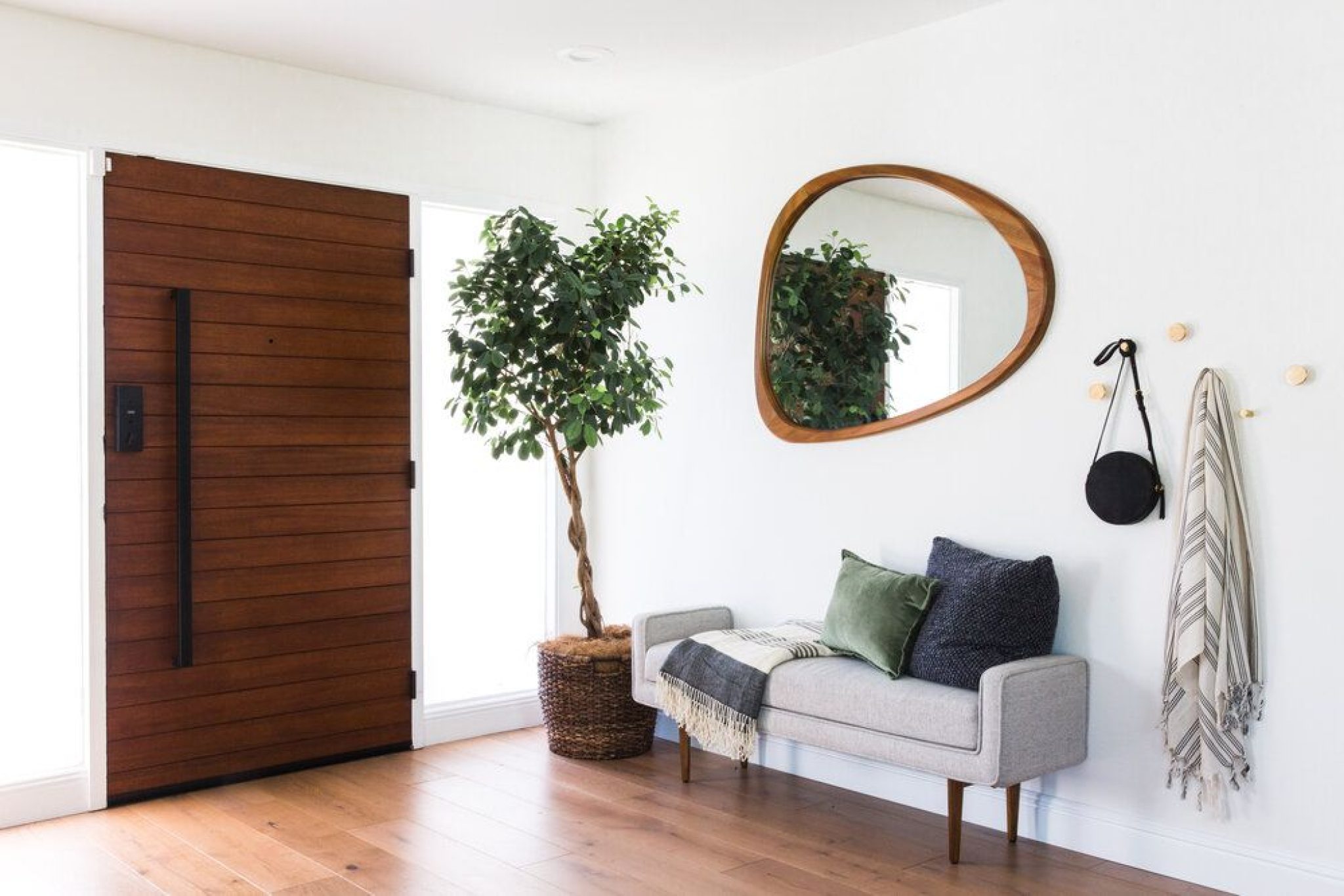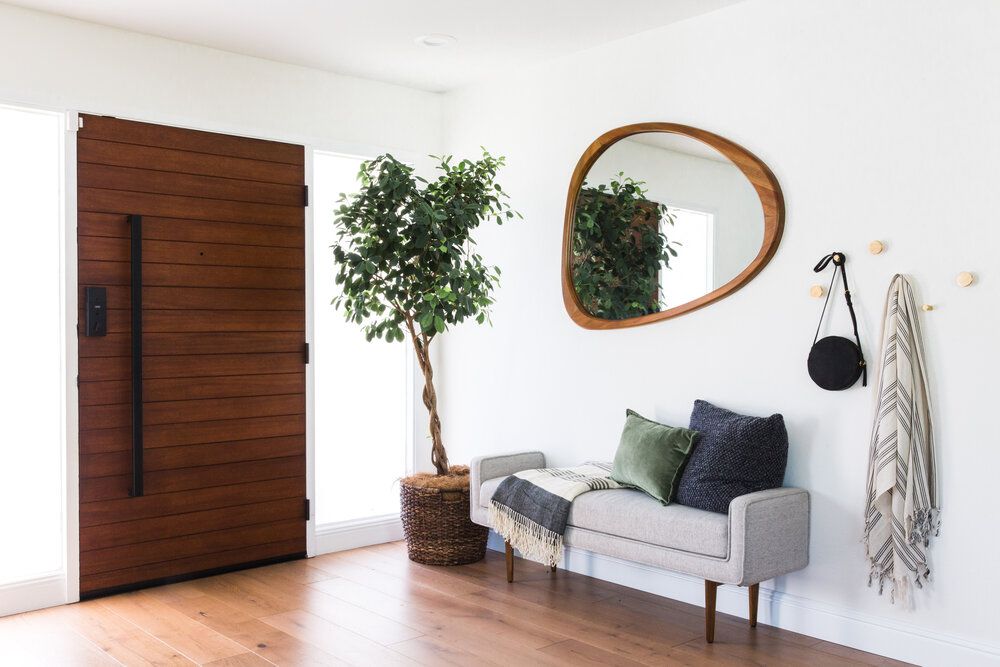 A mirror is often seen as a functional item, used to reflect the image of the person looking into it. However, mirrors can also be used as decorative items in your home.
In fact, using mirrors in creative ways can add interest and style to any space. Here are a few ideas for how you can use mirrors to decorate your home.
Hang A Mirror On A Wall In Your Living Room To Create The Illusion Of More Space
Adding a mirror to a small living room can make the space feel larger. By reflecting the walls and other features of the room, a mirror can create an optical illusion that makes the room appear bigger. Neat, right?
Place A Large Mirror In Your Entryway To Make The Space Feel Larger And More Welcoming
An entryway is often one of the smallest spaces in a home. However, you can make it feel more spacious and inviting by placing a large mirror on one wall.
The mirror will reflect the light coming in from the front door, making the space feel brighter and more open.
In addition, guests will be able to see themselves as they enter, which can make the space feel more welcoming, but they'll also appreciate being able to check their hair and makeup before heading out to the party after pre-gaming at your place.
Use A Mirror To Brighten Up A Dark Room
If you have a room in your home that doesn't get much natural light, you can use mirrors to brighten it up. By hanging mirrors on the walls or placing them near windows, you can reflect the available light and make the space feel lighter and airier.
Create A Focal Point With A Mirror
If you have a blank wall that you're not sure what to do with, consider hanging a large decorative mirror on it.
The mirror will become the focal point of the space and can be used to add style and interest. For example, you could hang a vintage mirror in a rustic-style room or an ornate mirror in a more formal space.
There are endless ways to use mirrors to decorate your home. By getting creative, you can add style and interest to any space. So don't be afraid to experiment with different ideas until you find something that works for your home.
Hang A Mirror Above Your Fireplace To Reflect The Flames And Create A Mesmerizing Piece Of Décor
If you have a fireplace in your home, you can use mirrors to decorate it and make it more striking.
One idea is to hang a mirror above the fireplace. The mirror will reflect the flames of the fire, creating a beautiful and relaxing atmosphere in the room. In addition, the mirror will also make the room feel warmer.
Add A Small Mirror To A Bedroom Vanity To Make It Feel Special
Adding a small decorative mirror to your vanity can make the space feel princess-like.
Mirrors reflect light and give the illusion of more space, so placing one on or near your vanity could even help make your bedroom feel larger. Plus, having a mirror handy while you're getting ready is always convenient!
Decorate the vanity mirror with some accent lights or fancy lightbulbs for an even better decor piece.
Mount A Mirror On The Ceiling Above Your Bed To Reflect Light And Create A More Relaxing Or Spicier Atmosphere
A ceiling mirror is not a bad option for your bedroom. You can use it in two ways: for a more relaxing atmosphere or for a spicier one.
If you want to create a more romantic ambience, then mount hundreds of small, disco-ball-like mirrors on the ceiling above your bed. The reflected light will give the impression of candles flickering in the dark.
For a more exciting atmosphere, place the mirror on the ceiling directly above your bed so you and your partner can enjoy a different dimension of romance next time around.
You can also use it to add depth to a small room, but you already know that.
Use Mirrors As Artwork By Framing Them With Decorative Borders Or Mats
If you're looking for something a little more unique, why not try using mirrors as artwork?
You can find brilliantly framed decorative mirrors that come out of the factory looking like an art piece. Or, you can frame them with decorative borders or mats to create one-of-a-kind pieces that are sure to stand out.
Plus, they're easy to find at www.everbettermirror.com, or even thrift stores or garage sales, so you won't have to break the bank. Just add a few nails to the wall, and voila – instant art!
Hang Multiple Mirrors In A Cluster To Create A Bold Statement
If you want to really make a statement, consider hanging a cluster of mirrors in your home. This is a great way to make the space feel professionally decorated – not the mention bigger and brighter.
Just make sure to choose mirrors that are different shapes and sizes for an exciting look, and be sure to hang them at different heights to add dimension.
Incorporate Antique Mirrors Into Your Home Décor By Using Them As Accent Pieces
Mirrors with ornate frames can make a significant impact in any space. And when those mirrors are antique, they can add an extra element of interest and charm.
One way to use an antique mirror is as an accent piece. For example, you could hang one above a fireplace or console table. Or, you could lean one against a wall in an entryway or bedroom. Another way to use an antique mirror is to create a focal point in a room.
Possibilities are endless!
Get Creative With How You Use Mirrors To Add Interest And Style To Your Space
Who says a mirror has to be whole? If you don't believe in bad luck, maybe smash a few mirrors and create some unique pieces of décor?
If you have a collection of anything, display it on a mirrored shelf. It will reflect the items and make them appear twice as abundant.
Or get really creative and use mirrors of different sizes, shapes and even colours to create patterns on your walls. Get coloured mirrors for a vitrage effect or arrange them by shape for a geometric look.
Just get creative – you'll make something extraordinary happen!