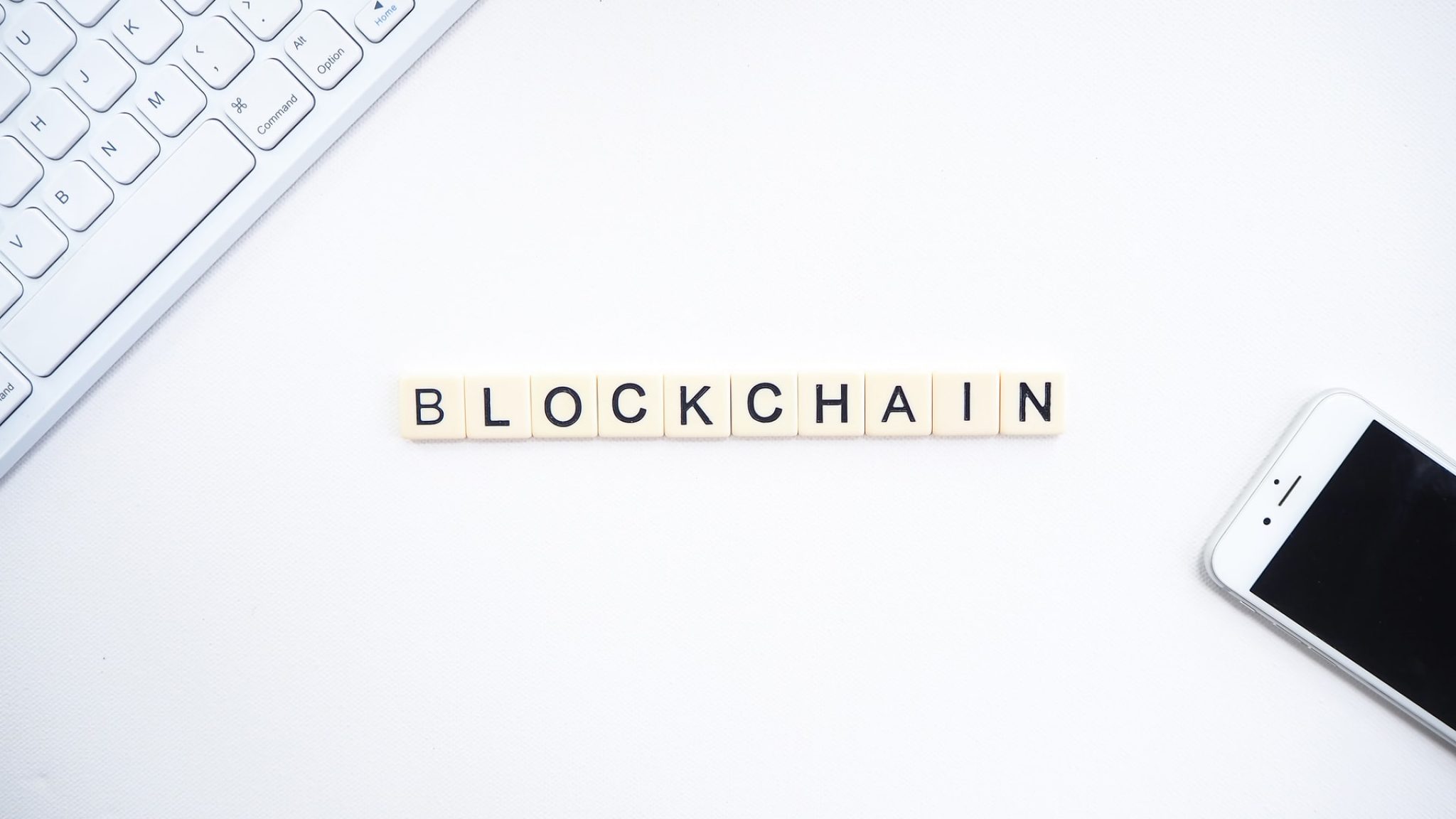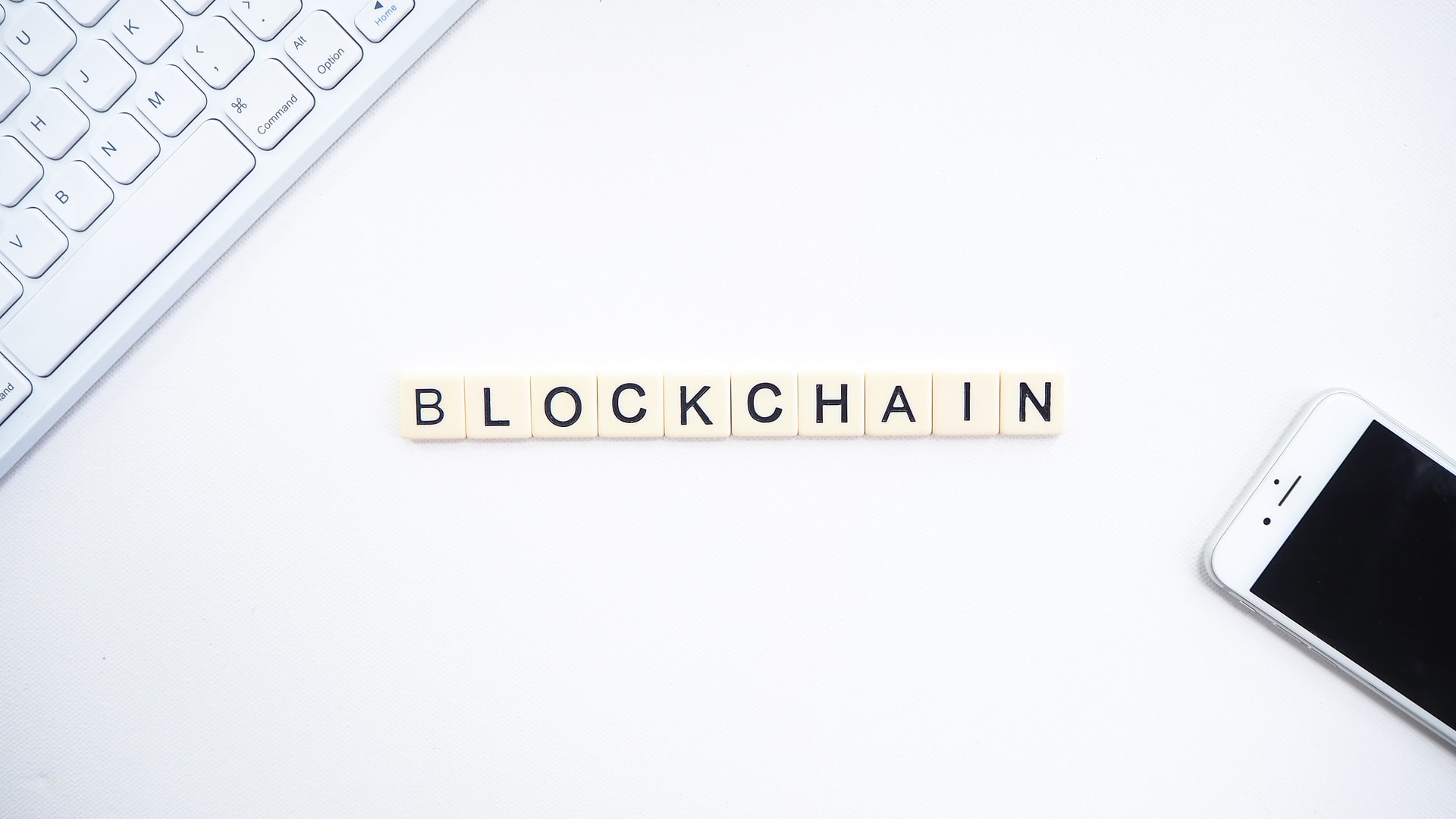 Blockchain has disrupted many traditional industries and organizations, and as any disruption in history has created new opportunities and new businesses, blockchain is no exception. The blockchain technology has already nourished an unparalleled number of startup businesses, who are joining the space in the hopes of getting their share from the pie.
The use cases of blockchain include applications in finance, logistics, insurance, art, entertainment, personal identity security, government, and more.
Such industries started to benefit from this technology as organizations are adopting it to make their businesses faster, more efficient, secure, and transparent. The use of blockchain technology also provides the opportunity to quickly reach an unparalleled number of consumers and businesses all around the world that would not be possible in the legacy legal and financial system.
For example, many financial institutions are now using blockchain technology to streamline their Know Your Customer (KYC) and Anti-Money Laundering (AML) procedures, as well as automating the use of their financial products. Logistics and packaging companies are using it to comply with anti-counterfeiting standards and implement end-to-end supply chain traceability etc.
A large number of early startups in the blockchain world have already evolved into unicorns, such as CEX.IO, BlockFi, Circle, Paxful, Greyscale, Elrond, Aave, Alameda Research etc.
In this post, we will review some early stage blockchain businesses that can still be considered as startups, in terms of their size.
Coinfirm
Coinfirm is a London-based startup founded in 2015. It is engaged in the safe adoption of blockchain by regulators, governments, and financial institutions.
Although the blockchain industry aspires to bring decentralization, providing self-governance for users and citizens, there is still a need for centralized responsibility and accountability. Coinfirm seeks to solve this dilemma with its Anti-Money Laundering (AML) platform, which does not reveal an individual user's identity to centralized authorities when they need to conduct a transaction.
Instead, the platform deploys over 270 autonomous checking algorithms which continuously check a user's digital activity. A digital reputation scorecard is generated out of the user's activities, which constitutes a certain risk category. This in return allows financial institutions and regulators to safely engage with the users of the cryptocurrency world.
Colendi
The Turkish fintech startup Colendi seeks to provide a global financial passport for its clients. Founded in 2016, the company aims to create a democratized credit scoring platform based on blockchain technology, where users receive an ID that acts as their financial passport to access the global debt and capital markets.
The objective of the financial passport system is to include unbanked people and small businesses in micro-financing opportunities all around the world​. Their autonomous credit scoring mechanism acts as the link of trust between lenders and borrowers.
In September 2023, Colendi managed to raise $30 million from a number of investors in the Series A funding round at a total valuation of $120 million.
DappRadar
DappRadar is a startup company from Lithuania and it is fast becoming the ubiquitous website to track decentralized application (dapp) activity on different blockchains. Dapps are applications that run on a blockchain instead of a conventional company with a central server.
DappRadar has over 500,000 monthly users and it monitors more than 8,000 dapps on over 20 blockchains, including Ethereum, Binance Smart Chain, Solana, and Polygon.
Dapps under the portfolio of DappRadar include a plethora of decentralized finance (DeFi), nonfungible tokens (NFT), and metaverse gaming applications. DappRadar offers dapp discovery along with a portfolio management platform, by which it aims to filter out fake or irrelevant on-chain activity and provide actionable market intelligence.
DappRadar is backed by a number of prominent technology investors like Blockchain.com Ventures, Prosus Ventures, and NordicNinja VC. It succeeded in raising $5 million in Series A funding in May 2023.
Fetch.AI
Fetch.AI is a Cambridge-based startup that tries to decipher the characteristics of AI-generated illegitimate transactions. The objective is to provide better risk management and prevention in networks using machine learning and artificial intelligence.
Fetch.AI is built on a high-throughput digital ledger and it offers smart contract capabilities to deploy machine learning and artificial intelligence solutions in an effort to connect Internet of Things (IoT) devices and algorithms to enable their collective learning. The end goal is to create automated markets on the blockchain without any governance.
The Fetch.AI platform has its own native cryptocurrency, FET, which is listed and traded in the largest global cryptocurrency exchanges.
NeuFund
Neufund is the first company on the planet to digitize its ownership. Unlike the traditional method of going public, the company conducted its Initial Public Offering (IPO) on the blockchain in 2018. In that sense, the company's value resides on the blockchain now and its native FTH tokens are traded in the network at their market-determined value.
Neufund's innovative approach is compliant under the local jurisdiction, which acts as a lawful connection between an on-chain token and real-world equity. This could pave the way for any incorporated business entity to direct an IPO in the future on the blockchain.
OriginStamp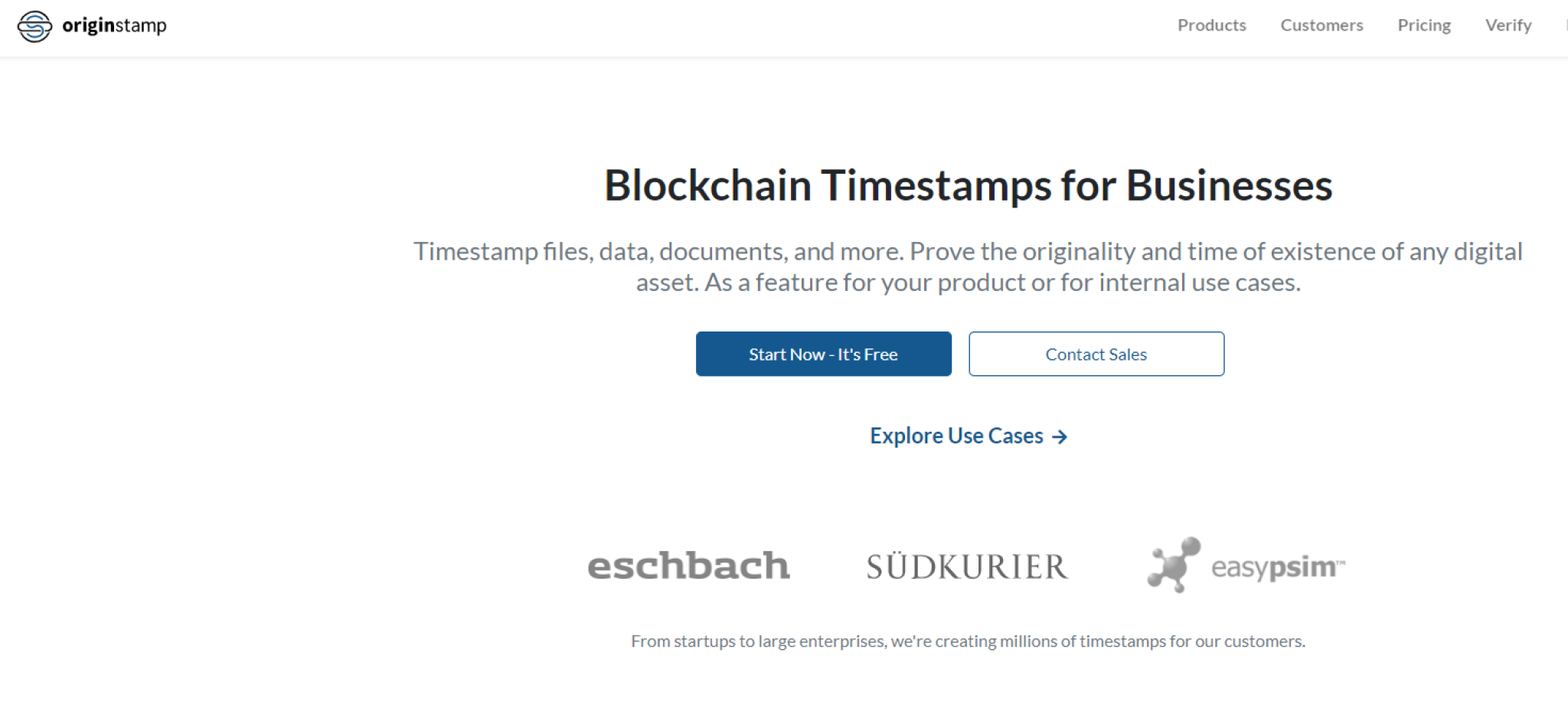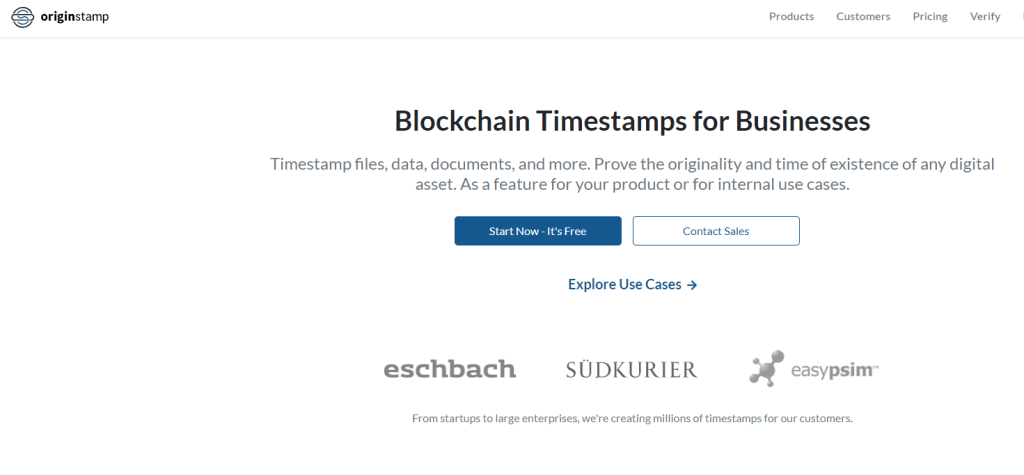 On the internet, there is currently no proof of the authenticity of documents, due to which you cannot just download documents and present them to official entities like a government, healthcare, or financial services company.
OriginStamp helps users protect their documents and allows them to verify their time of creation and originality by using a blockchain ledger. So when a user uploads a document using OriginStamp's platform, the platform timestamps it and updates the blockchain ledger. Due to the immutability of a blockchain, no person can tamper with the document after that.
Furthermore, OriginStamp allows you to upload documents in bulk and timestamp them with a single click in order to save time.
Solve.Care
Solve.Care is a worldwide medical services blockchain organization, established by Pradeep Goel in Estonia in 2017. The startup seeks to streamline medical services operations and reduce the inefficient, tiresome administrative work that the healthcare industry is notorious for.
Solve.Care coordinates transactions and installments among patients, specialists, drug stores, research centers, and healthcare companies, all of which run on the Ethereum blockchain and adhere to the ERC20 token standard.
Solve.Care has to date raised over 30 million Euros of seed funding.