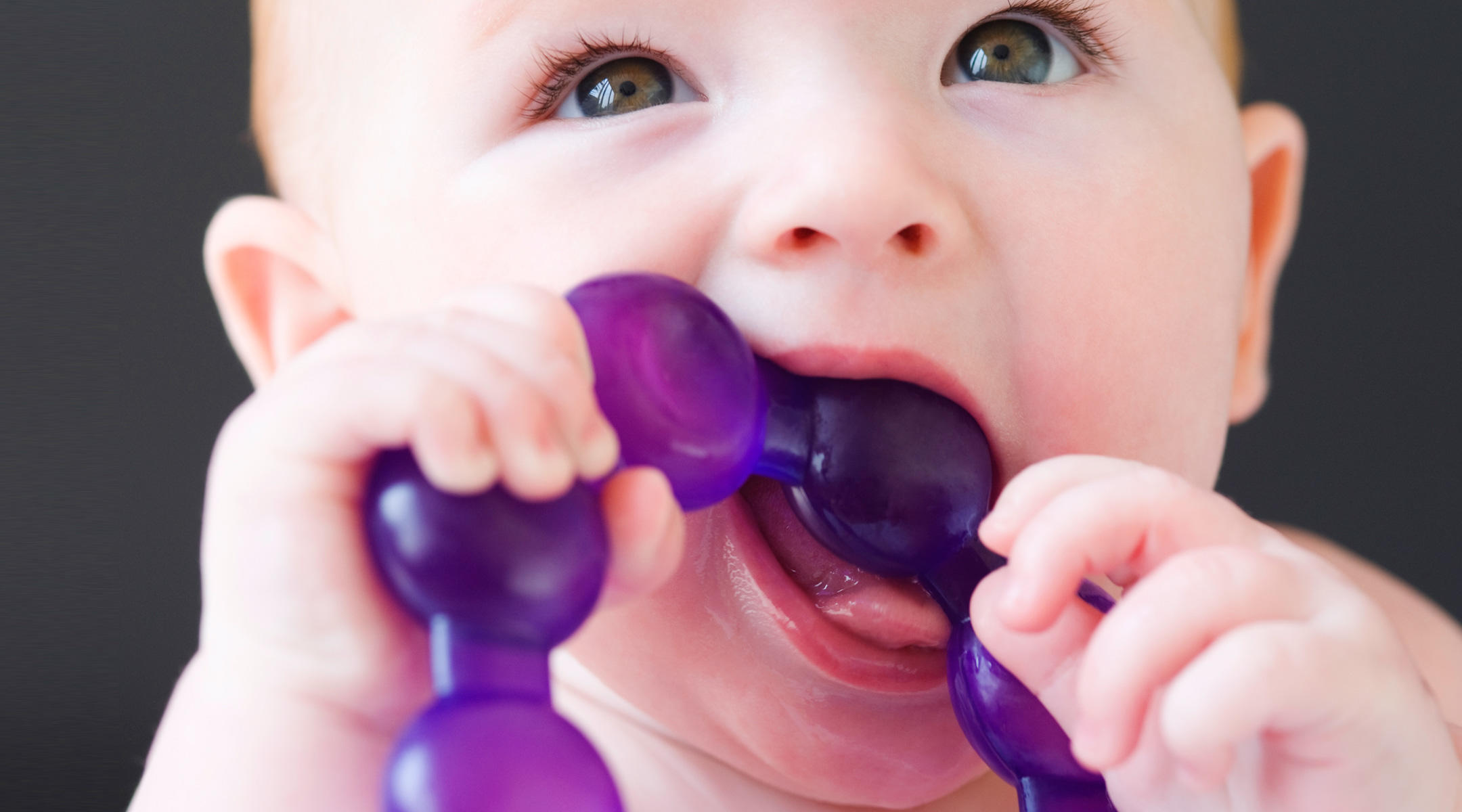 Babies of around 6 months old tend to start teething, and mind you, this month could be the most needed amongst the others in the baby's first year, of course, until the 12 months, until when they would start teething again!
During this teething period, your little munchkin could get quite irritated due to the massive change the teething brings, with the shooting pains that they'd experience. Parents can surely then make use of the best teething toys to help aid the pain of teething, as it can get really difficult for you to watch them uncomfortable.
Perhaps, before you get started with buying a teether, we recommend you consult the baby's doctor or the dentist to know if it's ok for you to introduce the teething toy to the baby.
What are the ways to choose the best baby teething toys?
Given the urge and wide requirement of the best teething toys, we have listed below the things parents must keep in mind before they purchase a teether. This will help you narrow down and decide from the wide range of teething toys available in the market:
Material – A teether comes in a wide range of materials for the little one to chew. These materials include ones that are made from plastic, however, if you do not wish to let your baby near plastic, you can switch to the other teether options, like wood or silicone.
Fillings – There are a few baby teething toys that are filled with a soothing gel, allowing you to refrigerate them and aid the baby's gum. However, if you are worried that your baby is capable of poking the teether and swallow the gel, we recommend you look for other teether options.
Easy-grip – It is observed that babies tend to have a better grip on a teether that is designed in a ring shape, as compared to the ones that feature a straight handle. So, choose a teether that will allow your baby with a better grip.
Size – Babies at this age put anything and everything in their mouths, causing choking hazards to be the most common fear amongst parents. To prevent this, while selecting a teether, you must keep the size of the baby teething toys in mind.
Best baby teethers of 2023
Listed below are the best teething toys, that are baby-safe, BPA-free, some dishwasher-safe, and feature just the perfect size for your baby. Look through and find the one that would suit your little one the best:
1) Bombino Teething Rings 4-Pack
These teething toys from Bombino are traditional with teething rings that come in a pack of four. They feature to be non-toxic, BPA-free, phthalate-free and are available in four colors with different textures to help aid the aching gums of your baby. Adding on, Bombino baby teething rings provide a firm grip with the help of its ring shape.
Pros:
This silicone teething toy is dishwasher safe
Has an easy-to-hold grip
Comes with an e-book that shares remedies to help parents through the baby teething
Cons:
The teether doesn't reach the sore gums at the back
Is expensive
2) Nuby Silicone Teethe-Eez Teether toy
This Nuby teether toy features a silicon-make, is soft and chewy with a flexible end that helps soothe your baby's sore gums. It also features different textured surfaces on the handle with a chewy end, includes a carrying case, and is of the perfect size.
Pros:
Is affordable
Has a small ring attached, making it easy for the baby to hold
Includes a carry case
Cons:
Nuby silicone teethe-EEZ is a bit big for babies cutting their first teeth.
3) Nuby Ice Gel teether keys
These are super cute teething toys that come in bright colors and different surfaces and are attached to the ring. Nuby Ice Gel baby teether features a softer part that your baby will love to chew on when their gums are tender, with harder parts too in the teether.
This silicone baby teether allows the babies to chew on with their front, middle, and back teeth while holding onto the ring-shaped grip and can also be stored in the refrigerator to cool and soothing when needed.
Pros:
It is affordable
Can be stored on the refrigerator
Features different textures for the sore gums
Cons:
There are a few reviews about the leaking in these baby teethers, make sure to check them nicely before buying
Is comparatively harder to clean
4) Tinabless food-grade silicone 5-Pack teething toy
This silicone baby teether is made using food-grade and comes in a pack of five fruit-shaped teething toys, this includes a baby banana infant teething toy and can be stored in the freezer until the next session. Along with their food-grade silicone make, they are also BPA-free, latex-free, phthalate-free, lead-free, and PVC-free with handles that have a no-slip grip.
Pros:
Each teething will feel different on your baby's gums
Is affordable
Can be stored in the freezer as well as washed in the dishwasher.
Cons:
They have a small size, therefore, parent's supervision is recommended as your baby may be able to fit the whole thing in their mouth causing a choking hazard
Has very thin handles so could be tricky for younger children to hold.
5) Lamaze Muffin moose teething toy
Along with aiding the baby's teething pain, this teether comes with soft antlers that allow your baby to chew while having fun. Also, the legs of the moose crinkle each time the baby grabs them with rewarding noise when pressed on the stomach.
Your baby can also continue pressing on the stomach of the moose when visiting the park, as it can be clipped to the baby's stroller or when put in the diaper bag. Meaning, you need not worry about the teether falling off on the ground when outdoors.
Pros:
This teether is made using soft silicone material, so it can be cuddled with
Features multiple textures
Comes in eye-catching bright colors
Is BPA, PVC free
Is easy to clean, even during hand wash
Cons:
Irrespective of this being a soothing teether, the baby cannot chew on it for teething relief when hanging on a stroller
( If you are looking for the best diaper bags that can help you carry baby products during your walk to the nearby park or when traveling with your baby, click HERE!)
To Conclude:
Choosing the best baby teether toy to help aid the baby's mouth from sore gums is necessary, but picking the one that's the best suited is of utmost importance. This could be anything, be it machine washable, or a silicone teether that is made from 100 percent natural rubber.
Nonetheless, despite your choice, just make sure they are easy to hold, easy to chew on, are non-toxic, aren't filled with any liquid or gel (even if the package confirms that it won't hurt your baby), and those that you can pop in the dishwasher. With these options available, we are sure you will be able to pick the best baby teethers for your baby.
FAQs: Top 5 Best Selling Baby Teething Toy In 2023
1) Are teethers good for babies?
Yes! A teether is a toy that allows a baby to chew on, as and when their new teeth begin to develop. Adding on, they also help the teething baby to find comfort and get some relief by simply chewing onto these teething toys.
2) When should you buy teething toys?
A parent can buy baby teething toys from around 4-6 months of age.
3) What is Sophie la Girafe Teether so popular?
Sophie la Girafe features long legs that allow a baby to easily put in their mouths and chew down the entire length of the toy. Unlike most teethers that mostly help with the front teeth, the Sophie la Girafe can be used when the baby is growing rear teeth at their early and late-stage of the teething phase.