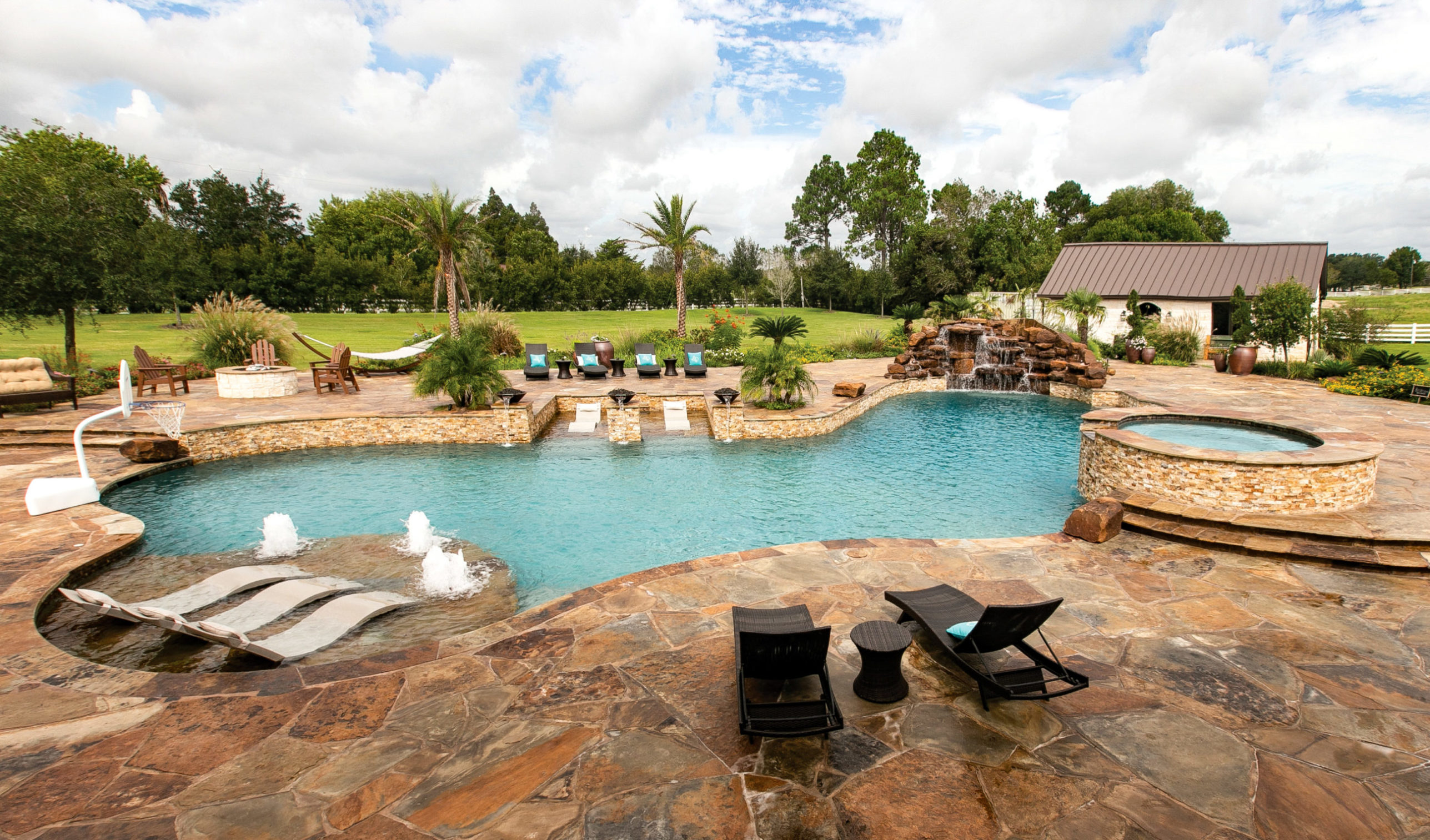 It is safe to say that everyone that lives in a house and has a backyard is always trying to improve how the property looks. Whatever you choose to work on, from simply painting your house to some serious landscape work, you have to consider several factors before starting any renovations. Today, we're going to talk about the ultimate yard jewel – the swimming pool. Swimming pools have been for a long time associated with wealth and fame. Nowadays, it is significantly easier and cheaper to have a pool built in your backyard, so let's talk about that. There are several things to take into consideration when building a pool – its size, shape, budget and so on. If you are not sure what kind of pool you want, you should stick around, since we're going to explore several different possibilities in accordance to your backyard and some other factors.
1. Size
First off, it is important to look at the size of your property, since it's impossible to fit a 30-yard pool into a 20-foot yard. Well, that is not entirely true, since your pool can come in several forms, but let's save that one for later. Good advice would be to get a good, proper fit for your space. Sometimes less is more; a well-designed compact pool that works well with the rest of your yard can only elevate the way everything looks as a whole. Having a small pool will leave enough room for you to build a lounge area, place some sunbeds and so on. Therefore, don't overdo it, having a smaller pool has its perks, like for instance, budget, which is the next thing on our list.
2. Budget
This is a very important detail that is not to be overlooked when considering building a pool. It does not matter for which size or shape you opt-out for, it should always be within your budget. Prices will definitely vary depending on the size, shape, or construction materials. The finer materials you choose, the price will go up. The same goes for size and how complex do you want your pool shape to be. One of the things that may be neglected and overlooked, and it certainly should not, is the cost of pool maintenance. If you want your pool to be clean, good looking and a long-term 'friend' of yours, you will have to take that into the consideration as well, but, we'll touch in that later in the article.
3. Pool function
This might seem a bit confusing, but it really isn't. We all know that most likely you won't be riding a jet ski in your pool, but, then again, you do have an idea what the pool will be primarily used for. For instance, if all you want to do is throw in a blow-up bed and relax for a few hours while enjoying a cocktail and an occasional dip to cool yourself down – chances are you don't need an extra-large pool. However, if you have a large family and are planning on throwing pool parties for your friends and family fairly often, then the small pool is probably not the best option for you.
4. Pool design
Nowadays, nothing is virtually impossible when it comes to designing a pool. All you need is an idea, bit of imagination and a set of experts like guys from compassnewcastle.com.au that will make your idea come to life.  Like we've said, you can essentially have any kind of pool shape, size or style in your backyard, as long as it fits within, so, here are some of the most common ones.
Classic
These are by far the most common option out there. It is a rectangular shaped pool, usually fairly large so you can easily swim laps in them or fit a large group of people and have a blast. Another advantage of this type of pool is that is has a certain old-school, never going out of style vibe to it, so people still gravitate towards this particular design. You can't go wrong with classics, right?
Infinity
These are the ones that you usually see on social media posts. They look really luxurious and are usually found in places where you can enjoy the view from a pool. Great option if you have a large estate and your pool can be placed in a slightly elevated position so you can admire the surroundings.
L-shape
This is the option for those who want to fit a large pool into a small yard. As you can deduce from the name, it's an L shaped pool, usually very lengthy, a good fit for those who want to swim, not so much fun for a big group of people since they tend to be pretty narrow.
Kindey
Not the greatest name, but a certainly fun shape for a pool. If it makes you feel better, you could call it bean-shaped. It's a vintage design, virtually fitting for every surrounding and a great option if you want to go for a classic look, but don't want a rectangular pool. In addition, this shape really compliments a 'kid section' without breaking the general aesthetic.
Geometric
Another great option for people that lack space in their yard. Think of it as a puzzle, create a shape that is the best fit for your yard and just goes for it.
Freeform
This is the one we've thought of when we said anything is possible. As the name suggests, you can get creative as you want. Make your pool look like a pond, install waterfalls, caves, underwater tunnels – it's all up to you.
5. Maintenance
As a sort of subcategory of a budget section, it's important to understand that the different build materials will affect your post-maintenance costs, too. If you have a concrete pool, you will need to use more chemicals in order to prevent algae or bacterial growth, since concrete is a surface that is susceptible to those kinds of problems. On the other hand, the plexiglass pool will probably cost a tad more during construction but will require significantly less money to maintain in the future. Furthermore, various additional things could be installed in your unit, for instance – water heaters, which will affect your electricity bill. Water filters, solar covers, chemicals – all of these might be a necessity and should be included in your budget consideration.
Now that you are aware of everything that we've mentioned, we hope that it will help you out decide which option is the best for you.