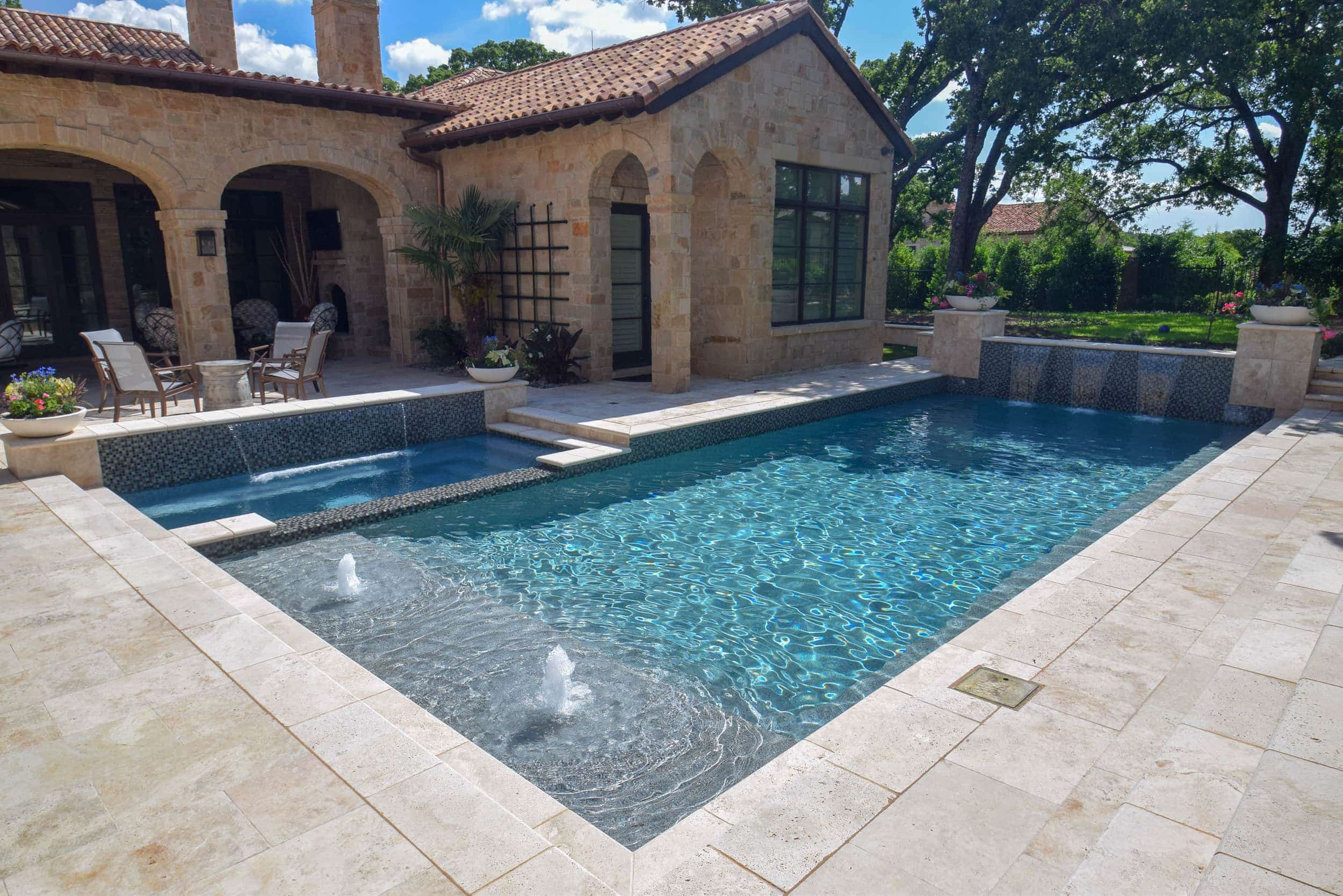 Having a pool is great. You have a place to relax and unwind after a long hard day, you can swim and get some exercise in, you can host parties or do whatever else you like to do. It's a good addition to your home in any case. However, it's not uncommon for people to get kind of bored with their pools. In that case, you might want to change things up a bit. You could do a lot of things.
From changing the colour of the coating to completely redesigning the pool – remodeling ideas are virtually endless. You could change a minor detail and still achieve a brand new look.
If that seems like something you might be interested in, but you're not quite sure what it is that you want to change, we might be able to help you out. We've compiled a list of some of the best remodeling ideas to freshen up the look of your swimming pool, from minor to major ones. Without further ado, let's get started.
1. Changing The Lights
For an outside pool, lights are one of the most essential elements that shape its entire aesthetic. If you've had regular lights or none at all for quite some time now, it might be a time for an upgrade. Adding some LED lightning could just be the thing you were looking for. Good lighting can make or break the way anything looks and that is especially true when it comes to this. You can choose from a variety of colour and sizes. This would allow you to virtually transform the overall look, especially if you choose the lights that can change color. This would allow you to set the mood whichever way you like. Throwing a Prince-themed party? Guess who's pool is about to turn purple for the night?
2. Changing The Coating
Another great way to completely change the look and feel of a pool is to resurface it. If you're feeling bored and tired of the old look, just switch it up. A coating is an exterior layer, so changing it wouldn't be messy or hard. The great thing about this is – your options are endless. There are so many textures, patterns and colors to choose from, you could change them up every year if you wanted to. Not only would you achieve a new look by resurfacing, but you'd also completely refresh your pool making it virtually good as new.
3. Refresh The Deck
You should never forget about the surrounding. They are equally as important. You could dig a hole and just fill it up with water if that was all that mattered. So, if you're looking to remodel, don't just look at the pool, take a look at the deck as well. It should be as pleasing and beautiful as possible. Just like with the fresh coating, you have a lot of options to choose from. You could go with wood, rocks or tiles in any shape or colour. You could even mix and match. You can do whatever you want. Any change is welcome if it's going to make you feel good.
4. Buy Some New Furniture
Sometimes resurfacing is not enough. Even though poolresurfacingdallastx.com has done an excellent job, you're still looking for a way to freshen things up. Well, if that's the case, you should maybe upgrade your poolside furniture. Maybe you just need some new sunbeds or chairs. Refreshing your furniture could completely change the aesthetic. Maybe you just go for some new colours or maybe you switch from plastics to wood. Like we've said, any change is welcome.
5. Install A Diving Board
Since you're not at a public pool and there are no guards with whistles to stop you from somersaulting into it, maybe you could add a diving board. Diving boards are fun and they're not as expensive as the other recommendations from our list. You could practice flips or you could just do the 'bomb', the thing is, you'll be able to do both much easier because now you have a diving board.
6. Add Some Shade
Sometimes you don't want to swim. Sometimes, you'd just sit back and relax but the sun is too strong and it's bothering you. Well, luckily for you an easy way to solve this and refresh the look is to get an umbrella. There's a lot of different styles to choose from, from classic, retractable ones to paradise-island-looking reed ones. It all depends on what look you're trying to achieve. if you're not up for umbrellas, you could even get some shade sails. They look especially good in white.
7. Do Some Landscaping
As we've said, there are a couple of things you can change around the pool as well and changing the landscape is one of them. Imagine adding a couple of palm trees nearby and creating a tropical island vibe in your backyard. Add some sand or some rocks and create a mini beach of your own in the backyard. A good looking surrounding area is very important, don't you forget that.
8. Add A Waterfall
Adding a waterfall is a great way to spice thing up and add a new dimension to the pool. This will not only make your pool look way more interesting, but it'll also make it more relaxing. There's just something soothing about the sound of water splashing and babbling.
9. Add A Water Slide
If you have kids, this is the way to go. Even if you don't, who doesn't like going down the slide and crashing into the water? Water parks wouldn't be so popular if we didn't like it. You can really do a lot with a water slide, it's just a matter of how far do you want to take it. Nothing's stopping you from having one straight from your terrace into a pool.
As you can see, you can do a lot of things when it comes to remodeling the pool. Basically, anything within reason that comes to mind can probably be done – from hot tubs to giant water slides. Hopefully, we've given you some fun and useful ideas. To learn more about home remodeling visit modernethanolfireplaces.com.