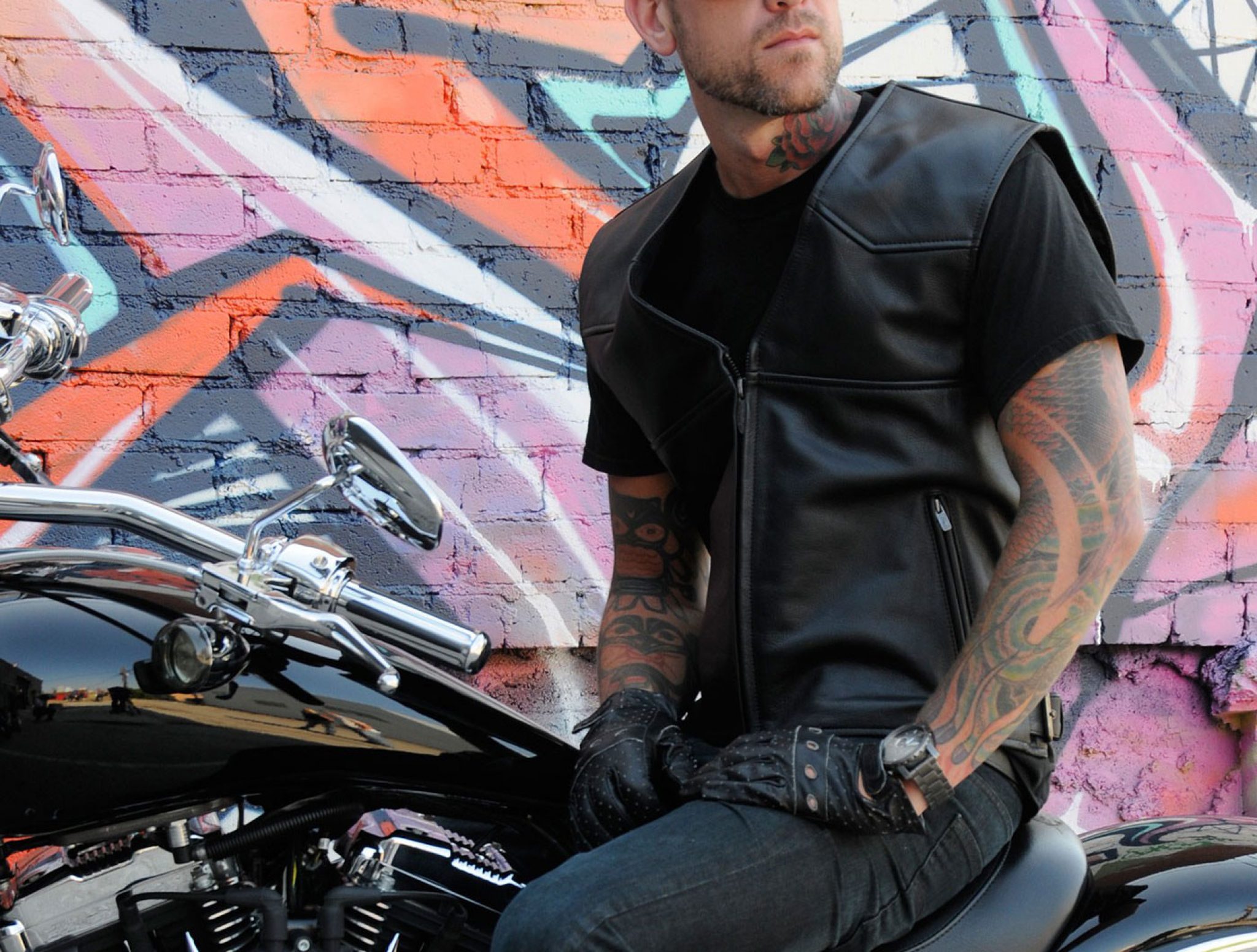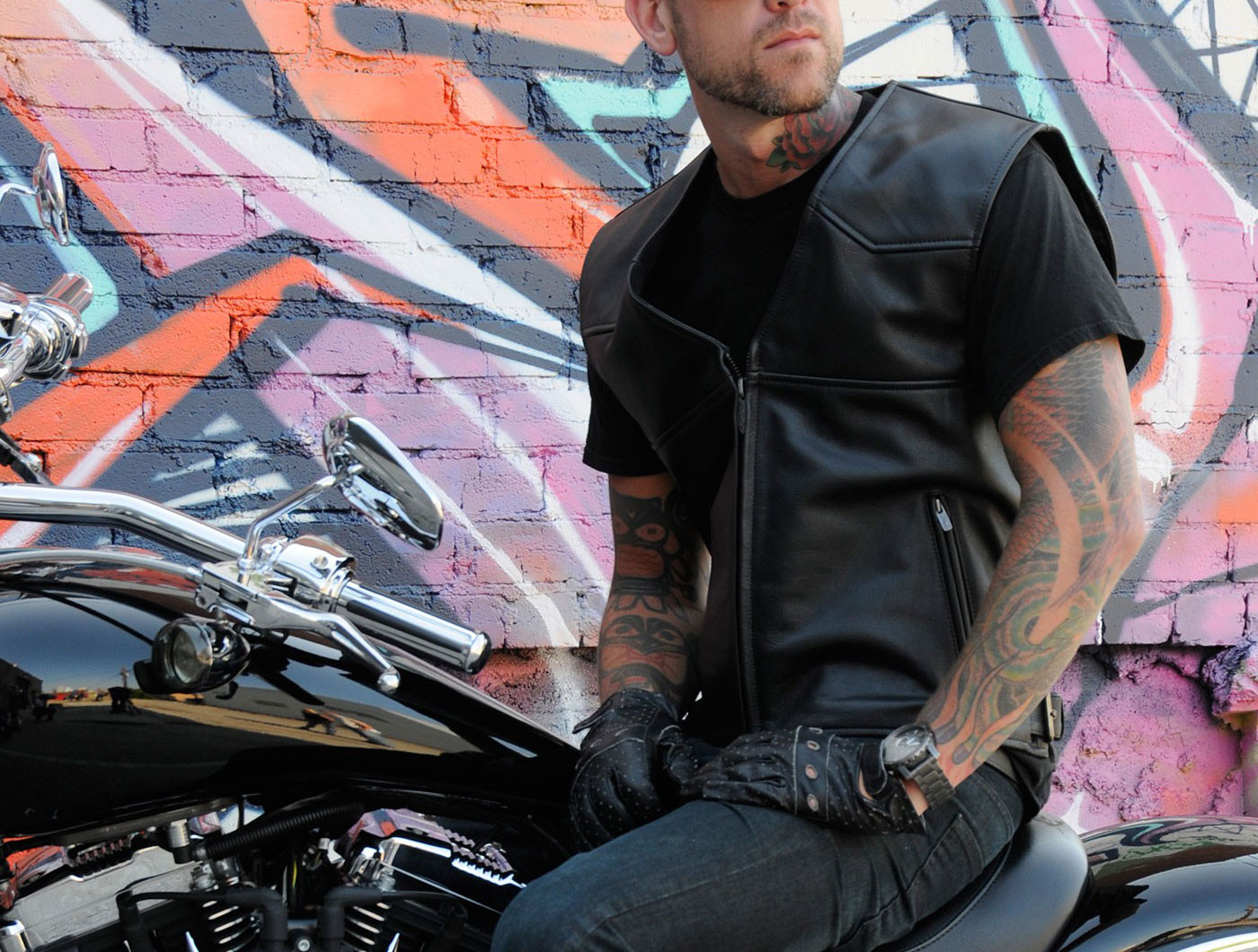 Motorcycle culture has not changed that much since it became a thing decades ago. If one were to imagine an average biker, they would be riding a powerful Harley Davidson chopper you can hear a few blocks away. In addition, they would be wearing a certain kind of outfit typical for bikers, an outfit consisting of a helmet, goggles maybe, and something that easily makes them recognizable in a crowd. This is the famous leather motorcycle vest, a multi-purpose symbol of the motorcycle culture and tradition that has been a part of every biker's wardrobe since the dawn of bikes.
However much technology changes and new types of bikes arrive with it, some things will never change because they are simply too far embedded into the collective mind of the human species. One of these things is surely the leather biker vest that anyone considering themselves a motorhead should own. It is more than a piece of fashion too, as it has multiple purposes. First, leather is durable and it can survive prolonged heat and is great with stains. While they do require frequent care, leather goods are also good with scratches. Best of all, the leather protects against the oncoming wind on the road, which is crucial for bikers. When it comes to biker culture, a long adopted custom is to decorate one's leather vest with different patches of motorcycle clubs, fairs, and gangs.
In this article, we are going to explore the contemporary market of leather motorcycle vests for men and try to determine the best ones in 2023. Read on to learn a lot about this iconic piece of biker gear. In case you wish to find out even more and purchase a new vest for your next motorcycle trip, visit Viking Cycle. They offer some truly impressive leather vest options.
SOA Men's Leather Club Style Vest
We are going to start the list with a smart, sophisticated looking vest that sports a scooter collar design. It is made of cowhide with a concealed YKK zipper. There are two chest pockets, one with a sunglasses holder, and two standard side pockets on the vest. If you are a stylish rider looking to wear the vest off the bike, this is a great choice for you. The back is a single panel and very patch-friendly. It even has gun pockets on the inside.
2Fit Men's Black Genuine Leather Motorcycle Biker Vest
For more of a cowboy look but still a stylish one, this genuine leather vest also has a polyester lining that makes it more comfortable and relaxing to wear. There is a total of 10 pockets on the vest, more than enough for whatever you plan to carry. The laced style will make you welcome in any outback bar, as well as in the whole of Texas. The weight is only 2.35 pounds, less than average. No zipper here, only five stylish silver buttons for an increased old-timey look.
True Element Large Leather Motorcycle Vest for Men
Contrary to the previous vest, if you want something as modern as possible, check out this futuristic Kevlar-inspired leather vest. It is made from top-tier pebble grain cow leather and it is thick, durable, and heavy-duty. Three Velcro straps are located on each side for an increased grip and a tight fit. The back is a single panel great for all sorts of patches, and there is a cool neckline button strap covering the zipper. The vest only has three pockets, however, but they are zipped for increased safety.
Monaco Traders Men's Leather Motorcycle Vest
In case you want a soft leather motorcycle vest that is somewhat lighter and more flexible to wear, here is a comfy and stylish option. Since it is softer, it is less durable than the rest of the list, but it can still take a beating. There are four pockets on the outside, two chests, and two side pockets. The chest pockets sport buttons, which are also present over the zipper. Two pockets are located on the inside as well, including a gun dedicated one. This vest can easily pass as a regular leather vest you can wear even when you are not associated with your motorcycle.
USA Leather Men's Classic Style Black Leather Vest
This leather vest does not play around as it is the classic, timeless model that pops into the mind when you think of a regular, no-nonsense leather vest. Furthermore, the leather is top quality and it really feels luxurious to the touch. There are four front snap buttons to close it down easier. Pocket-wise, there are two slit pockets on the lower front region, just above the iconic triangle cutout. There are also two chest drop pockets on the polyester inside.
4Fit Men's Black Genuine Leather Motorcycle Biker Vest
One of the previous entries on the list was a leather vest that looked similar to a Kevlar protective vest. However, this one really takes the cake as it is almost identical to something a riot police officer or a peacekeeping force member would wear. It has ten pockets, meaning you can fit everything you need inside it, from sunglasses and your wallet to keys and mobile devices. The shoulder and front Velcro straps offer increased adjustability and a tighter fit while you ride. Although it is lightweight, the vest is durable and can take a pounding that is sure to happen on the road.
Coofandy Men's Hipster Retro Motorcycle Racer Leather Jacket
For those among you who wish to stand out among the crowd no matter where you are, how about a blood-red leather vest? This stylish vest is a lot different from the rest on the list. It has a side zipper with a front-facing collar, allowing you to close it in two different ways. There are two pockets on the opposite side from the zipper, as well as a waist-level belt. It is good for all the different weather conditions, as well as harsh road situations. Although the aforementioned vests were all for men, this one is unisex and therefore a great choice for the female motorcycle enthusiast.