Enhanced sorting for Magento 2
Sorting is an essential part of optimizing every online store and making it more appealing to customers. Since everybody comes to your shop to buy something, products are your key weapon and assistant. And if there's a shambles here, people are likely to turn around and go somewhere else. When something isn't in its proper location, it's almost impossible to find what you need. You may have heard a lot of life pieces of advice and ideas on how to deal with an online shop, where to start, and so on. But first, let us share what we know! There is an extension for Magento that will assist you in organizing goods and the manner in which they are stored like no one can't. Make sorting laws, monitor how they're implemented, and optimize your business in a few clicks.
Install one of the best Magento 2 modules to gain control over your company and see how far you can go. We're happy to share some of our insider tips with you so you can get a better understanding of the most critical aspects of eCommerce in general, and this extension in particular.
Custom product sorting: Magento 2 extended features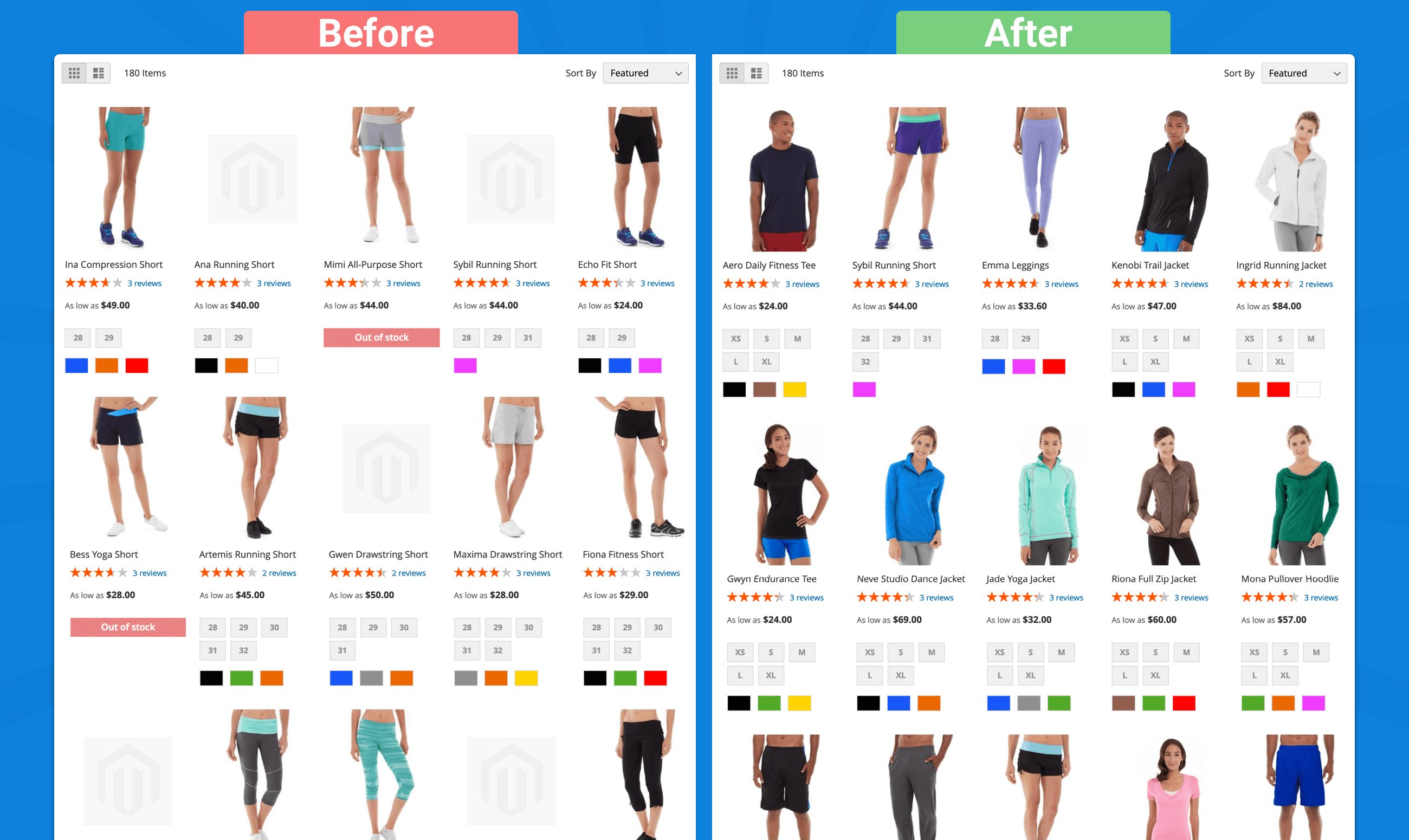 Your main tool for sorting products is ranking factors that you are able to create on your own. They consist of various attributes and values. But, before we get into the various attributes to choose from, it's important to note that these variables have the highest priority, which means they'll be the first condition to be implemented.
The table of attributes:
| | |
| --- | --- |
| Date | In contrast to Magento 2's default capabilities, which only allow you to rank items from old to new, this module allows you to sort products by the exact time of their addition or update. This assists in displaying new arrivals to customers and keeping information up-to-date. |
| Attribute | A single condition or a combination of them may be used to advertise your exclusive items, such as limited-time deals or something incredibly unique. Use the admin panel to deal with attributes. |
| Image | Products without photos should be moved to the bottom of the search results. It is important for shoppers to be able to see how goods appear before making a purchase. That's why keeping perfect, bright, and complete pages at the top makes sense. |
| Product rating | Since we can't afford to waste too much time reading lots of details and comparing various versions of one item, we prefer to trust other customers' opinions on those items. As a result, we choose the product with the most positive feedback, which explains why higher-rated products should be prioritized. |
| Best-sellers | You may also arrange items based on how many times they were purchased during a given time span. You can either try to boost sales of less common products or help current best-sellers. |
| Profit | Promote goods with the highest marginality in order to get revenue. |
| Rule | Since this factor is made up of hundreds of attributes or their combinations, the number of potential examples is limitless, giving you a lot of freedom. |
| Availability | This is, without a doubt, one of the most important ranking variables. And you can rate products based on their stock or inventory status. People can't buy out-of-stock products, and they won't wait before you get a new shipment, so it's best to be able to weed out those items and place them at the end of the page. However, if you want consumers to pay attention to the last few products, you can put them on the first tab. |
| Sales per View | Learn about potential customers' engagement, which is described as the number of times a product was purchased versus the number of times it was visited. Some things go unnoticed. Meanwhile, certain items, such as those that are excessively costly, attract a lot of publicity, which can be used to promote other goods. |
| Popularity | Since it is dependent on the conversion rate, this factor is very close to the product ranking. The goal, however, is to either increase sales or to push those who are far behind in the race to catch up. |
| Discounts | To get the best results, promote goods with special prices by putting them at the top. |
Features
Sorting Criteria
This module gives you a lot of sorting options. To meet your business needs, you will build your own rules and conditions. You may also incorporate ranking parameters into criteria to make it even easier and more convenient. The module will rate the effectiveness of the combination you made. The preview feature allows you to see how the catalog would appear to potential customers.
Mixing. When creating a sorting criterion with multiple factors, each factor is added one at a time, beginning with the most significant. The arrangement of these variables can be very complex at times. They can be sorted either with a descending scale or vice-versa. This provides consumers with a wide range of options and helps them to choose the most sophisticated item.
Calculation of the score. You may use one of the following methods to measure the sorting score with the extension: 1. By applying variables one by one. If the series goes from point A to point B, this is a linear way of applying. 2.Sub-conditions. The module determines the sum of all factors in this case.
Criteria by default. Set as the default an option that will offer consumers the best of your goods. This will improve the appearance of your store and increase the conversion rate.

Additional Features
The module has a lot to show to its users, so here is another block with its awesome functions:
The page with the search results. On the pages with search results, you can also use sorting options. This is an excellent default options extension that gives you new options, such as overriding default options. This will ensure that your products always look good, which will benefit your company.
Widgets. Choose how the items will be shown in different widgets. To do so, simply choose the appropriate criteria from the drop-down menu. Each widget has the ability to provide its own sorting algorithm. To apply different requirements for identical widgets, use Store Views.
Get a sneak peek. Before you apply any sorting rules, look at how the items will be sorted and make sure it looks exactly how you want it to. This can be used to learn more about score detail. Filter the product grid based on product attributes to access appropriate products without having to manually search the product list.
Debugging is the process of identifying and correcting errors. Allow this mode to be enabled to see where the problems are. Check to see if the score estimation is incorrect. The details will be shown in a grid format. You may also determine the exact location of a product.
FAQ
Q: Is it possible to apply different sorting rules for a certain category?
A: Default Magento 2 possibilities allow you to apply global sorting rules for all categories, but if you want to change default options for some particular one, you can do it in the editor. For instance, it's possible to sort the category of Sale by how much the discount is and the category of new items by their adding date.
Q: Is it possible to show a few bestsellers and a few of the most recent items at the top, while items below will be sorted according to their rating?
A: Absolutely. For this purpose, the extension offers you to combine multiple conditions into one criterion, which allows you to create complex sorting rules. Besides, the number of products for those conditions can be limited.
Q: How to place products that are not in stock at the end?
A: To do so, you must make up a new ranking factor that will deal with stock status. The main thing here is to make this factor global so that the module will apply it to all the necessary pages.
Q: Can order numbers be used as a sorting factor?
A: Of course! Moreover, it's possible to select the period you want to overview. For instance, the last month.
Conclusion
To produce the best results as a retailer, you must have complete control over your store and every aspect of it. And it's critical to know your customers, to sense them, and to provide them with exactly what they want. We're talking about the art of selling, which entails manipulating products to hold them in check and boost revenue. Provide the best possible user experience for the customers. With the Magento 2 advanced sorting, you can easily build the shop of your dreams, with everything neatly organized. Sort your goods quickly and easily to boost conversions!