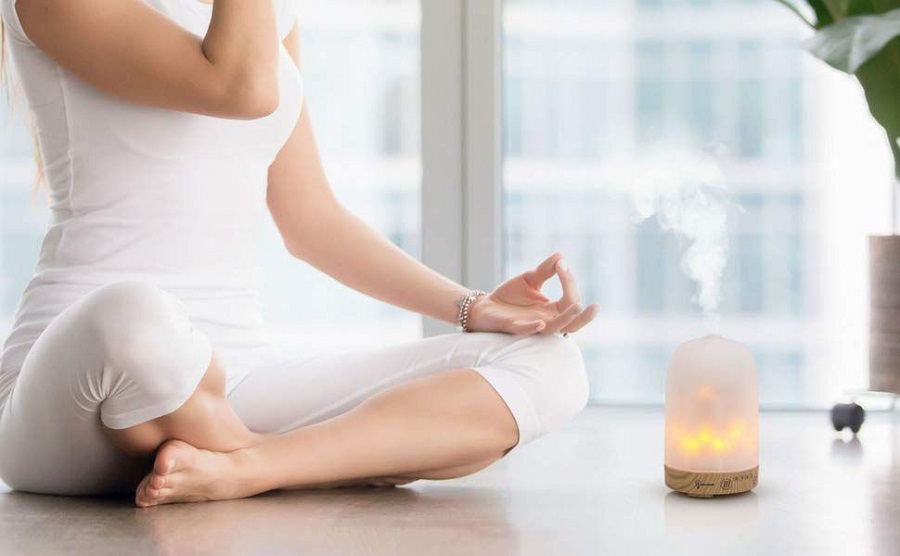 To heal our minds from stress, we resort to many options like cycling, running, watching videos, playing games, etc. However, one of the best ways to recuperate the mind from all kinds of tensions and issues is meditating. Though an ancient practice, meditation is being used extensively to calm sadness, anxiety, irritation, and other emotions. Some people also do it for spiritual purposes whereas some people just do it to remove all the negative emotions from their minds.
Irrespective of the reason for meditation, it is healthy for your mind. However, you may not find peace anywhere in your house if you live in a busy locality. At such times, you can use Essential Oils for meditation. Their soothing fragrance not only helps you concentrate better but also supports healthy breathing.
There are several other reasons why essential oils can complement your meditation sessions. They purify the air by eliminating toxins and pathogens from it. Also, they create a blissful and serene environment that is ideal for meditation purposes. VedaOils list out some best essential oils for meditation, which you can use in blend and diffuser during the aromatherapy process:
1. Frankincense Essential Oil
Frankincense Oil is made from the aromatic resins of the Boswellia Tree. It has been used by individuals who are in search of enlightenment. The soothing aroma of this essential oil comforts your mind and draws it towards spirituality. It balances your mind and creates a sense of well-being that is important for your mental peace.
If you want to establish a stronger connection between your body and soul, you can diffuse Frankincense Oil and start meditating. Frankincense Oil also eases negative emotions and anxiety and enables you to sleep peacefully at night. You may even use it for comforting the mind, diving deeper into faith, awakening consciousness. Therefore, it is one of the best essential oils for meditation.
2. Lavender Essential Oil
Obtained from the Lavender plant, Lavender Essential oils have an uplifting and calming aroma. It relaxes your mind and eases away negative thoughts. The antidepressant properties of this essential oil propel your mind in a state that is perfect for meditation.
By promoting clarity in your thoughts, it allows you to meditate without any disturbances. Lavender Essential Oil also keeps your mind cheerful and away from fatigue. Either diffuse this oil or rub it on your forehead, neck, and other parts before performing meditation. You will feel a sense of comfort and that directs you towards enlightenment or self-realization.
3. Ylang Ylang Essential Oil
Extracted from the flowers of a herb called Cananga Odorata Genuina in scientific language, Ylang Ylang Essential Oil has gained prominence in both the skincare and aromatherapy industry. However, its use for meditation and spiritual purposes is not fully explored yet.
By reducing stress and relieving negative emotions, Ylang Ylang Essential Oil helps you recover from low moods. It is also effective against anxiety and depression. The fruity aroma of this oil will comfort your mind and help you concentrate better on your prayers while meditating.
4. Peppermint Essential Oil
Prepared from the mind leaves, Peppermint Essential has a soothing influence on your thoughts and mind. It has been incorporated into spiritual practices for a long time. As it enhances the focus of your mind that is necessary for meditation, it may be preferred for meditating as well.
By promoting mental clarity, it eases you from low mood and depression. Its minty aroma boosts energy and enables you to concentrate while praying or meditating. You may especially prefer it while meditating in the wee hours of the morning. If you feel low or tense, apply it on your shoulders and neck before initiating meditation.
5. Sandalwood Essential Oil
Sandalwood Essential Oil is obtained from sandalwood and is considered to be ideal for spiritual purposes. Makers of incense sticks and dhoop batis use this oil as it soothes the mind and heals stress and other mental issues. Sandalwood Essential Oil boosts focus and establishes clarity of thoughts. These properties make it ideal for meditation and other methods of awakening the mind.
By instilling a blissful ambiance in the surroundings, it helps to keep your mind at peace. It also assists you in connecting with your inner self and sets your path towards enlightenment. Sandalwood Essential Oil also curbs anxiety and enables you to rest and sleep better. All these qualities make it a perfect alternative for tackling your mental issues.
6. Clary Sage Essential Oil
Extracted from a plant called Salvia Sclarea in scientific terms, Clary Sage Essential Oil is used for medicinal and skincare purposes. It also heals the mind and instills a positive frame of mind ideal for meditation. By balancing your thoughts and emotions, it helps you focus better on your spiritual self.
Clary Sage Essential Oil boosts memory and blocks negative emotions by uplifting your mood. It also helps you to breathe better and maintain focus on your soul while breathing. All these benefits make it ideal for meditation. Moreover, it also strengthens your mind and allows you to detach from sorrow and negative emotions.
7. Cedarwood Essential Oil
Retrieved from the leaves, bark, and needles of the Cedar Trees, Cedar wood Essential Oil is considered to be the best oil for focusing on the inner self. Therefore, you can diffuse it before meditation. The earthy scent of this oil will calm your mind and its sedative properties will help you to overcome sadness and negative thoughts.
Cedarwood Essential Oil helps you to be in the moment instead of living in past situations. Therefore, it prevents you from becoming moody and helps you concentrate on your work and life better. You may even use it for gaining a peaceful sleep at night.
8. Vetiver Essential Oil
Extracted from the roots of the Vetiver Grass Plant, Vetiver Essential Oil is recommended by aroma therapists due to its calming aroma. It lets you focus on breathing and balances your mind by grounding you spiritually. If you feel stressed, you must diffuse this oil or take an aromatic bath by adding a few drops to your bathwater.
Vetiver Essential Oil unwinds your mind and keeps your mind energetic and calm. Aroma therapists prefer using it to overcome a state of shock or trauma. It also soothes muscle pain and eliminates nervous energy. It is also effective against insomnia.
9. Jasmine Essential Oil
Prepared from the aromatic Jasmine flowers, Jasmine Essential Oil is known for its exotic and pleasant aroma. This aroma has an uplifting influence on your mood and stabilizes your energy. If you feel exhausted, diffusing Jasmine Essential Oil will make you feel better. It is preferred for meditation as it helps to overcome negative thoughts.
For better results, blend Jasmine Essential Oil with Lavender or Frankincense Essential Oil. You may even use it for massages before starting the meditation practice. It also provides relief from body pain and helps you to stay focused while meditating.
10. Geranium Essential Oil
Made from the Pelargonium Graveolens's leaves, Geranium Essential Oil activates energy and enhances mental awareness. Massaging this oil on the area located between your eyebrows will unleash positive energy and help you to meditate easily.
Geranium Essential Oil is also effective against nervousness and anxiety. It alleviates depression and balances the thought process. It also eases the process of breathing and stabilizes your body by regulating blood circulation. All these benefits make it an ideal essential oil for meditation purposes.
Conclusion
You may try other essential oils like Neroli, Rose, Ginger, Wild Orange, and Lemon Essential Oil for meditation. However, choose organic essential oils free from synthetic ingredients and artificial fragrances. Also, choose a peaceful and clean location while meditating as it will have a positive influence on your mind. Buy any of the above listed essential oils and unfold the art of meditation!