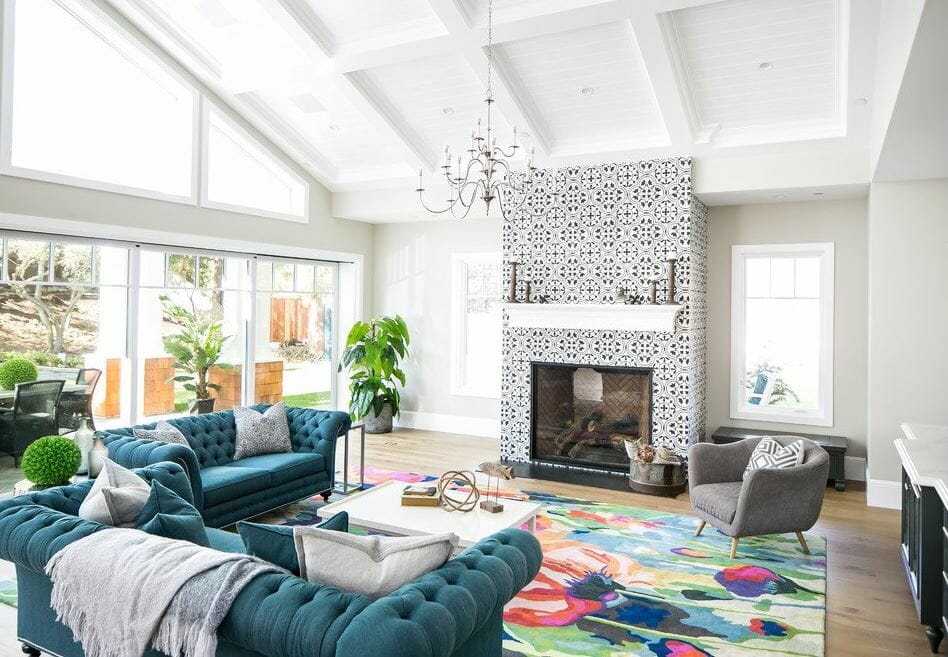 If a home improvement project is in your plans for this year, an interior designer will surely be one of those professionals you're going to hire. Realistically, you can actually do without having one. But, if you're after having the best for your home's interior, an interior designer can work wonders. With your insights, you can both come up with a home design that's well-executed.
Before embarking on this artistic journey, however, do know that designing your home's interior isn't something you'll simply decide on at random. Along with your personal preferences, there are crucial things you'll have to keep in mind, which home design experts, like BoutiqueHomePlans, emphasize at all times. They're enumerated below, so read on!
1. Strike That Balance Between Aesthetics And Comfort
When you apply the right technique, you can come up with a comfortable space that's aesthetically pleasing at the same time. Remember that this is your home. It's supposed to be your safe haven, above anything else.
Here are some simple ideas to help you come up with a design that's both beautiful and comfortable:
Use colors that'll make the space more restful. Those colors include browns, mid-tone grays, and beige.
Add touches of wood. This is often the best way to add some warmth to your home.
Use comfy rugs. This serves as an icing on top of the cake to finish off a space or define each area in your home.
Create a pleasant ambiance through lighting. Let go of bright, white lights. Warm, yellow lights are the key to making your home look more pleasant.
Splurge on great linens. There are so many linens and beddings you can choose from when it's time to change what you have at home. But, not all of those are of great quality. While you may be after an elegant and sophisticated design, factor in the fabric quality as well.
2. Stick To Your Budget
Once you get started with the interior design process, if you aren't careful, it can be very easy to go beyond the budget you've set. The next thing you know, you're already spending so much more than you initially intended to.
Falling into debt just to have a well-designed home isn't the best route to take. If you discuss your budget straight on with your interior designer, you can both find that common ground of having your desired design achieved without escalating costs too high. In fact, a good interior designer is one who can give you the best possible designs while staying within the budget you've set.
3. Meet Balance And Symmetry In Design
Meeting balance and symmetry in the design of every room is important. However, this doesn't mean that everything should be matchy-matchy. In interior design, balance is all about spatial equilibrium. This can either be symmetrical or asymmetrical, depending on the design theme and concept you're after.
To give you ideas, here are some examples to meet balance and symmetry in design:
Create a mirror image by having visual pairs, such as having the bed in the middle of the bedroom, with a nightstand on each side.
Curate a gallery wall with frames of different shapes and sizes, but still, look visually pleasing and coordinated together.
4. Assess How You're Going To Use Each Space In Your Home
Homeowners use spaces differently. For instance, for some, the living room is like a sitting room, where they merely welcome guests. They'd rather have a separate entertainment area where the family huddles together for weekend movies. Other homeowners, however, also use the living room as their entertainment area.
Function is very important to consider so that how you intend to use the space can also be factored in the design. A family who prefers to have a separate entertainment area can have a living room without big TV consoles with lots of storage space, unlike a family who uses the living room to watch TV and play video games.
When you assess how you're going to use each space in your home, your interior designer can come up with a design that best meets your personal needs and preferences. While the design may be mirrored or inspired by that of another's home, it's one that still feels like yours, as all your personal whims are being met.
5. Give Importance To Free Space
Whether what you have is a small house or a bigger one, don't underestimate the need for free space. This means having enough space wherein you can move freely, or wherein your children can run around if what you're working on is a family home. This can also mean having a space that you can clean with ease.
Don't overcrowd your home with so many things. Otherwise, your space is only going to look cluttered or messy. The cleaner your home looks, the better. You can still come up with a beautiful home, while also keeping a fuss-free and minimalist design.
6. Factor In Family Size
Family size matters as well, particularly if you're building and designing a family home. Keep in mind your family size, so your home can stay functional for many years to come. For instance, the design you're keen on mirroring for your dining room is one suited for a 12-seater table. However, at the moment, you're only a family of four, and you don't intend to have any more kids.
Make the necessary tweaks so as to have just a six-seater or eight-seater table. With this, your dining room won't be unnecessarily big for your family size, but still be big enough for your family to fit, plus the grandparents when they visit.
Final Thoughts
Overall, careful planning and execution will get you to achieve your dream interior design for your home. While the aspects above seem simple and straightforward at first, once you get head-on with the interior design process, you'll find that within each facet, there are a lot of decisions to make. It's for that reason that you should go through each item above thoroughly, without rushing.
When it's your home's interior design that's at stake, it's a trade-off that's certainly going to be worth it. One step at a time, you're closer to opening your doors to a carefully-executed and well-designed home.