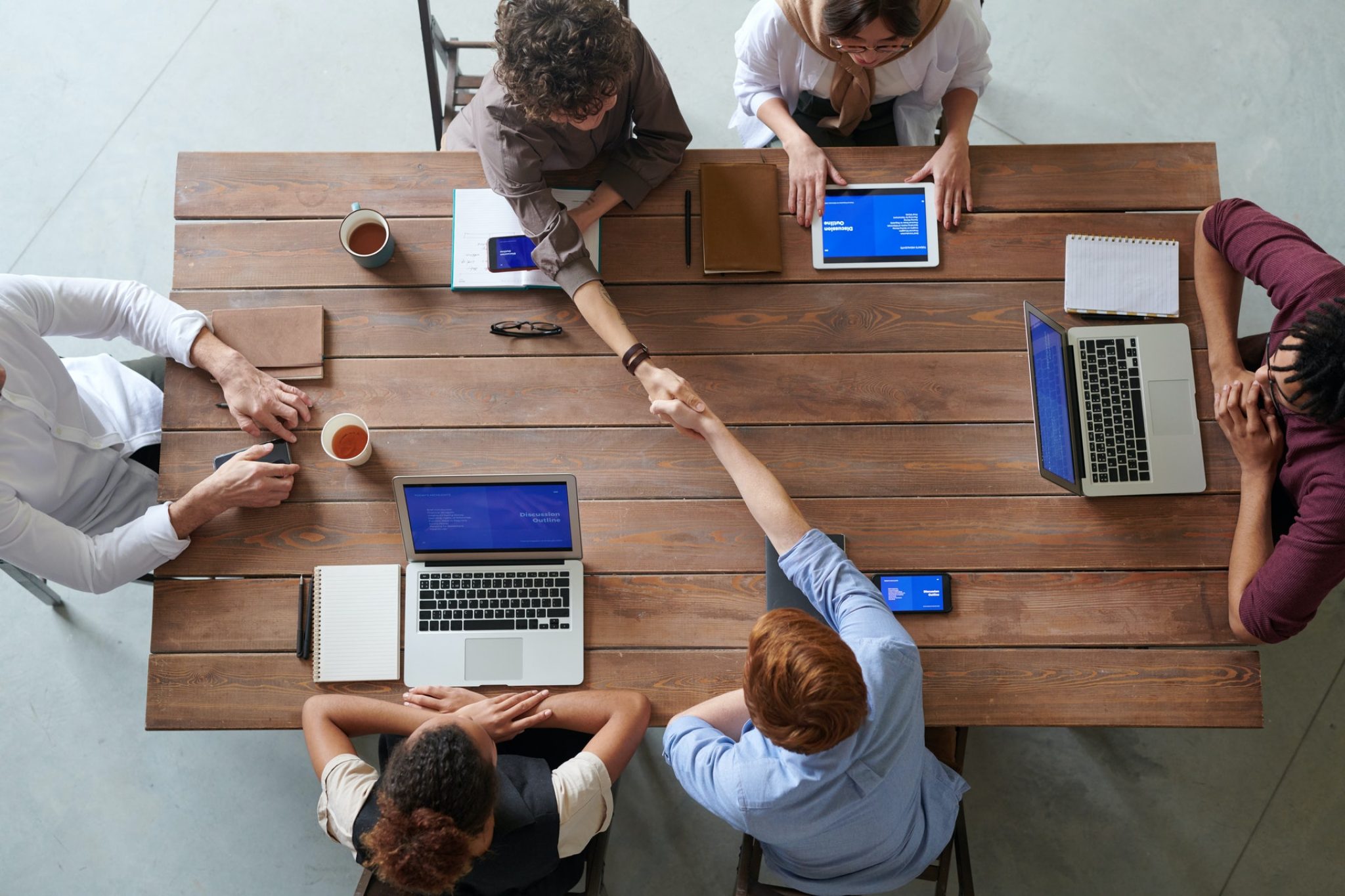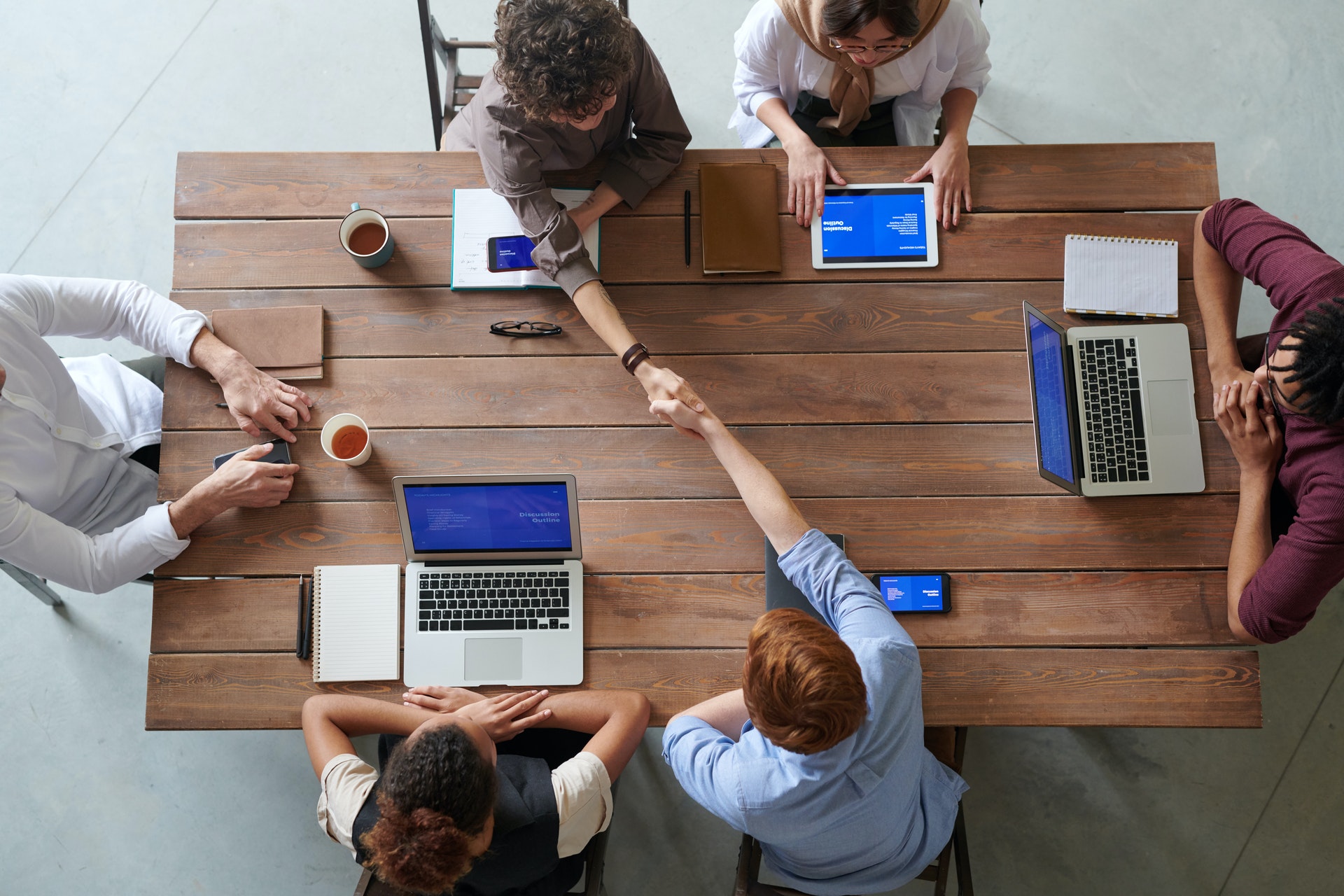 Importing and exporting products from and to China is a double-edged sword. On the one hand, it's a great experience because you're dealing with professionals and the financials are often great when dealing with China. On the other hand, the language barrier could be a real problem. So, what do you do?
Well, you find a reliable China sourcing agent. Now, we're aware that that's easier said than done, seeing how there are many to choose from, so we're here to help. We've done the research for you, and we've compiled a list of the eight best sourcing companies and agents in China, so all that's left for you to do is pick one. Let's begin.
1. China Quik Sourcing
If you are looking for a reliable sourcing company that provides various services like product sourcing, consulting, manufacturing, sample customization, import and export, and a lot more – Quik Sourcing is the company for you.
They believe in a tailored approach, providing each client with a custom service that tailors to their needs and requirements. They don't believe in standardized practices and the same approach, and their track record is proof of that. They are a highly professional group of people that will work tirelessly to provide you with the best service, best prices, and a friendly approach 24/7/365.
2. Meeno Group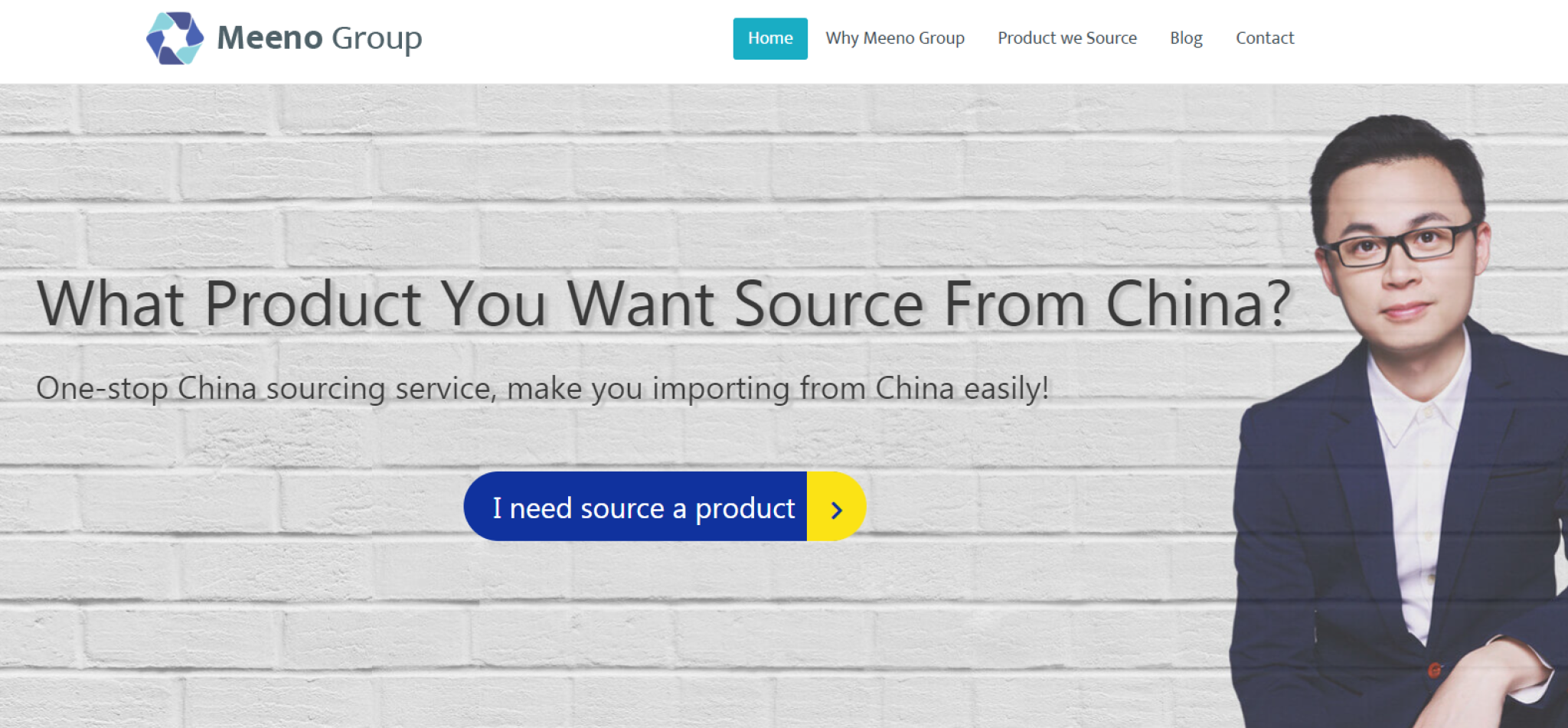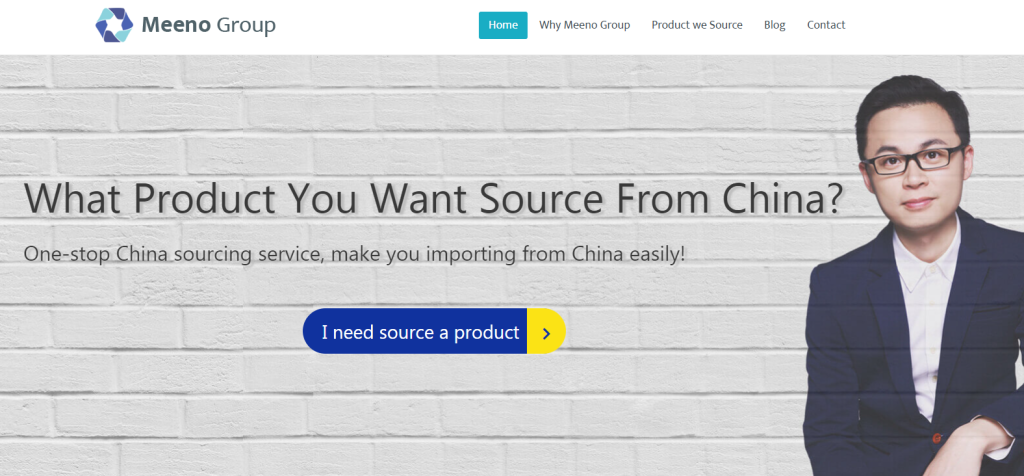 Meeno Group is a world-renowned, highly sought-after China sourcing company, and if you are looking for a world-class China export agent, chances are, you'll find it with this company. They're stationed and Yiwu, home of the Yiwu Market, the world's largest small commodities market. So it's safe to say that they have a lot of experience in dealing with sales.
The Meeno Group has operated for years at this point, and their dedication to their craft has propelled them into one of the biggest companies in China, so if you are looking for experience in sourcing solutions, market analysis, custom clearances, inspection, product search and sourcing – they're the ones for you.
3. Dragon Sourcing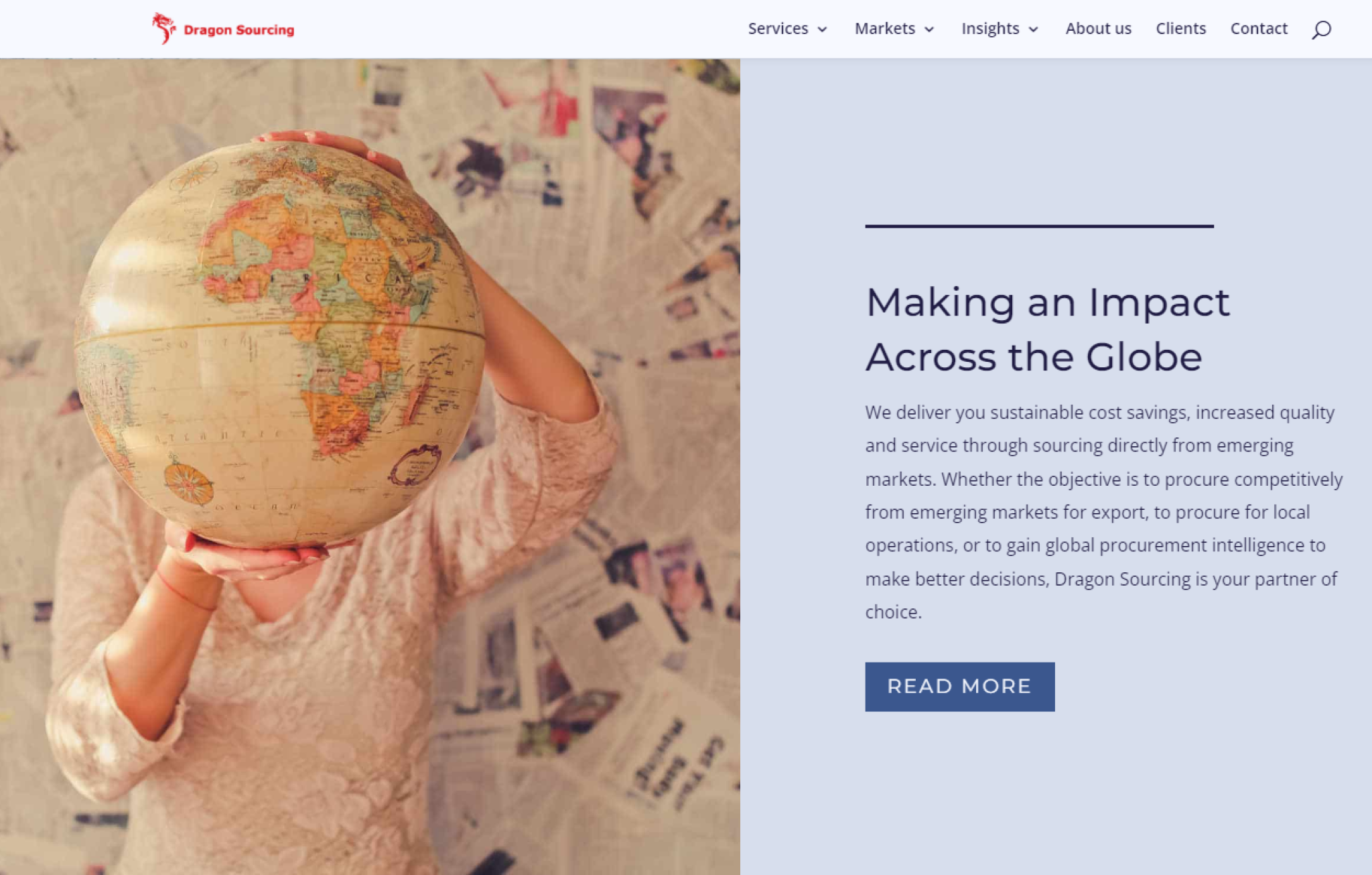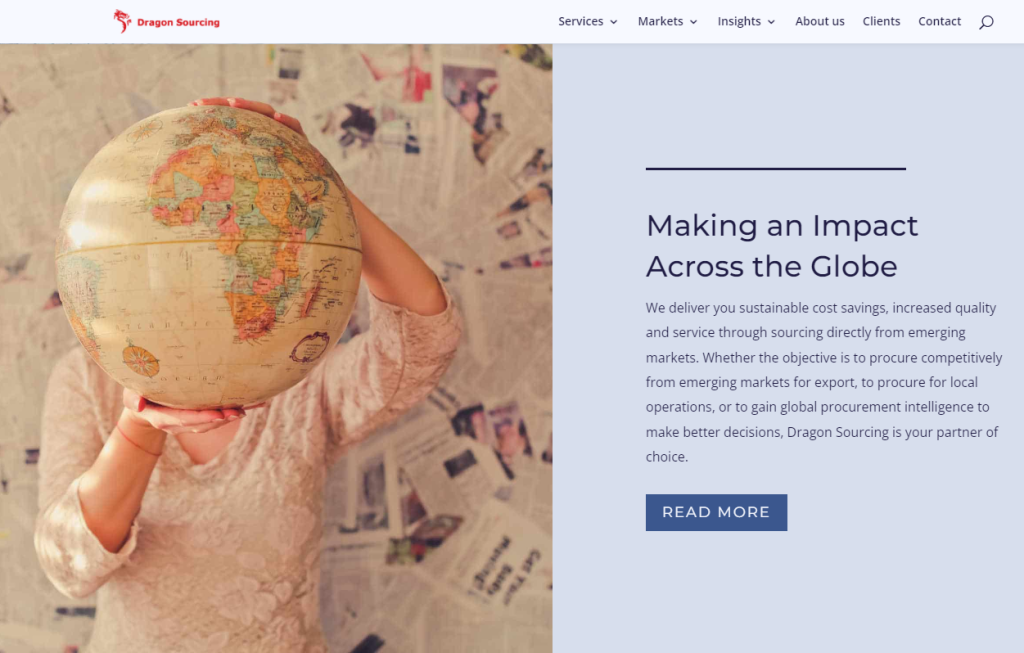 The best thing about Dragon Sourcing is that they have China agents for import-export wherever you look. Dragon Sourcing has offices all over the world. You can find them in the US, UK, Austria, Italy, Turkey, South Africa, Kenya, Brazil, and Vietnam. Not to mention offices all over China. This level of reachability is the reason why they're one of the most sought-after sourcing companies in the world.
Naturally, they're also very popular because of the quality of services they provide, as well as the fact that they're one of the most affordable sourcing agencies you could stumble upon. Just like all the other sourcing companies on our list, they provide a plethora of services, ranging from shipping and logistics all the way to sampling and administration.
4. Just China It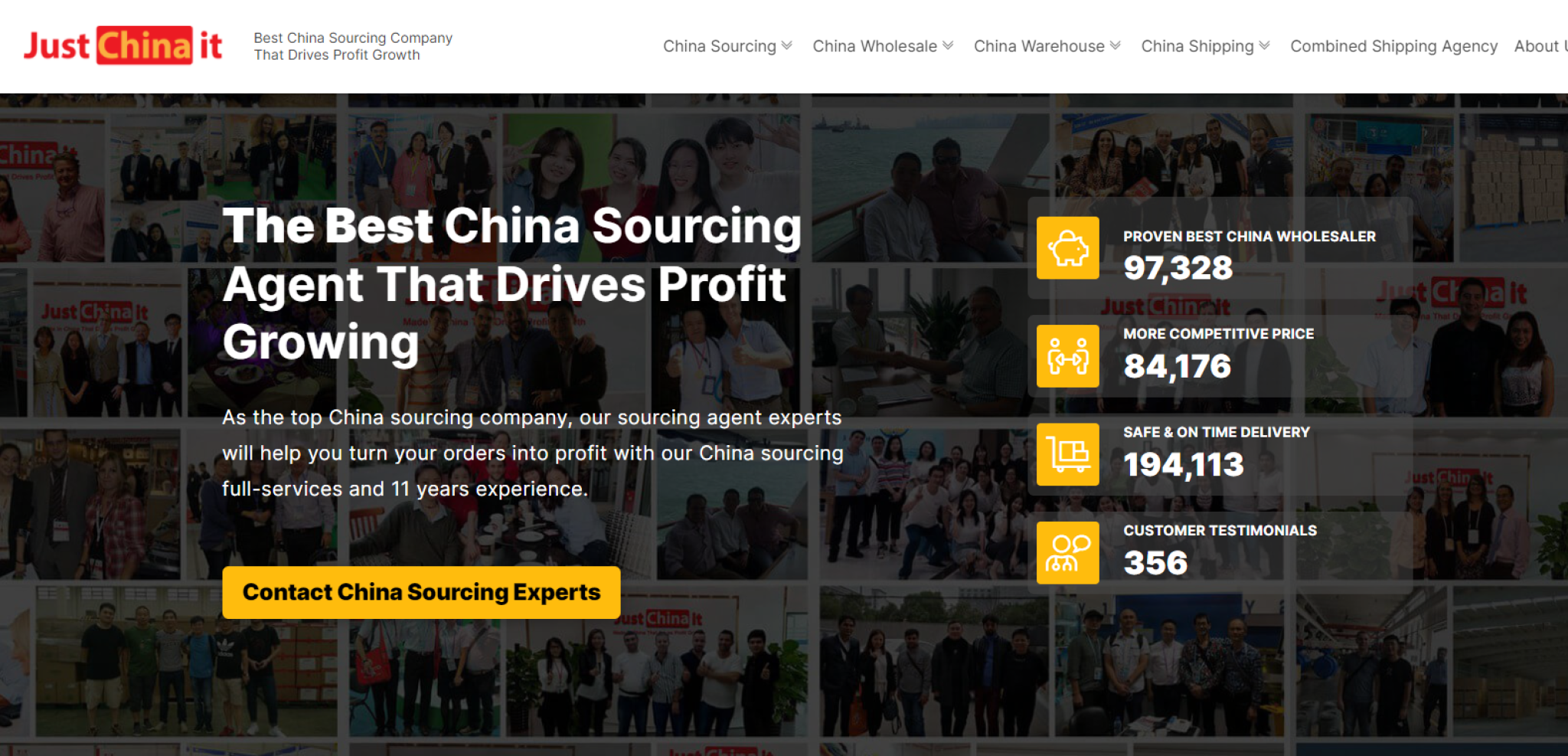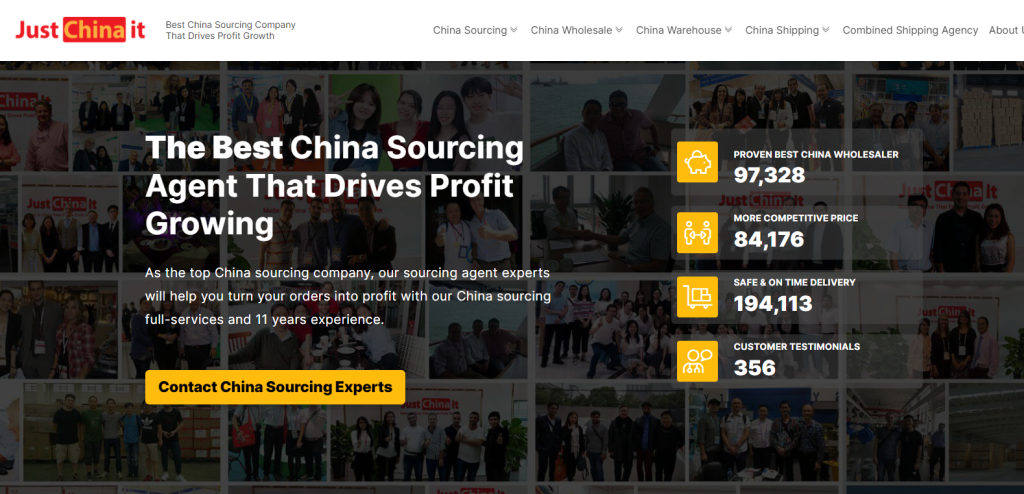 JustChinaIt is the place to be if you're looking for professional, dedicated, and experienced China agents for import-export, amongst many other things. Their data-enabled sourcing agent services are guaranteed to help your business lower expenses and grow your profits. Their extensive database of suppliers allows them to meet every client's demand and offer a great quality of service. And, their 78% client return rate testifies to their ability to do a good job.
Seeing how they've been in the business for well over a decade proves that they're experienced enough to handle your sourcing needs, whatever they might be. Once again, like it was the case with all our previous sourcing companies – the amount of services offered is very extensive.
5. Supplyia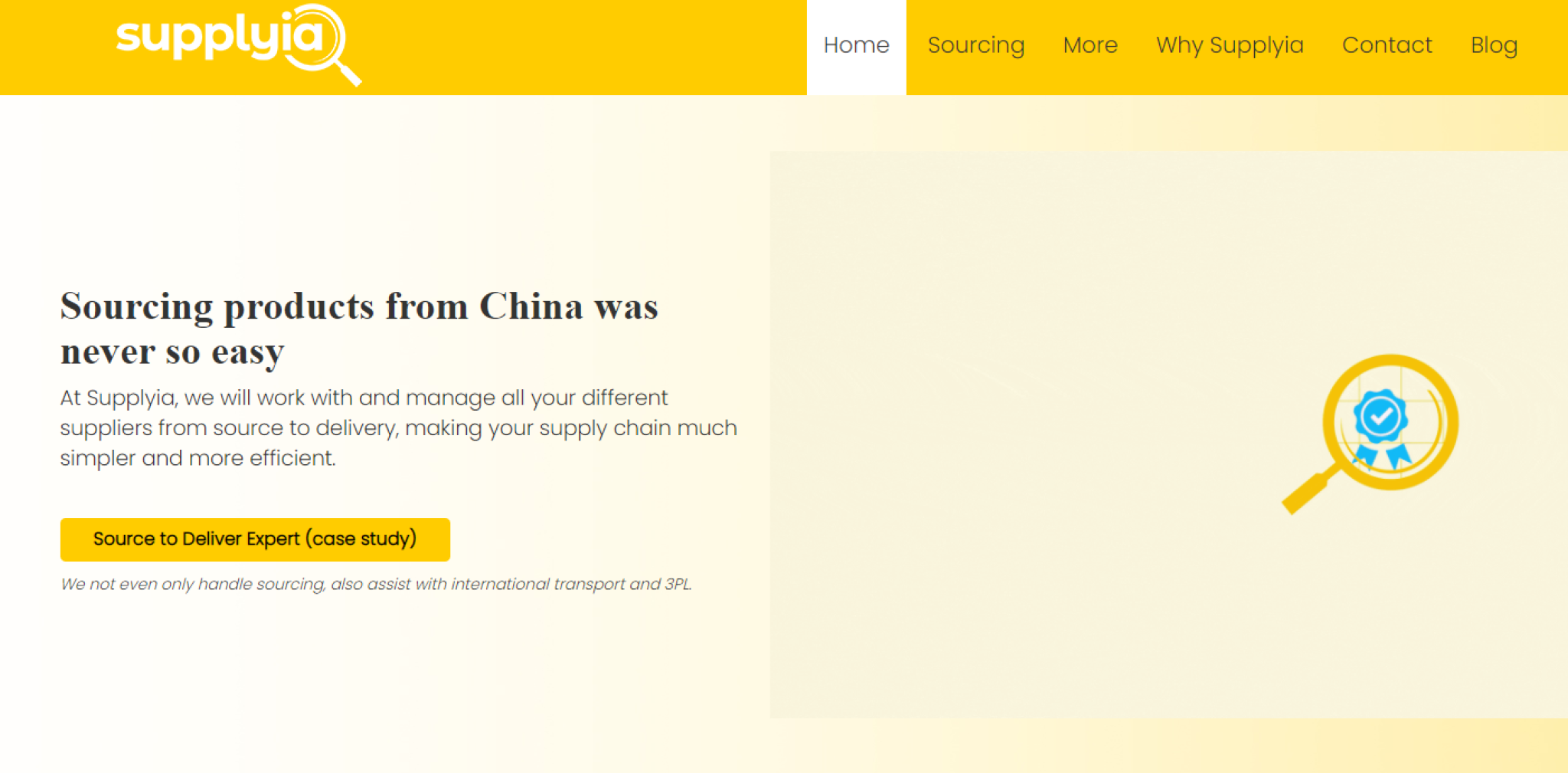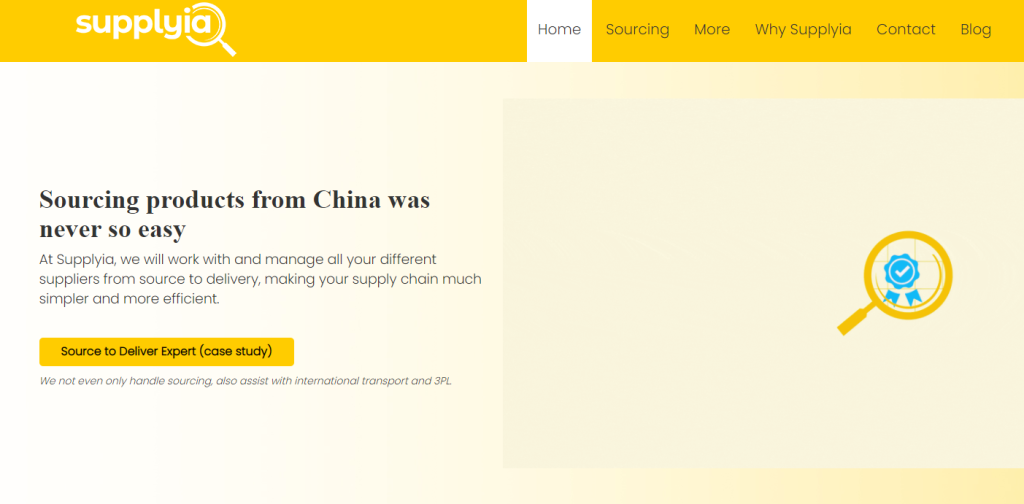 Whether you're a big company or you're just starting out, a China export agent will certainly benefit your business, and if you hire an agent from Supplyia – that is exactly what will happen. Whether you need services like product sourcing or product inspection – Supplyia has got you covered. They will get in touch with some of China's best suppliers and will work on your behalf to get you the best prices in order for you to grow your profits and your business.
6. Linc Sourcing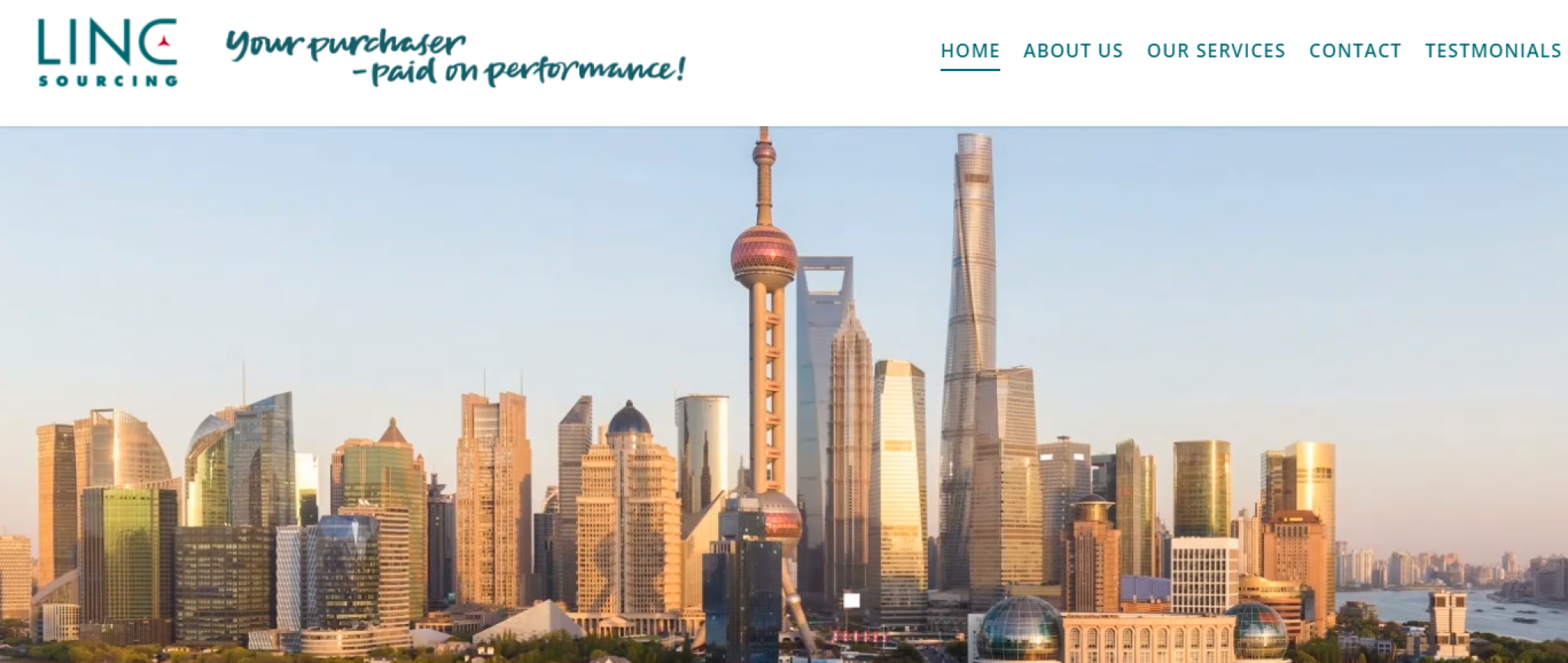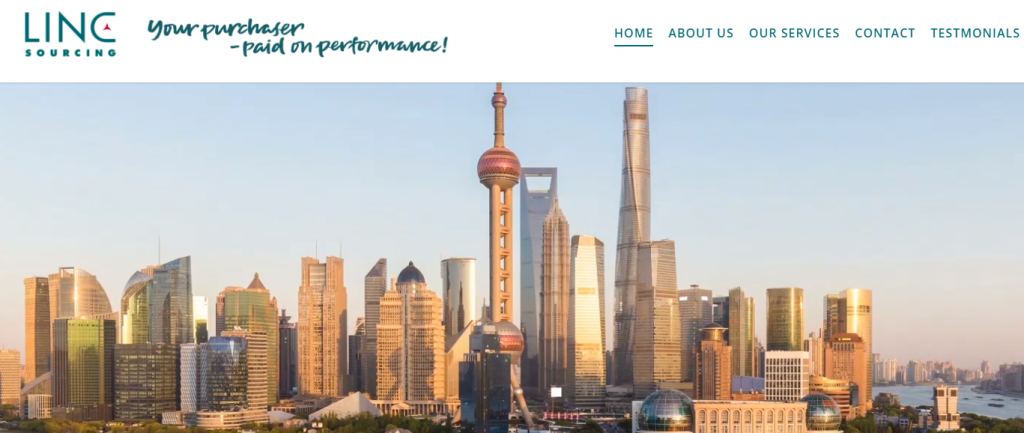 Linc Sourcing is slightly different from all the other sourcing companies on our list, but not in a bad way. In fact, the only difference is that this company was founded in Sweden almost 30 years ago, but just because they weren't established in China doesn't mean that they're not good.
In fact, their two-and-a-half-plus-decade long experience has propelled them into one of the most reliable China sourcing companies. In fact, Linc sourcing will even help you source your product and service from other Asian countries like Hong Kong. They will offer a wide variety of services to their client, and as always, they will be as professional and friendly as possible and will work with you until you're satisfied.
7. Easy Imex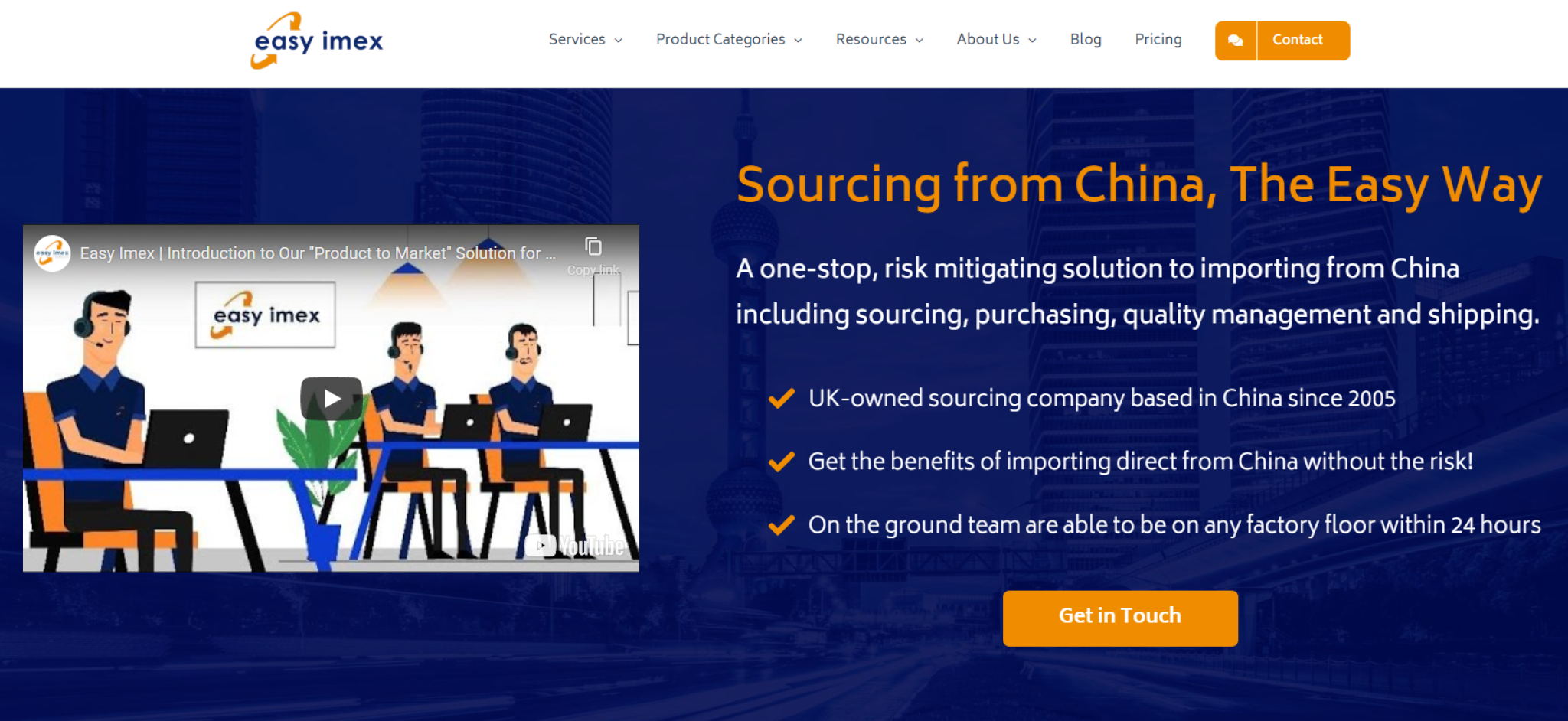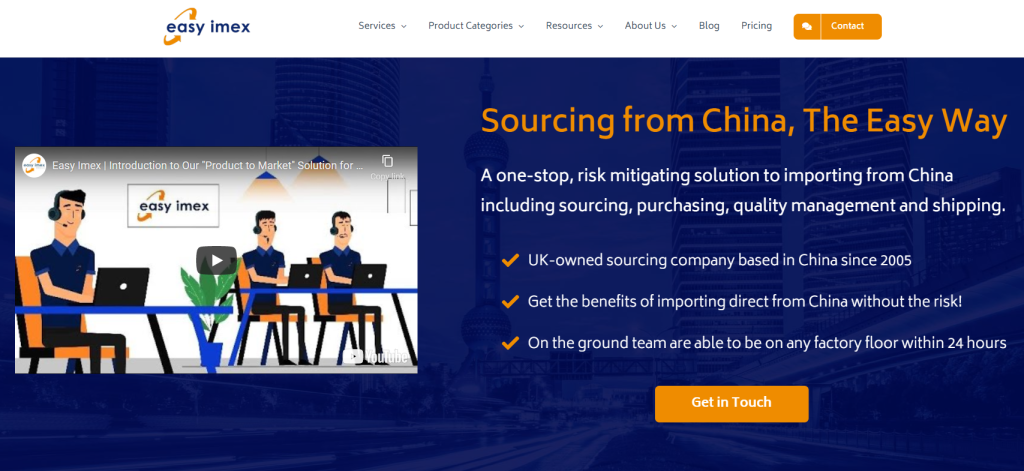 Easy Imex is a sourcing company that allows their clients to gain access to various online portals enabling them to track and process their workflow in real-time. This level of transparency only speaks of their ability to do their job right.
UK-owned and established in China in '05, Easy Imex has built a reputation as a company that transforms small businesses into large companies, as they've done so with numerous of their previous clients. As for the services offered, you'll get what you'd usually get from a company like this one – everything from product sourcing to logistics, shipping and customs clearances.
8. China2West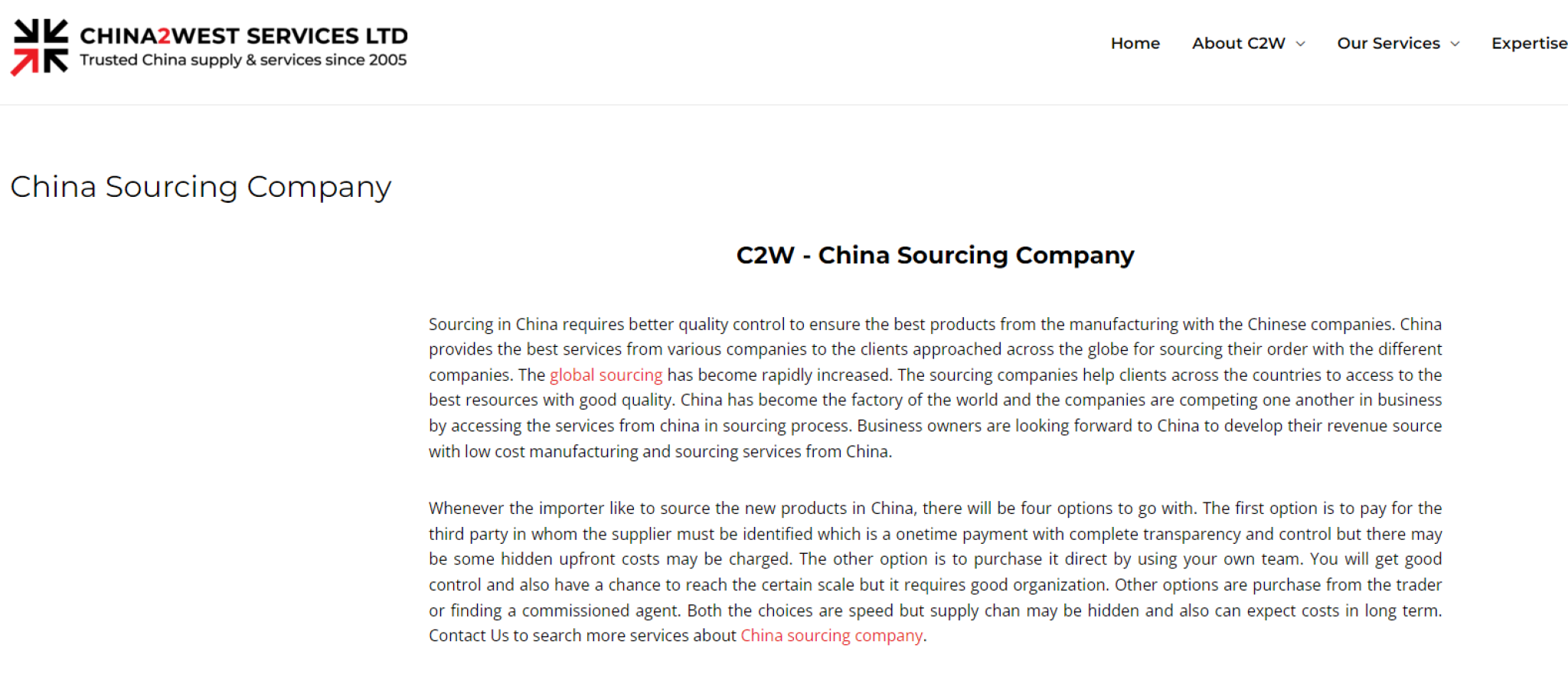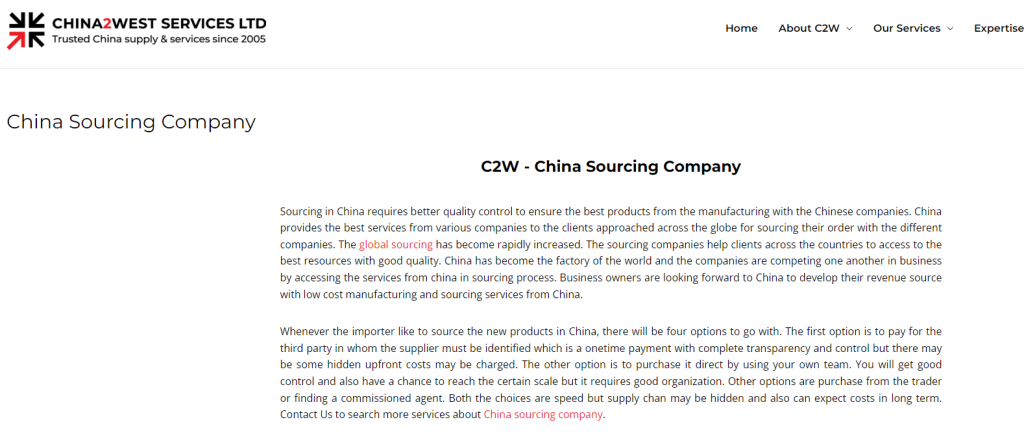 China2West is another reliable China sourcing company also founded in '05. Through their 17 years of experience, China2West has become one of the most reliable sourcing companies in all of China. They will handle virtually every aspect of the sourcing job for you, starting with market research and supplier identification, all the way to development, producing, quality control and logistics.
With such a wide range of available services, it is no wonder that a company like this has been growing its business network for the better part of the last two decades.
Conclusion:
Regardless of the nature of your business, if you have the need for products from China, we're pretty confident that any of the eight companies we've highlighted for you will get the job done. Hopefully, you'll enjoy working with any of them.