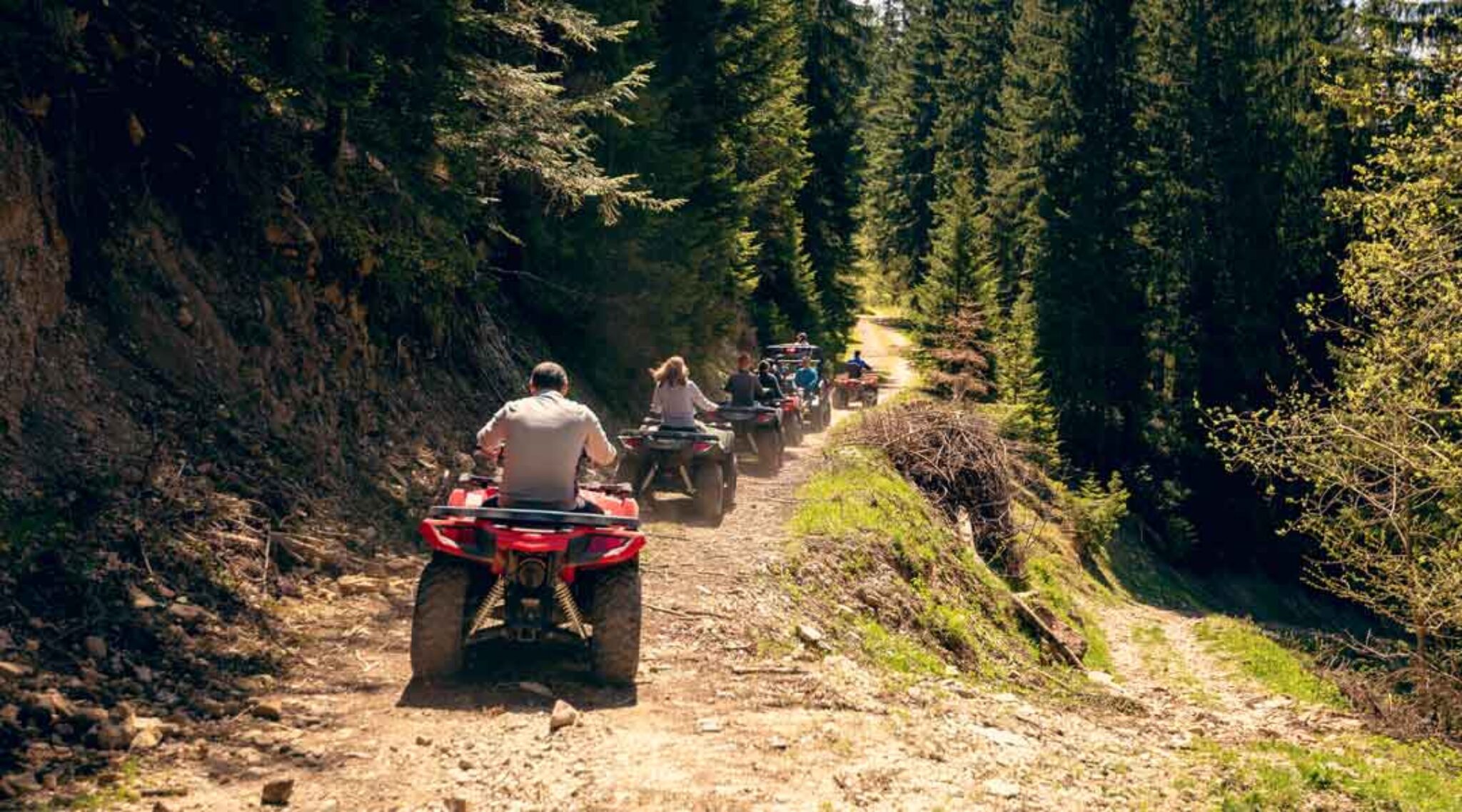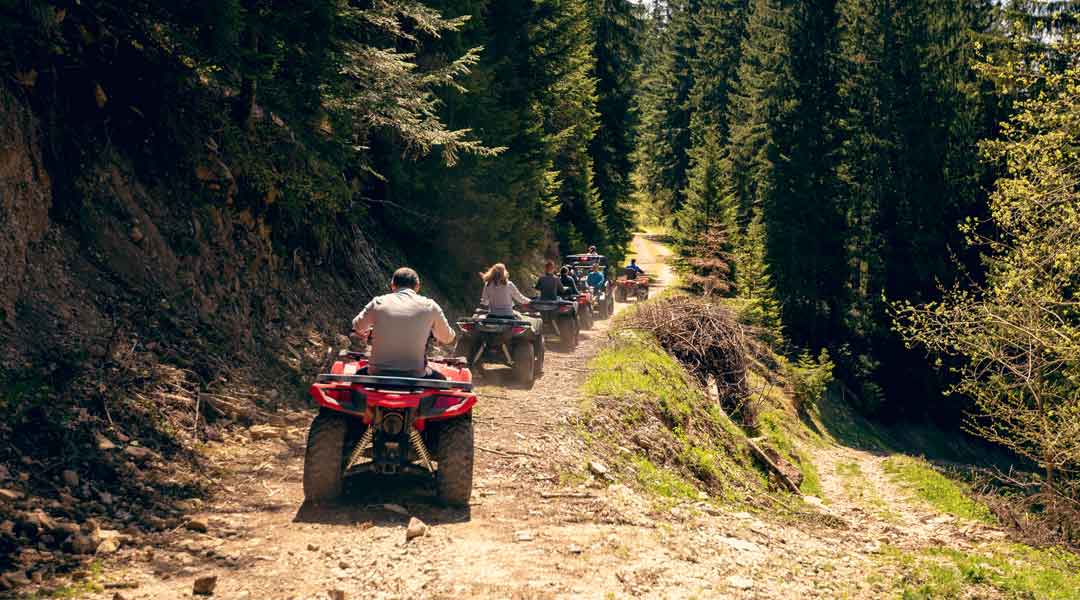 The thrill of driving through rugged terrains, steep inclines, and muddy trails is an experience like no other. And what better way to explore the great outdoors than with a UTV rental?
UTVs provide the perfect balance of power, agility, and comfort for off-road adventures. So if you're planning a weekend getaway or a longer road trip, here are the best rental destinations for UTV adventure seekers.
Let's explore!
1. Moab, Utah: A UTV Rental Haven
Moab, Utah, offers a plethora of UTV rental destinations that are sure to quench your thirst for adventure. Here are some noteworthy places to consider:
Hell's Revenge
Hell's Revenge is a must-visit for all UTV lovers. This 6.5-mile trail offers a thrilling ride through:
slick rock domes
steep climbs
descents
The panoramic views of the La Sal Mountains and Colorado River from the top are breathtaking. So if you're up for a challenge, make sure to add this place to your itinerary.
Chicken Corners
If you're looking for a less intense but equally enchanting UTV ride, Chicken Corners is the way to go. This 42-mile round trip trail follows along the Colorado River, offering stunning views of the Kane Creek Anticline and Lockhart Basin.
Fins and Things
For those seeking a mix of adrenaline and scenic beauty, Fins and Things is a must-ride trail. This 9-mile loop offers technical sections with:
sandstone fins
switchbacks
sandy washes
Additionally, the view from the top of the La Sal Mountains and Arches National Park is simply stunning. Plus, the geologic formations and panoramic vistas make it an enticing choice for nature photographers and off-road enthusiasts alike.
Poison Spider Mesa
This loop trail combines sandy washes, slick rock surfaces, and steep inclines, offering riders a thrilling experience. It also offers an unparalleled view of the Colorado River and the La Sal Mountains.
It's a perfect location for those who crave a blend of challenging terrains and remarkable scenery.
2. Black Hills, South Dakota: UTV Rental Gem in the Mid-West
This rugged landscape, characterized by dense forests, sparkling streams, and towering granite peaks, makes it a paradise for adventure lovers. Here are the top spots you might want to consider:
Black Hills National Forest
This national forest offers hundreds of miles of UTV trails, winding through serene forests and across lofty ridges. It encompasses over one million acres, providing plenty of ground to discover on your four-wheeler.
Spearfish Canyon
One of the must-visit UTV locations in Black Hills is the Spearfish Canyon. The 20-mile Spearfish Canyon Scenic Byway trail offers a breathtaking ride, with towering limestone cliffs and waterfalls along the way.
Mystic Hills Hideaway
Mystic Hills Hideaway is a popular destination located in the heart of the Black Hills. It provides direct access to over 650 miles of scenic trails, making it a perfect base for your UTV adventures.
Deadwood
Deadwood is not just famous for its rich Wild West history. It is also a hub for UTV rentals. Numerous trails snake their way through the mountains and valleys, offering fantastic views and thrilling rides.
Nemo
Nemo offers diverse UTV trails, ranging from easy to challenging. It's an ideal spot for UTV enthusiasts of all skill levels to experience the thrill of off-road adventure.
3. Silverton, Colorado: An Unforgettable UTV Rental Experience
Nestled in the heart of the San Juan Mountains, Silverton, Colorado, is a haven for fun seekers. With its breathtaking vistas of:
alpine meadows
high-altitude lakes
rugged mountains
There's no better way to explore Silverton than by hitting the trails with a UTV rental.
Alpine Loop
The Alpine Loop is a 65-mile off-road trail that is a must for any UTV enthusiast. As you navigate its steep ascents and descents, you'll be treated to awe-inspiring views of the surrounding peaks and ghost towns, remnants from the area's mining past.
Kendall Mountain
The trail skirts around the mountain and offers panoramic views of Silverton and the Animas River. It also provides the perfect mix of challenging and scenic terrains, making it a fan favorite.
And don't forget to keep an eye out for wildflowers in the summer.
Engineer Pass
This challenging trail takes you to an elevation of 12,800 feet. It offers breathtaking views of Uncompahgre Peak and is one of the off-roader's dreams.
Stony Pass
Stony Pass is a 4×4 trail that promises a thrilling ride. It traverses a variety of landscapes including:
river crossings
mountain passes
stunning meadows
Most importantly, make sure to stop at the summit for a panoramic view of the San Juan Mountains.
Ophir Pass
For those looking for a moderately challenging ride, Ophir Pass is an ideal choice. This trail takes you through Aspen forests and alpine tundra, offering stunning views of the surrounding mountains and valleys.
4. Hatfield-McCoy Trails, West Virginia: UTV Rental Paradise in the Appalachians
This extensive trail system offers over 800 miles of trails, making it one of the largest in the United States. With a variety of routes to suit all skill levels and beautiful Appalachian scenery to enjoy, it's a must-visit destination. Here are the top places to explore within the Hatfield-McCoy Trails.
Pocahontas Trail System
The Pocahontas Trail System is located in the historic coal-mining town of Bramwell. It offers over 60 miles of trails to explore, ranging from easy to difficult.
Enjoy riding through lush forests and scenic overlooks, and be sure to visit the town of Bramwell for a taste of West Virginia's history.
Rockhouse Trail System
This trail system has over 100 miles of trails and direct access to the towns of Man and Gilbert. It's perfect for adventurers looking to combine their UTV ride with some local exploration.
As always, when taking on these trails, safety should be your top priority. Make sure to:
wear appropriate gear
follow the trail rules
respect the local wildlife and environment
Before you head out to these adventure spots, make sure to visit Polaris UTV parts for your vehicle's regular maintenance and enhancement. Ensuring that your UTV is in top condition will elevate your off-road excursions and add an extra dose of excitement to your escapade.
Top UTV Rental Destinations for Thrill Seekers
There's no better way to experience these incredible places than from behind the wheel of a UTV. Whether you're journeying in the Black Hills or exploring the Hatfield-McCoy Trails, the buzz of off-roading is unparalleled.
So gear up, consider a UTV rental, and set out on an expedition that promises an intoxicating mix of excitement, beauty, and freedom. So grab your gear, rev up those engines, and start hitting the trails today!
Did you find this article helpful? Check out the rest of our blog now!