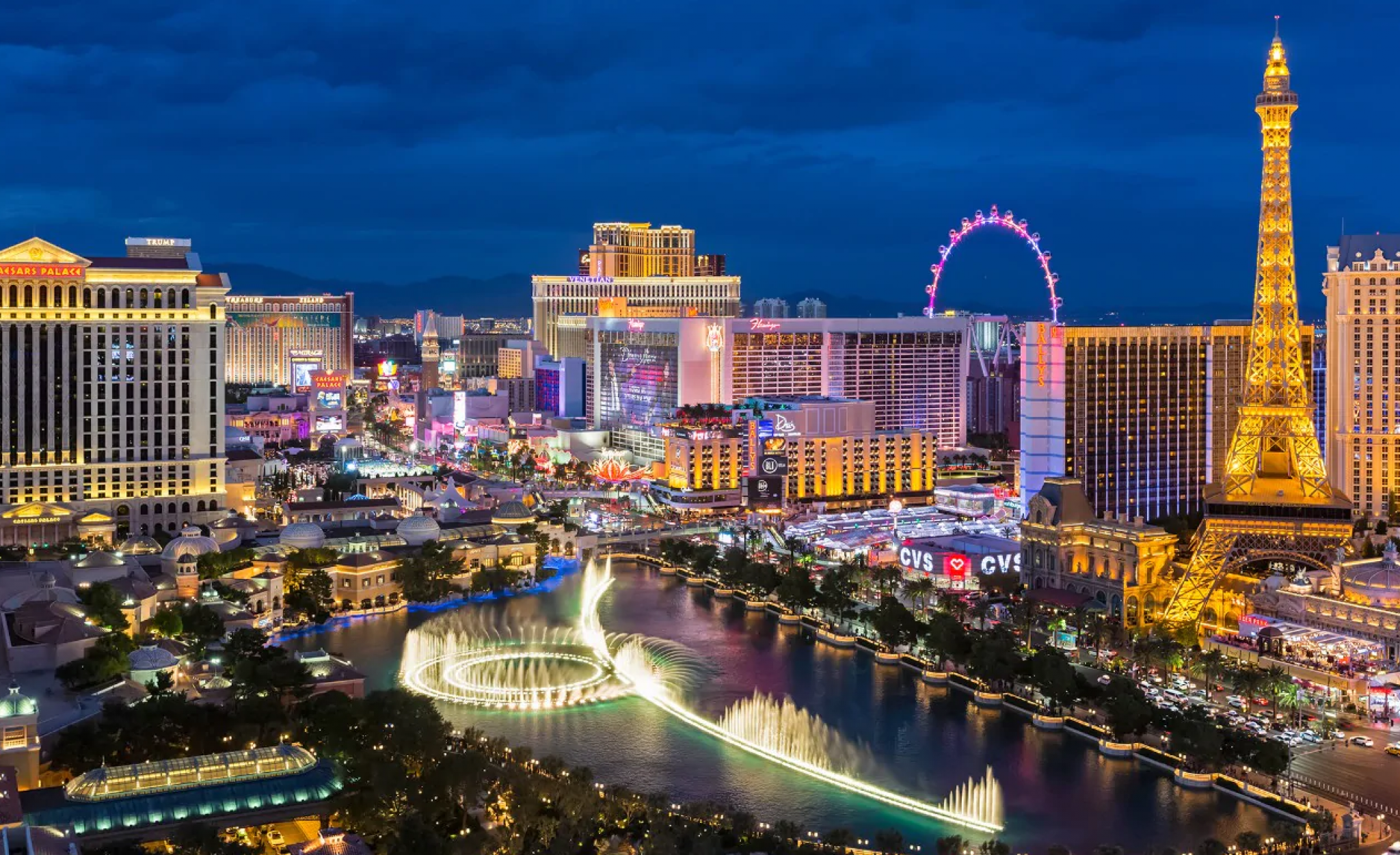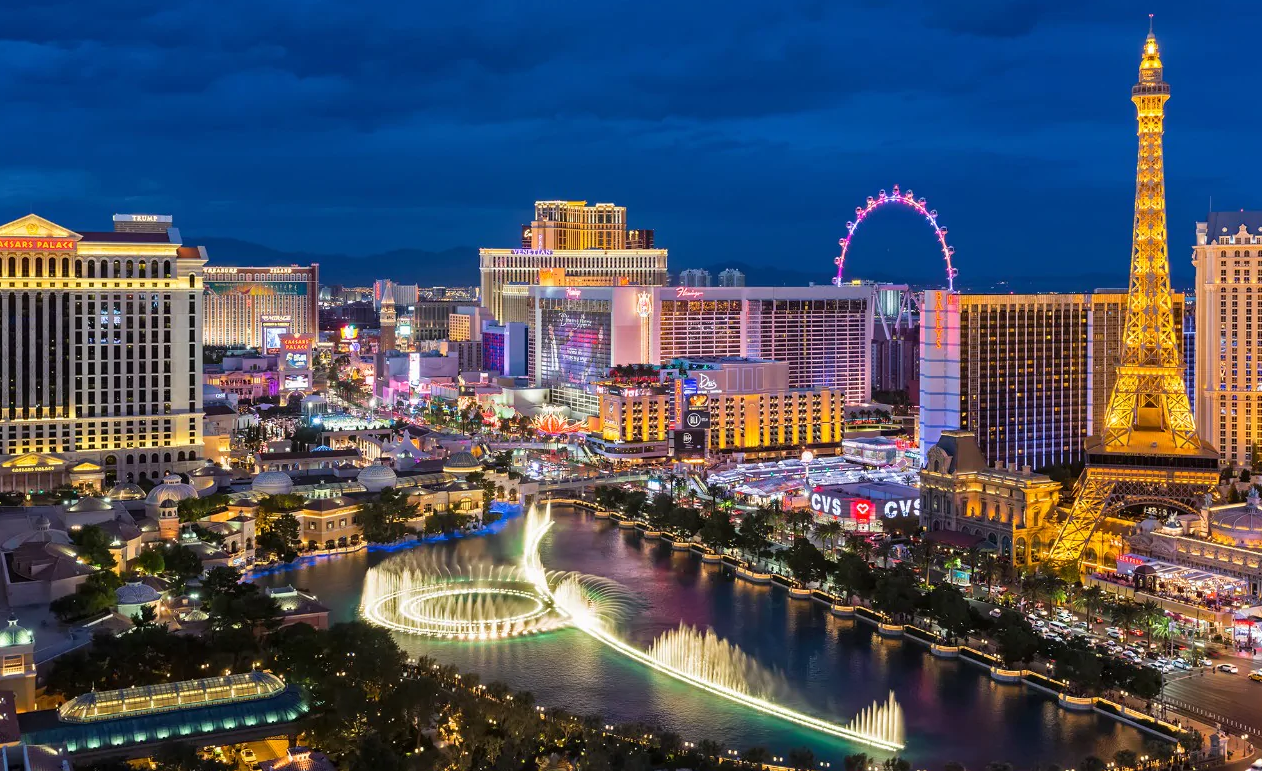 The City of Las Vegas in the state of Nevada is known far and wide as the world's gambling and casino capital. The city was established way back in 1905 but the true start of what it is now famous for came in 1931 when Nevada legalized casino gambling. The city now has well over 650,000 citizens which makes it the 28th most populated city in the United States of America. It is certainly one of the most famous too, apart from New York, Los Angeles, Washington, and San Francisco.
Vegas is home to the most popular casino resorts in the world, the best and the most exclusive of which include The Venetian, Bellagio, Flamingo Las Vegas, Mandalay Bay Resort and Casino, Caesars Palace, Rio, MGM Grand Hotel and Casino, and Paris Las Vegas. The city is famous for its never-ending parties, bars and clubs at every corner, Elvis impressionists, and limos.
Of course, it is most popular for its gambling which is one of the reasons it has nicknames like the "Vice City", or the "City of Sins." Gamblers and casino enthusiasts from all corners of the globe flock to the mecca of gambling looking to win big at their favorite games. However, not all of them do, especially not the beginners. In order to make it in one of the many casinos in Las Vegas, you will have to know certain things. Lucky for you, you will learn all you need right in this article. According to luckydice.in, there are some easy things you can do to help yourself win in any kind of casino game, be it online or in Vegas.
1. Try not to get Intimidated
This should be obvious and go without saying, but it is a crucial piece of advice newcomers to Vegas gambling should implement. From the moment you see Vegas in the distance, it will be overwhelming considering how many lights there is, flashy signs that draw you ever closer, tall casino buildings all around you, and thousands of gamblers running about or sitting at their tables. If it seems everyone knows what they are doing except for you, it is not the case at all. Relax, take a deep breath, and decide where and what you want to do. Then jump in and start having fun your way. There is no wrong place to gamble or party in Vegas!
2. Study the Games
Of course, while there is no wrong place to gamble, there are many wrong ways to gamble. If you have a specific type of casino game you want to play, it would be best if you take some time to study it prior to your first go at it. At least learn the rules and have a clear picture of your chances to win. You could also have a few games with your friends just for fun to prepare yourself for the real deal in a less stressful scenario. There are strategies to be researched, tips, and tricks to keep in mind, and confidence to get before you can expect to do well in your favorite gambling game.
3. Have a Limit
Since you are a newbie, it could prove challenging to stop playing once you feel the blood rushing from a few wins or the desperation from a losing streak. A rule every casino fan has is to set the limit to your losses in order not to go bankrupt while gambling. Remember, millions of people have been addicted to gambling and it is easy to lose yourself if you are not careful. Start off by setting a strict budget for your gambling session and stick to it at all times. As soon as you hit your spending limit for the day, call it off and come back tomorrow. This is the only way not to get carried away and spend all your money immediately. You will thank us later!
4. Enjoy the Free Stuff
Gambling in Vegas comes with tons of perks for each customer. Many casino resorts offer complimentary snacks, drinks, and bonuses for their customers. Reward programs are present at all the famous casinos and it only takes a few minutes to enroll in one. These programs may reward you with exclusive perks like free nights at the hotel, meals, bonus chips, and more. The more you spend on gambling, the more valuable the perks you can win. Therefore, since you will already be spending some money on gambling, why not make use of these amazing freebies? All of these incentives are there to make the players gamble for longer and spend more money, so think about the previous piece of advice and remember that you have set a limit!
5. Follow the Rules
There are some basic rules that should be followed no matter the casino you are gambling in while in Las Vegas. A few simple rules are in place that are the basics dos and don'ts of casino life.
For example, make sure not to take photographs of the machines and tables as most casinos do not appreciate the players documenting their business. Save the selfies for the remainder of your trip, if you want to avoid being scolded by the strict security that is. They may think you are trying to cheat your way to a win if you constantly take photos of their premise. As a matter of fact, it would be best to turn off your phone while gambling, especially when other players are involved like in poker, blackjack, or roulette.
Furthermore, it is important to dress properly since dress codes are a thing in most casinos. Casual is fine for the most, but some high-end casinos you have probably heard of many times require smart, formal clothing like cocktail dresses and suits. A rule of thumb is to always dress up and not down while in Vegas.
Last but not least, to show respect and not appear cheap in a place like where everyone comes to spend money, try to tip as much as possible. Tipping the dealer is considered a must and everyone often finds it rude if someone does not follow through, even if they lose a lot of money. You should definitely leave the dealer a big tip if you win big. Many players consider tipping as their good luck charm too!