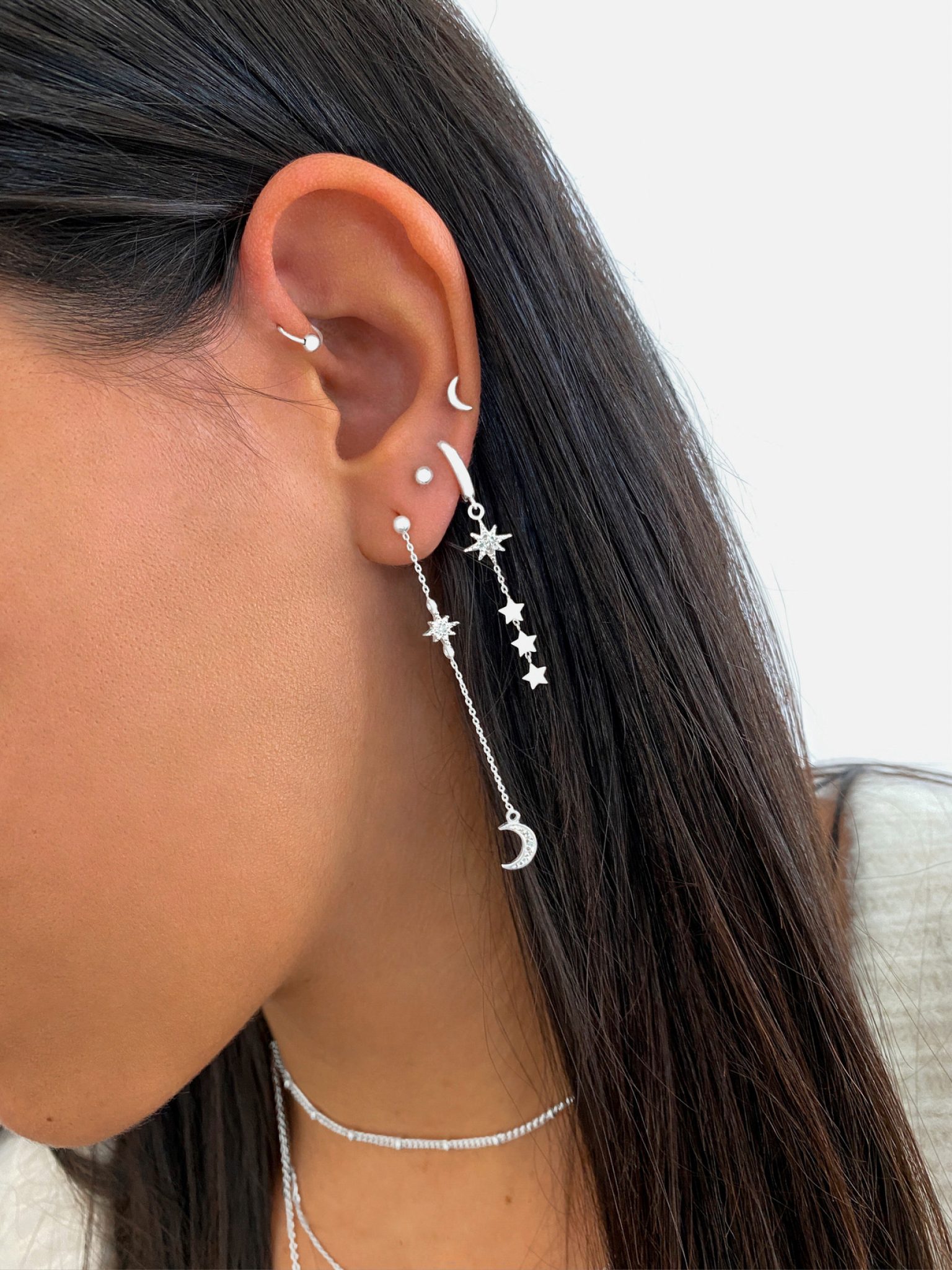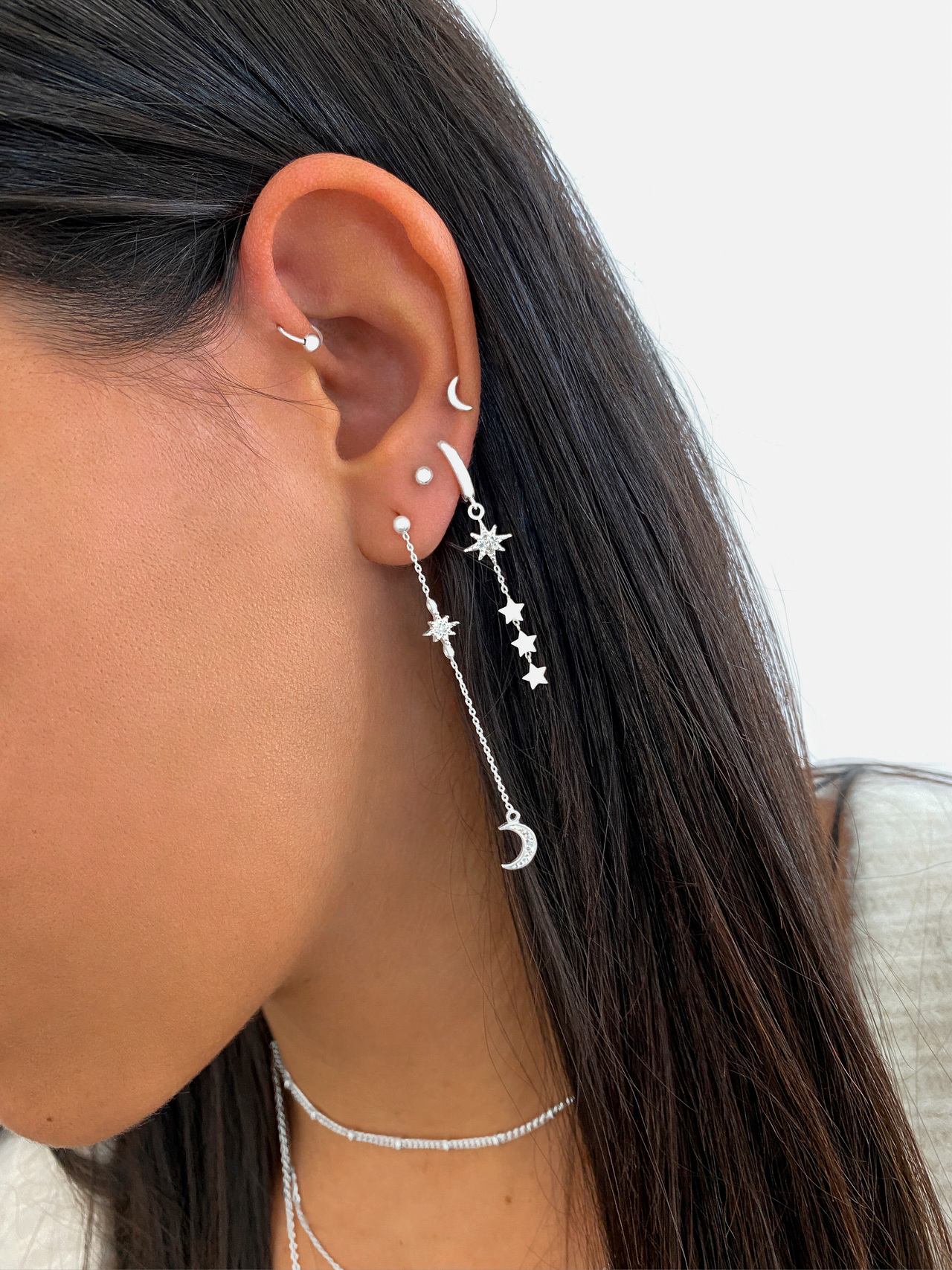 Christmas is the time for jewellery and you want to ensure you have the best party pieces possible so you can stand out. There are a host of different types of jewellery out there that you can add to your collection and it's best to get it sorted sooner rather than later so you can ensure you get the pieces you want. Jewellery can be highly subjective and it's important you think of what you will be wearing and the longevity of the piece you are looking to invest in. Will it be something that you will only wear at Christmas? Will it be a statement item to pull together your outfit? Or will it be something you want to wear all year round? Do you like things that are more subtle? Or things that have a hidden meaning? There are all aspects you are going to want to consider when it comes to shopping for your jewellery this winter. Earrings are an item we are going to focus on in this feature and they are a real Christmas staple. With so many types from stud, to cuff, to hoop, to everything in between there is something for everybody.
One great place that you can find your special occasion earrings is San Saru. A dedicated jewellery company they have a host of beautiful options that are just ideal for Christmas. In particular, the 925 Sterling Silver and 22k gold plated earrings are ideal for the holidays:
If it is long silver party earrings you're after, the following are sure to tick all your boxes.
– Lilavati Earrings
– Sharmila Earrings – these are also 22k gold plated making for a very glamorous addition to your wardrobe
– Kalpana Earrings, again, being 22k gold plated they are the ideal accompaniment for your festive outfits and to also wear to any event throughout the year
– Indu earrings are effortlessly glamorous and will ensure you are the belle of the ball
Hoops are another type of earring that you just can't go wrong with. They are classic, sleek and stylish, able to add a drop of sophistication to any ensemble. If you are looking for a brand new pair of special occasion silver hips for Christmas, then the following need to be added to your shopping cart without any further ado.
– Silver hoops:
– Ramana Earrings – these are 22k gold plated too and will suit you no matter what your taste and style.
– Heera Earrings are a well thought out pair of earrings and can add sparkle to your Christmas outfit
– Arka earrings are the ideal addition to your outfit, being a real statement piece of jewellery that will last for years to come
– Kashvi earrings are 22k gold plated and make for a truly sophisticated style
– Achir earrings are 22k gold plated, stylish and glamorous.
– Earrings with stones
Earrings with stones are another great way to add a touch of glitz and glamour to your outfit and are especially good for bringing in a pop of colour. There are a host of stunning stones that can be added to your earrings, this can include amber which comes in a stunning burnt orange shade, amethyst which ranges from light to dark purple, diamonds, emeralds, rubs and so many more. When you are considering the colour of earring stones o add to your outfit, think about what colours you tend to wear on a day to day basis, or if you are purchasing earrings for a particular occasion, what colour outfit you will wear. You don't want them to clash with what you are wearing, instead, you want them to either complement them or add a pop of colour.
– Seeng Earrings are 925 Sterling Silver and made with a beautiful, natural Amazonite stone for a pop of colour.
– Nitika earrings are a perfect pick with a small, round turquoise stone hanging from the hoop.
– Aankh earrings come in the shape of eyes with a stunning natural stone in the centre, making for an ideal boho piece.
– Piercings
Piercings are another great festive addition to your jewellery collection and can be used for both your ears or your nose. There are many different styles, but they tend to be a bit more simplistic than other earring designs. They can have different simple stones or gems and are usually in a small ring design. With so many to choose from, you can either take your time and pick the perfect one for you or select a few different ones that you can then mix and match.
– Ear cuffs
Ear cuffs are designed to be worn in a couple of ways. They can either be worn in the middle of the ear at the edge, or up the top of the ear. Ear cuffs are often popular as you don't need any additional piercings in order to make it work. You can either wear an earring on just one of your ears or both. There are a host of different styles and they are usually thought to be more for adding a bohemian feel to your ensemble.
– Qalamat earring cuff doesn't need a hole to be worn, it simply clips onto the ear adding an instant effect. The sleek wavy design adds a whimsical finish to any outfit.
– The Hala silver cuff earring features a small silver ball that you wear like a usual stud, with a fine chain that links this to the main earring. It's a simple yet beautiful design.
The Kiran silver earring cuff features a small silver ball that can be worn similarly to a stud earring and is connected to a fine chain that links it to the main cuff, designed to sit at the top or middle of your ear.
Which of these earrings will you be adding to your jewellery collection this festive season? Will you opt for something sleek and understated or a little more bold and flashy? Let us know we would love to hear from you.