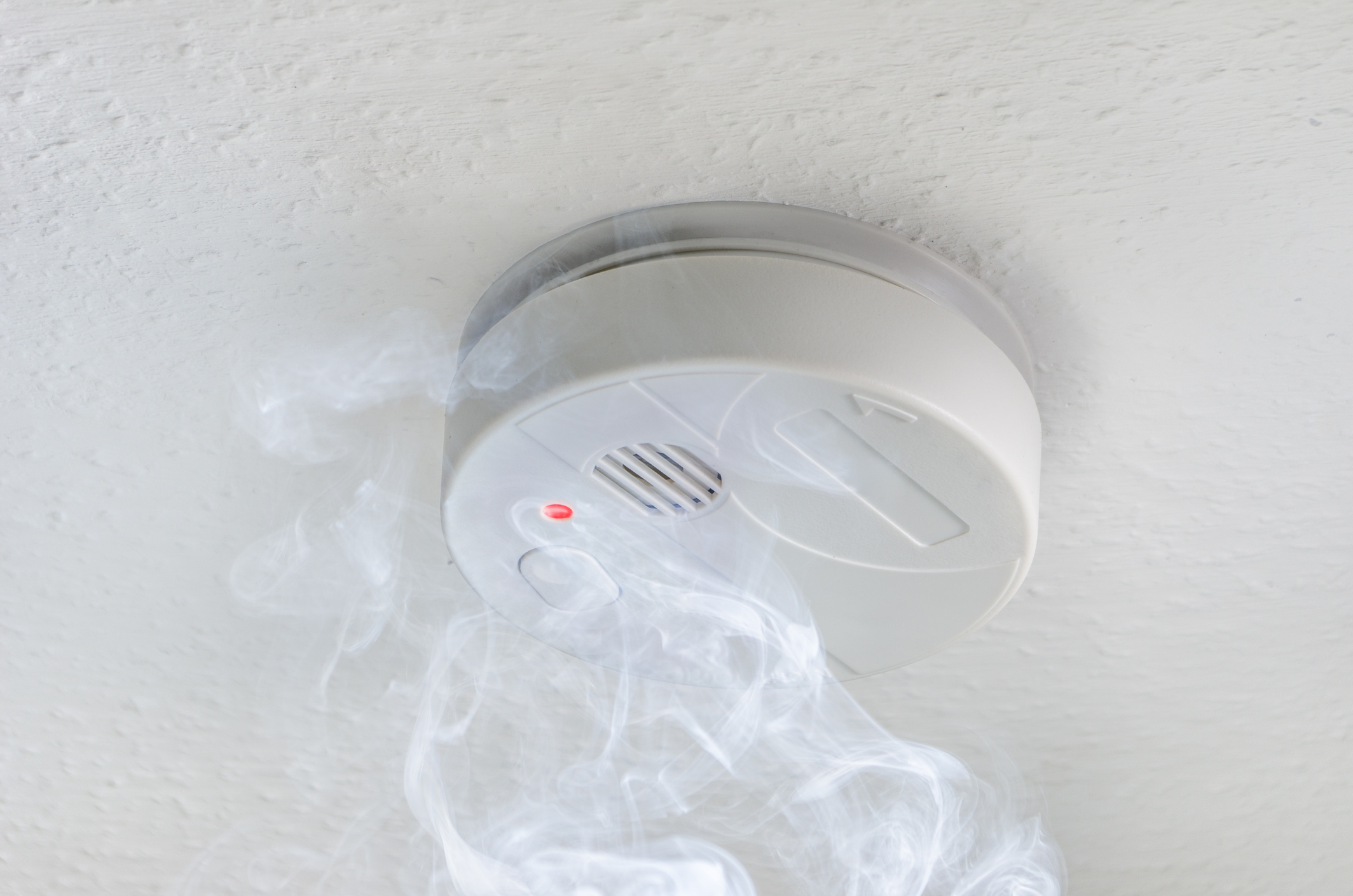 It's possible that you haven't been thinking too much about smoke detectors so far. Maybe you don't even know how crucial they are – they might look like a simple piece of metal or plastic, but their importance is a key to your safety. We could say that these appliances are an essential part of a household. Fire safety should be a number one priority in a functional house and it isn't something we should take a chance on.
Every house should have at least one of them, but of course, depending on how big your house is, you can always add some more. You're thinking about installing one in every bedroom? Why not! In your hallway? Go for it! They'll be welcome in every single area in the house – as well as on every level of the home, even including your basement.
If you aren't familiar with this type of device, there are few factors to be considered when buying this item. The first factor is the power type. There are three types you can choose –  hardwired setup, battery-powered setup, or a combination of both. The advantage of a hardwired one is that you won't need to bother with checking batteries constantly as the device is supplied with power all the time. On the other side, it won't work if there's a power outage – in that case, it has to have a backup battery.
The combination of hardwired and battery is the best setup for peace of mind. Choosing a battery-powered one will give you a regular assignment of checking batteries for your safety and that can be tiresome and time-consuming, but at the same time, it's easy to have it installed. A combined device will provide you with the assurance and reliability that separate devices can't offer you.
When it comes to the alarm types, there are photoelectric, ionization, or a combination of both. Each type has a different purpose. The photoelectric one is made to spot slow-burning fires and the other one – the ionization alarm –  will detect fast-burning fires.
Now, when speaking of smoke detector types and their differences, we think this is the right time to help you get informed with this buying guide. Have a look at some of our all-time favorites!
1. X-Sense Escape Light Smoke Detector
What's so great about this alarm? This device is designed to automatically illuminate the surface when it gets triggered, and it features a tri-color LED light. It has a long-lasting battery that can last for 10 years – how cool is that? A device like this is the most efficient with detecting smoldering and slow-burning fires. There's an auto-check function that lets you know when the battery needs to be replaced and if the device has any fault.
2. X-Sense Combination Smoke & CO
Here's another gem from the wide offer x-sense.com has for its customers. X-Sense Combination has built-in sensors for catching smoldering fires and levels of CO in your home. It has photoelectric and electrochemical sensors and the battery is also quite durable – you won't have to worry about changing it literally for years. This product has been tested to meet the highest standards and, believe us – everyone would love to have one in their home!
3. Nest Protect Smoke and CO Alarm
Nest Protect is connected to the Google mobile app and you can easily manage it in that way – wherever you are. You can have your peace of mind while you're away from home because the app notifies the users about the presence of smoke, fire or carbon monoxide. Wanna silence it? No problem – the app is there! Its AA lithium batteries need to be replaced? Your phone will also notify you about that, too! The Amazon reviews state that the installation can't be easier, and if you have a look at its appearance, you'll realize that it's probably one of the most contemporary-designed appliances in this field.
4. Honeywell Wireless Smoke and Heat
This device meets all regulations and safety requirements for home and business spaces. The installation is as simple as ABC and the appliance has a durable mounting base that can support uneven ceiling surfaces. Smart signals that come from the installed panel are a plus, as well as the LED status is shown in red and green indicators in order for us to stay up to speed on the smoke detector's condition.
5. First Alert Onelink
It comes with a photoelectric detector and an electrochemical sensor for catching levels of carbon monoxide. Alexa assistant is built-in as a part of the unit – this means that you can literally speak to the alarm and hear the weather forecast, play music, and perform many other unrelated activities. Just like the Nest Protect, it sends you alerts via an app – the only thing you need to do is  connect it to your Wi-Fi. Of course, in these circumstances, you can feel free to leave home anytime as you'll definitely get notified if something goes wrong. This one is pretty expensive, but if you're fond of smart home units and gadgets, you'll love it so much that you won't be able to resist it.
6. First Alert 3120OB
First Alert 3120OB is the best basic pick – it uses a dual-sensor to decrease false alarms and detect different kinds of fires. Also, it's a combined device that's hardwired with a battery backup – this means that you can remain peaceful as the device can't suffer a power failure.
It has photoelectric sensors that can easily tell apart from your everyday activities like cooking from smoldering fires and real threats – you can have a hot shower with zero fuss and without any loud beeps that would make you go mad.
Fire alarms and detectors aren't optional when it comes to home safety. What really matters is that you should always buy them from a trusted manufacturer and choose the ones that fit your needs. Also, remember to read all manuals carefully before the device installment – you don't want to miss some key points and regret later.
Most of them cost even less than $15 and can be purchased in sets as a special deal. Some of them with certain smart technology features can be more costly – but when you think of your peace of mind when you're outside, you will realize that it's all worth it. We hope that, with the top recommendations provided in this guide, you'll be able to pick the perfect one for yourself in a split second – and even more important: with zero hassle!