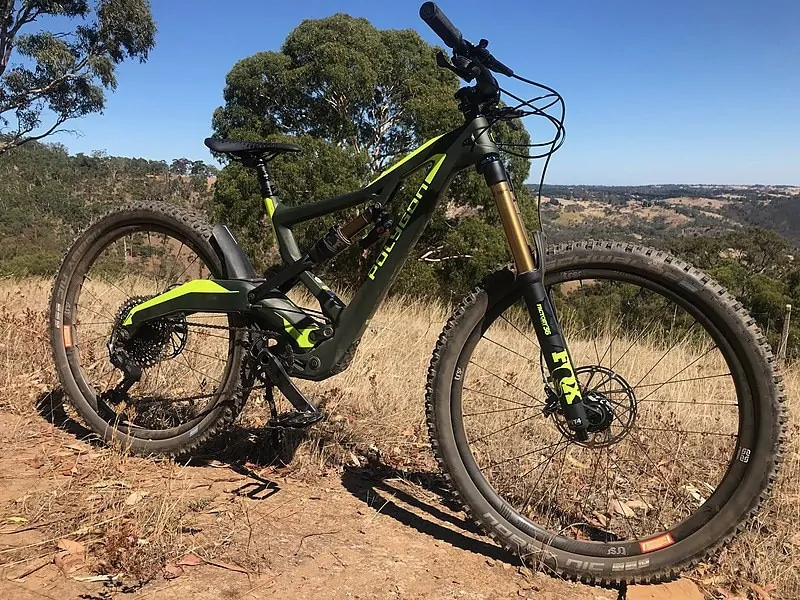 Operating with a consumer direct sales model, Polygon has been rolling out some of the best bikes in the industry for the last 25 years. The company with one of the best teams of industrial designers, engineers and creative thinkers rolls out seasonally fresh and authentic designs that are not only good on the performance scale but also have a global relevance against other competitors.
With its own manufacturing unit, the company controls the entire process from the very beginning to the end, until the product reaches its final finish. With more than a million bicycles being produced by them, the company is able to leverage sufficient cost efficiencies that other brands cannot and hence is able to offer top-quality bicycles at highly competitive prices.
XQUARONE, Collosus N &T and Collosus DH are some of their flagship products, with XQUARONE along being the winner of Pinkbike Innovation of the Year Award (2017).
Polygon bikes are gaining popularity worldwide with their latest mountain bike models such as XQUARONE and Collosus. The company over the years has produced some very bold and well-priced products.
Their latest Enduro series again is a beast in itself, with 9 different models within this category, the company has pushed its boundaries in terms of performance and durability. In terms of looks the Enduro series shares various commonalities with the company's XQUARONE series but with the NAILD R3ACT -2 Play suspension the Enduro has been taken a step ahead of others.
The company also has a range of Siskiu bikes that fall under the category of performance with affordability. Coming from this series is the Siskiu N9 with a 27.5" wheel size (size M) or 29" with 160mm front end. Equipped with Fox rhythm fork along with the Fox performance float DPX2 coupled with 3 pedaling platforms, there is nothing more to ask for.
Polygon Dual Suspension – What You Should Know?
An ideal suspension system is the one that is capable of insulating the driver from all sorts of shocks or roughness of the terrain as much as possible. Mountain bikes are specifically designed to reduce the impact of rough terrain on the rider and enable the rider to enjoy his/her ride in a smooth and easy manner.
Polygon with its vast experience has always produced bikes with great suspension technology. All of its products exhibit great quality with performance in almost any condition.
These modern trail bikes coming out from Polygon are literally jack of all trades. Meticulously designed to make your ride smooth and easy, everything from the geometry to the material of the frame along with every other component of the bike is taken into consideration. Every single piece is in sync because of which your bike is able to withstand any pressure or shock and perform to the optimum level.
The one-piece linkage system of Polygon not only increases stiffness but also decreases the overall weight. The entire unit is not only efficient but also effective no matter what kind of terrain you are riding on.
One of the most important features of bikes from Polygon is their wheel fit size system. Each wheel size properly aligns with the frame size and hence provides the ideal riding experience to the rider. Its 27.5" wheels are efficiently paired with small to large sized bikes and the 29" wheels are paired with other medium to x-large bikes.
These size options are there to ensure the right compatibility of the bike with the biker's body proposition enabling optimal performance for both.
Polygon Siskui D5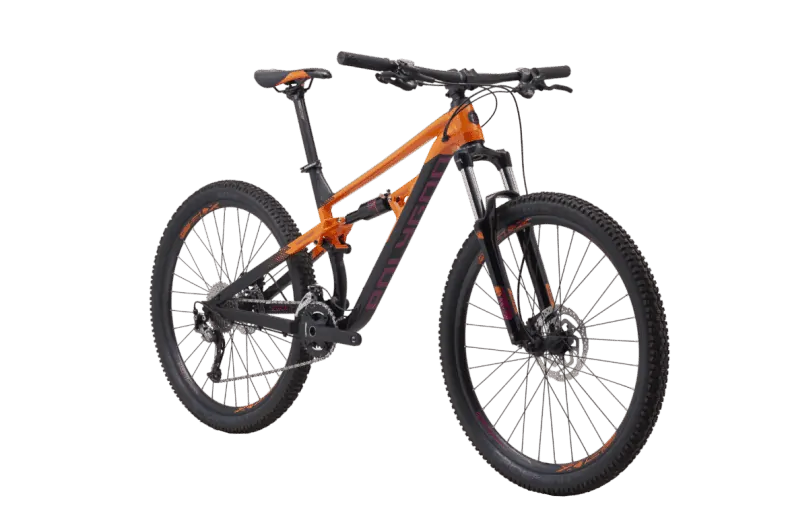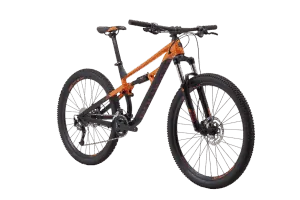 The Siskui D5 is an all-round (XC) trail bike that is sturdy enough to handle everything from a casual leisure ride to a fun local trail. Build with lightweight ALX aluminum frame and designed with modern geometry the bike exhibits longer reach, slacker head tube angle, shorter chain-stay and lower BB to boost the overall performance, no matter if you are climbing up or descending.
Equipped with an ungraded kinematic system which consists of a bit more optimized anti squat number to provide better pedaling performance and enhanced progressive suspension ratio.
To reduce lateral flex towards the rear triangle, the bike features a 120mm suspension coupled with a single piece linkage system, this not only improves movement but also reduces the effect of shocks.
Specifications:
Colour options – Orange + Black / Charcoal + Blue
Size options – Small, Medium and Large
5" ALX XC 120mm travel frame
SR Suntour XCM HLO 12mm travel fork
SR Suntour Raidon LO Air E2E 190 x 51 mm; hardware M8 x 22mm rear shock
ZS 44/28.6 + ZS 56/40 headset
Stem – entity sport – alloy E – 45mm + R – DEG
Handlebar – entity sport – alloy W – 780mm & R 12mm
Shimano Alivio RD-M4000 9-speed DM rear derailleur
Shimano Alivio SL-M4000 9-speed shifter
Shimano BSA threaded bottom bracket
Alloy crankset boost 9SP Crankset
Shimano CS-HG20 9-speed cassette
KMC X9 chain
Alloy flat pedal
Shimano BR-M201 hydraulic disc brake
Alloy double wall rims – 27.5" and 29" w alloy hubs
Entity spider bait 27.5" x 2.25" tire
Entity void saddle
Entity sport seat post
5" wheel size
Weight – 14.8 kg
Size:
Size S – height 152.5-165cm; 15.5/16" seat tube length
Size M – height 162.5-175cm; 17/18" seat tube length
Size L – height 172.5-185cm; 20" seat tube length
Size XL – height 182.5-195cm; 21" seat tube length
Polygon Bikes Review
The award winning XQUARONE is one of the most popular designs by Polygon which is appropriately termed as a revolutionary piece of equipment that has defined a new paradigm of suspension technology that every rider would like to own.
Here are some of the specifications and features of one of the best models from the series the XQUARONE EX9 Shimano XTR (2023).
Specifications:
Colour options – Black
Size options – Medium, Large, X-Large
Naild R3ACT 2 Play suspension ACX 180mm travel frame
Fox factory 36 float 180mm travel fork
Fox factory float 230 x 65mm rear shock
FSA orbit C-40/48 CF ACB; tapered headset
Race face turbine R35, alloy stem (e-50mm; r-0DEG; bb-35mm)
Race face next R35, carbon handlebar (w-780mm; r-20mm; bb-35mm)
Shimano XTR RD-M9100 12 speed DA rear derailleur
Shimano XTR SL-M9100 12 speed shifter
Shimano BB press-fit bottom bracket
Shimano XT FC-M9001 12 speed (175mm) crankset
Shimano XTR CS-M9100 12 speed (10-51T) cassette
Shimano 12SP chain
Shimano XTR BR M9120 brake
E13 TRS race with Shimano XTR hub wheelset
WTB vigilante 27.5" x 2.6 tire
Entity Xtent saddle
KS LEV ISO seat post – M: T-125mm; L-XL: T:150mm; Offset-18mm
5" wheel size
Weight – 13.5kg
The XQUARONE EX9 is a definite departure from the previous classification of bikes. Its NAILD suspension design works in absolute conjunction with the frame construction to give you an experience like never before.
The bike is meticulously designed with a short rear end to enable efficient tackling in technical terrain and provide quick cornering. Enabled with an elevated chainstay which is unique to the new NAILD R3 Act (2Play suspension system) the EX9 swiftly acts like an extension of the rider's movement.
Engineered to move over obstacles swiftly improving lap time while reducing rider fatigue. The bike is built with 27.5 wheels and is constructed of a full ACX carbon frame with a 180mm suspension travel.
Its R3ACT technology brings a completely new level of control, comfort and efficiency to your entire riding experience. Because of the technology, the geometry and tire contract remains constant throughout the travel and results in improved braking, handling and control all the way ahead.
Polygon's press fit technology sufficiently increases the width of the bottom bracket without increasing its chain line. This wider bottom bracket shell is very good in improving the stiffness and gives room for a larger bottom bracket bearing.
Polygon has efficiently induced the benefits of carbon fiber in its bikes. ACX is until now Polygon's stiffest, lightest and strongest building material which is used to construct frames. The ACX is a scientific blend of High Modulus M series carbon and Toray T700 which efficiently maximizes the stiffness and strength of the unit at high stress areas.
The best feature of ACX is that it reduces the weight of the entire unit, which is what every rider demands that too without decreasing the durability of the machine.
With its huge range of products, Polygon is gaining attention worldwide, the company is gaining traction in the UK and other European markets as well. It is becoming one of the best names that is producing quality along with reliability that too in a very affordable range.