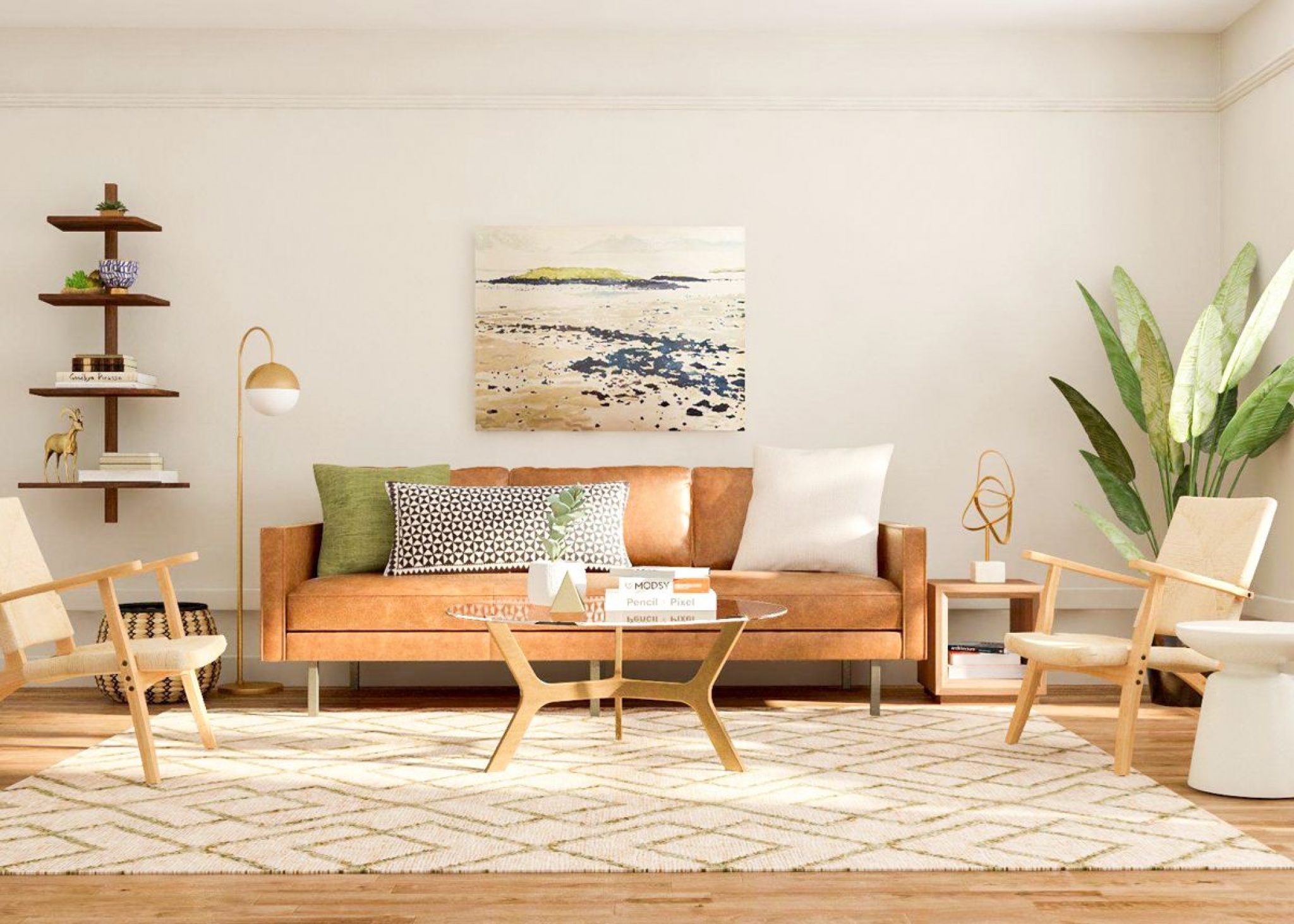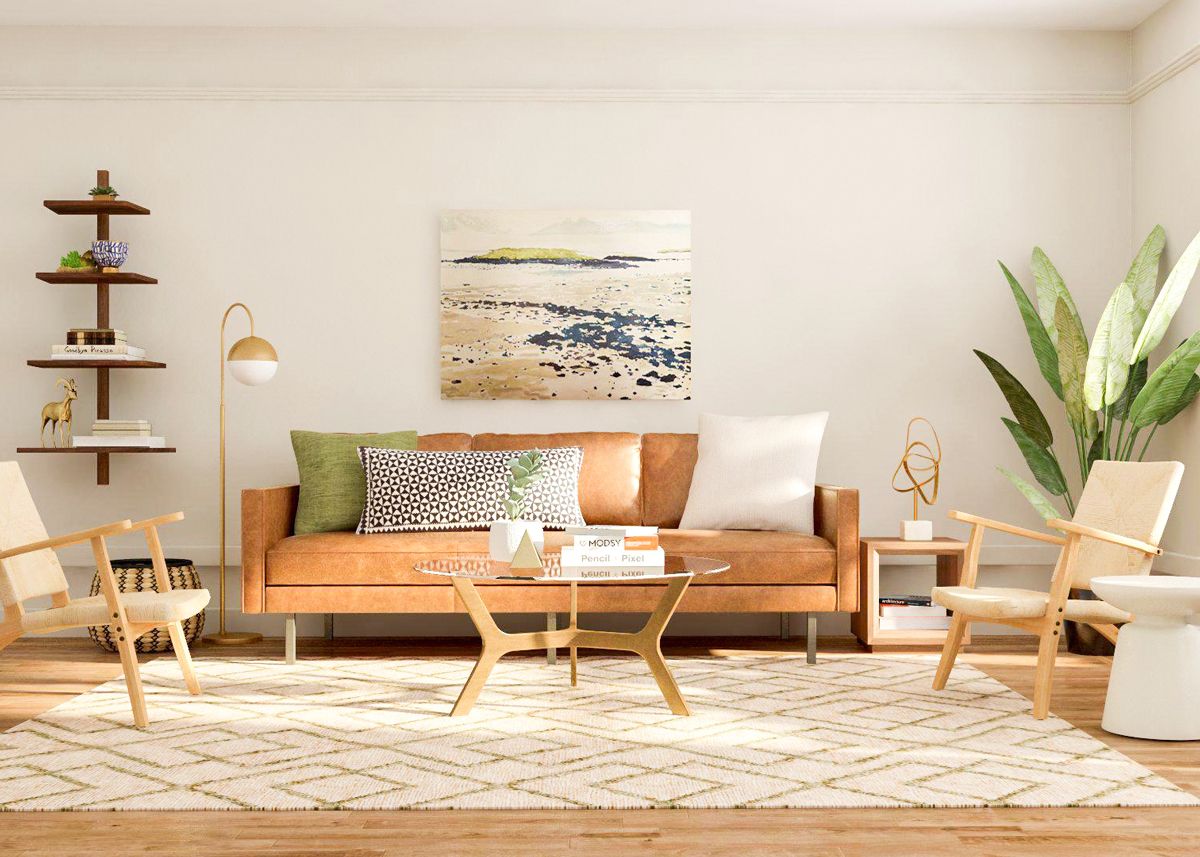 From chic sideboards to bronze console tables, we show you how to make mid-century styled furniture shine.
With a renewed focus on our spaces largely thanks to spending more time at home than we have in years, if not ever; people are really starting to pay closer attention to their personal ascetics. Really getting down to the details of that makes their space feel like home. We've given up the cold minimalism of the more industrial and Scandinavian design themes that were insanely popular in the last few years and have landed smack dab in the middle of mid-century maximalism.
There's no denying the way the crip lines, contrasted by curvy features and warm wood of a mid-century style sideboard can completely transform a room. What keeps this look fresh, and removes the over-the-top Mad Men energy is how these massive and long-loved statement pieces are being accompanied by the more modern and surprisingly masculine decor and accents. Which transforms Palm Springs played out, into something unique and truly warming.
How to Get the Look
Choosing the right sideboard to warm up a decidedly clean and cold room is one excellent way to get that carefully curated balance of the Mid-century revival. While adding in touches of warm metal and gallery walls can also help secure the tailored vibes. Using mid-century styled furniture- side tables, benches, chairs, consoles and any other type of typical furniture pieces you'd find within that room helps anchor the look.
Kitchens do well with this particular aesthetic, especially when it comes to using more traditional seating and cupboards, weighted against the graceful curves of mid-century fixtures and tables. Kitchen tables are a particularly excellent piece to pull your entire look from. Use these feature pieces to draw the eye and start the mind expecting a specific style, then shake it up with mismatched chairs or bright and colorful place settings.
A feature wall can also bring in a fresh perspective to a room filled with a substantial feel of bigger wooden furniture items. Especially if it has a bold pattern and deep, room expanding colors. When it comes to styling a room, don't be afraid to go big and always mind the rule of 3- a principle that dictates spacing and placing of decor. This rule plays to the idea that the eye enjoys seeing things grouped in odd numbers. So whether it is three lights, five potted plants, or just one extra stunning centerpiece, odd number items help to shrug the shackles of uniformity.
Best Room in the House
The best way to achieve any look without it seeming stiff or flat is to make sure that you mix up aesthetics, textures, and spaces seamlessly. Making sure to maximize the feel of height and depth and by leaving space for negative space. Leaving some exaggerated space not only makes a room more expansive, but it can keep it from feeling cluttered as well. When using more bougie natural textures- like marble, glass, and bronze, make sure you play them down with soft and colors and curved shapes. This will stop your room from having that overly curated and cold feel.
This is one of the hallmarks of many mid-century pieces, being both functional and absolutely beautiful. As stark, squared shapes and harsh lines can be lightened and tempered by including natural materials and delicate decor. This creates a simple balance, particularly in a maximalist style that can easily feel over-encumbered. Placing blunt and heavy furniture, like a dining room table or large wardrobe, at an angle can soften the corners of a room. Lush plants and cozy cushions give a more homey feel to straight lines and squared surfaces. Helping you to easily achieve a lived-in look that doesn't come off as tatty.
One of the most difficult aspects of balancing a well-designed home and a home that you actually live in is undoubtedly that of being a parent. Kids are often tough on furniture. Between the spills and thrills of childhood, it can be a tough decision to be stuck between buying pieces that you love, and ones that will last. When looking at upholstered chairs, ottomans, couches, and other furnishings, choose pieces with a solid wood base that can be professionally cleaned or reupholstered when the time comes.
The Art of Storage
The balance between rigid structure and whimsical settings elevates a room while keeping it grounded in functionality. Mid-century furniture is what really helps achieve this in style, giving you a place for all of your go-to items, without feeling cluttered. Oftentimes we are compelled to hold onto things that may not have immediate use, or perhaps aren't something we really want on permanent display. In these instances, mid-century furniture shines. Creating an artistic and visually stunning experience, while at the same time helping to store all of the necessities of a household.
Incorporating storage into space, while at the same time sticking to an aesthetic can often be the bane of most DIY designers. But using pieces of furniture that are timeless- both in style and durability, can help solve this problem with little to no effort. This is why it's important to consider the materials that are making up your favorite pieces, and not just the style of the furniture itself. There are a number of reproductions of mid-century furniture that are made of sub-par materials- like MDF and veneer. These materials will quickly break down, chip or scuff. Especially if you live in a humid environment. Cheap glues can easily separate and most of these pieces can't be fixed once they start to deteriorate.
Anyone skilled in restoring furniture can tell you that solid wood pieces, and those that use higher quality materials, are an investment that will last generations, not just because they are easily refurbished- but also because of their subtle style suits so many different aesthetics. So while genuine mid-century pieces and high-quality mid-century furniture reproductions may seem like a big investment- they'll often save you money in the long run. Aside from general durability and the ability to repair, these types of furniture often retain their value over time, which means you'll have no problem finding a motivated buyer should you ever want to part with your beautiful pieces!