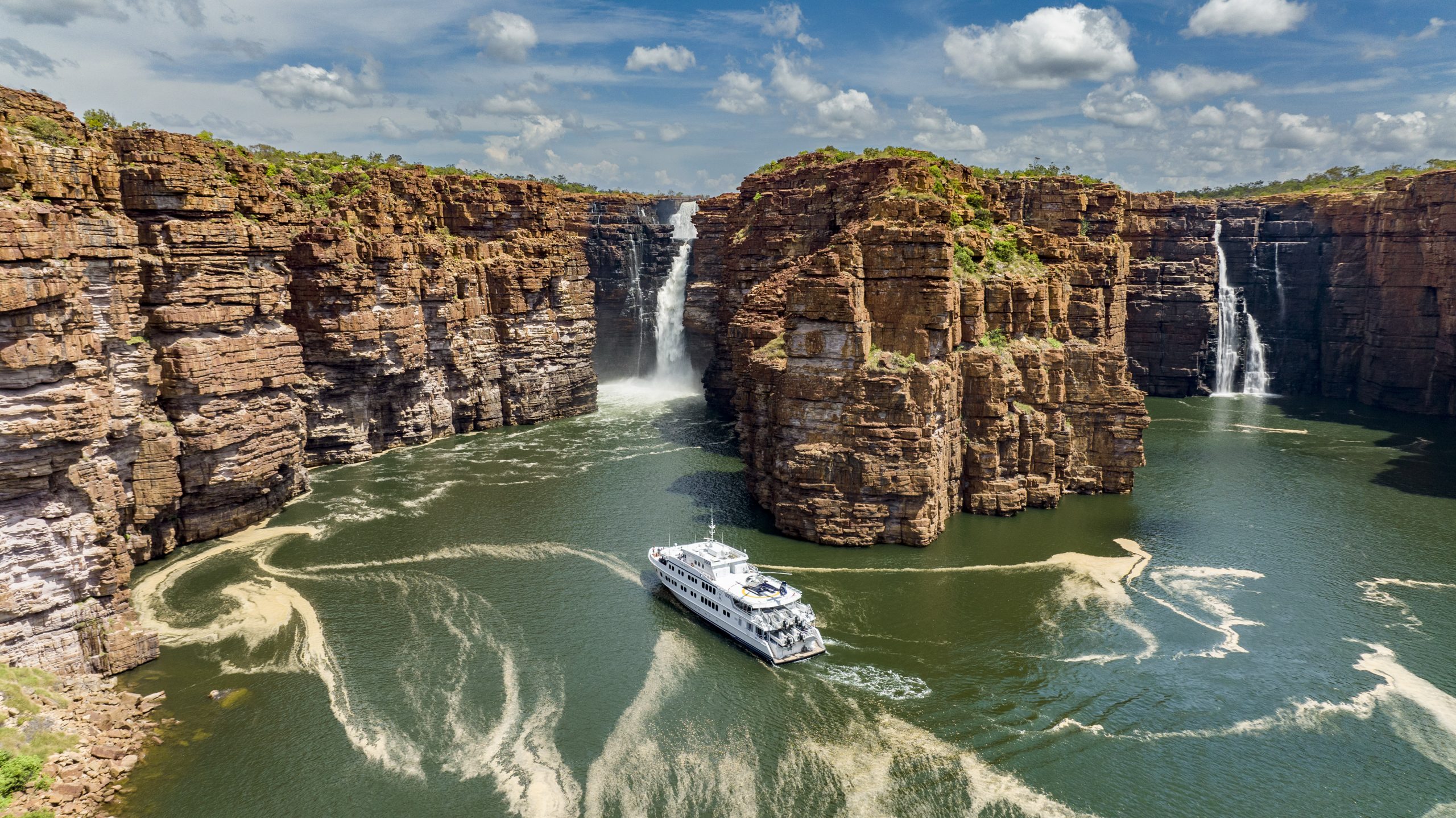 With its abundance of waterfalls, rivers, and oceans surrounding it, the Kimberley is best explored by boat. The renowned Horizontal Falls are only one of the magnificent sights in this enigmatic, almost mythological area. When the tide rapidly recedes, Montgomery Reef seems to emerge from the water as if by daily magic.
The majority of animal life, including sharks, crocodiles, turtles, whales, and dugongs, can be found underwater. It is found in settings that are constantly changing, including white sand beaches, red sandstone gorges, mangroves, wildflowers, rainforests, and sacred caves decorated with Indigenous rock art. All of these natural marvels are shown on Kimberley cruises in a single, amazing journey.
Where Is Kimberley Located?
The Kimberley, which stretches across the top of Australia to the boundary with the Northern Territory, is the northern part of Western Australia. The Great Sandy Deserts of the Pilbara and Tanami are to the south, the Timor Sea is to the north, and the Indian Ocean is to the west. This enormous area, which is more than 420,000 square kilometres, is twice the size of Victoria.
When Is the Best Time to Go on Kimberley Cruises?
Winter (July, June, and August) is the most common season to visit Kimberley. Visit the area around March or mid-April, closer to the rainy season, to experience the waterfalls in their full splendour. While these two months will be extremely humid, the reward is seeing flowing cascades, swollen billabongs, and beautiful surroundings. From November through February, no Kimberley cruises are offered.
Why Go on a Cruise?
A tour is the greatest way to observe the high and low tides in action because the Kimberley is known for its enormous tidal changes. Moreover, cruising is safer, smoother, and easier than driving. Kimberley cruises have unrestricted access, sailing past areas that other vehicles cannot access in the dry season while remaining unaffected by flooded roads during the wet season. For intrepid travellers, there is an astonishing selection of small ships and yachts available, depending on your travel style and budget.
Types of Kimberley Cruises
There are minute variations among the routes and ships stationed in the Kimberley, and these variations might be quite important to your enjoyment. For instance, not all cruise lines allow swimming; some have communal restrooms, while others have butlers. If catching barramundi is your primary objective, make sure to reserve a cruise like True North that includes fishing licences and gear.
Select a ship with less than 40 people if you wish to cool yourself in a creek or enjoy a swim at a beach. If mobility is a concern, choose a ship like Coral Adventures that has exploration vessels that can be quickly boarded from a marina deck's flat surface.
Many ships can carry up to 100 passengers; however, some only have 12 on board. Additionally, larger vessels can carry up to 264 passengers. The typical length of a cruise, with a few exceptions, is 8 to 18 days. While bigger, international ships typically start or conclude their trips in Darwin before setting out on coastal excursions, local operators devote more time travelling between Wyndham and Broome through the centre of the Kimberley.
No matter the itinerary, every tour stops at the major sights, including King George Falls, Horizontal Falls, Montgomery Reef, and locations of Indigenous art.
Why Travel with Kimberley Cruises?
Here are the reasons why you need to go on Kimberley cruises:
Ideal for Classic Cruisers
There is no fishing or swimming on mid-size ships, but you can unwind in air-conditioned luxury with a refreshing beer or glass of wine, which are complimentary at lunch and dinner. Kimberley cruises are mostly locally owned and crewed by foreign nationals. Australians make up Coral Expeditions' crew, and its ships include larger exploration boats with restrooms and a canopy for shade.
Ideal for Adventures
Because of their thin draft, locally owned and Australian-staffed exploration yachts may navigate into rivers that larger ships cannot. Everyone standing on the bow of True North's ship receives a cooling rain when it brushes against King George River Falls. Guests are taken to a private swimming area beneath a waterfall and to rock pools during a heli-picnic. Think about Ocean Dream Charters, Great Escape Cruises, and Kimberley Quest as well; these companies have fishing gear and helicopters on their boats.
Ideal for Luxury Tourists
Spend a little extra money on a luxury cruise on one of the three Ponant ships or the 144-passenger Silver Explorer for opulent furnishings, spa services, butler service, and complimentary alcohol. Le Ponant, a three-masted tall ship, will be stationed in the Kimberley for the first time beginning in April to October.
From the following year, Scenic Eclipse II will provide the most opulent experience with its two helicopters, poolside bar, and spa, where you can unwind in the aromatic steam room with an ice waterfall or cool off with cold services.
Ideal for Families
Even though a Kimberley cruise is different from a family-friendly ship to the South Pacific and might not be appealing to young kids who enjoy swimming, snorkelling, and running around unsupervised, it's an excellent means of learning about Indigenous culture, history, and the natural world. Children under ten can board the 152-passenger Minerva of Heritage Expeditions for 20% less than the adult price.