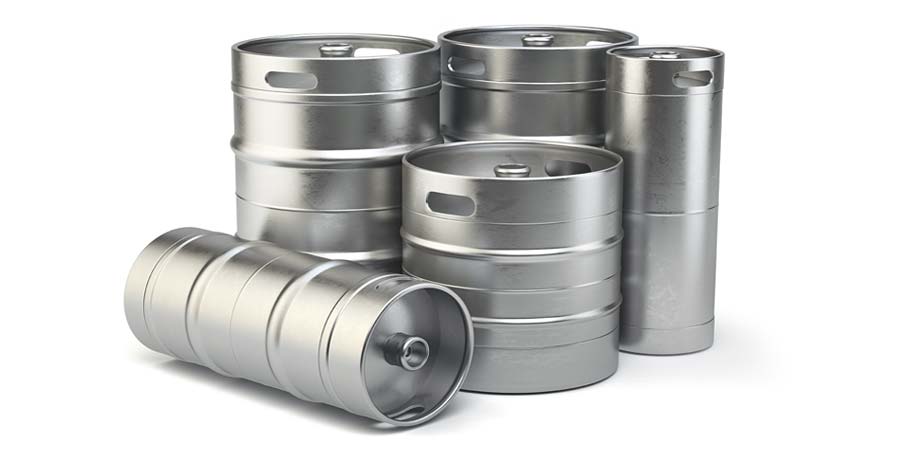 Are you planning to buy a keg? The first and most important criterion for choosing this product is its size.
After reading our article, you will know about the sizes and weights of the kegs available, what model is better to purchase for your production, and how much money you need to allocate for the purchase.
Corny Keg
This barrel is one of the smallest you can use for commercial brewing.
As a rule, it is needed to try some new recipes of the beer or to produce a small batch of drinks.
This category includes the following tank capacities: 1.5 gallons, 2,378, 3, 5, and 10 gallons.
The most popular is the 5-gallon model. Its compact dimensions – 23×9″ make it a perfect option for even the most limited spaces.
The weight of the empty tank is 9 pounds and 46.6 pounds when filled with beer.
To buy a keg of this type, prepare to pay $115.
Sixth Barrel Keg
This tank is slightly larger than Corny: 5.16 gallons (20 liters) compared to 5 gallons in the previous model.
The height of the container is 23 ⅜", and the diameter is 9 ¼", making it very compact and convenient for use in small breweries.
The empty barrel weighs 16.5 pounds and the full barrel weighs 58 pounds.
The cost of the model is $110.
Quarter Barrel Keg
Let's move on to larger kegs, which are often used for commercial purposes. One of them is the quarter barrel, which holds 7.75 gallons (29 liters).
This type of barrel is produced in two versions: Slim (or Tall) or Pony quarter.
The most popular of them is the pony: it is lower and wider. Its parameters are 16⅛x3⅞, and the weight is 87 lbs (when full) and 22 lbs (when empty).
Slim Quarter is taller and thinner than Pony: 23⅜" x 11⅛". This option works well in limited spaces where you can not place the traditional squat tank.
The cost is $135.
Cask Keg
Another option that is quite popular in large breweries.
Its parameters: 19 x 13 inches, weight – 22 pounds empty and 112 pounds when filled. The capacity is 9 gallons (40.9 liters).
The price of this type of barrel is $135-140.
Half Barrel Keg
This is the most popular model that is used on an industrial scale. It is designed for 15.5 gallons (58.7 liters).
Tank dimensions: 23 x 16 inches. An empty keg weighs 30 pounds and 160 pounds when it is filled to the top.
Its cost is $150.
To buy a keg, contact the Beverage Craft representatives. The brand specializes in beer equipment: it has been working in the field for over 10 years. Brewers, cooperating with this company, note the high quality of products, a favorable system of discounts, and excellent service.
Contact Beverage Craft and you will be helped to choose the right type of kegs that will meet all the needs of your production!
Conclusion
Understanding the different commercial beer keg sizes and their prices is crucial for both consumers and business owners. From the half-barrel keg, which is a popular choice for large events, to the corny keg, preferred for home brewing, each size offers a unique value proposition.
In this guide, you'll learn about the price variations across commercial beer keg sizes, but it may also be useful to understand the specific gallon capacities of various kegs, from the commonly used half-barrel to the miniature corny keg, to know exactly how much brew you're getting for your buck.
The price variations across these sizes are influenced by factors such as the type of beer, the brand, and the location. Therefore, it's essential to consider these aspects when making a purchase.
Remember, the key to getting the most out of your investment lies in knowing exactly how much brew you're getting for your buck. Whether you're a beer enthusiast planning a party or a business owner stocking up your bar, this knowledge will help you make an informed decision that suits your needs and budget.
In the end, the joy of beer drinking is not just about the brew itself, but also about the experience of sharing and enjoyment. And understanding keg sizes and prices is part of that larger beer-drinking experience. Cheers to that!