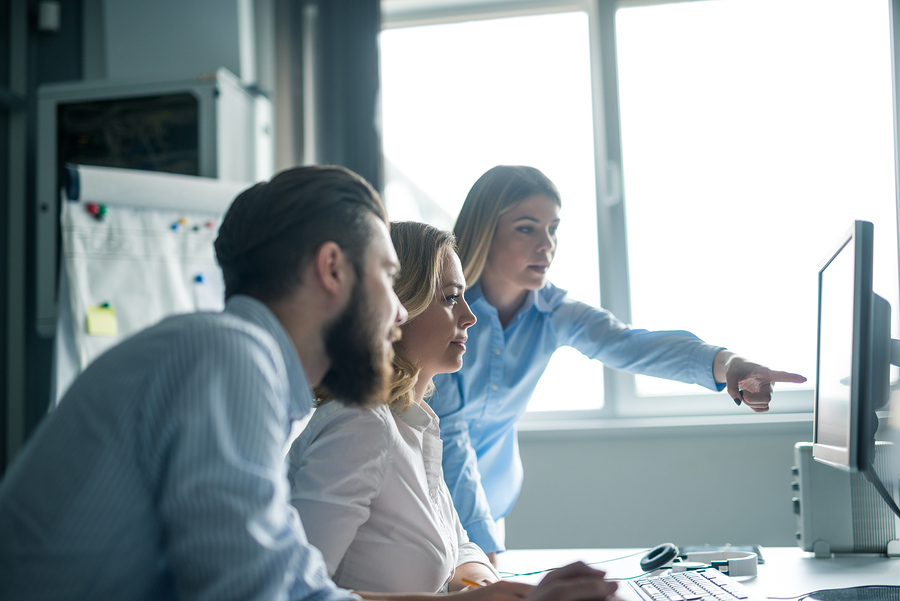 Employee safety training is an important aspect of operating your business. However, some employee safety training programs are more effective than others. Therefore, to create an effective program, you should include a variety of relevant topics that will protect both your employees and customers.
You can get started by covering the following safety topics that apply to almost every industry.
Workplace ergonomics
If your employees work in a luxurious office environment with climate-controlled conditions, the last thing on your mind is that something would go wrong, and your employees would get injured.
While the risks of employee injuries are minimal compared to employees who work on hazardous construction sites or oil rigs, ergonomic workplace injuries can cost your business real money in reduced productivity and workers' compensation.
To prevent ergonomic injuries, you need to provide your employees with relevant training tailored to your workspace. For instance, if you run a restaurant, ensure that every employee knows how they can maintain a safe kitchen environment.
Remember to keep your employee safety training interesting so they can take away new knowledge. Use different methods to train your employees, such as paddle stitch booklets from PrintingCenterUSA.
A comprehensive training program for new employees should include essential workplace safety topics to ensure a safe and healthy work environment. Make sure to cover topics such as emergency preparedness, fire safety, hazardous material handling, and ergonomics to name a few
Equipment safety
As an employer, it's your responsibility to teach your employees how to safely use job-specific equipment. While some employees will join your business with skills and experience, not everyone will know how to use a specific piece of equipment safely.
When preparing your employee training program, ensure that you account for every piece of equipment and machinery your employees will use. Remember to also cover any PPE they should use when operating special equipment or when working in hazardous areas.
Fire safety training
Hazardous chemicals aren't the only fire hazards in your workplace. Keep in mind that just the presence of large amounts of dust can cause an explosion. OSHA has regulations regarding things like fire fighting equipment, fire drills, and fire alarm and sprinkler systems. However, part of the compliance includes employee training on how to prevent and deal with fire hazards.
Therefore, you have to train your employees on how to use fire extinguishers, how to perform first aid in case of a fire, and how to perform CPR. In addition, ensure that you train your employees about the precautions they should take in case of a fire. For example, not leaving work equipment unattended.
Employee health
Maintaining physical fitness and maximizing work-related activity require proper ergonomic design. People can avoid problems like repetitive strain and pain thanks to the study of ergonomics, which offers crucial instructions on preventing illness and damage. Visit Ergotune for Ergonomic chairs that are comfortable and relaxing
Of all employee safety topics, outlining the available employee mental and physical health resources is the most proactive step you can take. As an employer, you should support your staff in the challenges they face, both at home and at work.
Some of the resources you can share include incentives for physical activity, mental health policies, and company physical fundraising challenges that will keep your employees active.
Cybersecurity
Your business should be savvy about cybersecurity. Think about the consequences of a personal or financial data breach. This is why you should ensure that your employees can tell the difference between an official email and a fake message from a cybercriminal.
Now that most communication happens online, ensure that you equip your employees with up-to-date cybersecurity knowledge to help them stay safe online. The ideal online safety training should protect crucial employee, business, and customer data. When crafting your employee training program, remember to instruct your employees to follow the HIPAA guidelines on how to create secure passwords, protect health information online, and use 2-step verification.
Drug and alcohol use in workstation
Alcohol and drug can impair anyone's mental and physical state, and this also applies to your employees. Drug and alcohol use at the workstation can result in many problems at work; for example, absenteeism, reduced productivity, and worse, accidents that can result in death and severe injuries.
Therefore, introducing a training program on this topic can significantly help enlighten employees about the risks and dangers of using alcohol or drugs in the workplace.
This topic can also motivate your employees to be more responsible in establishing a drug-free and safe work environment. Remember that having responsible employees can lead to increased productivity and fewer injuries. Look at it as a win-win situation for both your company and the employees.
Electrical safety
While this topic is thought to be more important for mechanics, electricians, and construction workers, it can also prove to be very helpful to office-based employees. Besides, today's workplaces are loaded with equipment, gadgets, and tools that all run on electrical energy.
Everyone is aware of the dangers of electrical incidents. Live wires can cause electrical shocks upon contact; there can be an electrical short circuit or overheated wires that can cause a fire. Additionally, there can be an arc flash that could lead to loss of sight, burns and hearing loss.
The good news is that all of these can be avoided if your employees are well-versed in fundamental electrical safety measures, particularly when working around equipment that uses electricity to operate. Including this topic in the employee training program will also help them know the appropriate steps to follow in case of any electrical emergency.
Stress management
Everyone gets stressed at one point in their lives. They feel stressed by family decisions, work, or their future. Also, stress can be both physical and mental. That said, this is a topic worth including in your employee training program. Stress has become a common and regrettably normalized issue in the current industry.
Keep in mind that stress can be caused by a major life event like an illness, the death of a loved one, or something as simple as skipping lunch and insufficient sleep. If not addressed, stress can lead to fatigue and impair mental and body functioning. Also, it can lead to long-term mental problems like depression and anxiety.
Luckily, achieving a stress-free and healthy workforce is possible. Give them some learning materials to help them establish a constructive coping approach and some relaxation methods to help lower stress and anxiety.
Summing Up
Employee safety training has become more complex than ever, especially because of the pandemic. Therefore, you need to update your office safety training program to maintain an efficient workflow and ensure that your staff is safe and satisfied.