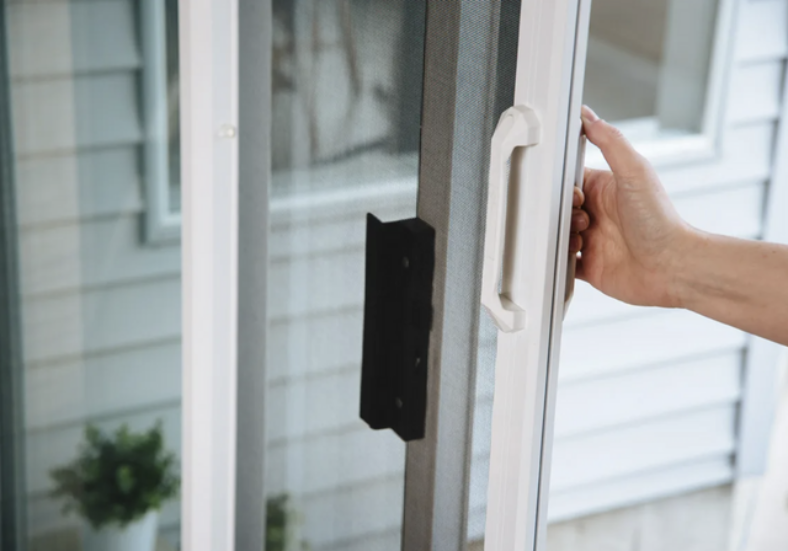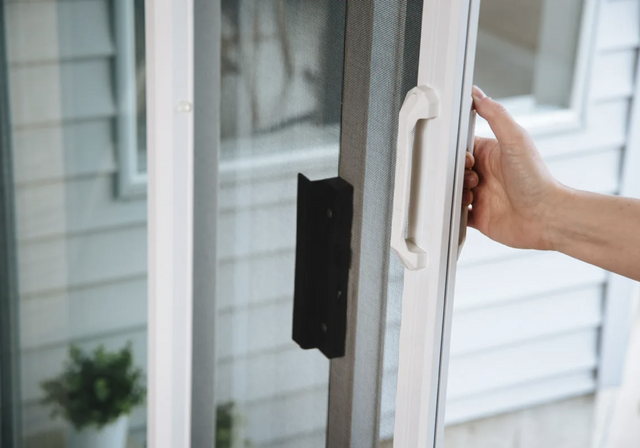 If you want to enjoy fresh air and natural light, while preventing insects from entering the house, then install phantom door screens.
They are quite convenient to use, visually attractive, and provide the necessary level of comfort, while you ventilate your home.
We have compiled 7 key points on how to choose such screens and where to buy them.
Width and Height
Phantom door screens come in different sizes, which are selected based on the size of your door.
For single doors, they often take products 24-48 inches wide. The maximum available height in this category is 120 inches.
Models with a width of 48 to 96 inches and with a maximum height of 100 inches are typically chosen for double doors.
Material
The frame of these products can be made of polyvinyl chloride or aluminum. Both materials are quite durable and reliable.
Polyester or fiberglass is often used for net manufacturing. The choice is not accidental: the net made of such raw materials is tear-resistant, protects against dust and does not prevent ventilation.
There is a choice of various types of nets:
With insect protection and a 55% reduction of the harmful effects of UV rays;
Net with a higher level of privacy and 95% protection from UV rays;
Net that reduces the amount of sun flares and blocks up to 65% of the UV rays.
The tracks and rollers supporting the screen are made of high-quality plastic or stainless steel. This raw material is resistant to corrosion, so the product will serve you as long as possible.
The screen also includes a storage unit for keeping the design when you do not use it. The storage unit is made of plastic or aluminum.
Floating vs Captured Edge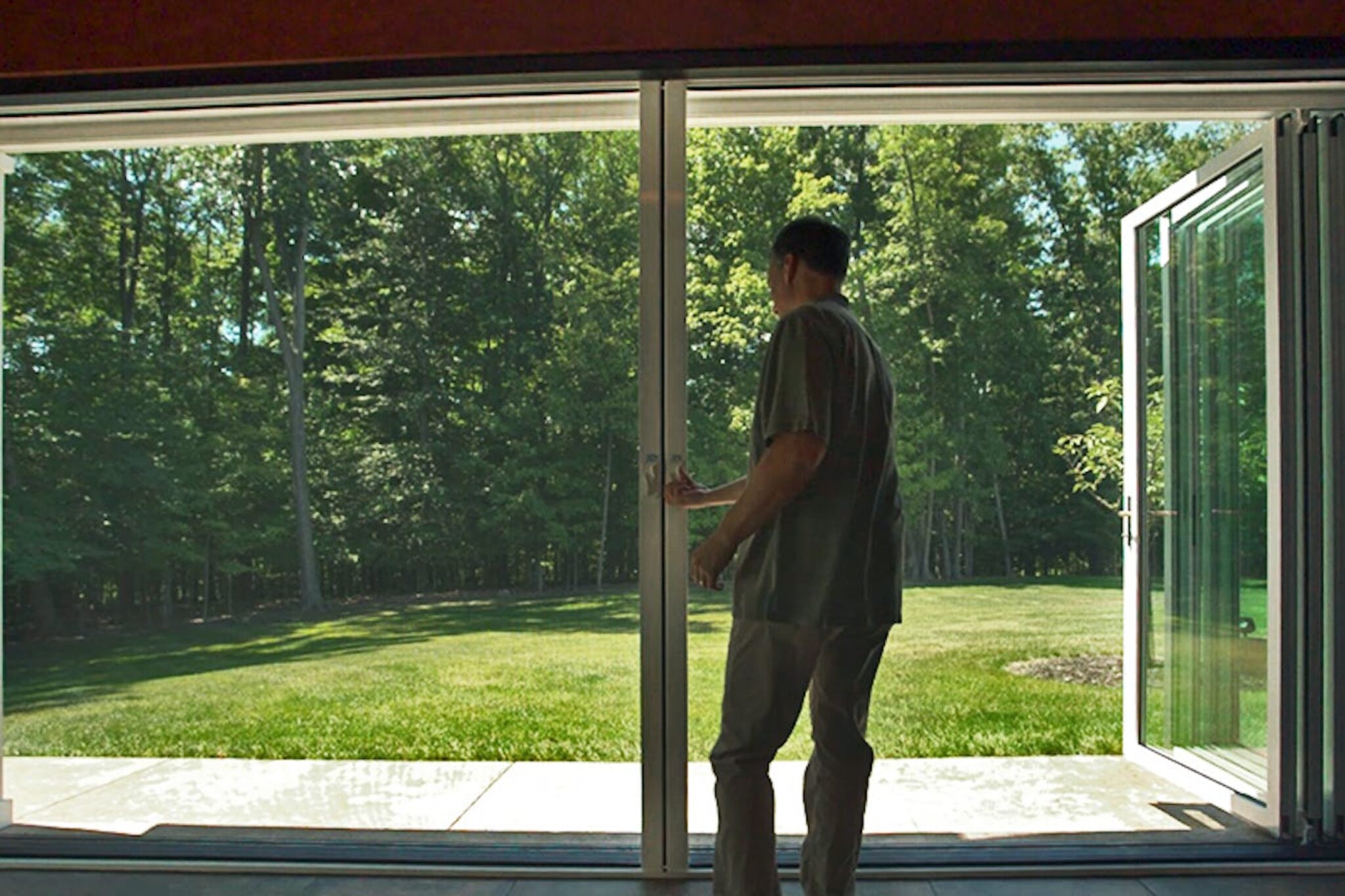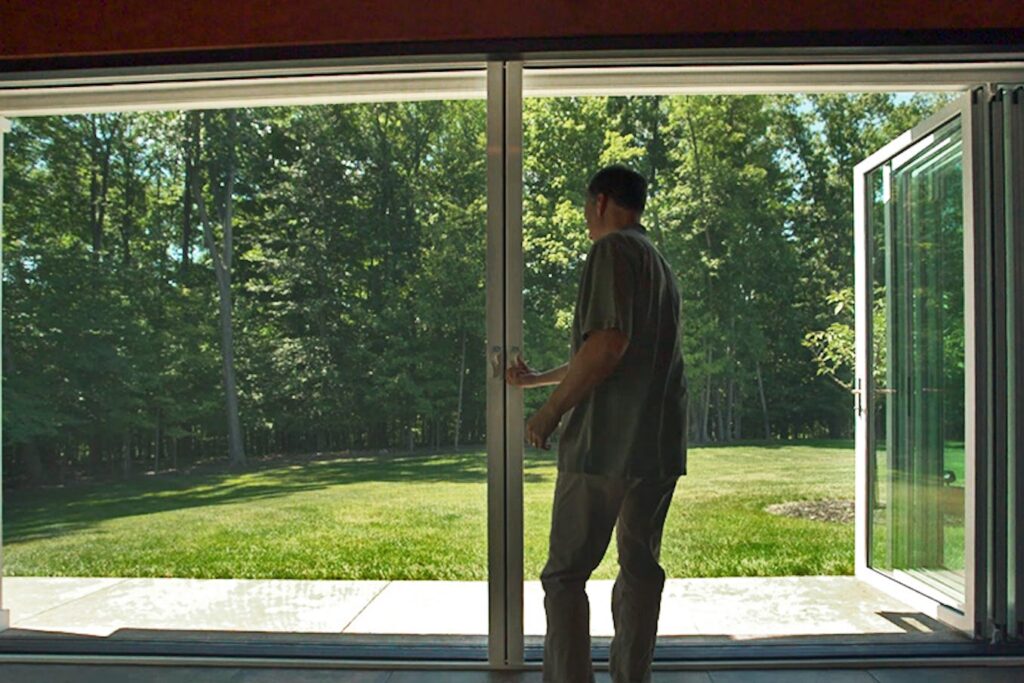 If you want to make the boundaries between the inside and outside space invisible, choose models with floating edge.
Buyers who are looking for products with locking mesh options in the top and bottom guides should pay attention to the captured edge.
This configuration is also suitable for homeowners with pets to keep them inside or outside the house.
Locks
One of the advantages of phantom screens is the presence of a latch lock, which allows you to fix the screen door in a closed position.
This ensures that the structure remains where you installed it and provides the necessary visibility and ventilation.
Color
You can choose any shade that will match the colors of your interior: classic white, black or gray, beige, brown, dark green, bronze, etc.
You can also design a wood-like product: acacia, oak, pine, cedar, cherry tree, etc.
Warranty
The service life of such products is from 10 to 15 years. It can be affected by: the materials from which the screen is made, maintenance, and weather conditions in your region.
Typically, the net is the fastest to fail, while other elements are more durable.
Usually, these screens come with a lifetime warranty, which is issued only to the original owner of these products.
Price
The price of phantom screens depends on several factors: material, size, additional functions, etc.
So, the minimum cost of such products for a standard single door is $600; for double – $1,400 and more.
Ready to order high-quality phantom door screens?
Visit the Vinyl Light Windows and Doors website: there you will find a large selection of different retractable screen doors, so you can select exactly what you need for your home.