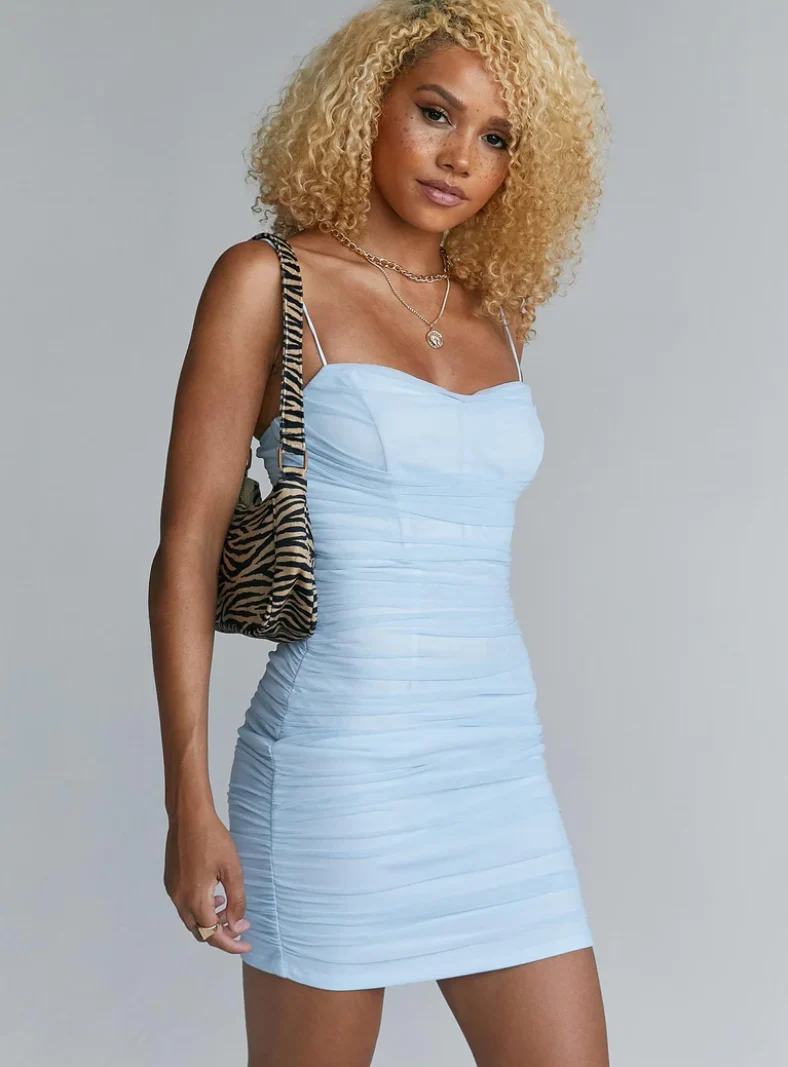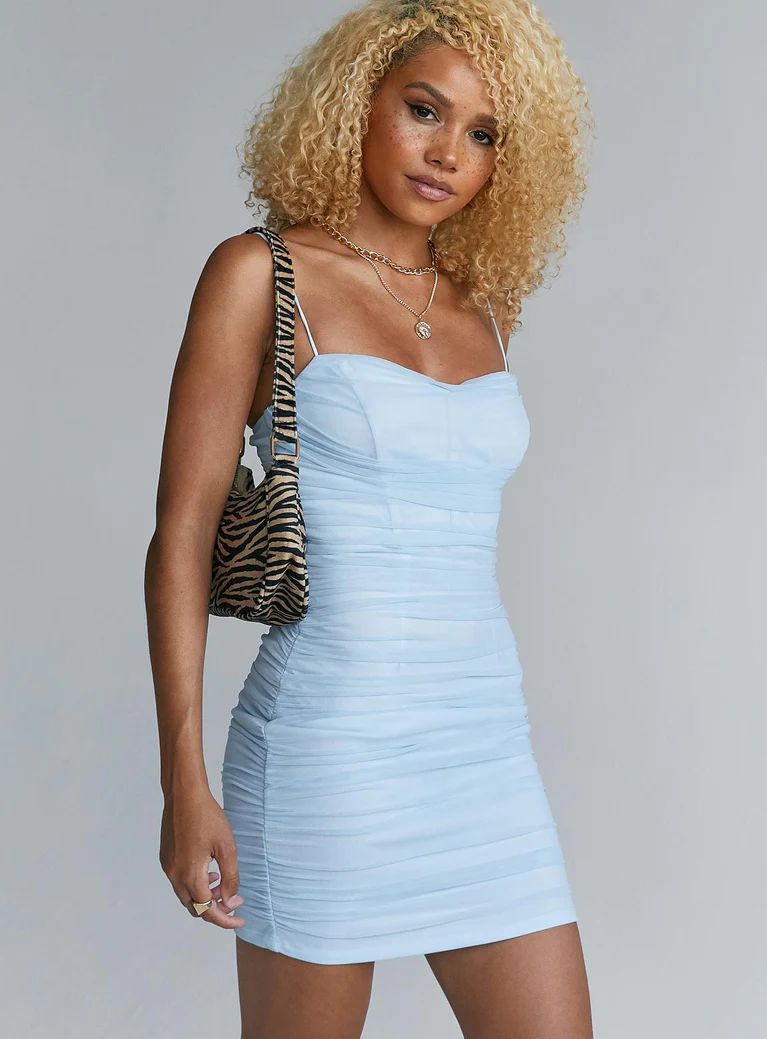 Welcome to the enchanting world of fashion, where we are about to unveil the mesmerizing allure of the baby blue dress. With its delicate hue and timeless charm, this garment has captured the hearts of both fashion enthusiasts and celebrities alike. Whether you're looking for a casual chic ensemble or an elegant glam look, the baby blue dress is your ultimate style companion. In this blog post, we will explore the versatility of this magical piece and discover how it can effortlessly transform from day to night.
From glamorous evening outfits to celebrity-inspired creations, we have gathered all the inspiration you need to rock the baby blue dress trend with confidence. So get ready to embrace sophistication and make heads turn wherever you go.
Versatility of the Baby Blue Dress
For a Relaxed Daytime Look: For a relaxed daytime look, pair your baby blue dress with white sneakers or sandals for an easy-going vibe. Layer on some delicate gold jewelry and grab a straw tote bag for the perfect brunch outfit. The softness of the color adds a touch of femininity to any ensemble, while still maintaining that laid-back appeal.
For an Evening Event: When it's time to elevate your style game for an evening event or special occasion, the baby blue dress can easily transform into pure elegance. Opt for a fitted silhouette with intricate lace detailing or embellishments for added glamour. Pair it with strappy heels and statement earrings to complete the sophisticated look.
Ability to Suit Different Body Types: One of the best things about this versatile shade is its ability to suit different body types. If you have an hourglass figure, opt for a fit-and-flare style that cinches at the waist and accentuates your curves. For those with a pear-shaped body, choose an A-line silhouette that skims over the hips and flares out at the bottom.
Glamorous Evening Outfits with the Baby Blue Dress
The baby blue dress delicate hue and feminine charm make it the perfect choice for those special occasions where you want to turn heads and feel like a true star.
Pair Your Baby Blue Dress with Metallic Accessories: For a chic and sophisticated ensemble, pair your baby blue dress with metallic accessories. A silver clutch and statement earrings will add just the right amount of shimmer to your overall look. Opt for strappy silver heels to complete this elegant outfit.
Opt for a Floor-length Baby Blue Gown: To add a touch of drama, consider opting for a floor-length baby blue gown with flowing fabric that creates an ethereal effect as you walk into any room. Pair it with nude or silver sandals and let your dress do all the talking.
Try Pairing Your Baby Blue Dress with Edgy Black Accessories: For those who prefer a more modern approach, try pairing your baby blue dress with edgy black accessories. A leather jacket thrown over your shoulders adds instant coolness while black ankle boots give off an effortless vibe.
Celebrities Rocking the Baby Blue Dress Trend
When it comes to fashion inspiration, celebrities are always at the forefront of setting trends. And right now, they are absolutely rocking the baby blue dress trend! From red carpet events to casual outings, these A-listers have embraced this soft and feminine hue in their own unique ways.
Blake Lively: First up is the ever-stylish Blake Lively, who effortlessly pulled off a baby blue mini dress with intricate lace detailing at a movie premiere. Her confidence and grace made her stand out from the crowd and left everyone in awe of her impeccable sense of style.
Meghan Markle: Next on our list is none other than Meghan Markle, whose elegant fashion choices never fail to impress. She was spotted wearing a stunning baby blue wrap dress during one of her public appearances. The way she accessorized it with minimalistic jewelry and nude heels exuded sophistication and class.
Jennifer Lawrence: Another celebrity who has been seen donning the baby blue dress trend is Jennifer Lawrence. Known for her bold fashion statements, she opted for a floor-length gown with delicate ruffles that perfectly complemented her vibrant personality.
How to Choose the Perfect Baby Blue Dress for Your Body Type
For Hourglass Figure: For those with an hourglass figure, a fitted baby blue dress that cinches at the waist will highlight your curves in all the right places. Look for styles that have ruching or draping to further enhance your silhouette.
For Pear-shaped Body: If you have a pear-shaped body, opt for a baby blue dress with an A-line or empire waist design. These styles will draw attention away from the hips and emphasize your upper body. Try pairing it with statement accessories like chunky pearl necklaces or a bold belt to create balance.
For Apple-shaped Bodies: For apple-shaped bodies, look for baby blue dresses with details around the neckline or sleeves to draw attention upwards. Empire waistlines can also be flattering as they define the smallest part of your torso while skimming over any problem areas.
For Petite Frame: If you have a petite frame, choose shorter length baby blue dresses that won't overwhelm your figure. Opt for minimalistic designs without too much embellishment to avoid looking overwhelmed by fabric.
Conclusion
The baby blue dress is truly a magical piece of clothing that can effortlessly take you from casual chic to elegant glam. Its versatility allows for endless styling possibilities, making it a wardrobe staple for any fashion-forward individual. Let yourself be enchanted by the magic of the baby blue dress. Experiment with different styles and accessories to create unique looks that showcase your personal style. With its versatility and undeniable charm, this stunning hue will surely make heads turn wherever you go. So go ahead – embrace the allure of the baby blue dress and watch as it transforms your outfits into something truly extraordinary.